Gear Review:
Patagonia Men's Sandy Cay Pants
by Eric Ersch
Recently returning home from a week of sharing the flats and backcountry of South Andros with a group of top-notch guides and friends, I found myself laughing as I unpacked my clothes and tossed them into the washer. I'd packed three pairs of wading pants as usual for the trip – two of my proven veterans to fish in, and a new pair to try out and have as a backup, "just in case." I had been impressed by the fit of the new pair when I'd tried them on at the shop and decided to wear them on day one. I was laughing because I only had one pair of pants to wash when I returned home – the Patagonia Sandy Cay Pants.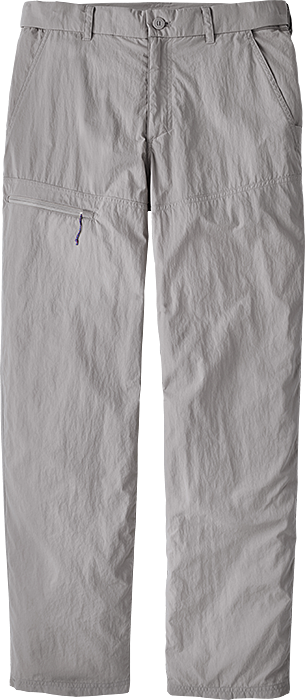 A little history on my flats wading and fishing. I've been doing this since the early 80's and love it today as much as the first time I watched a bonefish tailing in shallow water. I've tried just about every pair of pants that have been made in that time, and although many have worked, some are just better than others. We wore shorts "back in the day," but that was before we understood the long-term damage that the sun can inflict on our bodies. These days, it's long pants, long-sleeved shirts, and sunscreen applied in the morning and again mid-day.
I walk for hours every day while on a bonefishing trip, constantly scanning for wild fish sliding through inches of water. Much of that time is spent stalking individual fish, stealthily wading into good casting positions. Comfortable clothing is a must, and after fishing in the Patagonia Sandy Cay Pants for six days in a row, I can tell you without reservation that they are absolutely the most comfortable pair of flats fishing pants that I've ever worn. I'll have another pair packed on my next trip "just in case."
Performance & Fit:
The Sandy Cay Pants fit like my favorite work trousers. They're cut full for easy movement and constructed from ultralight, fast-drying, recycled nylon, with 50+ UPF sun protection. No bug bites, no sunburn, and no chafing. They have an integrated elastic waistband for comfortable movement, loops for my nylon belt, and a simple button closure in front. At the end of the first day, I wore them into the shower and gave them a good rinse, hung them to dry, and they were ready to go the next morning.
I couldn't be more impressed with the Sandy Cay Pants from Patagonia. They knocked it out of the park with this product!