Fly Rods Are Like Golf Clubs
by Chris King
As spring shows up here in Northern California, I can't help but be excited about the next couple of months. The time change just happened (maybe for the last time?), and with that comes the opportunity to do some after-work missions on the local waters. Several things are worth looking forward to this time of year. The turkeys are serving as an alarm clock every morning, the robins are back, and the bug hatches are getting more prolific and lasting a bit longer throughout the day. The fairways are starting to green up again. And every car in the area is covered in a dusting of green while the Claritin is flying off the shelves at the local pharmacies.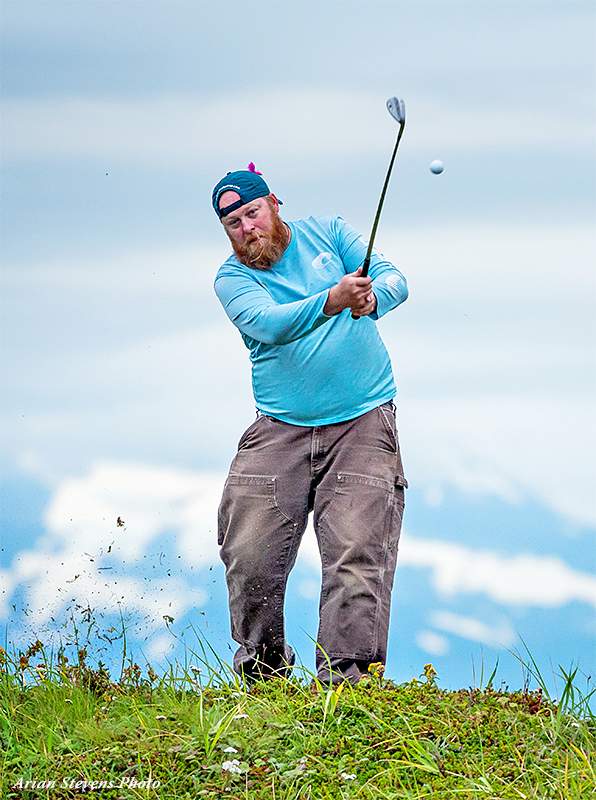 This year my son made the golf team at his high school as a freshman, and I couldn't be prouder of him. I have always had a passion for this game and use many references to it throughout my guiding and teaching of fly casting. I love to ask clients if they have ever shot "par" on a course. This is especially helpful after the 15th tangle of the day or just after losing the biggest fish of their life. It sets the perspective that in fishing, like golf, there's no such thing as perfect. I refer to Sam Snead's description of the golf swing in many of my casting lessons: He once said that when he swings the golf club he thinks "oily." A fly cast should be fluid, not stiff or rigid (with the exception of the stop), and "oily" is a great description. "The grip on a fly rod is like the bottom hand in golf." This is another of my favorite references with beginners when describing how to hold a fly rod for the first time. But, my favorite golf reference is one that I use to reason with my wife when it comes to buying new fly rods …
You see, I have what many would describe as a problem when it comes to fly rods. Having been introduced to fly fishing at a young age and having it as a profession for over two decades, I have a "few" fly rods lying about the house. Just to give you an idea, I have a 2 weight, two 3 weights, a 4 weight, a 5 weight, three 6 weights, three 7 weights, an 8 weight and two 9 weights – and these are just my Spey rods. But, like I always tell my wife, "Fly rods are like golf clubs: You need at least 14 of them to make a set."
Sure, it could be argued that the 9-foot 5 weight is the best all-around trout rod, but sometimes one a little shorter or a little longer is helpful in different situations. If we look at a fishing scenario like a golf shot, each shot requires a different club. On a brush-lined river, a longer rod is helpful with making better roll casts and mending. On an open river that sees a fair amount of wind, a shorter fast-action one would be better for making tighter loops to help drive your fly through the wind. So, as the winter gives way to spring, and we all look to put away our Steelhead sticks and get back to chasing trout, I'll tell you about a few of my favorites that I look forward to dusting off every year.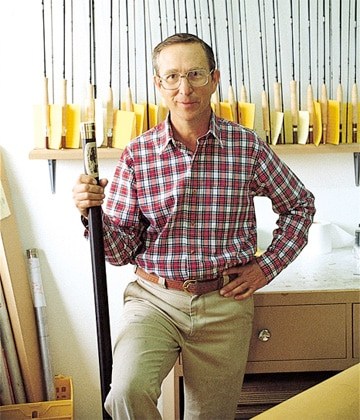 The first thing I think of in the spring is dry fly fishing. As the temperatures warm up and the bugs get moving, the trout awake from their winter slumber and start looking up for the first time in months. My favorite dry fly rod is the TMF (The Tom Morgan Favorite) from Winston. This little 8-foot 4 weight is an absolute joy to fish for rising trout. It has a down-locking burl reel seat with nickel hardware and a flor grade cigar handle. Painted "Winston green," I have it beautifully paired with an Abel TR2 for that classic look. If conditions are right and fish are on the surface inside of 30 feet, this is my go-to stick. It protects tippet well and has a deliberately slow action for the most delicate presentations. While it shines in the perfect conditions, it struggles with big flies or even a little bit of wind.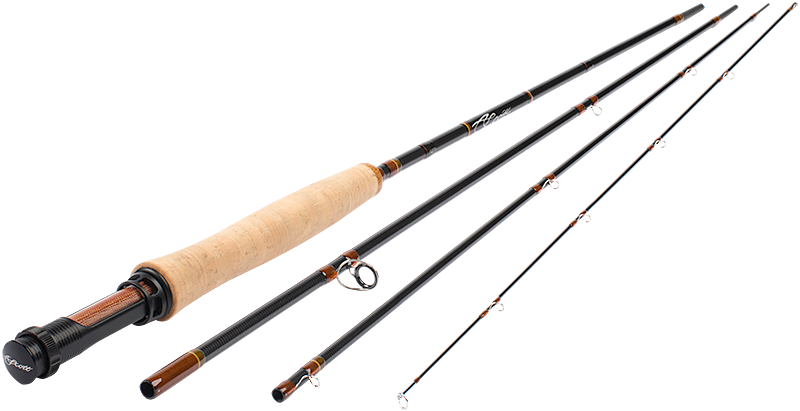 My favorite all-around small stream trout rod would be my Scott 8′ 4″ G2 4 weight. This little guy will handle quite a bit more wind than the latter and is easy to switch to big flies like the salmonflies and golden stones that come with the start of trout season. The rod has a natural finish that is akin to the original G series that put Scott on the map when they were building rods in San Francisco. It also has a beautiful burl reel seat but with an up-locking feature that brings the weight of the reel closer to your hand. This rod excels at dry dropper fishing and will handle a small nymphing rig as well. It's still soft enough to protect light tippet, and although it is not quite as delicate for presentations as the Winston, it is a little more versatile when you need to switch tactics throughout a day's fishing.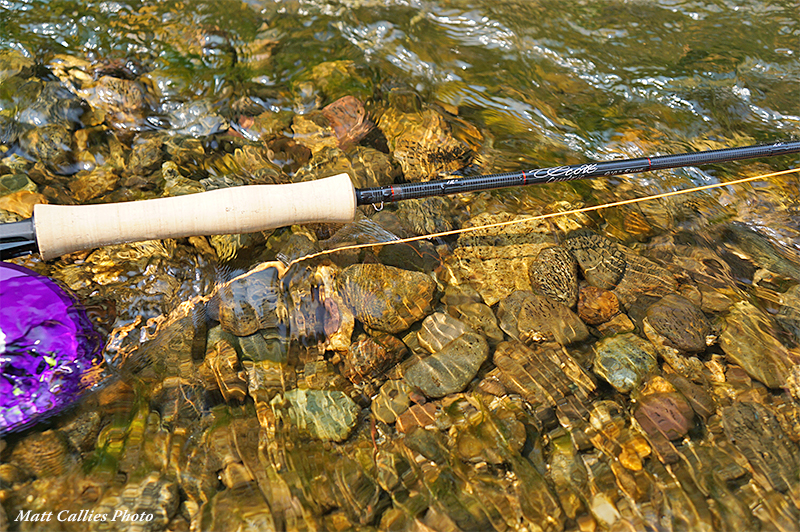 My next favorite trout rod (which everyone should own) is also a Scott. The 9 foot 5 weight Centric is one of the finest fly rods I have ever cast. It is equally comfortable making reach and pile casts as it is single hand Spey casting a large nymph rig with double flies and split shot. Although not designed to protect light tippet, it has plenty of power to fight the hardiest of trout. Extremely light and sensitive, Scott Fly Rods definitely put the "feel" in this fast-action rod. It throws lasers with a single fly, and although you would never need to do it for trout, it will throw a 5-weight line 100 feet in the parking lot of the Shop. This is the rod I take to the big rivers when I know I am going to encounter changing situations and large trout. If you're going to have one 5 weight in your arsenal, this is THE one.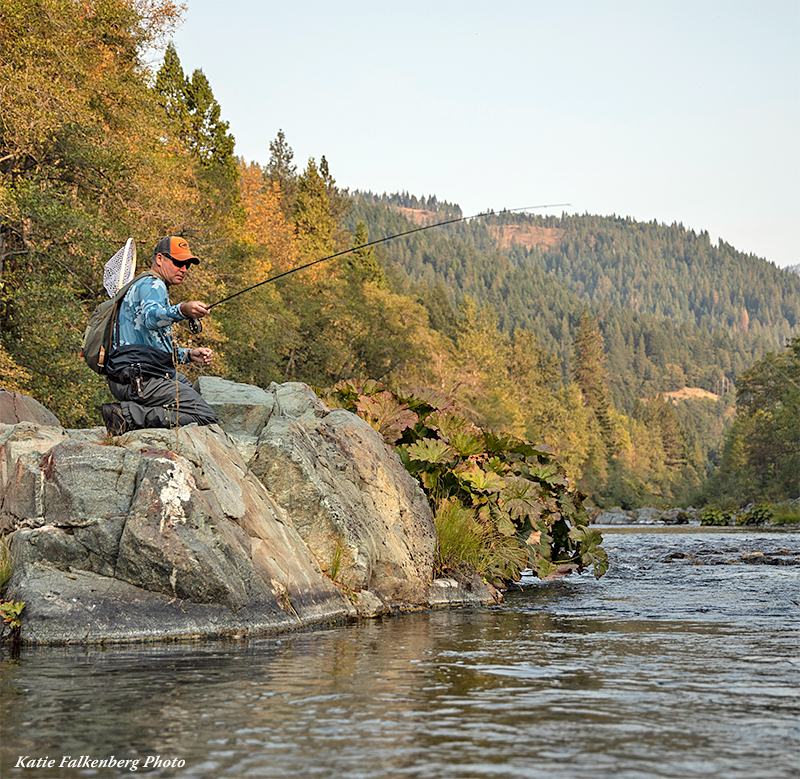 In recent years I have been enjoying Euro-nymphing, and I look forward to breaking out the long stick to dabble some Perdigons into the pocket water this spring. My 10'6″ 3 weight Shadow X from Echo is everything a Euro-nymph rod should be. It is light in the hand and includes balance weights for keeping it from being top heavy. It is wicked sensitive, and while fishing it I swear I can detect a water temperature change during the drift. I run a standard 3-weight line on it and a very long leader so that if I need to, I can switch to an indicator to reach the far seam or throw on a dry when the fish start looking up. Getting out with this technique has been a joy of mine of late, as you never fish further away from yourself than about 20 feet. This requires you to wade deep and scramble over rocks to control your drift in the current. When wet wading, it reminds me of being a kid again playing in the streams my father would fish when I was a boy. Besides its effectiveness, Euro-nymphing has the "grab" that you get when you are tight to your flies. Something I have gotten back to is getting away from the bobber.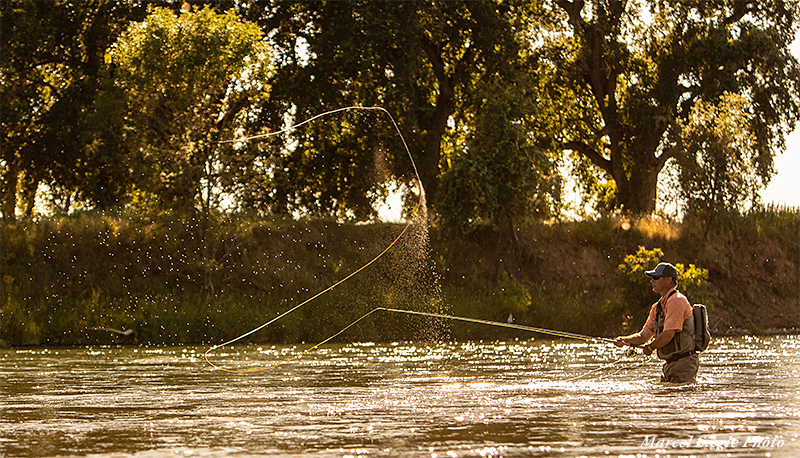 Speaking of "grabs," my favorite way to fish for trout these days is with a Spey rod. Spey rods have come a long way from the big 9 weights I mentioned above, and my current sweetheart is the 11 foot 3 weight Trout Spey from Echo. This little cutie will swing soft hackles during a caddis hatch and chuck sculpin patterns to Timbuktu. I use a Scandi-style head for swinging near the surface with a full wallet of Airflo PolyLeaders in different sink rates and an Airflo Scout head for turning over big flies and sink tips. This thing is so much fun to cast that it almost doesn't matter if I catch any fish. Almost. Because there is nothing like an energetic eat on the swing from a hungry trout that has been waiting all winter long for the caddis to show up.
Well, I could go on for days about my favorite rods, but these are the few that I am looking forward to fishing this season. All of the fly rods out there are like old friends to most of us, and I for one look forward to fishing a particular rod using a certain technique for the day. Most times for me these days the joy is in the fishing not the fish. I encourage you to seek out a new friend this year and string it up on your next fishing trip. And remember, if you get any push back from the accounting department, they're like golf clubs you should have 14 in your bag.