Clothing for Fall Fly Fishing
"There is no such thing as bad weather, just bad gear…"
As the summer fades to autumn and the anticipation of cooler weather grows we need to change gears when it comes to our equipment and clothing. Fall is the best time of year for anyone who loves the outdoors; days begin to shorten, nights cool off, scarlet leaves blanket the forest floor and fishing waters start to cool. That doesn't mean your fishing season is over, for a lot of us, it is just getting started. Many of us exchange our trout and bass rods for swing sticks and larger indicator rods. The two-hander that has been in your closet is anxiously awaiting making its first appearance in months.
It's time to up your fishing game, lengthen your season, and we are here to help you dial it in.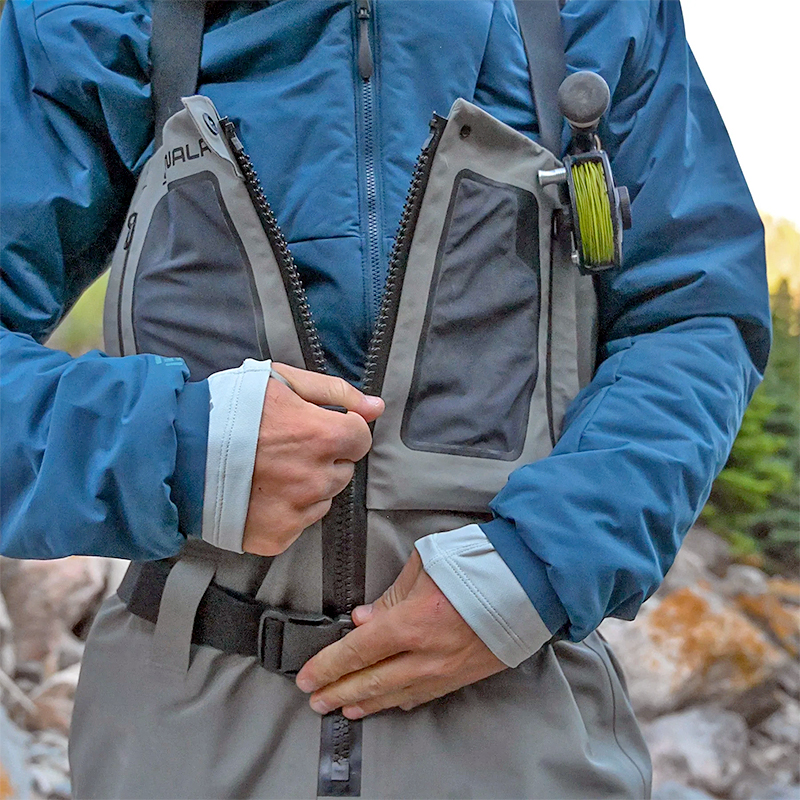 Need a new pair of waders that better handle the colder temperatures?  Our go to for the fall are the Skwala RS Wader, Simms G4 Pro, and the Patagonia Swiftcurrent Expedition Wader.  As you can see, we chose zip front waders because when your hands are cold from a long day of fishing you want to make it as easy as possible to get out of your waders at the end of the day.  Just unzip the front and it's easy to step out of your waders.  A great pair of waders can make or break a cold day on the river.  Having hand-warmer pockets and built-in drawstrings will help you stay warm even in the coldest of environments.
"I have to admit I loved the front zipper, a beefy YKK waterproof design. It was easy to use, had a nice T-handle and could be operated with one hand."
– Patrick Pendergast on the Skwala RS Wader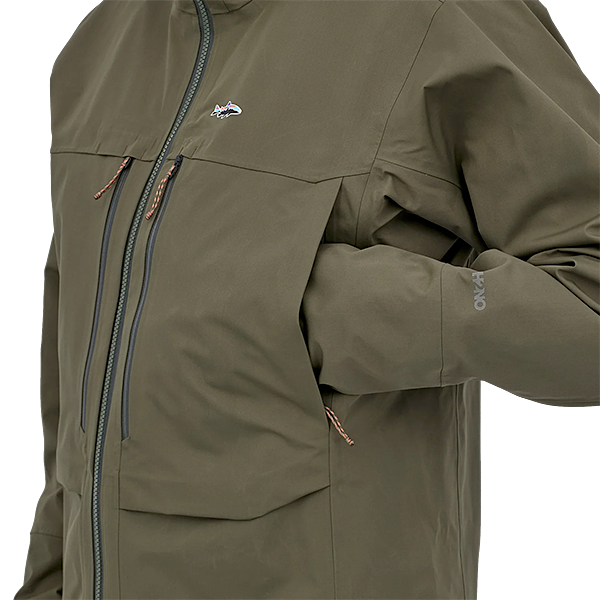 Now that you have a great pair of waders, maybe you already do, it's time to talk about what you'll be wearing up top to keep the snow and rain at bay. Fly fishing jackets have come a long way in the past 20 years. Less and less are you seeing the bulky things we used in the 90's with bellow pockets and zippers hanging loosely.  We all remember filling those large front pockets with fly boxes and other gear, only to have our fly lines get snagged on overstuffed pockets and dangling zippers just as we are shooting out the perfect cast. The newest jackets are streamlined with hidden zippers, flatter pockets that have more purpose than just a junk drawer. Hoods are designed for better coverage and visibility.  You probably already have an old favorite in your closet, but maybe it's time to upgrade. One quick question, when it is pouring and you've got your jacket zipped to your chin, are your shoulders feeling damp?  If so, then your jacket is probably in need of replacement. The DWR has worn off, the pores are filled with microscopic debris and that jacket is no longer doing its job. A few jackets that we highly recommend are the Skwala RS Jacket, Patagonia Swiftcurrent Jacket, and the Simms G4 Pro Jacket.  All of these jackets have great features and are the best of the best.
You are watertight at this point and the next question is, what are you wearing under your waders and jacket?  Just as important as your outer layers is what you are wearing next to your skin.  We strongly believe in the "layering system":
Base Layer – Start off with a synthetic or Merino Wool fabric next to your skin. This often is a pair of thermal underwear (tops and bottoms) and they usually come in three weights: light, mid-weight and expedition or heavy. According to your individual metabolism, pick what is best for you. Synthetic and wool (non-cotton) materials retain little moisture and "wick" moisture away from your skin.  This is very important when you are hiking in waders or when outside temperatures heat up. We recommend the Patagonia Capilene Midweight top and bottom.

A small tip on the base layer.  You can also use your sun shirts as base layer tops.  They are lightweight and breathe well, so they make a great option.

Thermal Layer – Your second layer of insulation should match the weather and conditions you are being exposed to. Lightweight insulation for cool weather, mid-weight for colder conditions and heavy weight for really frigid days. Fleece is an outstanding choice here in tops and bottoms.  We suggest the

Patagonia R1 top

and

R2 bottom

. Or if it's really chilly, a "puffy jacket" is a great choice, Patagonia's Nano Puff® Hoody is our favorite.  A second option would be the Skwala Fusion 3/2 Puffy.
Waterproof Shell – The final layer on your upper body should be a rain jacket. High quality products are the best. Your rain jacket should be 100% waterproof and breathable, multi-layered, with sealed seams. Buy the best rain jacket you can afford, as it is one of the most important pieces of equipment you can own.
We've now covered the bulk of your clothing and waterproofing needs.  The only other items we would recommend are a comfortable, warm hat that will keep the heat generated from your head where it's supposed to be, in your body.  Add a (toque) beanie hat and some great gloves to your arsenal and you'll stay warm in even the worst conditions.
What other things could you possibly need to change seasons?  We've only really scratched the surface with layering and outerwear.  Of course, everything depends on what type of fishing you enjoy during this cooler season.  Here in NorCal the Fall means steelhead on the Trinity River, Klamath River, and coastal rivers.
There are a few pieces of gear that we would deem necessary to make your fishing more enjoyable and safer.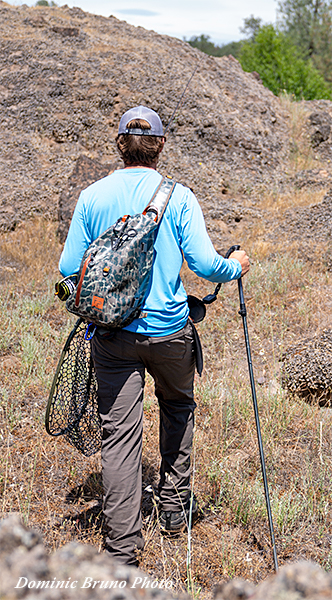 Not everyone uses a wading staff, but more and more anglers have seen the light over the last few years.  Age isn't the determining factor either, "I'm not old enough to need one of those things yet."  Remember, this isn't a walker or cane, but rather a great tool for walking and wading safely on uneven ground and on the slippery rocks in your favorite river or stream.  Don't let pride ruin your day.  We recommend a wading staff that comes equipped with a belt holster and collapses into several pieces.  This helps to keep it out of your way when not needed.  Also, it should have a great retractor that keeps it within easy reach when you need it.  Taking a dunk in cold water is no fun and a wading staff is just the tool to help keep you upright.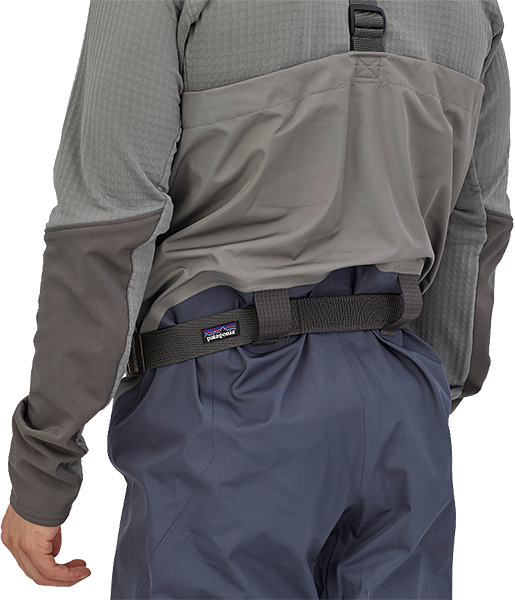 Every pair of waders come equipped with a wading belt and there is a reason for that:  Safety.  These belts aren't there to make your waders look good or to slim down your profile. Waders are generally built large in the mid section for ease of movement and layering. This same extra area that is great when dry is not so great when you fall in and water starts filling your waders.  Wading belts are there to slow the incoming water and hold it in the top portion of your waders until you are able to get back to shore and dry land.  If you are a wade angler, then you've most likely gone over your waders or taken a step into a deep hole that you didn't see. This is when your wading belt comes into play.  Make sure you have one that fits properly – snug.  There are some great ones out right now with a bit of elastic in the back to stretch for ease of movement.  Some even help support your lower back.  We are happy to assist in your wading belt selection that will work perfectly for your individual needs.
We could ultimately go on-and-on with things to switch seasons, but we don't want to overwhelm anyone.  If you have any questions on other gear that is needed to join in the Fall fly fishing game, we are happy to answer them.  Just shoot us an email or give us a call (800-669-3474) and we can talk you through every situation and what we would recommend.
We will be covering the essential gear (rods, reels, lines, flies, etc.) for fall and winter fly fishing in our next blog post.