Why I love Fly Fishing The Jungle
by Terry Jepsen
Since about the turn of the century we have been concentrating on off the beaten path travel destinations predominantly in South America as well as Asia. We had fished most of the trout destinations and caught big rainbows and browns, even the famous sea run browns of Tierra del Fuego. And of course Kamchatka, Russia.  Something new was on the horizon.
I was late to the fishing game as I didn't really get into it until I was around 14 years old.  Nobody in my family was into fishing and especially not fly fishing.  I didn't even know what that was.  Somehow my best friend at that time and I started heading to local reservoirs and chasing anything we could find with our spin rods.  The size of the fish didn't really seem to matter to us, but rather the amount of fish. As we slowly progressed in our fishing we started targeting specific species and understanding the best lures to use. My favorite quickly became largemouth bass. On every weekend you could find us riding our bikes to the local tackle shop picking up new Rapala's, buzz baits, rooster tails, etc… Then, we went off to some local lake or pond that we had heard held quality fish. Of course, our targets were limited as we weren't able to drive and thus our range was limited to how far we could ride our bikes.
If memory serves, I was 15 before I picked up my first fly rod. The guy that my mom was dating owned a fly shop and he took us to stay at a cabin (Abe's Cabin) on the Klamath River, in Northern California. He outfitted my brother and I with waders, boots, and a new Cortland starter rod kit. Back then they were 2-piece rods and the kits came with everything you needed to get started. He taught us to cast out in front of the cabin and the following day we planned to take a drift boat down the Klamath. What an epic adventure for a kid that had ridden his bike to every fishing destination and had never touched a fly rod. Honestly, we didn't do very well and I wasn't excited about this new way of fishing.
I didn't pick up another fly rod for about 2 years. By then my mom had moved from Oregon to Redding, California. She and that guy who taught us to cast had chosen to move forward with their relationship and he had just finished building a new home on the Lower Sacramento River.  I thought it was great as their new home was only a couple hundred yards from 3 great bass ponds. I of course loved this as it gave me a great spot to continue my search for the largest bass I could catch.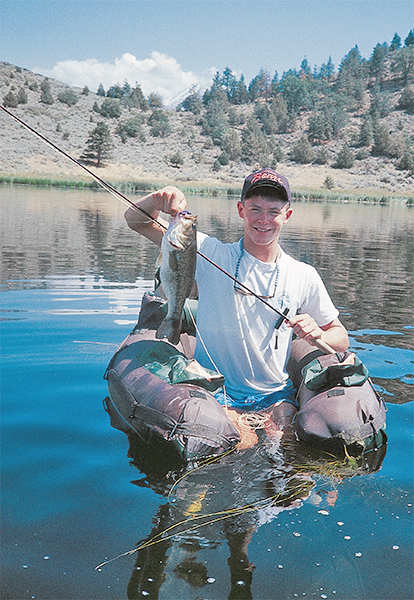 Mike Michalak, the owner of The Fly Shop®, is the man that my mother had met and started dating. He realized my passion for largemouth bass and had gotten access to a private pond that was loaded with large bass just outside of Weed. I was a bit nervous heading to the private pond as we were only taking fly rods and float tubes. The last experience with a fly rod wasn't successful and so I wasn't thinking I would catch any fish. That was really the day that I fell in love with fly fishing. We caught so many fish on topwater flies that our arms were tired.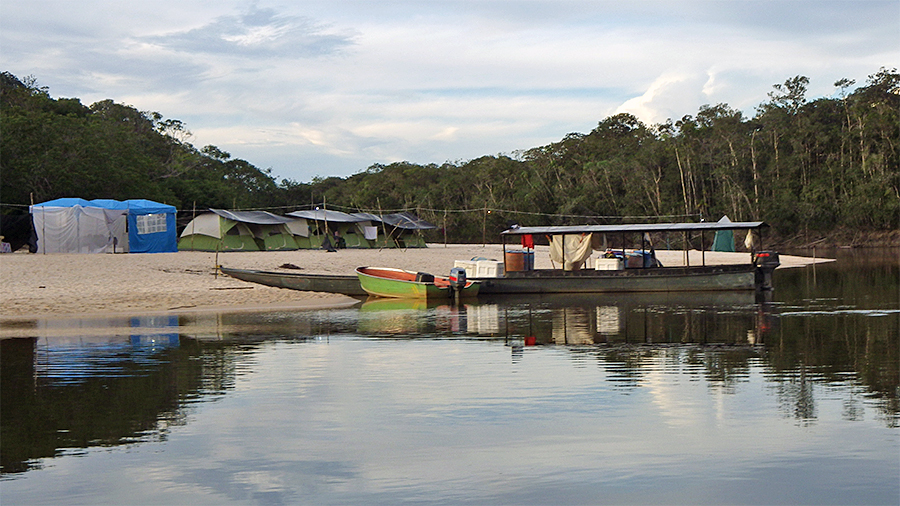 This brings us to the title of this blog post. With this new interest I began chasing largemouth bass in the Redding area with a fly rod every chance I got. Even taking advantage of a private water The Fly Shop® had, Coffee Cup Lake in Corning (now known as Luk Lake).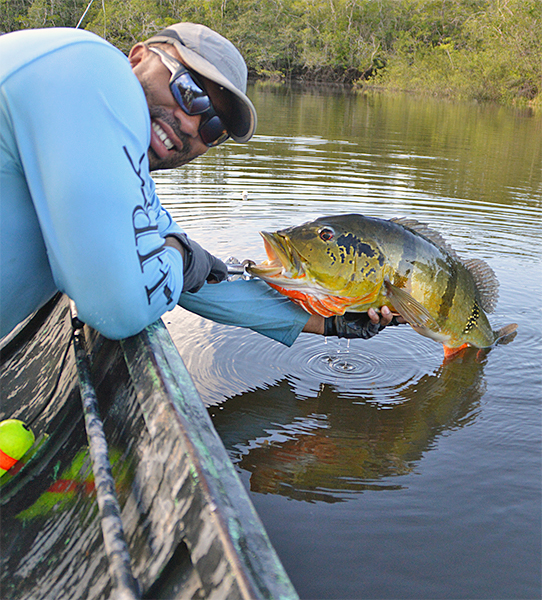 It took many years as I was going to school, living away from home, and even spending a couple of summers in Alaska guiding, but in April of 2015 Mike took me to Colombia to fish the famous Mataveni River. This river had been closed to outside fishing for many years. Mike had met a Colombian, Alex Zapata, and he was starting to take fly fishermen to the Mataveni. Mike hosted a group earlier that year and had a very successful trip. So, he planned a return trip with Alex and invited Mike Mercer and I to join him. I had never been to South America and was very excited to potentially catch a 20+ pound bass (technically a cichlid) on a fly rod. My largest largemouth bass at that time was 6 pounds.
We all drove to San Francisco and boarded our flight heading to Colombia. How exciting!  After several flight changes and a couple of boat rides we were in camp and would be fishing the fabled Mataveni the following day. I had no idea what to expect, nor how to fish for these behemoth fish. The only trips I had been on prior to this were to Belize in my early 20's, Kamchatka, Russia in my late 20's and Mexico in my early 30's. This was something completely different and exotic.
The first couple of strikes and takes didn't go so well for me and I missed the fish. I decided to sit down for a few minutes and watch Mike to see what I was doing wrong and how I could better target and land my first peacock bass. After just a couple of casts Mike was hooked up on an average size fish. I watched where he was casting, how he was stripping his line, how he set the hook, and how he fought these fish. I was now ready to give it another go. It didn't take long and I was right into it with Mike and we both were catching fish regularly. Mike, of course, was having much more success than me, but that was to be expected. We finished the first day with smiles on our faces and headed back to the beach camp for a jump in the river and to enjoy a cocktail before dinner.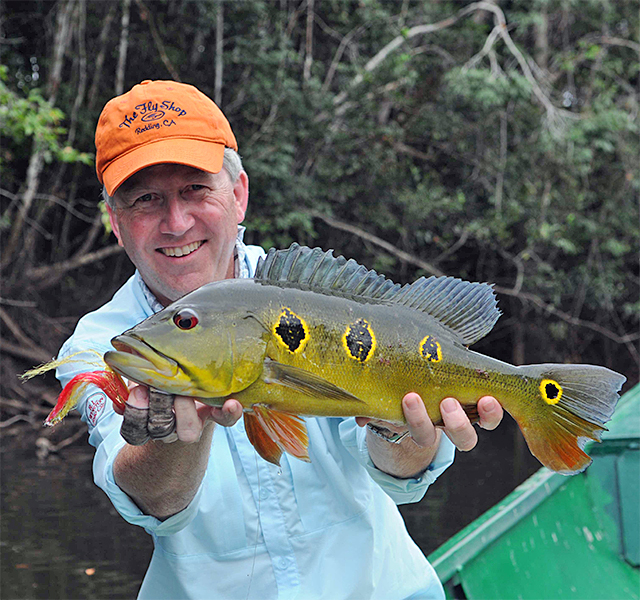 The next day I fished with Mike Mercer all day. Mike Mercer had actually taught me to fly fish for trout when I was 18 as I was really struggling with this new aspect of fly fishing. So, to say the least, I was excited to get to fish with him. Mercer, like Michalak, is an expert angler. They definitely have different fishing styles and it was great to spend that day with Mercer learning his style. We had a fairly good day but no brutes were brought to the boat. It was still fun catching some butterflies and some larger temensis. The goal when chasing peacock bass is to catch a 20 pounder, so that is exactly what we were searching for. My best memory of that day, and Mercer and I talk about it regularly, was hearing a bunch of rustling in the jungle and wondering what could possibly be making that much noise. We joked about it being some giant animal stalking us and waiting for us to approach the shoreline. The best part was that it ended up being a flock of wild chickens. Hard to believe they could make as much noise as they had. We had a good chuckle in the boat when we saw them come out of the jungle and approach the shoreline.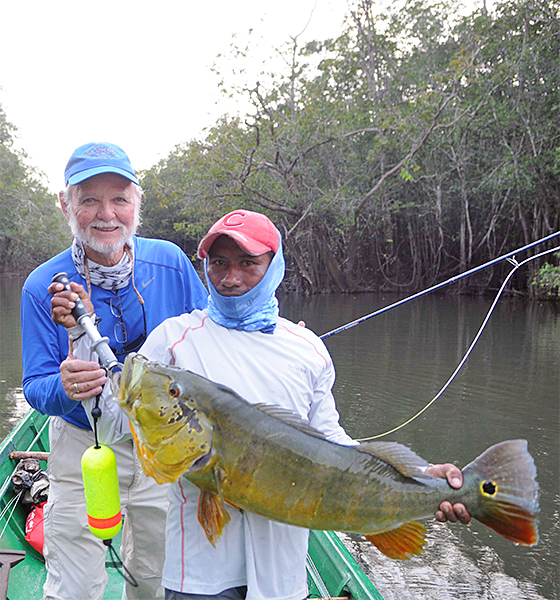 The third day of the trip I fished with Don Causey. We rotated with our group everyday so that we all got an opportunity to fish together. At the time Don was the editor for The Angling Report and Mike had invited him along on the trip so he could write an article on the return of the Mataveni. After lunch that day I finally reached the goal of the 20 pound fish. We were in this little lagoon off the main river and casting in heavy trees with a lot of underwater debris. I had been fishing a lot of streamers as those seemed to work well. But it was time to put on a popper and get back to my old largemouth bass fishing tactics. I always liked to cast a popper to shore and bring it back towards the middle. I placed my popper right next to the bank, a perfect cast for me as I'm certainly not the best caster in the world. The popper hit the water 3-6 inches from the shoreline and I let the rings settle. As the rings dispersed I stripped my line tight and made my first "pop" with the popper. Suddenly the popper disappeared from sight. Odd, I didn't feel anything on my line and was wondering what happened to my fly. Had it got stuck on a stick just under the surface? I pulled again and my fly didn't move. Since we were using 40 pound Fluorocarbon I decided I would just give it a hard pull and see if my fly would come loose as I didn't really want to have to take the boat over there and ruin a potentially good hole. As I tugged on my fly line I felt a tug back and then the shit hit the fan. I was hooked up with something big and it was now fighting back. I set the hook again, this time much harder, and that fish knew it was hooked. It dove hard and fast towards the trees in the water. The guide started moving the boat away from the underwater refuge that the bass was trying to reach, but that wasn't helping. All of a sudden everything stopped but my rod was still bent and there was weight on the line. We were in a stalemate. I couldn't pull nor could the fish pull, something was wrong. All of a sudden my guide jumped over the side of the boat and was underwater. He came up a few moments later with my fly line in his hand. I'm sure my face showed some sort of negative emotion as I felt that the fight was over and the big fish had beaten me. The guide was pulling on the line and there was still something attached as you could see it pulling back. He told me to reel and dove down again. The peacock had wrapped my line around several branches underwater and was stuck. This time when he came up he was holding the bass in his hands and all the tension on my fly rod and fly line had gone away.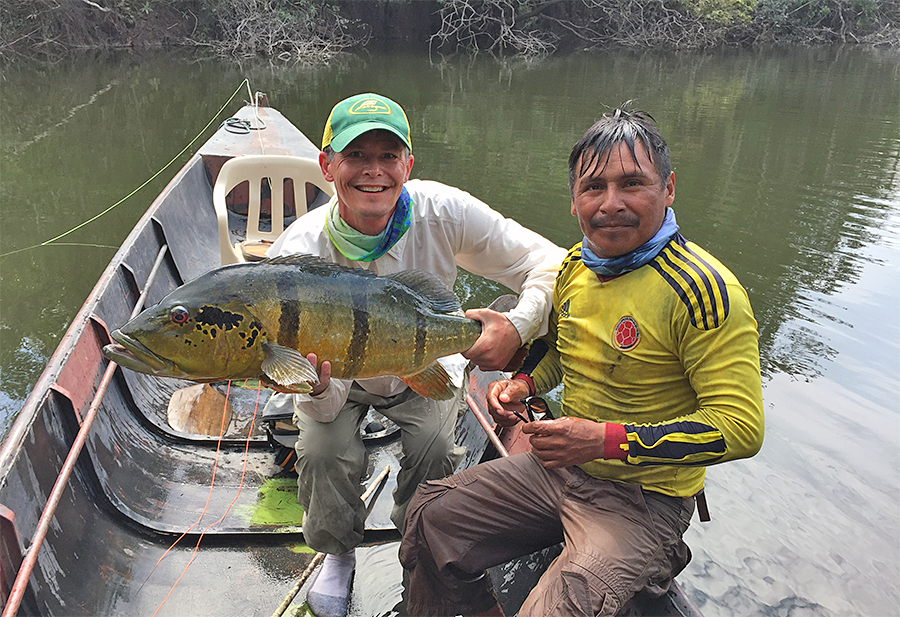 I was hooked and I'm sure that the smile didn't leave my face for days. I dreamed of big peacock bass that night and the rest of the trip. That was the largest fish I caught that trip and I was completely satisfied. But what Mike and I talk about when we remember our week in Colombia isn't the fishing, instead it's the evenings sitting in chairs beside the river and watching the thousands of fireflies come to life each evening. As we sat there talking about our day we would start seeing these lights, like thousands of people carrying flashlights coming towards us.  The stars were amazing every night as well. Those are the things that we remember from this trip, much more than the peacock bass we caught. The other thing we share with others is the trip to the Mataveni village and getting the opportunity to meet the chief and spend time with the villagers.
The next adventure to South America and the jungle came in November of 2016 when Mike invited me to join his group in Bolivia at Tsimane's Pluma Lodge. Mike had already been a couple of times as the Golden Dorado was a prized species he had wanted to catch since he was a child. That's a whole other story that hopefully we will tell in a future blog post. John Leonard, Peter Herzog, Mike McVay and a couple others were joining us on this adventure. I had only heard of this fish when I was watching River Monsters with Jeremy Wade and after watching that show had them at the top of my bucket list.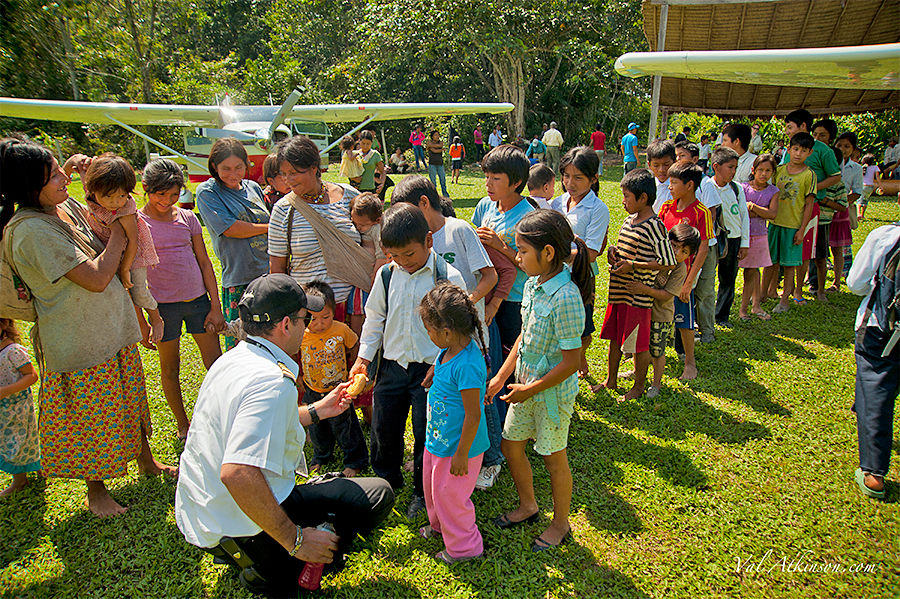 Again, as the time to fish for these apex predators came closer the excitement for me grew. I had no idea how to fish for them or what the fishing would be like, but I knew Mike would teach me on day one and it would be epic. As we flew out of Santa Cruz, Bolivia and headed into the jungle I honestly couldn't wait to wet a line. We landed in a small native village with a grass runway and all of the villagers were there to greet us. The Tsimane tribe is a very friendly group and the pilots apparently always bring bread or candy for the children.
Upon landing we were directed to change into our fishing clothes and get our gear setup as we would be fishing on our way to camp. Two boats would take the luggage ahead of us and we would fish our way upstream to camp that day.  We walked through the village and got to see the new school that was being built as well as the new medical center they were almost finished building, funded by the native fee each angler pays. How cool that fly fishing had helped to bring these things to these primitive people. We paired up and headed upstream.
About 30 minutes in we stopped at our first sandbar and unloaded from the boats. I have to say, there was literally nobody in sight and not a single building. Again, I stayed back and watched as Mike started fishing. This wasn't his first trip to Tsimane, so he knew exactly what he was doing. I watched Mike start heading off on his own, which is very common on these trips. The guide stayed back with John and I and was telling us what to look for and where we should wet our first line. But I wasn't really paying attention as I was watching Mike walk across a shallow riffle to a different sandbar. I could tell he was heading for a fallen tree and was going to fish the structure first. I'm not sure I even moved for those first 5-10 minutes, just taking in the sights and intently watching what Mike was doing and how he was targeting these fish. He was hooked up in no time with a small golden.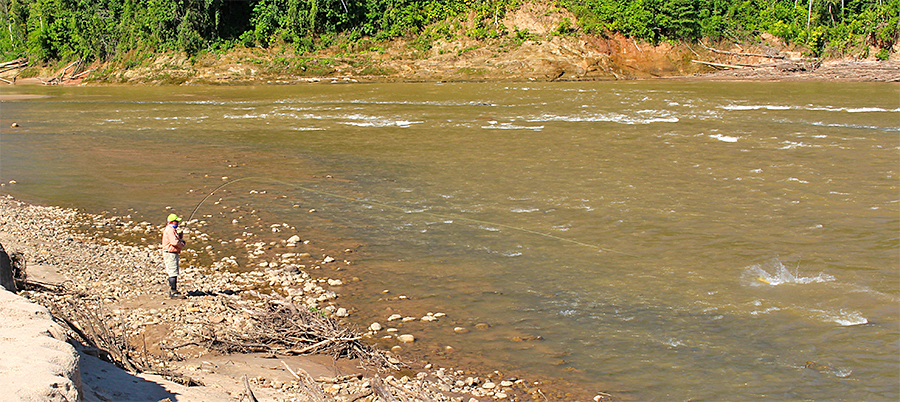 It was now time for me to wet my first line and see what this was all about. I walked to the other side of the sandbar and started casting and retrieving my Andino Deceiver. But today wasn't really about the fishing for me, but rather about looking around and seeing exactly where I was.  That's the biggest part of these adventures for me, seeing somewhere new, the wildlife, birds, trees, and even the sounds. The first wildlife I saw was a cayman sunning on a neighboring beach. To some it would be a bit scary, but to me it was just part of the jungle. I had encountered these same prehistoric looking creatures in Colombia. Then I saw parrots flying above the trees across the river and heard my first monkey calling from the canopy. Simply amazing!
That day was more an introduction to fly fishing for golden dorado and it wasn't a very successful day for me. I think I landed a small one and had a couple of takes. Nothing to write home about as far as the fishing went, but I was in Bolivia and that was exciting enough.  Honestly, I never even imagined getting to travel to these places, much less spend a week there fly fishing. I called my oldest daughter that night after dinner to tell her about the amazing scenery and the journey.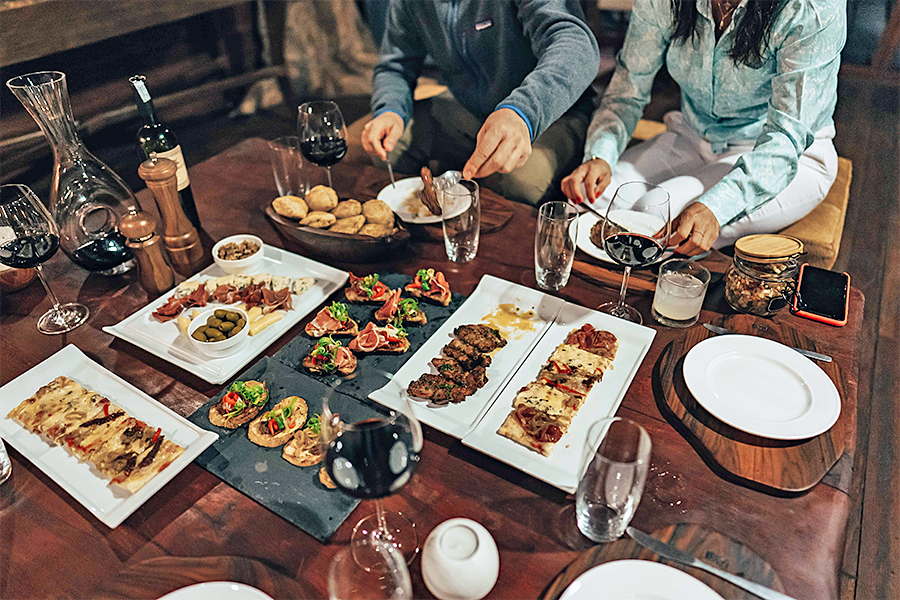 We reached camp and got settled into our rooms and ready for dinner. I hadn't met most of the anglers so it was nice to finally get an opportunity to meet everyone and share a wonderful meal and a couple cocktails. The accommodations at Pluma Lodge are very nice and comfortable.  The staff was excellent and happy to help with anything. Sitting high above the river we could hear every sound and there were so many stars, something we don't get to see when living in the city. I went to sleep that night with dreams of giants on the end of my line.
The second day was much different than the first as we headed up the Pluma River to fish and I found that the river shrunk in size significantly. This is more of what I imagined when I was invited on the trip. Again, I spent the boat ride staring into the jungle with amazement. Was I dreaming or was this real? I feel so at home in the jungle with the sounds and trees surrounding me. Of course, I was hoping to see a Jaguar as I love big cats and they, like our local mountain lions, are very secretive creatures that are rarely seen by guests. I had heard of a previous group seeing one swimming across the river and I very much hoped I would be lucky enough to have the same experience.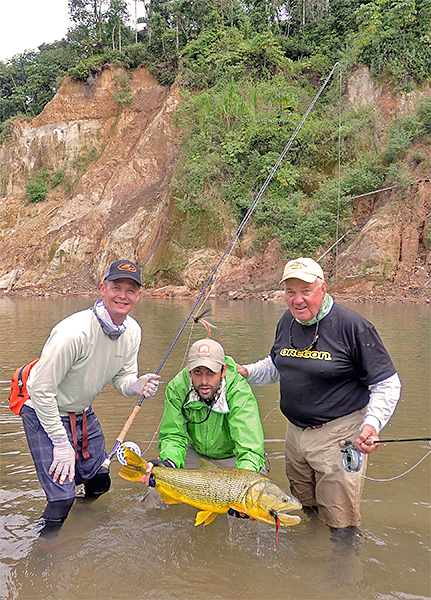 The fishing was amazing as the days went on and I learned more about how to fish for dorado and we brought many fish to hand that week. This time I fished most of the days with Mike Michalak and we had a great time bonding and sharing something that we both love. On day 4 we got the opportunity to hike into the Itirizama Headwaters and fish a rarely fished area. The fishing was okay, but the hike was absolutely amazing. We saw huge trees, monkeys jumping from tree to tree, signs of Tapir and Jaguar, and even the most poisonous snake in Bolivia, which Mike almost stepped on. I think I caught my biggest fish that day, but that doesn't really stick out as the best part of the day, it was the scenery and the fact that we were literally walking through a Bolivian jungle. I wondered to myself just how many North Americans had done this and how lucky we were to now be included in that group.
Bolivia is definitely a place I plan to return to one day. The culture is very interesting to me and just thinking about seeing that jungle again brings a smile to my face.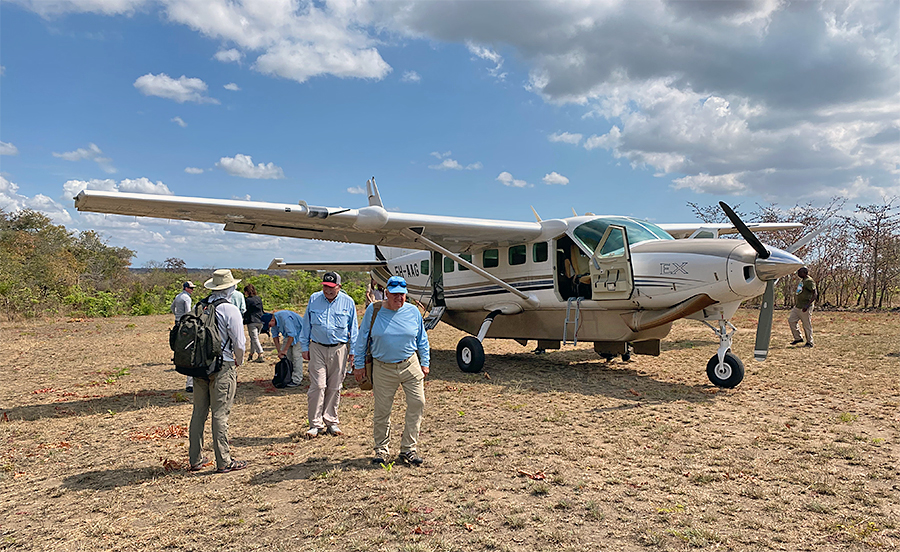 My latest adventure wasn't to South America, but to a completely different type of jungle. In 2021 Mike was hosting a trip to Tanzania, Africa to chase Tigerfish. He again invited me along on this amazing adventure. Africa? Was I really going to get to go to Africa? Again, another place I never thought I would get to visit. There was a small group of us from the Redding area, Mike, Bob Brennan, John Leonard and myself, and we loaded into the car and headed to San Francisco for our 19 hours of air time to reach Tanzania.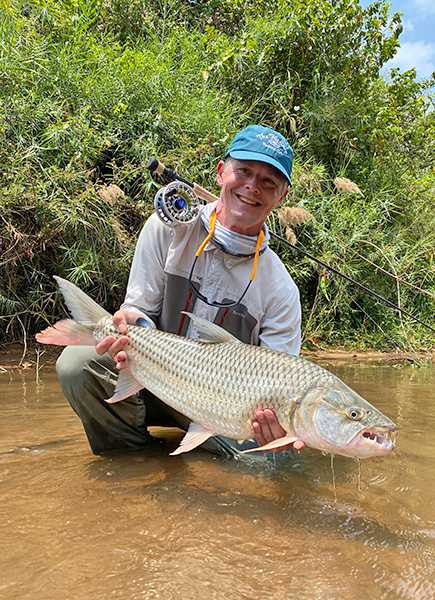 Tigerfish had risen to the top of my bucket list a couple of years earlier. Those gnarly teeth and large scales were something that I just had to chase. They were calling me since I saw a video with Rebekka Redd a couple years earlier. It looked amazing and scary at the same time.  I mean who hasn't read or watched videos about hippos and how dangerous they are. Not to mention the possibility that I could see the king of the big cats, lions.
I won't go into every detail of this trip as I've written about it many times and one can find all of those details in my Travel Chronicle – Tanzania Tigerfish Trip Report. I cover the trip day by day in this report, so if you would like to know more about the daily aspects of this trip I suggest that you take a few minutes to read through that report. You can also find an article that I wrote on The Venturing Angler – Travel Journal: Fly Fishing for Tigerfish in Tanzania.
What drew me to all of these places? I really love the jungle and I'll outline them here:
New & Exciting – Not many fly fishing anglers, when you look at the larger number, have ever been there or thrown a fly at these fish.
Species – Many of these species are new to the sportfishing world and have generally been targeted in the past using conventional gear or not at all.
Destination – Many of these new lodges are opening in countries that hadn't had much fly fishing or tourism prior to the lodge or camp being built.
Cultural – Several of these destinations have brought needed growth and financial support to the communities that they work with. An example of this is the Tsimane natives. With the native fee that accompanies the cost of the trip, they are able to get medicine, education and structures that they wouldn't have otherwise been able to.
Reduced Pressure – As many of you have seen over the years, the old standard spots are seeing many more fishermen. These new species and destinations help spread out the impact of anglers reducing the pressure on the oldies but goodies.
New Challenges – Many anglers have been searching for the next great thing in fly fishing. These destinations have brought about new angling opportunities that were hidden or not pursued in countries that need monetary growth.
New Gear – These new species and destinations have brought about the need for new gear. We've seen the introduction of fly lines for freshwater tropical destinations as well as an entirely new line of flies to match the baitfish these species pursue.
If you have any questions on this article, destinations in this article, or on jungle fishing in general please don't hesitate to reach-out to me via email or give me a call.