Terry Jepsen has worked for The Fly Shop since he was in junior high school. Of course, he took some time away from the shop to attend college and try his hand at other careers. Terry is the son of the owners, Mike and Bertha Michalak, and he has done just about every job you can think of here, from dusting and stocking the shelves to his recent promotion to Chief Operating Officer.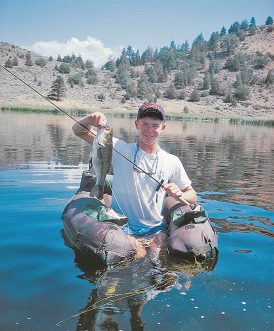 He has been an integral part of creating one of the largest websites in the world for fly fishing as well as incorporating technology into the company. When Terry first started here, inventory and ordering were done on a clipboard, and there was only a single keyed register that we were all using.
But Terry also took a couple of years away from the shop to guide in Alaska at Wilderness Place Lodge for Ed and Judy Sharp, and this was really when his passion for fishing came to light. He had enjoyed fishing for bass locally prior to this big adventure, but fishing and being around fishing daily lit the fire. However, after his second year guiding, he realized that this wasn't the future he was looking for. It takes a special person to be a fishing guide, and it just wasn't the ideal fit. So, when he was 26 years old, Terry came back to The Fly Shop® to start over again.
Once home, he was surprised when Mike Michalak asked him to take on the newest aspect of the business — the internet, which was something that very few were up to speed on or even capable of doing. Remember, this was the late 1990s, and the internet was fairly new and most of us didn't even have a personal computer or access to it. But we knew we needed to have a presence on this new platform. It started very fundamentally with a handful of informational pages, growing over the years to over a dozen domains.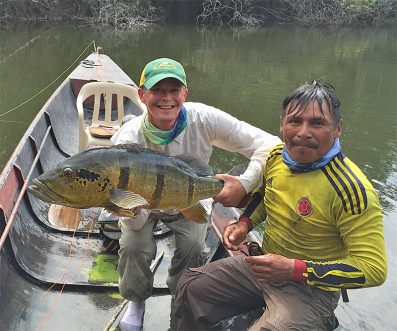 Terry has been fortunate to fish in some of the most remote and unique places on the planet. His first big adventure was to Belize with his family when he was in his early 20s. This trip was more about his first international experience, and ultimately, he found diving and snorkeling more exciting than chasing bones and permit on the flats. His second outing, several years later, was to the fabled rainbow trout waters of Kamchatka, Russia. This was an epic trip and brought a new interest in trout fishing. But his passion for bass fishing never let up over the years, and in 2015 he visited Colombia to fish the famous Mataveni River for peacock bass. This exotic trip opened the door to even more fishing opportunities. In 2017 Terry headed to Bolivia in pursuit of golden dorado, his new favorite species. Tsimane Lodge didn't disappoint, and the extreme predators there were game changers, making it a trip that he definitely wants to take again. But next on his schedule are the tigerfish of Africa, with a plan to head to Tanzania in 2021 to put himself and his gear to the test with these jungle creatures. In case it's not clear, his newest passions are the jungles of South America and Africa. There is no harder place on gear than the jungle!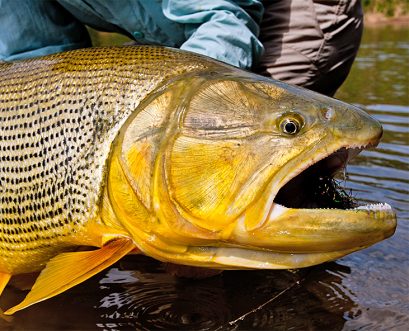 Favorite Fish:
My favorite species to chase with a fly rod are golden dorado. This is the most aggressive species I've ever encountered. I actually saw this show, River Monsters, where Jeremy Wade was talking about the golden dorado. It was bizarre, especially when he told a story about a boy who had been bathing in the river and had his manhood removed by a fish. If that doesn't give you some intrigue, then I'm not sure what would. I just had to catch this fish! Like Mike Michalak said when we were fishing for them, "If you tie a steelhead and a dorado together at the tails, the dorado would drown the steelhead and then turn around and eat it." These powerful predators and their feeding frenzies make the hair on my arm stand up just thinking about them. There are still several golden dorado destinations that I would like to visit.
Favorite River:
This one would probably surprise most people, but my favorite river is the McCloud here in Northern California. A close second being the Pluma at Tsimane with its gin clear waters. The McCloud has possibly the most famous strain of rainbow trout in the entire world, and it's only an hour from my house. Visiting the McCloud River is like taking a step back in time. There are no roads along the river, rarely do you see another angler, and the forest and surroundings are just beautiful. I honestly lose myself in the beauty and the sounds of nature, and I haven't been to another place like it.
Bucket List Destination:
When you work in the fly fishing industry, your bucket list is constantly changing as new destinations are discovered. For years the top of my list (which is still incomplete) was to catch a sea run brown in Tierra del Fuego. But over the last couple of years that list has changed significantly, mostly pointing to the jungle. At the top of my list right now are tigerfish, and I'll fulfill that when I visit Tanzania in fall 2021. After that I would like to check the largest of the jungle fish, the arapaima at Pirarucú, off that list. However, if a chance to chase golden dorado comes up, I would certainly skip other things to make that happen, such as Tsimane (Bolivia) again, Dorados on the Fly (Argentina) or Golden Dorado Cruiser (Argentina).

Favorite Rod:
I've always been a bit of a Scott junkie since I started fly fishing. It may be that it was the first high-end rod I ever used, the original G series. I broke that rod trying to get my fly out of a tree and got in a lot of trouble. But, I always loved the unfinished look to their blanks and the ferrule system. I had been using the Scott Radian, but with the new Scott Centric it will be an easy transition. If you haven't gotten an opportunity to cast one of the new Centrics, I recommend you make that happen ASAP.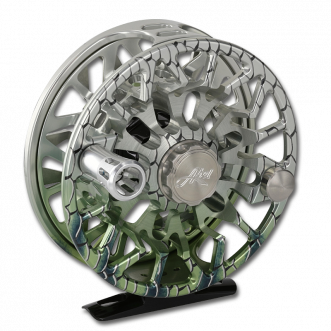 Favorite Reel: 
This is one of the toughest decisions in fly fishing for all anglers. So many wonderful reels out there with so many different needs and uses. But, my favorite are Abel reels. Again, it goes back to the old Abel Super when I started at The Fly Shop®. Seeing those going out to customers who were going on trips every day made me realize that they were top of the line. It took many years for me to get an opportunity to first use an Abel, but it was worth the wait. My Ross Reels got the job done, but an Abel to me will always be the top tier in fly fishing reels. I really love the new Sealed Drag series as well as the lighter Vaya.
Favorite Fly:
Being a bass fisherman, this is an easy one. My all-time favorite fly is the Whitlock's Swimming Frog. Dave Whitlock was a hero of mine at a young age, and one of the first books I read on fly fishing was written by him. I'm not a real fan of dredging the bottom for fish; I prefer watching them take on the surface. There is no better fly ever made for topwater largemouth bass fishing, period!
The One Thing You Take Everywhere:
There is one product that goes on every single trip or fishing outing — the Patagonia Stormsurge Backpack. I use this as my carry-on and then it becomes my boat bag for the week. I also take this thing everywhere when I'm home. I find having a dry bag with me all the time just makes life that much easier. I'm not one for wearing a fishing vest, pack, or sling, but I use my backpack to meet all of those needs.