Peacock bass is the common name in English for a group of closely related species of tropical, freshwater fish of the genus Cichla, native to the Amazon River basin of South America. Despite their name, these fish are cichlids, not basses.
Sport fishermen have made these cichlids (related to a freshwater tropical fish called an "Oscar")  prized game fish for their fighting qualities, so much so that they are now the target species for trips to Brazil. Renowned American peacock bass fisherman and fishing author, Larry Larsen, refers to them as "freshwater bullies" due to their ferocious nature when hunting and their tendency to damage and sometimes destroy fishing gear when striking.
The most common techniques for catching these cichlids are similar to those for catching largemouth bass (although if tied tail to tail a peacock bass would drown the largest largemouth bass). Fly fishing techniques for peacock bass usually revolve around 8 or 9 weight rods, paired with a floating tropical fly line, coupled to a 40 pound straight leader and tied to a large  popper or streamer. Making your shot and stripping fast is what gets a peacock to trigger on a fly and then hold on! Trout sets don't work here you need to execute a strip-set, as you would on a tarpon. Peacock bass hit like missile and pull like a freight chain – few sport fish, freshwater or saltwater, pull harder than a peacock. The difference between the fight of a 5 pound peacock bass and 20 pounder is herculean!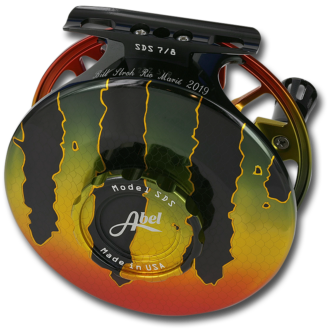 Commemorate your future or past trip with a beautiful Abel Sealed Drag Reel.  The gold standard in the Amazon – the yardstick by which all trophy peacock bass (C. temensis) are measured – is the extremely rare fish that tips the scales at over 20 pounds. Few jungle anglers using either fly or spin tackle have ever caught a single one in their life. In a three-hour stretch on the Rio Marié one morning in September of 2019, Bill Stroh landed two monster peacock bass over that mark. One weighed 21.8 pounds and the other 22.3 pounds. Either of these giants would be the fish of a lifetime. Both were caught with a fly rod! Bill's incredible day was celebrated by a custom- engraved Abel SDS 7/8 reel, anodized with the brilliant coloration of a peacock bass!