Rio Mataveni – Colombia, South America
In past seasons on the Mataveni we have experienced astonishing fishing for trophy peacock bass.  During one exploratory trip, five anglers released 16 fish that weighed 10 pounds or more, with 2 that tipped the scales at a whopping 20 pounds, losing count of the number of fish released less than 10 pounds. Long famous for growing record-class fish, the International Game Fish Association recognizes the Mataveni River for producing two world record Orinoco peacocks, and a speckled peacock weighing 26.8 lbs. Chasing world records may or may not be on your bucket list, but the experience of casting a fly to a 20-lb class peacock bass floating just under the water's surface in a tropical lagoon should be!
While there are a number of world-class peacock bass rivers in Colombia, the Mataveni is particularly intriguing due to its angling history, small size, and that access to the river is strictly and completely controlled by the indigenous people who live there. These same people will be your river guides for the week, navigating the waterway that has been their home since childhood. They know the Mataveni like no other, paddling their long dugouts silently into dark water lagoons while you cast to your fish of dreams. The angling window is short, coinciding with the dry season and low water flows – January through early April. Because the local people are very protective of their fishery, they often rest the river for weeks, with no anglers being allowed on the river at all. It is to their credit that the well-being of this fishery comes first to them; because of this they strictly enforce a single, barbless hook only rule, and gently release these magnificent fish back into their river and lagoons.
The Mataveni River experience is an opportunity to live and fish in a true jungle wilderness. Your camp will be located on a long white sandbar in a roadless jungle, with the sounds of parrots filtering down through the trees at dawn. For a week your small group of anglers will have this world-class fishery all to yourselves, guided by the only people who live there. In our trips here we have observed a sloth swimming in the river, pink freshwater dolphins, huge river otters, and watched caiman slide into the water as we fished. You can fish popping bugs for butterfly peacocks, cast to schools of baitfish being destroyed by hungry giant peacocks, and then dine on Paraná soup for dinner. We guarantee that you will never forget your journey to fish the Mataveni River, and the wilderness that surrounds it.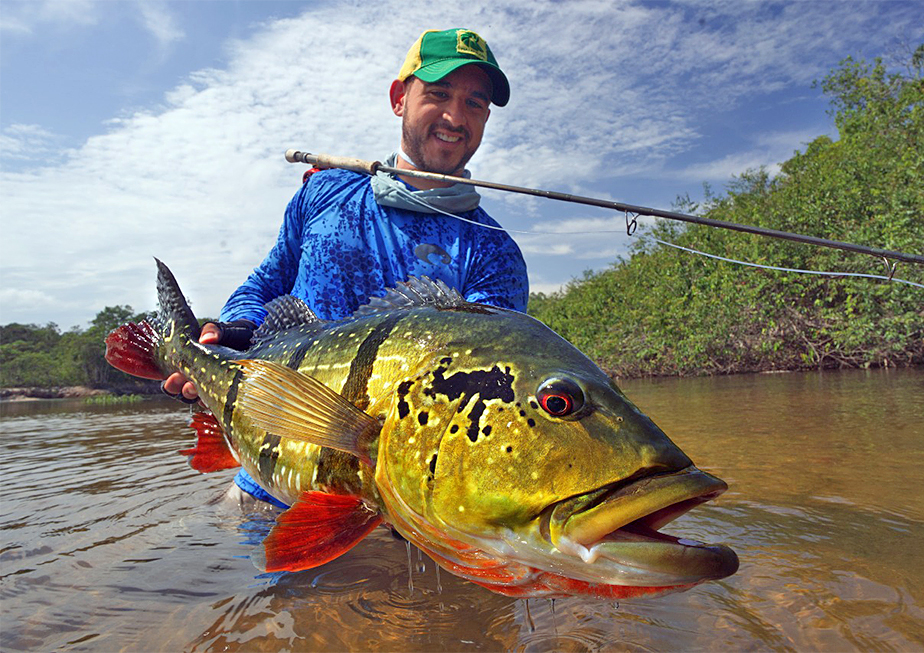 Reservations & Rates
Hosted Trip: Join Terry Jepsen for his return trip to the Mataveni March 14 - 24, 2024

$4,800 + $600 USD Indigenous fee, per person, shared boat fishing & single occupancy tents
Inclusions
Included in your package at Rio Mataveni are: All meet and greet and transfers in Bogotá; Bogotá hotel accommodations (shared room) single room $70 extra; Domestic round trip flight from Bogotá to Inírida Port (Guainía) (Checked baggage limit of 15 kgs (33 lbs.) and 5 kgs (11 lbs.) carry on); Water transfers from Puerto Inírida to Camp; Single/private tent lodging for each fisherman; 6 days of fully guided fishing (two anglers per boat); All meals: breakfast, lunch and dinner at Camp and in Puerto Inírida; Drinks (sodas, bottled water, Gatorade).
Non-Inclusions
Not included in your package at Rio Mataveni are: International flights to Bogotá; Meals, drinks and expenses in Bogotá; Expenses for excess baggage; Alcoholic drinks (available for pre-ordering); Fishing equipment; Evacuation insurance, cancellation, repatriation and medical insurance; Gratuities; Sport fishing license (AUNAP).
Travel Insurance
The Fly Shop® is not in the insurance business, but we recommend RedPoint and Global Rescue (IMG) coverage as a service with a desire to see your best interests protected. It is impossible to know when an unfortunate situation (loss of luggage, fly rods, illness in the family, or an accident) may occur. However, such things can and do happen, and this insurance can provide a means of recourse against non-refundable financial losses.

• Travel Insurance Information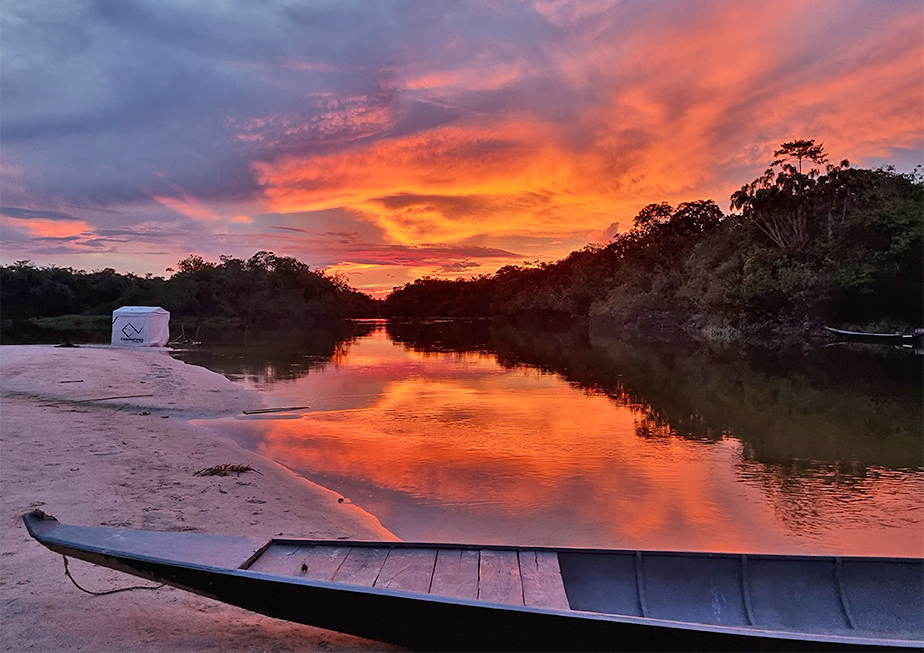 Seasons at Rio Mataveni
Seasons on the Mataveni The angling window is short, coinciding with the dry season and low water flows – January through early April. La Primavera in Vichada has a tropical monsoon climate with heavy rainfall from April to November and little to very little rain from December to March. This is a strictly enforced catch and release, single, barbless hook only fishery.
Read More
December: Day 31°c | Night: 23°c | Rain Days: 5
January: Day 33°c | Night: 24°c | Rain Days: 2
February: Day 34°c | Night: 25°c | Rain Days: 3
March: Day 33°c | Night: 25°c | Rain Days: |12
April: Day 30° | Night: 24°c | Rain Days: 18

The Orinoquía Region is one of the five natural regions of Colombia, belonging to the Orinoco River watershed. The region covers most of the area of the states of Meta, Arauca, Casanare and Vichada. The ecosystems of the region are tropical savanna with gallery forests, and wetlands along the rivers. The region has 3 national parks: National Park of Serranía de la Macarena, National Park of El Tuparro and National Park of Morichales de Paz de Ariporo.

The Orinoco is one of the longest rivers in South America, 1,330 miles in length. Its drainage basin covers 340,000 square miles. 76.3% of it exists in Venezuela, with the remainder in Colombia. The Orinoco and its tributaries are the major transportation system for eastern and interior Venezuela and Colombia. Average yearly rainfall is 97.5 inches in the western region, and 116 inches in the eastern. The average temperature is 81°F. Savannas cover 75% of the area, and gallery forests occupy the rest. Predominating plants include the Moriche Palm and the Caraipa llanorum tree. The dominant vegetation on the non-flooded savannas is grass. The area is home to 74 species of mammals, 320 birds (many of them marine), 17 reptiles, 26 fish and five primate species. Amphibians are significantly diverse due to the variety of ecosystems in the area. Notable birds include guans, curassows, screamers, eagles, parrots, and ducks. Mammals found on the savanna include white-tailed deer, giant armadillo, small savanna armadillo, and tapir. Peccaries, pumas, and jaguars inhabit the woodlands.

Puerto Inirida
Puerto Inírida is the capital city of the state of Guainía. The population of 13,000 is mostly indigenous, accounting for about a third of the state's population. Located at the confluence of the Inírida River and the Guaviare River, most of the terrain near Puerto Inírida is river terrace and bottomland, with a few scattered hills. Puerto Inirida and the surrounding areas are well-known for being visited by Alexander Von Humboldt in the early 1800's. He was the one who discovered the "Estrella Fluvial del Oriente", the confluence of three different rivers that end up being part of the Orinoco River. Puerto Inirida has hotels, restaurants, pharmacies, internet access, a health center, and commerce. The airport has weekly commercial flights to Bogotá operated by Satena Airlines. It's important to understand that Puerto Inirida is a safe community, with a strong presence of police and army personnel who are dedicated to maintaining the safety of visiting tourists.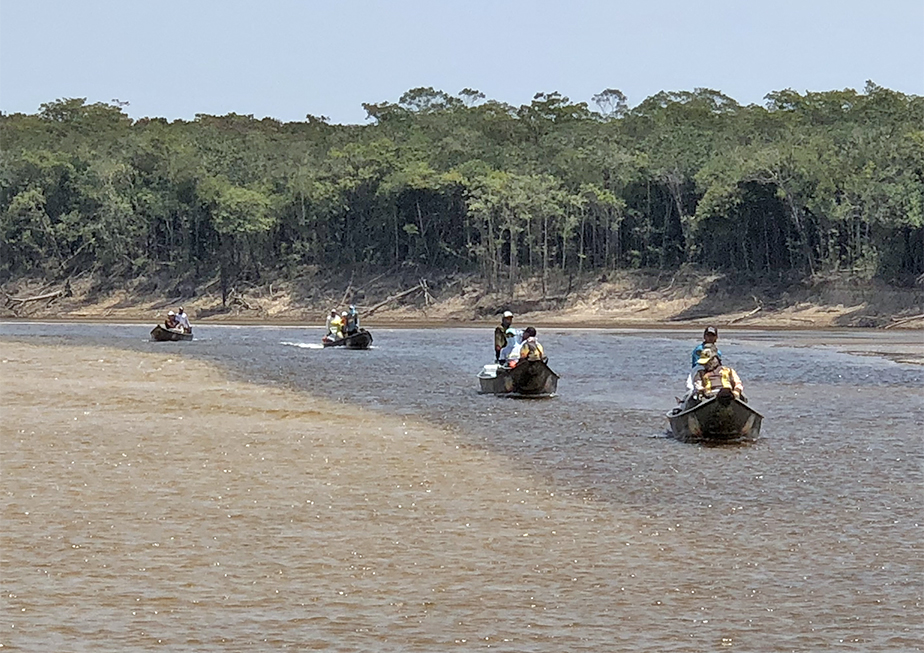 Getting to Rio Mataveni
Day 1: Arrival Bogotá
Arrive at Bogotá International Airport - El Dorado International Airport (BOG). First you will go through Immigrations, pick up your luggage, then proceed through Customs. Exiting Customs, you'll walk upstairs to the second level of the airport and step outside through the glass doors to the curb. A representative of Colombia Pesca will be waiting for you and transfer you to the Black Tower Hotel. The transfer driver will deliver you to the hotel, your bags will be moved inside, and an English-speaking receptionist will check you in. Your package includes one night at the
Read More
Day 2: Travel to Puerto Inirida
During breakfast at the Black Tower Hotel, you'll be met by your Bogotá host, who will ride in the shuttle with you and your group of anglers to the airport, assist in all luggage transfers, and be certain that you are ready to board the flight to Puerto Inirida. You'll be aboard a commercial Satena flight (included in the package rate), typically departing between 9:00 AM to 11:00 AM, arriving approximately two hours later. The landing strip at Puerto Inirida is paved, as the airport is used for commercial flights of passengers and cargo. It is a safe, fully supported airport.

Getting off the plane in Puerto Inirida, you'll be greeted by your river host for the week. He will assist you in the simple process of transferring luggage, and shuttle loading. It's a short drive through the tree-lined streets of the little town to your hotel, the Hotel Las Vegas (meals are include in Puerto Inirida).

Day 3: Travel to Mataveni Camp
The next morning you'll take a short ride to the wharf. There you'll see the boats and barges that serve the passenger and cargo needs of this jungle wilderness. Your captain will be waiting to load your bags into the comfortable, covered power boat that will take you downriver to the Rio Orinoco, and on to the confluence of the Mataveni River. The transfer boat has padded bench seats with backs, a sun cover, windshield, your lunch, and a cooler filled with cold drinks for the ride, approximately two hours. During your voyage you'll see ranches and farms with banana trees and coconut palms along the high banks of the river. It's the dry season, with the river at a low level, and huge dark rocks exposed. During the rainy season the Orinoco can be 20' higher, as noted by the tree trunks and branches left high and dry as the river receded. Hand-carved wooden dugout canoes will be tied to posts driven into the banks, and barges can be seen pushing precious cargo upriver. Arriving at the mouth of the Mataveni, you will be met by the river guides, indigenous people waiting in their long dugout-style boats to take you upriver to your wilderness camp. Your gear will be transferred into their stable 30-foot long boats, which will already be supplied with chairs and a cooler filled with iced drinks. After your trip down the mighty Orinoco, you'll immediately notice the much smaller and intimate feeling of the Mataveni. The river slowly diminishes in size as you motor upstream, and you'll begin to feel much more "in the jungle" as the bankside foliage becomes increasingly more impenetrable.

You'll see shoreline openings of various sizes leading into adjoining black water lagoons, the perfect habitat for giant peacock bass. Herons, egrets, ducks and parrots all fly and feed along the waterway. Freshwater dolphin surface to breathe, rolling effortlessly before disappearing into the river's depths. Rounding a bend in the river you'll see your camp on a bar of clean white sand, its precise location based on water level and current fishing conditions. The tents will be in place, cool drinks waiting, and a rod rack nearby. You'll be shown to your private tents, which are placed in a line and facing the water. Your luggage will be delivered while you gather at the dining area for cold drinks and appetizers. Your host will answer all your questions, discuss the recent fishing, and talk about your schedule for the upcoming week. After a tour of the camp and its facilities, you'll have an opportunity to unpack your gear, settle into your tent, and rig your rods and reels for the next day's fishing. Dinner is typically served at 7:00 PM, and the evening is yours to watch the fireflies dart through the trees, listen to the jungle sounds soften for the night, and get some well-deserved rest after your day's travel.

Day 4 – 9: Fishing days
Each evening your host will meet with you for appetizers and dinner, and discuss the fishing plan for the following day. Anglers typically take turns fishing upstream or down each day, leapfrogging the other boats to fish new lagoons.

hotel in a double occupancy room, unless you prefer a single room, and extra $70. Bogotá is a First World city with good restaurants, music and culture, including the famed "Oro Museum". Again, it may be best to arrive in Bogotá a day earlier to help buffer you against possible airline delays, which will also give you a day to enjoy what Bogota has to offer. If you miss the scheduled commercial flight from Bogotá to Puerto Inirida, it becomes almost impossible to get you out to camp. Trying to get you on the next flight (often a day or two later) from Bogotá to Puerto Inirida, then arranging your 2 boat/4-hour trip to camp…well, you can see the complications that could occur. Arriving in Bogotá a day early virtually eliminates this potential problem. It does cost you an additional hotel night (we can arrange the extra night's lodging for you), but it allows you to enjoy the city, and makes certain that you'll be ready for your journey into the Mataveni River wilderness.

Morning coffee will be ready at 6:30 AM in the dining tent, with breakfast served at 7:00. Your river guides will be waiting in their boats with your lunch and a cooler filled with ice and drinks. You'll finish breakfast, load two anglers per boat, and depart for your day. Lunch is taken in the shade of the jungle canopy, along with a short break from the fishing. Your fishing boat will be the same wide-bodied, 30-foot boats that brought you upriver to camp, powered by Yamaha outboard motors. You'll ride in comfortable plastic chairs to the lagoon openings, where the guide will switch from power to paddle, silently propelling the boat while you cast. The boats are long enough to allow both anglers to fish at once, and the fishing is a mixture of blind-casting to structure, and sight-casting to "floaters" suspended just beneath the water's surface.

Typical Day
• 6:30 AM – Coffee is hot and waiting
• 7:00 AM – Breakfast is served
• 7:30 AM – Gear up, load the boats, and go fishing
• Mid-day – Shore lunch in the shade on the river bank. Enjoy lunch, relax, and take a swim to cool off if desired. You'll fish all afternoon, returning to camp around 6 pm
• 6:30 PM – Cold beverages and appetizers. Plan the next day's fishing
• 7:00 – 8:00 PM - Dinners will be served in the open-air dining tent

Day 10: Departure from Rio Mataveni to Puerto Inirida
In the morning, you'll have breakfast, load your gear into the boats, and head downriver. You'll turn off the Mataveni into a small side channel, winding its way through the jungle and opening up inside a broad lagoon. Beaching the boats next to a huge rocky outcropping, you'll have the opportunity to walk around and observe mysterious petroglyphs. After a short tour of this ancient site, you'll head further downriver, stopping at the native village of your river guides. Their wives and family make beautiful handcrafted baskets, displayed and available for purchase. Your host will walk with you into the village, where you have a chance to see how your guides and their families live in a remote jungle wilderness. There's a one-room school house surrounded by flowers where the teacher instructs in both Spanish and their native language.

After the village tour, you'll boat a short distance downriver and meet the transfer boat for your return to Puerto Inirida. Arriving, you'll take a short shuttle ride to the Hotel Las Vegas (meals are include in Puerto Inirida). There you will have all the comforts of civilization. Your room is air-conditioned, with a private bathroom and shower, all included in the package. There are several restaurants in town where meals are taken. The hotel does have a bar. There are other restaurants in Puerto Inirida, and your host can assist you with transportation if desired.

Day 11: Depart Inirida to Bogotá and home
After breakfast you will catch the Satena flight back to Bogotá (included in the package rate), arriving mid-afternoon. Some guests will choose a red-eye flight home very early the next morning – typically about 1:00 AM – while others prefer to return to the Black Tower Hotel for an additional night (included in the package). You have the option of departing Bogotá on a flight back home this evening after 7:00 PM.

If you would like, you can take a taxi to the surprisingly cosmopolitan mid-town Bogotá, enjoying a stroll through the shopping district and eating at any number of excellent restaurants. Those leaving on the early morning flight will return to the hotel, grab their bags and take the shuttle to the airport. Anglers spending the night will return to the hotel and, after a comfortable night's sleep return to the airport the next morning via the hotel shuttle.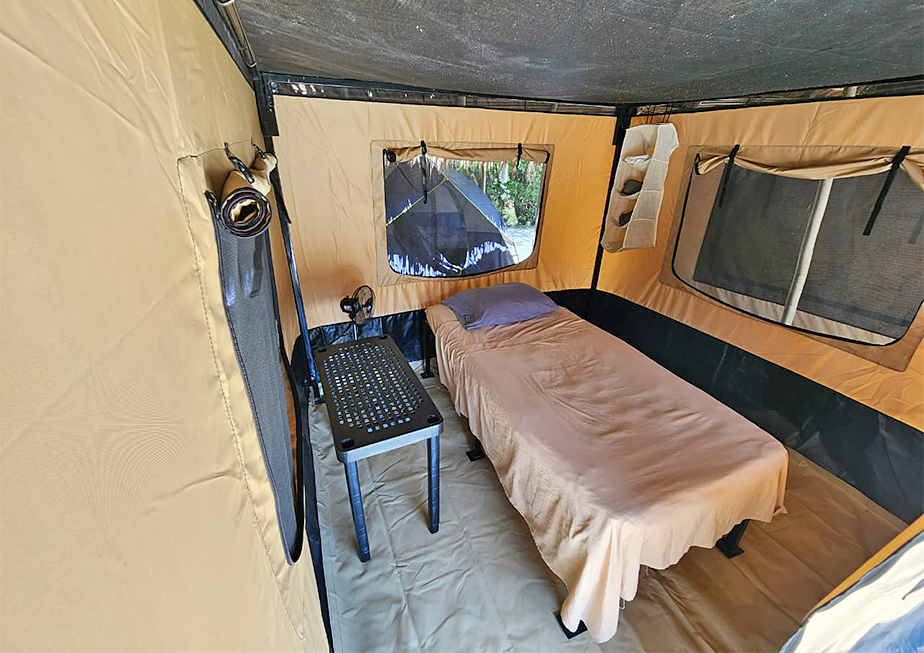 Lodging at Rio Mataveni
The Mataveni River outfitter operates two separate camps on the river, which allows him to rest the water between fishing sessions 5 – 9 days, which ensures for unpressured angling. And although the camps are certainly comfortable, well equipped and efficient given the operating environment, they are not deluxe.
Read More
Each angler is accommodated in a private tent, and although not air conditioned, they do feature individual oscillating fans over each bed that run during night along with a cot with bedding, a chair and lights, and electrical outlets for charging a phone, tablet or camera. A towel and bed linens are provided. The tent's open air design allows for plenty of air circulation. There are two separate tents that feature a shower and toilet for each camp.

Meals are simple and hearty, prepared by a talented staff, and served riverside in an outdoor dining tent. Lunch is usually taken on the fly, although for those fishing within close proximity, can return to the mobile camp for a sit down lunch which allows for a proper siesta, only to head back in the afternoon or evening for more fishing. Expect full days of fishing, although each day can be tailored to meet each pair of anglers wants and needs.

For the 2024 season, the outfitter is making plans to construct single/private wood cabins for each angler with a bed, fan, electrical outlets for charging phones and cameras, including a towel and linens.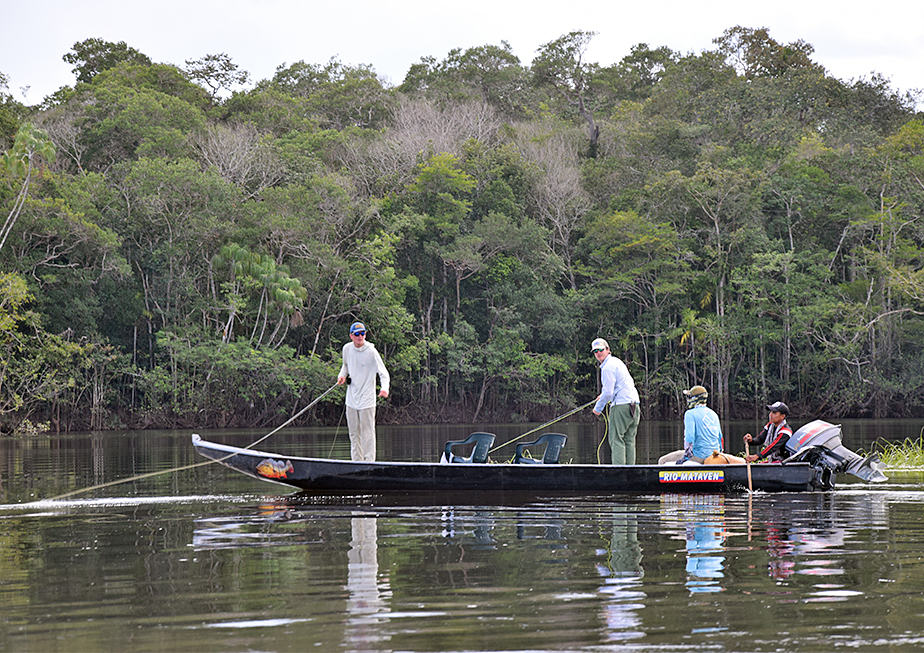 Fishing at Rio Mataveni
The fishing program focuses on the Mataveni River, and its many back bays, lagoons, shallow water shoals and sand flats, targeting predominantly two peacock bass species – Temensis: (Cichla temensis) and Butterflies: (Cichla orinocensis). Temensis peacock bass are the big boys and can grow to 20 plus pounds. They love to pound big baitfish flies as well as aggressively stripped poppers. Big Temensis are very territorial and fierce protectors of their breeding nests and usually, if you find and hook one, another, (its mate) is not too far away. This is down and dirty fishing, where the main objective, after hooking a monster, is to keep him out of structure. Targeting trophy-sized peacocks is not a numbers game, but the rewards are substantial and measured in pounds!
Read More
Perfectly pairing with hunting big peacocks is targeting the large numbers of Butterfly peacocks. These fish like to gather in schools and are ferocious feeders and very aggressive. Anglers can expect to catch these two species in high numbers both with subsurface and surface flies aggressively fished over shallow water shoals, sand flats, and lagunas.

In addition to peacock bass, anglers will have shots at other exotic species including piraña, bicuda, wolf fish, matrinxã, sardinata, mataguaro, and payara.

Each morning pairs of anglers, accompanied by a seasoned guide, in skiffs will travel varying distance to the fishing grounds. Some days the fishing is within close proximity of the lodge, while on other days, you may travel a substantial distance to explore remote locations. The boat rides are an exciting part of this jungle adventure and highlighted by sightings of a variety of wildlife.
What Makes This Destination Special and Unique?
LARGE & PLENTIFUL PEACOCK BASS
The Mataveni River is a major tributary the Orinoco, and boasts excellent numbers of some of the largest large peacock bass in the world (Temensis) as well as a very healthy population of two smaller species, (Butterflies and Royal/Intermedia). In addition to peacock bass, anglers will have shots at other exotic species include piraña, bicuda, wolf fish matrinxã, sardinata, mataguaro and pyara. This gives fly anglers the best of both worlds, high catch volume fishing as well as a chance at a peacock bass of a lifetime in addition to a variety of species to pursue.

MILES OF PRIVATE WATER TO FISH AND EXPLORE
You'll have access to miles and miles of river to fish, not including the infinite number of lagoons, back bays, oxbow lakes which results in happy and unpressured fish, that hammer big streamer flies with abandon. More water, rested water, rested fish, happy fish – fish that eat.

AN EXPERIENCED OUFITTER
Your outfitter, Colombia Pesca, is an experienced and recognized outfitter in Colombia and the world of sportfishing in South America. These folks are pros with years of operating experience in the remote areas; you are in very capable hands. The management and staff will take care of all the logistics, support and mechanics of the trip, all you have to do is fish as hard as you can and enjoy the experience.

A CULTURAL & JUNGLE EXPERIENCE
For those anglers looking to fish and experience a remote and wild destination, far off the beaten path, then Eastern Colombia definitely qualifies. The lowlands of Colombia are wild, crisscrossed by hundreds of waterways and inhabited by exotic and rare mammals of the grassland and savanna. For a fly fishing naturalist, this destination is will check all your boxes.

GIVING BACK TO THE ENVIRONMENT AND INDIGENOUS NATIVES
Afloat partner with local Indigenous Indians and the Colombia Government in an effort to promote conservation, sustainability and culture. Your dollars help the local native people by providing funding for health care and access to education. A portion of your dollars are making a difference in native's life and the understanding of conservation.