What to Pack for Fly Fishing the Bahamas
by Pat Pendergast
Everyone has a different idea of what to pack for a fly fishing adventure, whether it be in freshwater or salt. But if you want an expert opinion on what to bring on a trip to the Bahamas, read this list from our travel team.
Gearing up with the right equipment will make your experience more successful.
More fly fishers got their start in saltwater pursuing bonefish than any other species. One of the nice things about bonefishing is that the proper equipment needed to catch them often comes down to common fly rod weights and sizes — a 9 foot, 7 or 8 weight stick is perfect. Throw in a quality disk drag fly reel (salt water will quickly corrode a substandard reel, almost as fast as a super-charged 8-pound bonefish will melt it) filled with plenty of backing, a fly line, and some flies, and you are pretty much good to go. Obviously, if saltwater fly fishing becomes your passion, your gear will get more refined, but to start bonefishing, your bass or heavy trout rod will get the job done.
Another aspect of bonefishing that makes it more comfortable for fly fishers is that you can wade fish for bones, just like you would for trout. There are similarities between wading along a spring creek hunting trout, and wading a flat stalking bonefish: stealth, accuracy, presentation, and spotting fish are all part of the pursuit.
In comparison, fly fishing for permit, tarpon, and snook are usually done from a poled skiff. Fishing from a boat is not easy; everything is moving — the boat, guide, fish, tide, wind, and the angler – so there are a lot of dynamics to contend with. By wading you cut the amount of moving objects by at least half.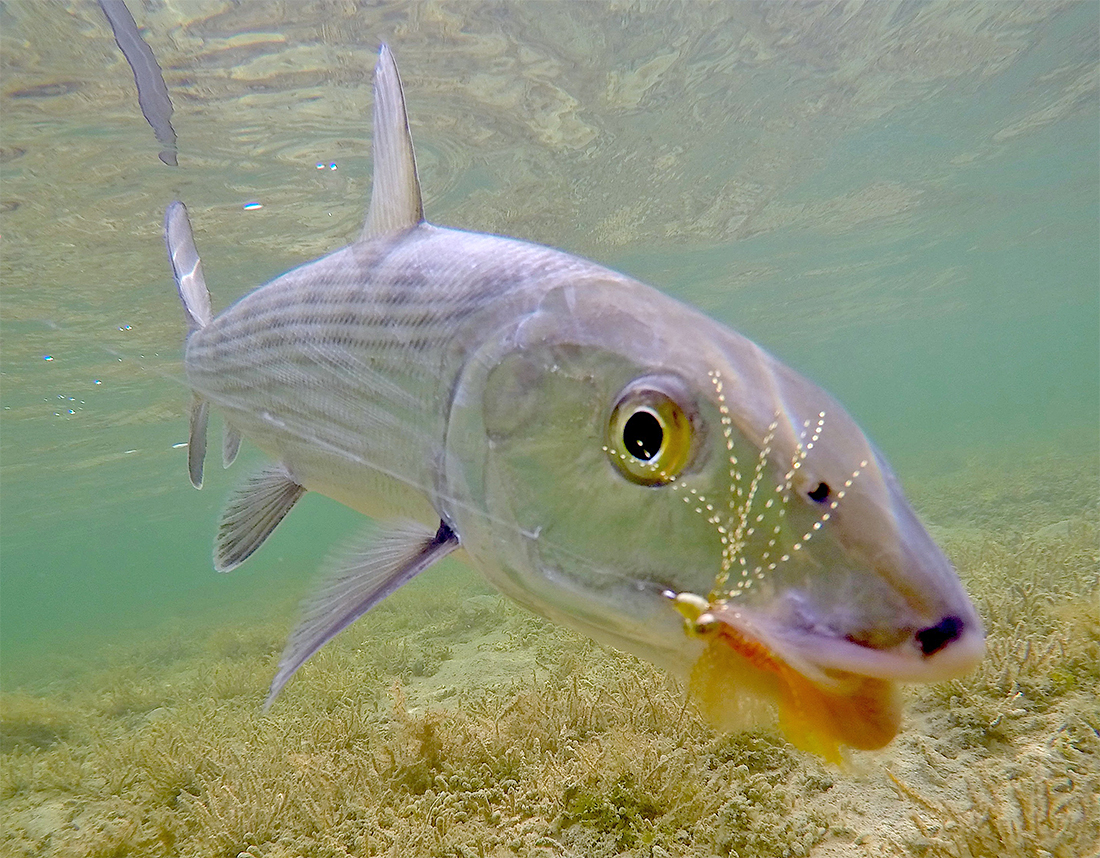 So why bonefish and not tarpon, permit, snook, trevally, or some other species of fish that frequent the flats? It's simple: numbers. Bonefish have a very wide range of distribution from the Central and South Pacific (including Hawaii), Florida, the Bahamas, the Gulf of Mexico, Antilles, throughout the Caribbean down to Brazil, as well as some West African waters, and in areas of the Indian Ocean. Sure, some spots are known for big bonefish and others for smaller fish (schoolies), but generally speaking, bonefish are present in good numbers on the flats, and they are aggressive feeders.
If you have dreamt about getting into saltwater fly fishing, we suggest you start with bonefish as your target species. We recommend that you begin with a destination that has a lot of bonefish, like the Bahamas. You want a target-rich environment – if you blow a shot, it's no big deal as you might get 10 or more in the next hour, and practice makes perfect. Later on, with some experience under your belt, you can branch out and pursue other flats species like tarpon, permit, snook and GTs.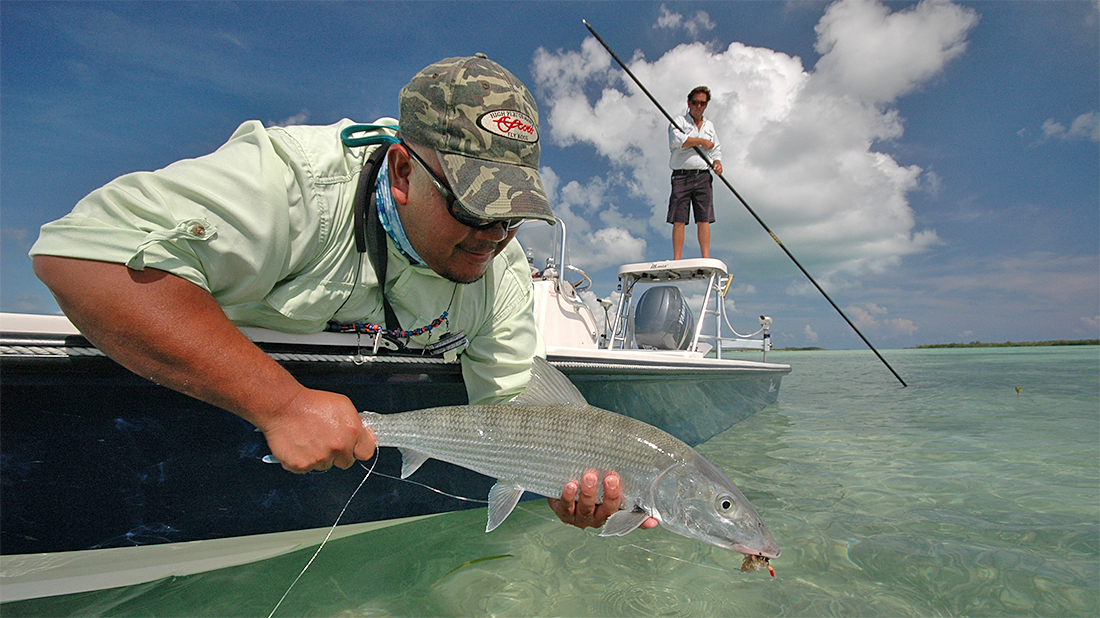 Fly Rods:
For decades the preferred rod for bonefish has been a 9 foot, 8 weight (4-piece for easy travel), and it continues to be the standard. However, we often fish a fast action, 7-weight rod when fishing smaller flies and when wade fishing. Rods that generate high line speed are the "go to" for flats fishing. You can easily slow down your casting stroke for a delicate presentation and at the same time rely on the power of a fast rod for longer casts and windy conditions.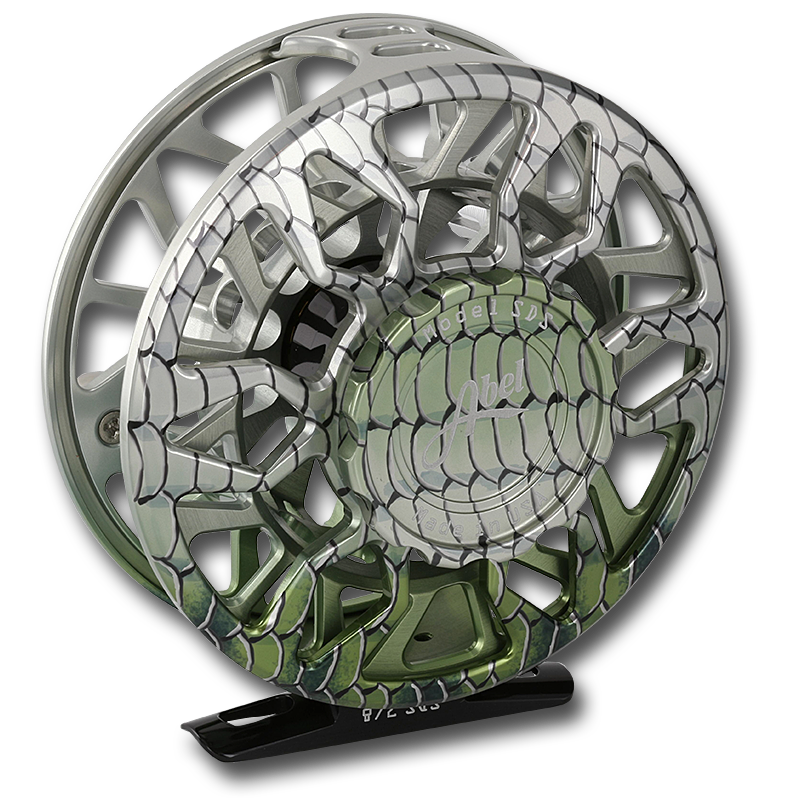 Fly Reels:
Bonefish are fast and once hooked will run hard and long. Reels specifically designed for saltwater fly fishing are the best and should hold a minimum of 200 yards of 20lb backing. Smooth, sealed disk drags and sturdy aluminum anodized frames are features to search for.
Reel Backing:
Scientific Anglers XTS Gel Spun backing is rated at 50-pound test and takes up 75% less space on your reel than standard backing. You get what you pay for with this stuff. It is three times the strength and half the diameter of standard 20-pound Dacron, so you can get twice as much on a spool … and we like only having to buy backing once for the life of your fly reel.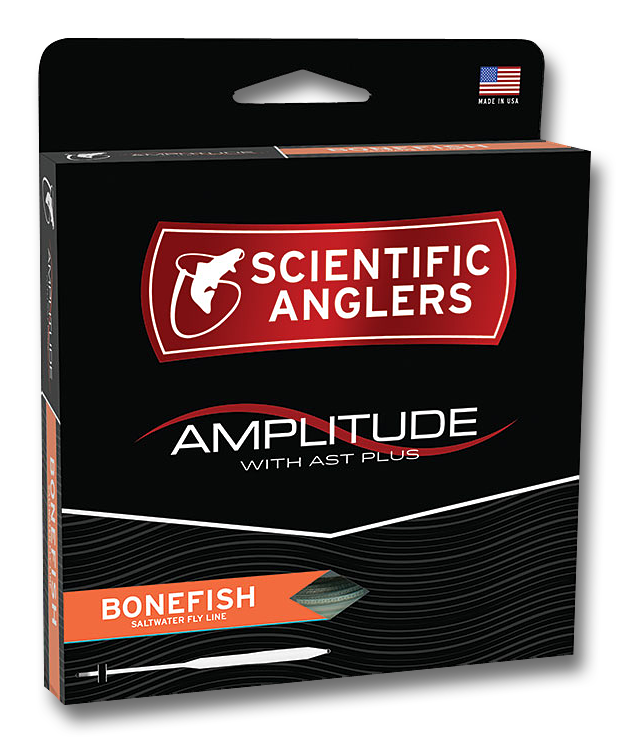 Fly Lines:
This is often the most overlooked piece of equipment, but in our minds it's perhaps the most important. A floating fly line specifically designed for saltwater is what you want. These lines are designed with a special braided monofilament core that provides the proper stiffness while maintaining shooting capabilities and resisting tangles, even in tropical heat. These fly lines are game changers in the saltwater fly fishing world and strongly recommended.
Tapered Leaders:
We typically fish 9´-12´ tapered saltwater leaders made from clear monofilament or fluorocarbon, with 12- to 20-pound breaking strengths being popular choices. Twelve-pound leaders are the most common, but there are situations where you want to go heavier to make the release quick and easy. You should bring along some tippet material, clear monofilament and fluorocarbon, in spools of 12-, 15- and 20-pound test. Fluorocarbon tippet is a great choice, as it is nearly invisible in water and perfect for spooky fish in very clear water.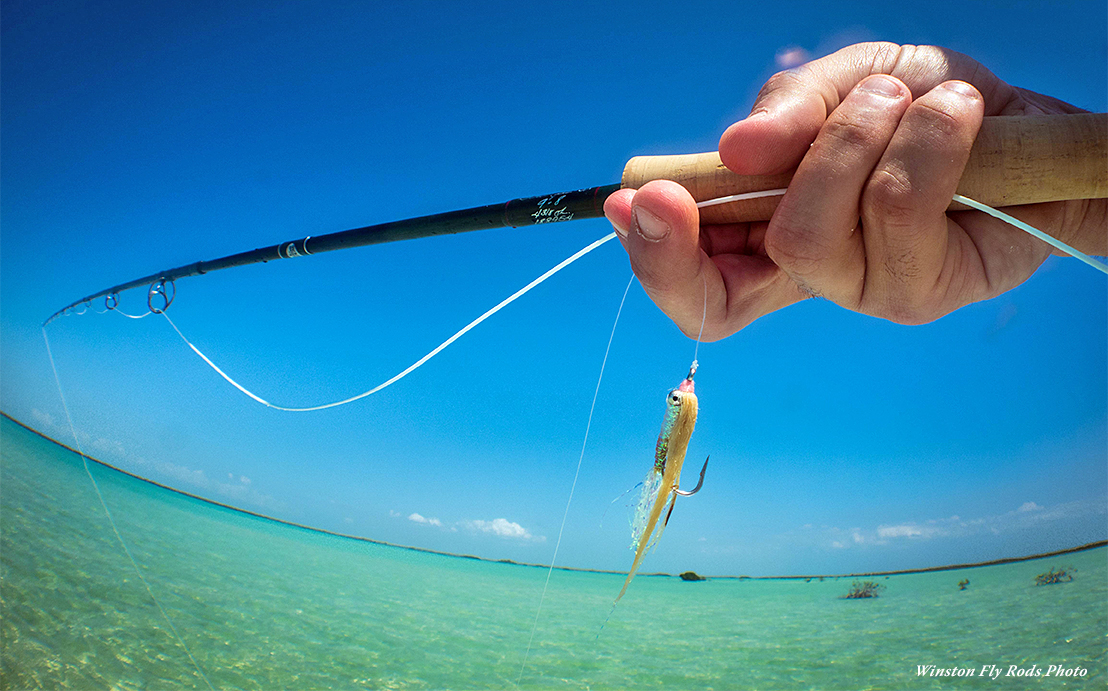 Flies:
Experienced anglers typically agree that having the right fly can make the difference between a good trip and a great one. Having a broad selection of bonefish flies will help to ensure that you have a successful trip. An important aspect of fly selection is sink rate. When tying or purchasing bonefish flies, vary the sink rate options by including some with no eyes, others with bead chain eyes, and others with lead barbell eyes. This allows you to cover different depths of water, properly presenting your offerings to everything from shallow water tailers to deeper cruising fish.
As a general rule, use light-colored flies on a sand bottom and dark-colored flies on turtle grass or rubble bottoms. On the flats, high visibility can turn any creature into prey. Most prey on bonefish flats are well camouflaged. Try smaller flies for fish that are spooky or tailing on shallow flats in calm weather conditions. On deeper flats, or in windy conditions, larger flies work well, especially on fish that are cruising fast.
With these thoughts in mind, we have prepared a list of flies with which we have found success.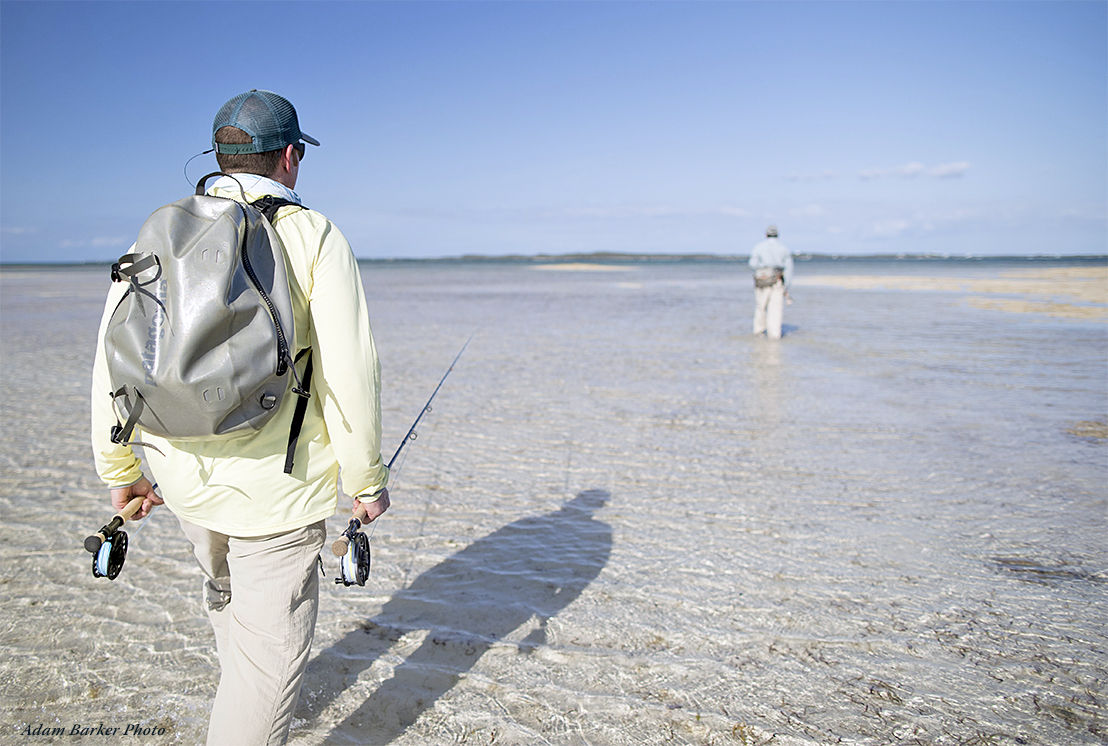 Clothing:
Most flats anglers now choose long pants and long-sleeved shirts for sun protection. A fast drying material is best, as you may be wading and fishing from the boat at different times on the same day.

Boat Shoes/Boots:
For footwear on the boat, a boat shoe with non-skid sole will give you plenty of support and traction on the skiff. Astral Loyak or Crocs are also good choices. Be sure to bring a couple pairs of lightweight, light-colored socks to protect your feet from the sun.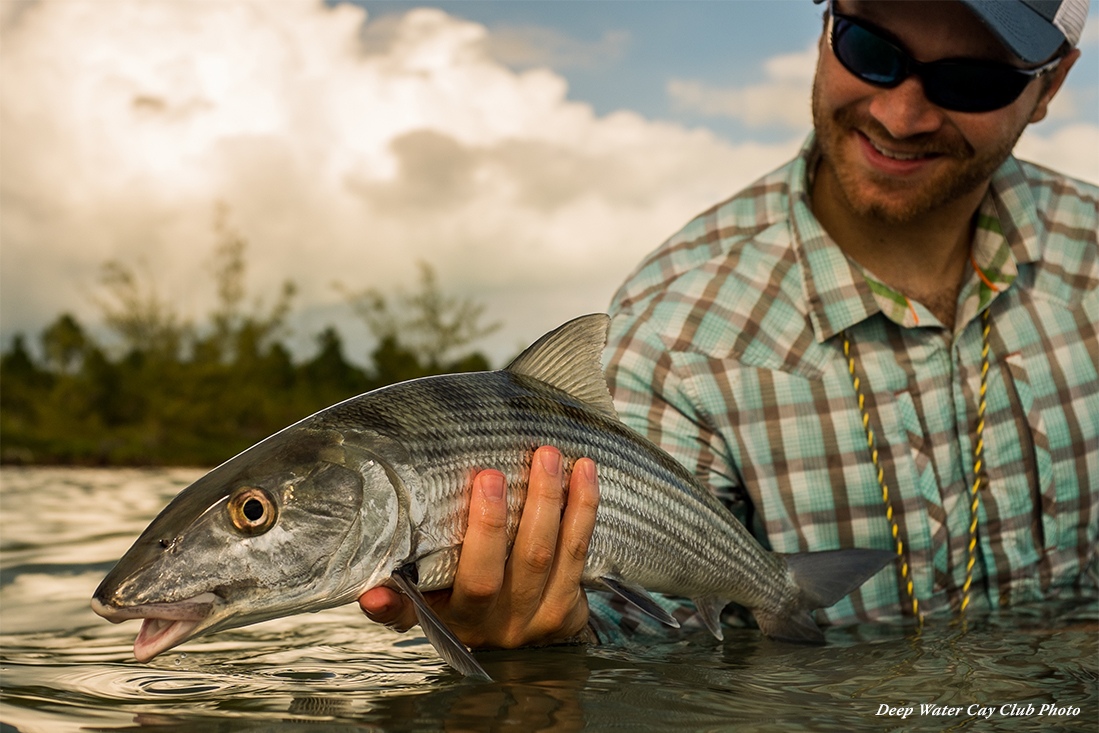 Eyewear:
On the flats your choice of eyewear is critical. Glass lenses provide the best optics and are less prone to scratching. Copper is a great color on the flats as it provides a high level of contrast that will help differentiate that gray ghost from a turtle grass or sand bottom. Costa's green mirror lenses are amazing as well! When the light gets low or tough with clouds, we switch to a pair of glasses with a lighter lens color or go to photochromic "transitions." Bring two pairs of sunglasses – a spare set can save a trip. It is also a good idea to have an inexpensive pair for the boat rides. The salt spray during the rides between flats will cover your glasses, and it's nice to just take them off upon arrival to your fishing spot and put on your clean "fishing" glasses.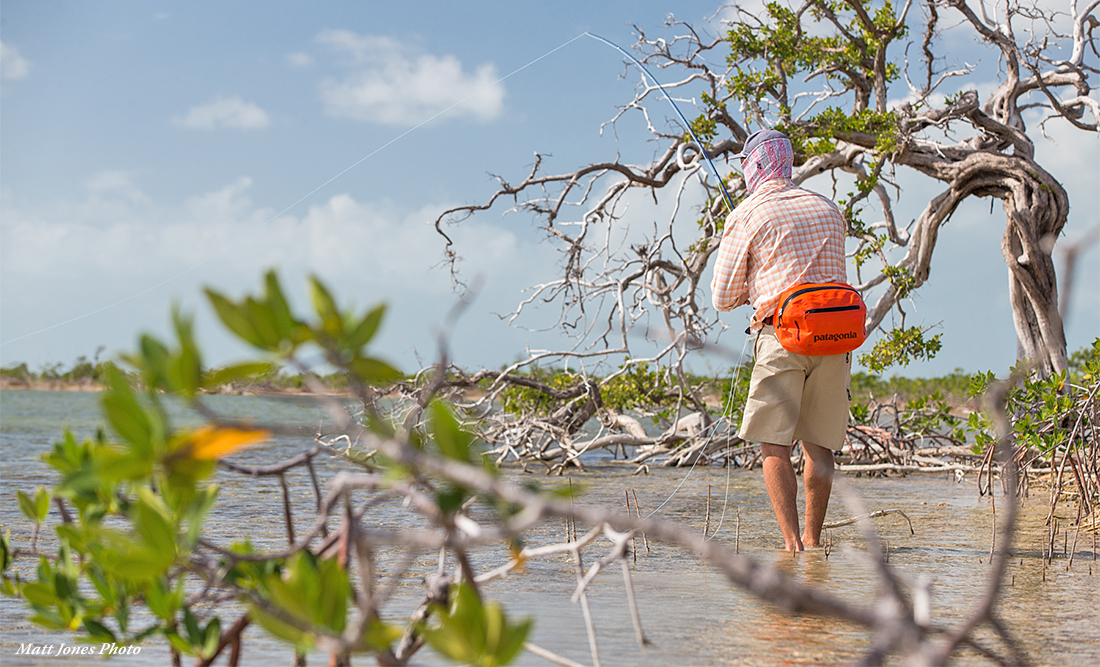 Wading pack:
You may be wading for hours, with the boat just a speck on the horizon. Be sure to bring a wading pack to carry your flies, leaders, tippet, clippers, a water bottle, snack bars, camera, sunscreen, lip balm, etc.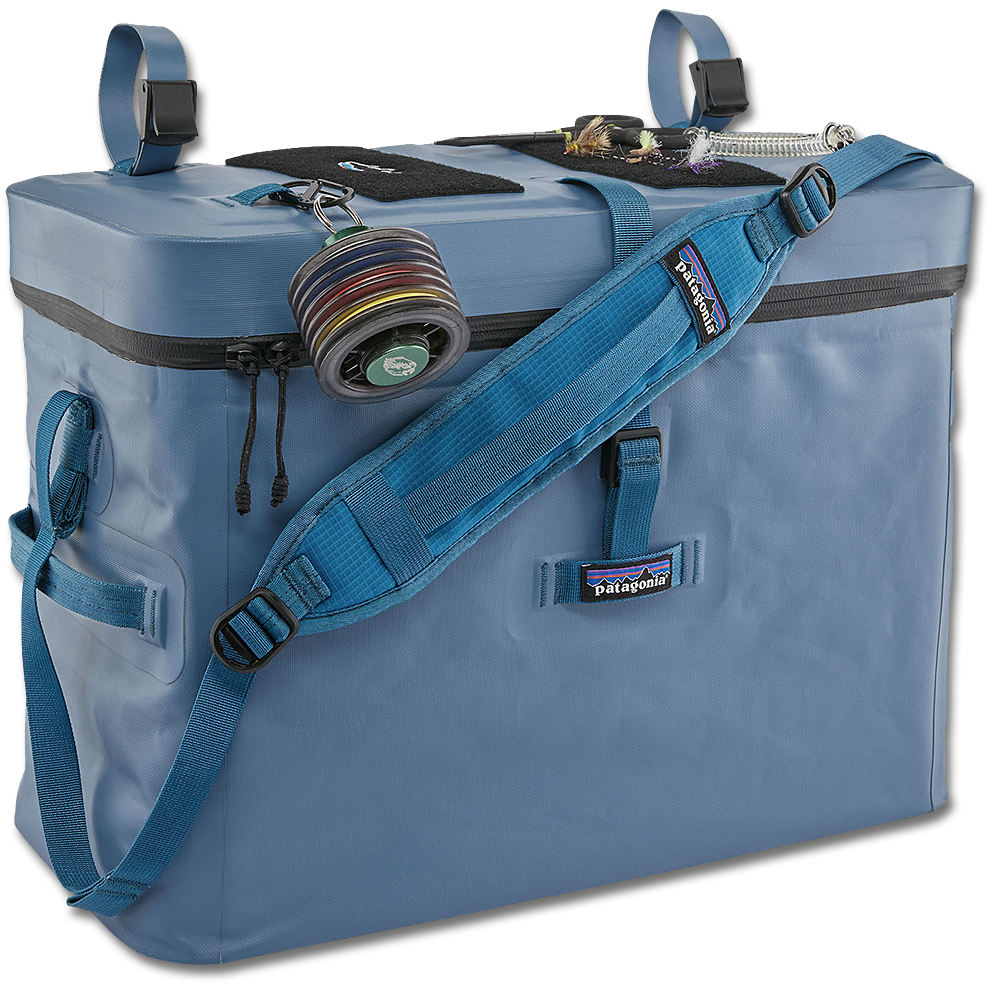 Boat bags:
Your boat bag will contain all your gear for the day, both in the boat and for the transfer to and from the dock. It needs to be large enough to hold your rain jacket, fly boxes, sunscreen, extra leaders and tippet, camera, and spare sunglasses.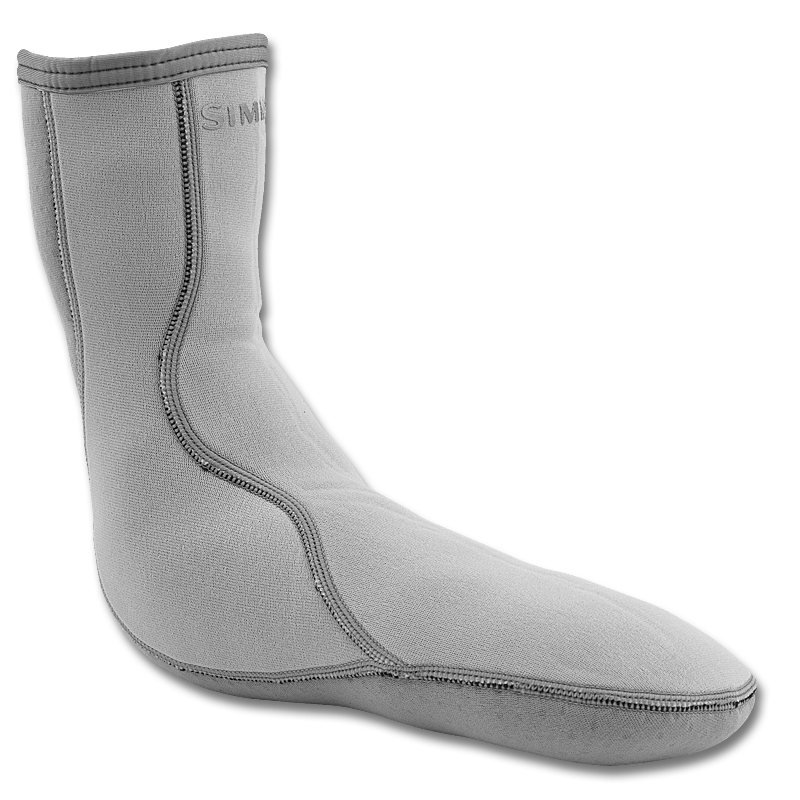 Flats boots and socks:
There are often daily opportunities to get out of the boat and wade the flats. If you prefer wading, your guide can have you on foot most of the day. This means that you'll need a pair of quality flats boots that provide both foot protection and comfort. Quality boots that fit well are important, and lightweight neoprene socks will add an additional layer of protection, absorbing the friction from sand that gets inside your boots.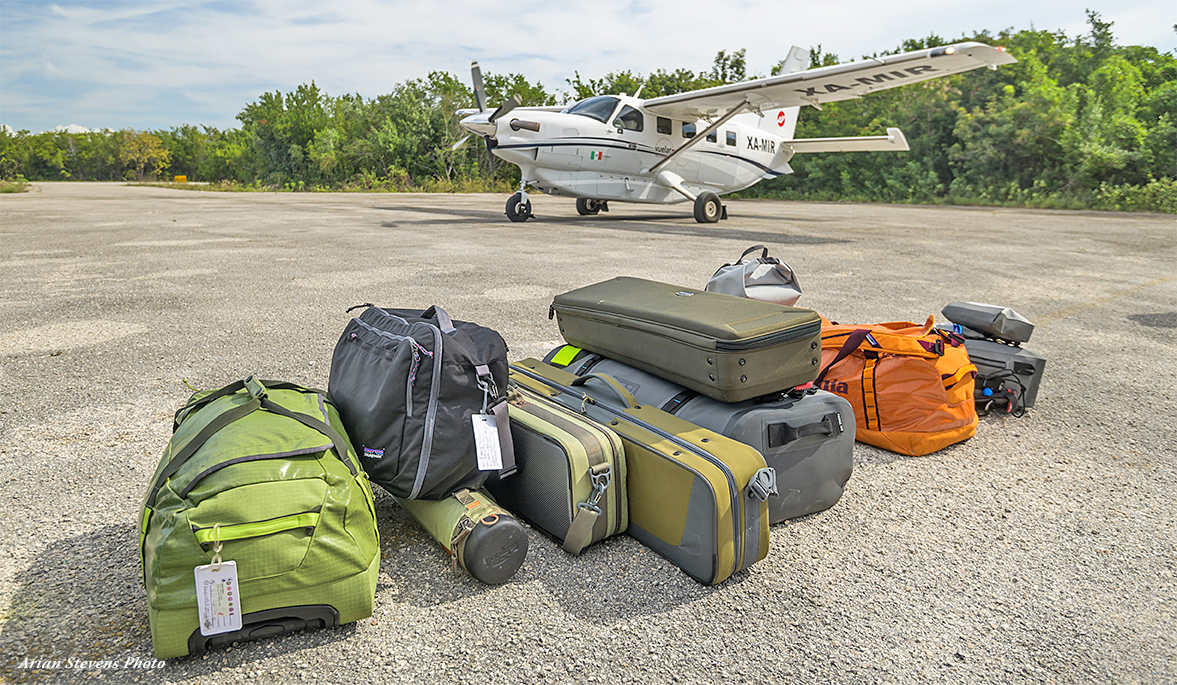 Luggage:
We like water-resistant or waterproof roller duffels for ease of transport through airports. We often travel with a second, gear-specific piece of luggage that is easy to carry on your flights, slings over your shoulder in the airport, and manages your rods, reels, and sunglasses. The Fishpond Dakota is a proven veteran in this design.
Electrolytes:
Bring Gatorade, EmergenC, Liquid IV or another electrolyte mix. It gets hot and sometimes humid on the flats and backcountry, and you will sweat a lot. Water is great, but if you are constantly sweating, you will lose salt and minerals, which will cause cramping. We like to drink three full water bottles mixed with electrolytes – one in the morning, one at lunch, and one after fishing. Believe us, this is a game changer.
Other ancillary items to bring include: