Essential Fly Fishing Gear for Chinook Salmon
Oncorhynchus tshawytscha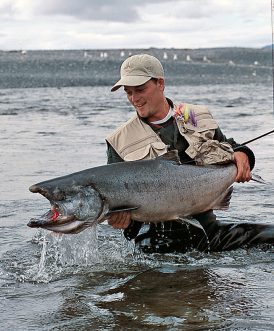 The Chinook, or "king salmon," is the largest of the six Pacific salmon species. Typically, Chinooks average 20-30 pounds – depending on where they are found – although specimens have been recorded in excess of 120 pounds, with the official record being 97 lbs 4 ozs (Kenai River – 1985). Adults are distinguished by the black irregular spotting on the back and dorsal fins and on both lobes of the caudal or tail fin. Chinook salmon also have a black pigment along the gum line.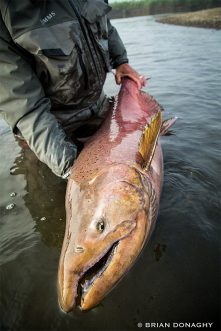 In the ocean, the Chinook salmon is a robust, deep-bodied fish with bluish-green coloration on the back, which fades to a silvery color on the sides, and a white belly. Older adult males (4-7 years) are distinguished by their "ridgeback" profile and hooked nose/upper jaw. Females are distinguished by a torpedo-shaped body, robust mid-section, and blunt nose.
Having the proper equipment is crucial to tame a chrome-bright, fresh-from-the-ocean Chinook in the 20 to 40-pound range. The following essential fly fishing equipment is what you need to effectively fish for Chinook salmon in Alaska, Canada, and most anywhere else they swim.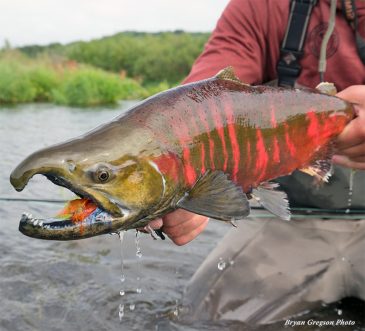 Did you know that there are actually six species of Pacific Salmon? Most North American anglers are unaware of one of them…
Chinook – Oncorhynchus tshawytscha
Coho – Oncorhynchus kisutch
Chum – Oncorhynchus keta
Pink – Oncorhynchus gorbuscha
Sockeye – Oncorhynchus nerka
Cherry – Oncorhynchus masou – Only found in the Far East!
Method of Angling:
We target Chinook salmon with a method we call "swinging the fly." The fly is fished downstream and across the current so that it swings under tension, eventually stopping directly below the angler. You then take a couple steps downstream and cast again, down and across. Keep repeating this process from the head of the pool through the tailout, covering the run like a grid (think of painting the bottom of the river – start to finish) to make sure no stone is left unfished. In the last 15 years, the vast majority of anglers who target Chinooks, or anything else an angler can swing for, use two-handed rods, also known as Spey rods. These rods are named after the River Spey, an Atlantic Salmon river in Scotland.
Double-handed Fly Rods: 
Spey rods range from 12.5 to 15 feet in length. I wouldn't have anything smaller than a 9 weight, and I prefer fishing a 10 weight. Chinook salmon are powerful gamefish that regularly reduce inferior tackle to rubble and you do not want to be undergunned. Two-handed rods are very popular and excellent tools for covering the water. In the last several years, we have seen a dramatic increase in the number of anglers using two-handed rods for anadromous fish.
Fly Reels: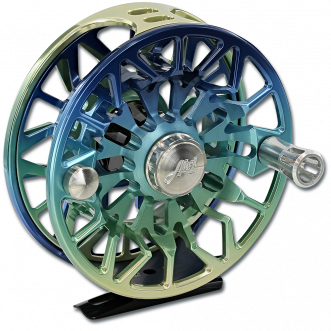 You should absolutely use a quality fly reel, large enough to balance the long rods, and with a drag system capable of slowing down these monsters (although if you are like some of us, you just want to hear the clicker scream and do your best not to blow it). So, we suggest a good quality reel with a smooth, sealed disk drag, machined from bar stock aluminum, with a large, easy-to-adjust drag knob.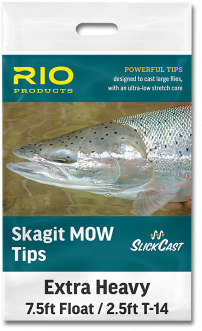 Skagit Lines: 
For kings, we only have to be concerned with the Skagit lines. These fish won't rise to the surface, and Scandis don't throw sink-tips, so they are not useful tools in this game. Skagit style lines are basically shortened, condensed shooting heads for Spey rods developed in the Pacific Northwest by a hard-core group of anglers who were looking for a way to cast sinking tips and large weighted flies long distances, with a very short, compact casting stroke. They are ideal for kings. No other line can handle the sinking tips we need in combo with the nasty flies we throw. These heads are the way forward in the Chinook world. These lines should be paired with the MOW Kit sink tips (T-14 to T-11). We prefer these custom tips in 2.5ft increasing length increments. To be clear, we suggest getting the MOW Kit (T-14 to T-11) – with all sink rates included – as this will cover you for any depth or speed of water situation.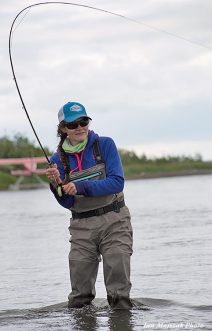 Single-handed fly rods: 
For those anglers who like to use a single-handed rod, Chinooks are best fished with a 9' or 9' 6" graphite rod designed to cast a 9 or 10-weight fly line. Each angler should consider having two rods available for the trip. Each rod should be rigged with a different fly and fly line combination. This saves time changing reels, spools, and lines – maximizing your time on the water and swinging flies through and over salmon.
Single-handed fly reels: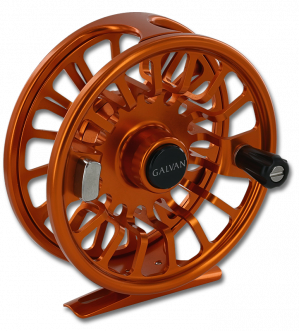 A high-quality, single-action (direct drive) fly reel with rim-control feature is what you need to look for in a fly reel appropriate to handle mint-bright Chinooks. The reel should be equipped with a smooth, reliable, disk-drag system. Reels should be filled with a minimum of 150 yards of fresh 20 or 30 lb. high-visibility backing. Reel models to consider might include: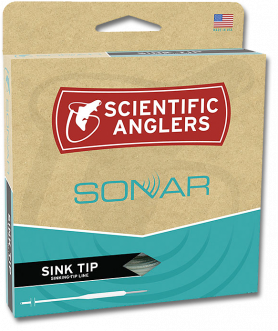 Single-handed fly rod lines:
The proper collection of fly lines is critical to your success and will get your fly in the proper water column. You need two lines or line systems to effectively fish for Kings.
8' – 14' sink-tip: This is an important line for covering the varying pieces of water levels on the rivers. We highly recommend Scientific Anglers Sonar sink-tip lines, in a Type 5 sink.
25' sink-tip: Don't leave home without it! The most indispensable fly line in your arsenal is the 25-foot sink-tip in different grain weights and densities. The perfect lines are Scientific Anglers Sonar Sinking Tip Fly Lines in 200 grains, 250 grain, and 300 grain models.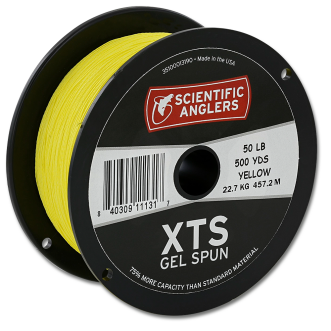 Reel Backing:
There's no question about it – you will see your backing once you hook a fresh Chinook salmon, so you'll need the good stuff and plenty of it. These beasts will test it like no other freshwater fish will.
Scientific Anglers XTS Gel Spun is rated at 50-pound test and is adds 75% more capacity than standard backing. You get what you pay for with this stuff.
If you don't want to spend the big bucks on backing, at least make sure you put on 30-pound Dacron and ask Odin to watch over you.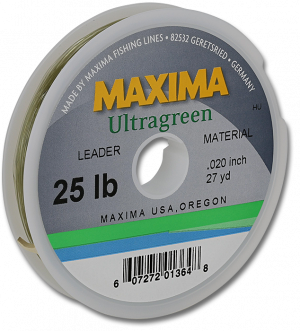 Leaders & Tippet:
With your sink tips, use a short (4 ft) piece of 15 – 25 pound Maxima. Some guys use beefy fluorocarbon too. Size down as the water drops and clears in later season.
Chinook salmon flies:
Flies used are standard attractor patterns tied on stout hooks, sizes 4 to 2/0. Your flies should vary from lightly weighted to unweighted. Colors should range from black, orange, pink, purple, flame, red, chartreuse, or any combination thereof. A large, weighted black streamer can be deadly on clear, bright days. Chinook flies are very similar to winter steelhead flies. Most of the usual winter steelhead menu, in the full spectrum of colors commonly used, will work. Some are dark and somber. Others are vibrant and bright. This is because of the diversity of water conditions and run timing. Even the same river can display different moods and may go from low and clear to high and dark in a matter of hours., A large assortment of wet flies in varying sizes, colors, and weights will work well. A few favorite colors are black or purple for dark hues, and pink or chartreuse for bright colors. Orange, cherise and combos of all of the above will have their moments throughout the spring and summer. Tube flies are the newest fly design concept to hit king and steelhead fly fishing, and the possibilities are endless. Tubes allow swing anglers versatility when it comes to meeting changing conditions by changing the type of tube they use, and allowing more control over the depth and action of the fly. They also have the advantage of having a larger fly with a shorter shank hook, exactly what is called for to drag out large Chinook from deep, fast rivers. Remember to have flies in varying weights and sizes as well as a variety of colors. It pays to carry a variety of patterns and be prepared for whatever nature and her fish can throw at you. Chinook will always be deliciously unpredictable.
Bring oversized hooks as well, especially for tube flies where it's easy to change out hooks! These fish are absolute beasts, and standard steelhead hooks will sometimes bend out. Gamakatsu Octopus #2/0 are great to change them out with, as are the AHREX series of hooks.
Make it easy on yourself and order our Alaska King salmon fly selection – it has all the flies you will want and need. Just tell us where you're going and when you'll be there and our expert staff will make sure you have the correct flies for your angling adventure.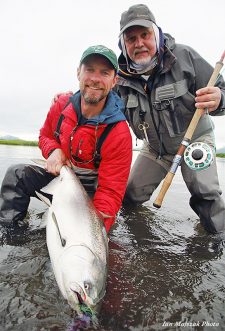 Clothing:
The weather in Alaska is constantly changing – one day it may be 80F and sunny, and the next day rainy, windy and in the low 50s. It is also not uncommon to have frosty mornings and every type of weather all in one day. By planning your clothing strategy around a layering system, you can easily adjust and adapt to changing temperatures and conditions. These insulating layers can be used in any combination, and not necessarily in the order listed. For instance, you may want to put your rain jacket directly over your base layer on a warm, breezy day. Keep adding thinner layers on top of one another so that you can adjust for anything. From the waist up we use four layers – a base layer, then a thin fleece, then a puff jacket, then a rain jacket. Concentrate on synthetic fabrics in all your garments when packing for Alaska. Synthetic materials retain little moisture, "wicking" it away from your skin and "breathing" it out away from the body. This is important when you are walking in waders or when outside temperatures heat up.  Remember, cotton garments are nice in the tropics but have no place in Alaska. When wet, cotton has negative insulating qualities and takes a very long time to dry.
Outerwear:
Layering: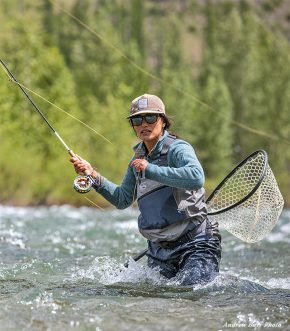 Waders and Boots:
You need the best waders on Earth – Alaska and British Columbia are no place to have your waders fail.  Wading boots should be sturdy, with a strong toe box and good ankle support. And remember, anglers are no longer able to wear felt-soled or other fibrous material wading boots in any Alaska freshwater fisheries.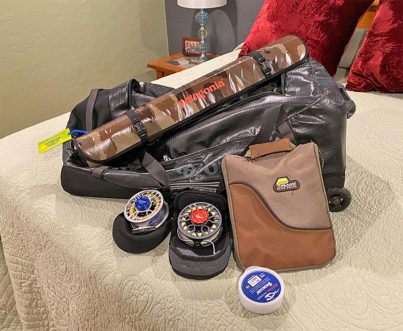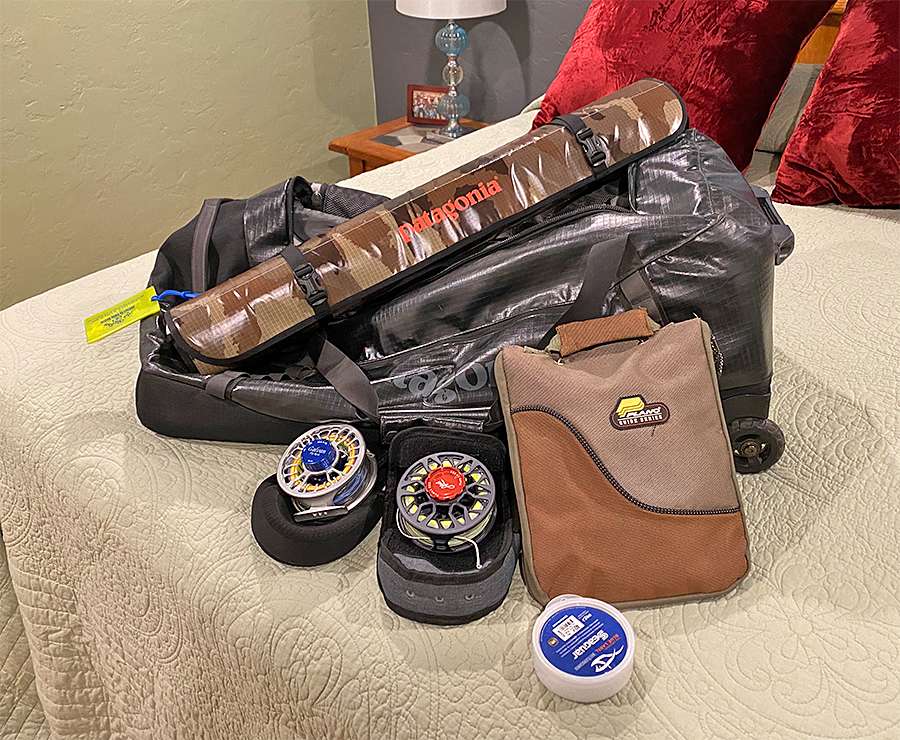 Luggage:
You should never need to travel with a bag that weighs over the 50-pound weight restriction imposed by the airlines. It might be tight, but please stay under that. If you are over that mark, I guarantee that you packed stuff that you will never see or use during the trip. I promise. You do not need a fresh shirt every day; you are fishing. Check your roller duffel, then use a waterproof backpack for your carry-on, and carry your spey rod tube as the personal item, if they'll let you.
Important Items To Remember: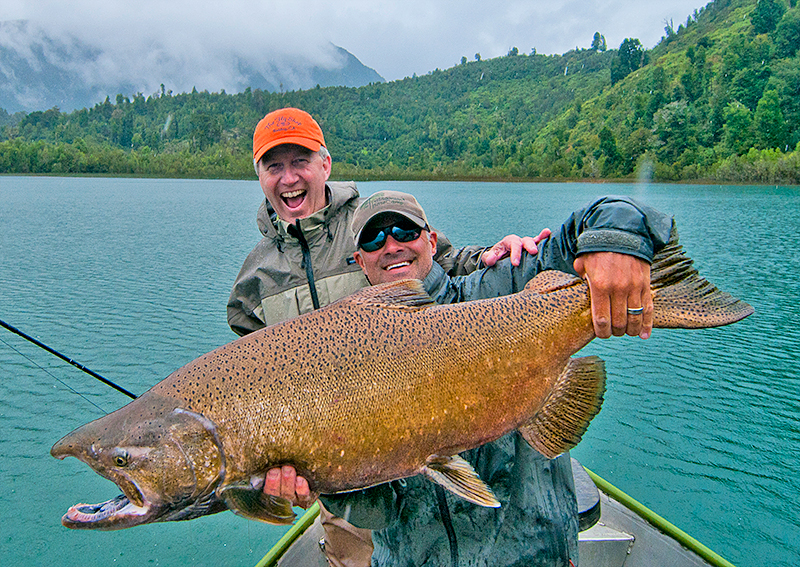 We couldn't resist adding this image of Mike Mercer with a Chinook he caught in Chile in 2013 at our Signature Destination, Patagonian Basecamp, with guide Greg Bricker.