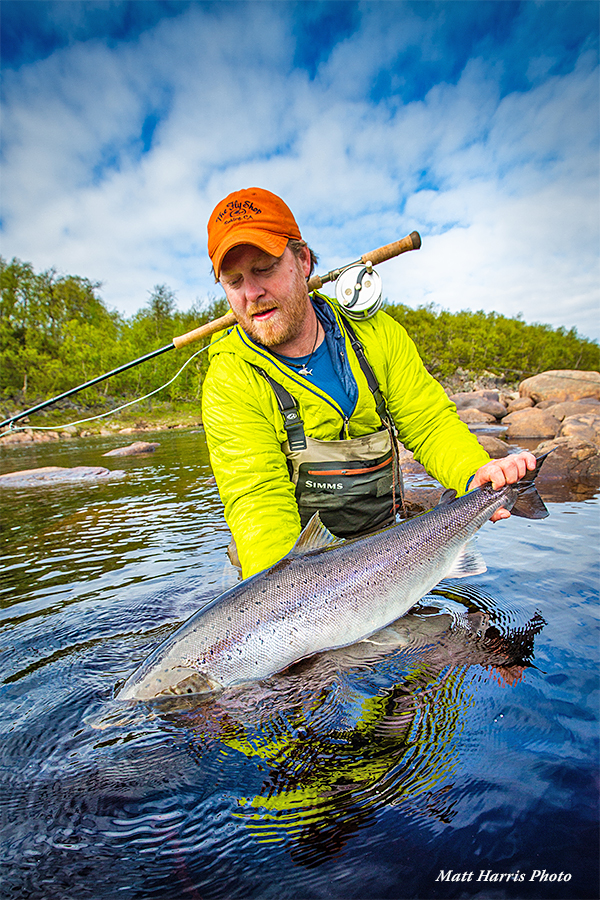 Atlantic salmon are among the most revered gamefish on Earth. Only a few other fish create as much passion and dedication in the anglers who are consumed by pursuing them. And the salmon that live on the mighty Kola Peninsula of Russia are something special. The Kola's north coast produces the North Atlantic's strongest remaining populations of big fish. Anglers on the beautiful Grand Cascapedia and Restigouche typically only get a few of these amazing fish a week if lucky, while the Kola is far more consistent and stable. Adult fish in these fisheries average close to 15 pounds, with a good chance to break 20 pounds on any given day, and the best rivers usually produce a couple of 30-plus pounders a week. Forty-plus pounders are hooked annually, and I've heard stories of fish over 50 pounds that were unlandable. Every cast feels like it could be the one. The place is magical.
The historic range of the Atlantic salmon used to span around the entire north Atlantic rim, from New England to Portugal, but populations have been in decline for decades, as have so many others around the globe. The more fragile southern populations, where not completely extinct, are the crumbs of what they once were… but there are still some very healthy strongholds of wild and native Atlantic salmon in the northern latitudes. Some of the best left on the planet is on Russia's Kola Peninsula, just northeast of Finland, above the Arctic Circle. The north coast of the Kola is notorious for its savage rivers and the savage fish that have evolved to navigate them. This is not a place to be trifled with – it is some of the most difficult wading you may ever encounter; but for the hard-core salmon angler, it is a pilgrimage to the promised land. It is one of the best places in the world to have a chance to shake hands with a salmon over 40 pounds. And these are chrome bright missiles, fresh from the saltwater of the Barents Sea, and packed with the power needed to swim these rugged rivers. Hooking a big Atlantic salmon here is like nothing else in our sport. Not a numbers game, you are instead going to take a beating looking for that one fish that will stay with you until the day you die.
If you are among those dedicated to the game, you better make sure you have the right equipment to stand up to these beasts when you get there! The following essential fly fishing equipment is what you need to effectively fish for Atlantic salmon on the Kola and most anywhere else they swim.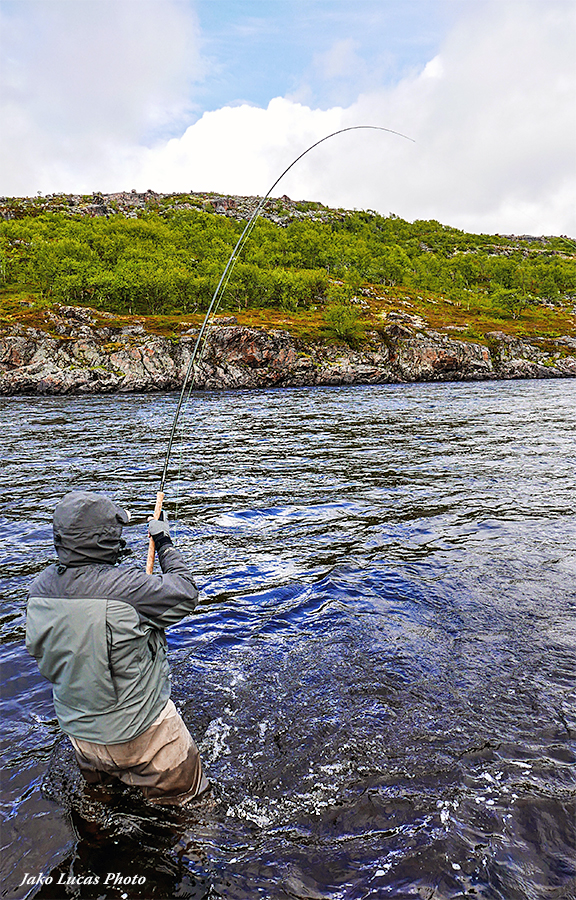 Method of Angling
We target Atlantic salmon with a method we call "swinging the fly." The fly is fished downstream and across the current so that it swings across the river under tension, eventually stopping directly below the angler. You then take a couple steps downstream and cast again, down and across. Keep repeating this process from the head of the pool through the tailout, covering the run like a grid (think of painting the bottom of the river – start to finish) to make sure no stone is left unfished. The vast majority of anglers that target Atlantic salmon, or anything else an angler can swing for, use two-handed rods, also known as Spey rods. In fact, these rods are named after the River Spey, an Atlantic salmon river in Scotland…
Fly Rods
Spey rods from 12.5 feet in length to 15 feet! I wouldn't have anything smaller than a 9wt, and I prefer fishing a 10wt. The Kola requires that you wade deep and cast far, and Hawg Johnson himself swims here. You do not want to be undergunned.
Fly Lines
Depending on the season, you may use either tips or floating lines on the surface. We prefer the Skagit heads in the early season through June, when we need to get down, but by early July you may be using a Scandi, fishing small flies on the surface. The European guys will tell you something different and call you a "Yank" for throwing a Skagit, but keep in mind that you've got a steelheader writing this … and Skagit heads work perfectly!
Scandi head – Full floating shooting head, use a long tapered leader to maintain the anchor
Skagit head – Sink tip delivery system
Sink tips – Have a variety of interchangeable tips to adjust the depth of your fly
Fly Reels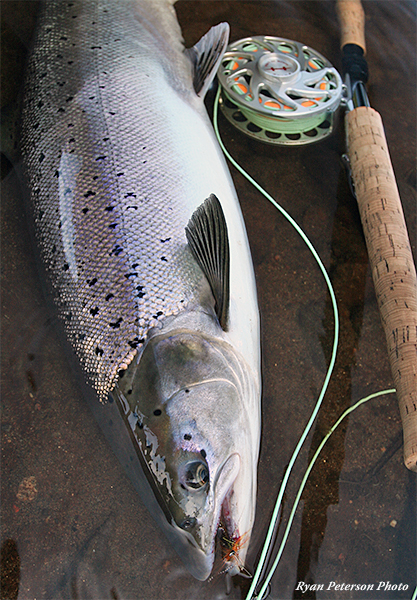 You should absolutely use a quality fly reel that's large enough to balance the long rods and with a drag system capable of slowing down these monsters (though if you are like me, you just want to hear the clicker scream and do your best not to blow it). So, we suggest a good quality reel with a smooth, sealed disk drag, machined from bar stock aluminum, with a large, easy to adjust drag knob. But, I'll still be using my "S" handle Olson with no drag. I'm just sick like that.
Your favorite loud old click and pawl reel… This is asking for trouble, but I still can't keep myself from fishing them anyway.
Reel Backing
You will see your backing on the north coast of the Kola, no question about it. You need the good stuff, and plenty of it. This place will test it like no other freshwater fishery will.
Scientific Anglers XTS Gel Spun is rated at 50-pound test. You get what you pay for with this stuff. It allows for 75% more capacity than standard material.
If you don't want to spend big bucks on backing, at least make sure you put on 30-pound Dacron and ask Odin to watch over you.
With your full floating Scandi head, use a long (longer than the rod) tapered leader to maintain the anchor. The Airflo PolyLeaders are sweet, or just get some 12 ft mono leaders.
With your sink tips, use a short (4 ft) stretch of 30-pound Maxima. Some anglers use beefy fluorocarbon too. Size down as the water calms and clears in the later season.
Flies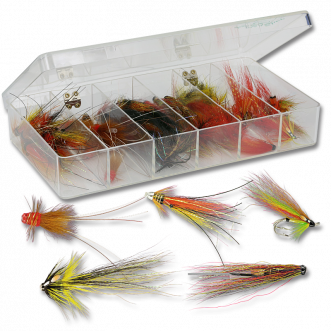 The vast majority of the flies used on the Kola are tube flies, with short shank double hooks behind them. The size of the flies will vary based on the season and conditions.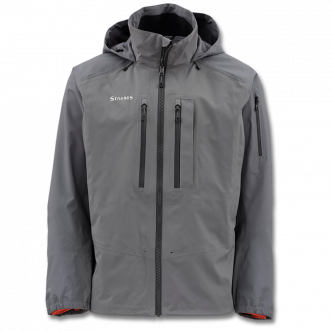 Clothing
Be prepared for anything and everything at this time of year and at this latitude. You are above the Arctic Circle – it can be freezing in the morning and 75° in the afternoon. The layering system is critical in environments like this. Keep adding thinner layers on top of one another so that you can adjust for anything. On top I use four layers – a base layer, then a thin fleece, then a puff jacket, then a rain jacket. If I have all four on it will keep me warm, even when it is properly nasty out. The water is really cold up there. Wear base layer long johns and fleece pants over them in the early season. Later in the season the base layer will be fine all by itself.
Waders and Boots

You need the best waders on Earth. You will be sliding on and over rocks all week, and this is no place for your waders to fail. Get the best boots as well. Sturdy, with a strong toe box and good ankle support. And don't even think about bringing rubber soled boots… this is studded- felt country. Period. You will want all the help that you can get.
Luggage
You should never need to travel with a bag that goes over the 50-pound weight restriction imposed by airlines. It might be tight, but please stay under that. If you are over that mark, I guarantee that you packed stuff that you will never see or use during the trip. I promise. You do not need a fresh shirt every day. Check your roller duffel, then use a waterproof backpack for your carry-on, and carry your Spey rod tube as the personal item, if they'll let you.
Important items to remember
Two pairs of polarized sunglasses (in case you lose or break a pair)
Waterproof sunscreen SPF 30+ (UVA) (UVB) – apply twice a day
Medicated powder – Gold Bond or similar
Buff® (bring two); good for sun, wind, and bugs
DEET insect repellent (important mid-season and on)
Water bottle and dry Gatorade mix, EmergenC packets or Liquid IV
Lip balm with sunscreen (highest SPF you can get)
Dry backpack (100% waterproof)