Gear Review:  Skwala RS Jacket & Waders
On a recent exploratory steelhead fishing trip to Kodiak Island, Alaska, I was fortunate to score a new Skwala RS Jacket and a pair of Skwala RS Waders to fish and put through their paces. I was a bit nervous about bringing two such essential pieces of equipment that I had never fished before on an adventure that had the potential for brutal weather conditions. But I was assured by the Skwala team that both were up to the task, and I would not be disappointed in performance and functionality.
This was not going to be an easy "stroll through the woods" trip, by any standards. We were tent camping behind an electric fence to mitigate bear issues and hiking on broken terrain made up of soggy tundra, hummocks, bear trails, flooded grass, muddy banks, and swollen tributaries between three and four hours a day, for seven days. I am happy to say that both the jacket and waders performed flawlessly and took everything I could throw at them, and then some.
I LOVE this jacket!  It's the nicest, most well-thought-out and constructed, purposely built rain jacket I have ever worn, and I have worn them all. First off, this jacket is bomber – super heavy-duty and 100% waterproof, with taped sealed seams, tough outershell, and features waterproof zippers throughout.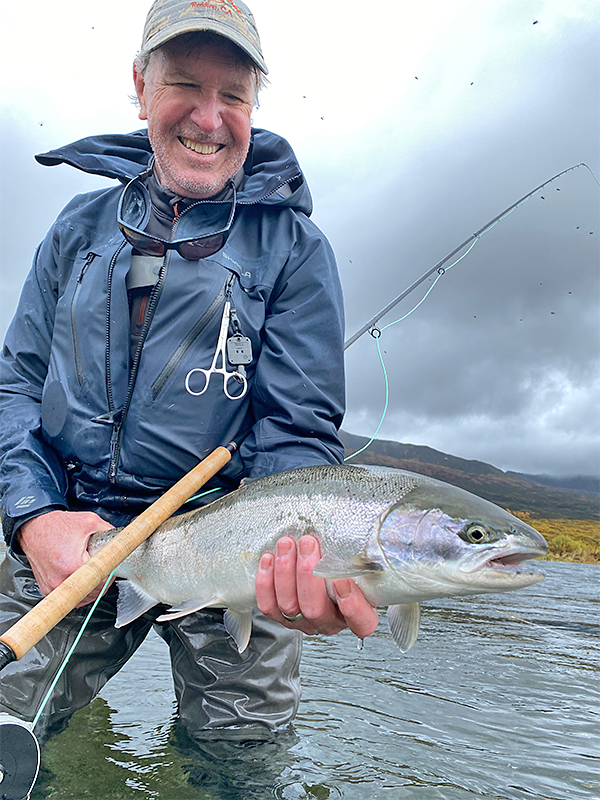 The collar and hood design are brilliant. I could have the collar completely zipped up and it was still comfortable and roomy, while at the same time keeping rain out. The zipper was easy to adjust (up or down, with one hand) for venting when we were hiking. When the rain started coming down in sheets, I could pull up the hood with one hand, offering 100% protection against the weather, while at the same time being able to swivel my head easily to watch for Kodiak brown bears. The hood is not attached high on the collar, but low and close to the shoulders, which allows for maximum movement, flexibility, and vision. The hood has an easy-to-access drawstring that can be cinched down when it gets really nasty.
The fit and length of the jacket is perfect – long enough to cover your arse when not in waders and purposely designed with enough room for long johns, fleece, and a puffy, all without feeling bulky. It also features a stretchy drawstring at the bottom that can be tightened easily for maximum coverage and lockdown.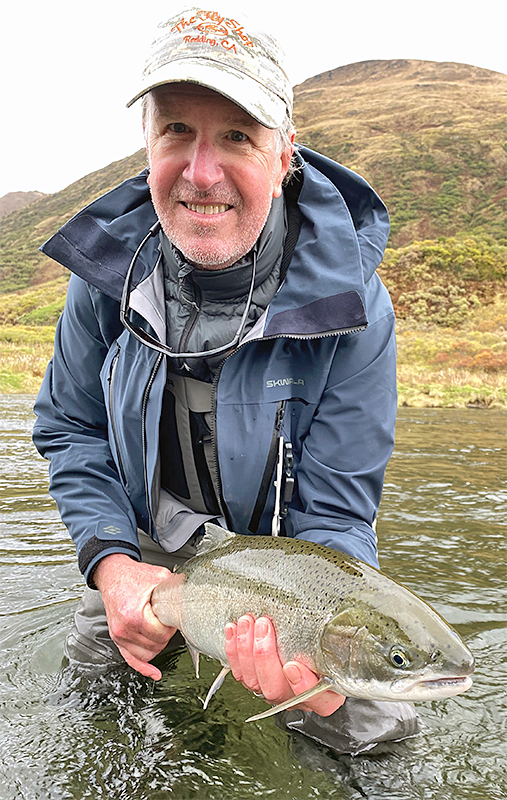 The sleeves feature a double cuff – one inner that incorporates a water-tight and adjustable rubber seal, and an outer cuff that can be cinched, creating a double waterproof closure. The sleeves are cut for maximum comfort, are not bulky, and with enough room to accommodate multiple layers and facilitate mobility.
The outside breast pockets are perfectly positioned, feature drain holes and easily hold a box of steelhead flies, a couple spools of tippet, and a wallet of MOW tips. The handwarmer pockets have a fleece lining on one side, waterproof zippers and drain holes for deep wading. Unique to this jacket are the additional side zips that open directly into the RS Waders, allowing you to warm your hands with body heat, as well as vent when you are hiking – clever mountaineering engineering! The inside breast pocket on the jacket is easy to access, made of stretchy material, and easily held and protected my iPhone.
This is a badass jacket, specifically designed for fly fishers and incorporating some technical features that only a hard-core angler would be able to design and build. Well done, Skwala!
The RS Wader was specifically built to match up perfectly with the RS Jacket (a complete wading system). This was my first time in a zippered wader, and I was a little apprehensive about giving them a try – in my mind zippers don't belong in a wader, just as roofs shouldn't be flat. But the waders performed flawlessly, and by week's end I was a believer.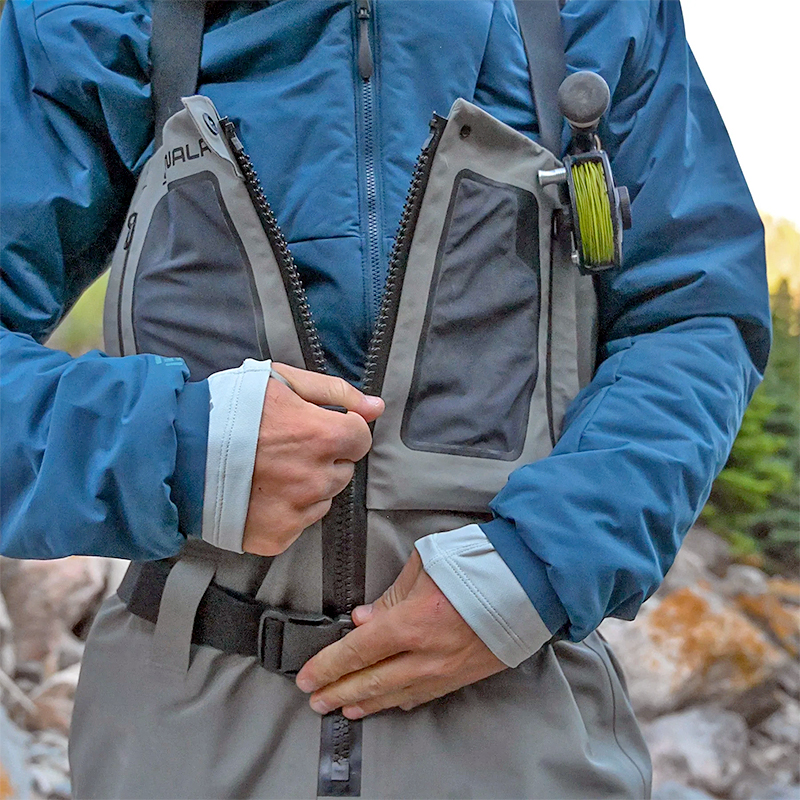 I have to admit I loved the front zipper, a beefy YKK waterproof design. It was easy to use, had a nice T-handle and could be operated with one hand. As mentioned, we hiked three to four hours a day, and having the ability to zip the waders down and vent was a huge bonus. The zipper also made it easy to get in and out of the waders when nature called, eliminating the need to completely disrobe.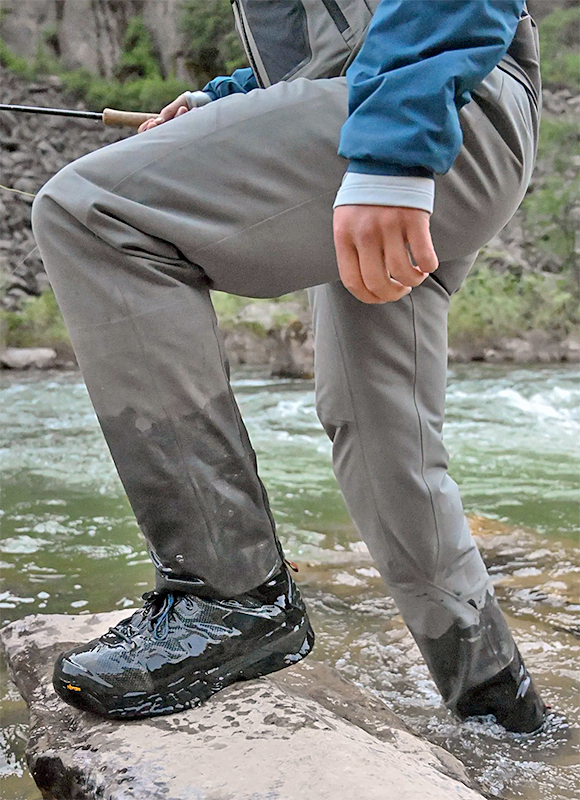 The cut of the wader is spot on and amazing. I am 6'2" and weigh 190 pounds with a size 12 foot, and so I opted for a large/long model with a size 12–14 neoprene booty.  The legs were long enough that I was able to kneel or sit without stressing the seams and allowed me to high-step around roots and downed limbs without feeling encumbered or that there was too much material. The leg seams are articulated around the knees to allow for easy movement and purposely positioned away from those areas that see the most wear and rubbing.
The 4mm neoprene booties are fully tape sealed, comfortable and form fitted, making for a comfortable and padded fit in your wading boot.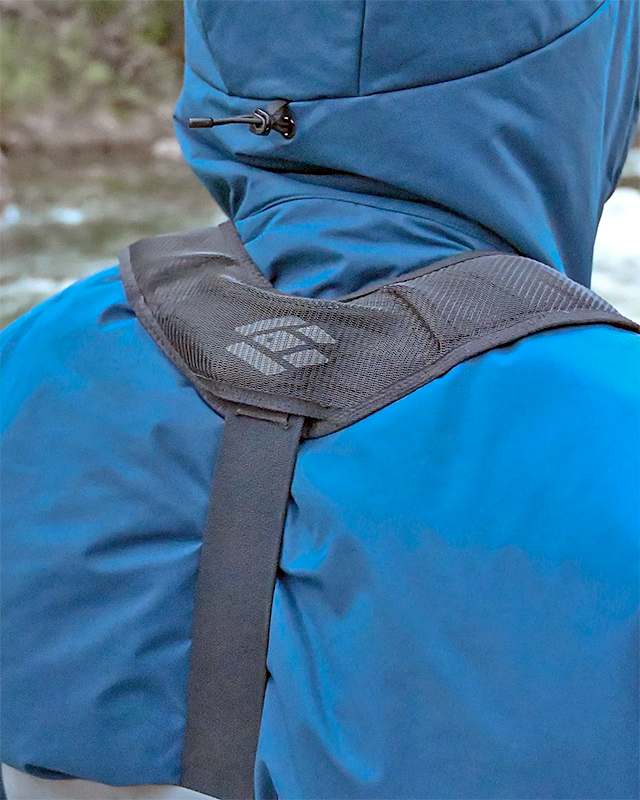 The shoulder harness for these waders is well thought out and comfortable. They are relatively easy to adjust, and I like that the fastening hardware is tucked away and low profile so it won't snag your fly line or running line.
The fully integrated, stretchable wading belt is pure genius, easy to adjust, and provides added stability in the lumbar and waist area as well as providing safety in case you fall in the drink.
This wader has plenty of pockets, including two zippered, fleece-lined hand warming pockets (that can be accessed by the two RS Jacket side zippers) and two exterior stretch-woven storage pockets where I could store ancillary items.
Conclusions:
As mentioned, this was a hard-core hiking steelhead adventure where subpar gear could have become a real safety issue. I found both the jacket and waders well designed and super comfortable to wear. Both fit perfectly, more like high-tech hunting or trekking garments than the standard and bulky bag-like waders we have been wearing for the last 20 years. The added features were well thought out and executed and not gimmicky. I am NOT a gear hound and keep my kit very simple and minimal. Skwala's RS Jacket and Waders made my trip more enjoyable and more comfortable, resulting in fishing more effectively and landing some great wild steelhead. Well done, Skwala Team!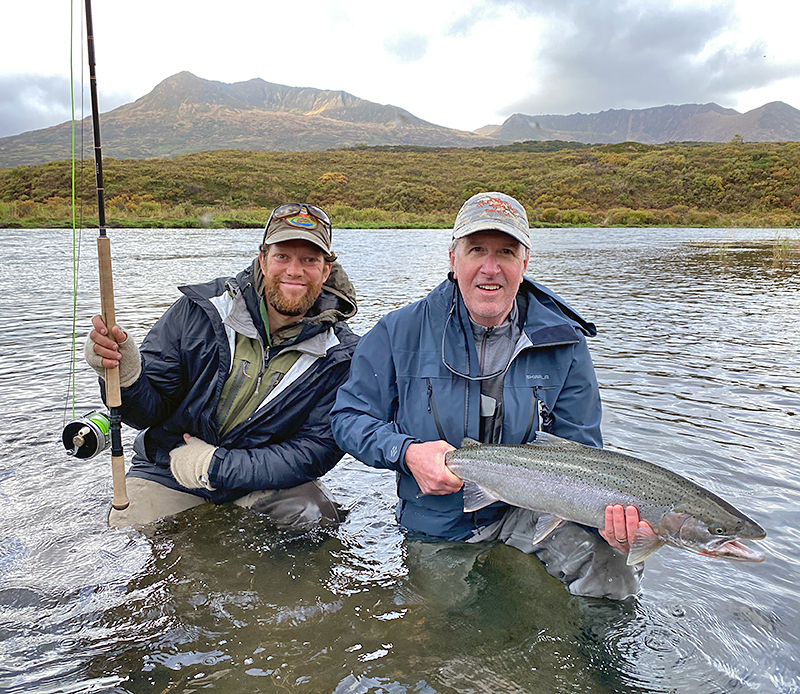 Pat Pendergast
Director of International Travel
The Fly Shop®