Run From the Sun – Ways to Protect Yourself From The Sun While Fly Fishing
Many of us remember the days of the sun gods and sun goddesses. Heck, your parents were probably part of that era, going shirtless during their fishing days or wearing only a bikini to make sure they soaked up as many rays as possible. They even went as far as smearing coconut or baby oil on their skin (sometimes spiked with iodine) to get as much bronze coloring as possible. Those days are gone and for good reason. Skin cancer is the reason for this evolution, and we now find ourselves covering every inch of ourselves with either clothing, hats, sleeves, or environmentally friendly sunscreens.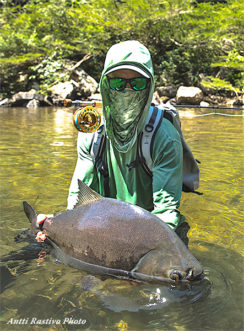 Like lots of other things in fly fishing, sun protective clothing has experienced dramatic changes over the last 10 to 12 years. Many shirts are designed specifically to mitigate sun exposure, using SPF 30+ or SPF 50+ fabrics to help keep us safe from the damaging effects of UV (ultraviolet radiation). UVs are invisible rays that come from the sun, can burn the skin, and cause skin cancer. UV radiation is made up of three types of rays — ultraviolet A (UVA), ultraviolet B (UVB), and ultraviolet C (UVC). In addition to providing sun protection, these shirts help you keep cool, allow for easy movement when casting, and look great. For maximum sun protection while on the water, look no further than the Patagonia Capilene Cool Daily Hoody or the Simms Solarflex Hoody. These hooded, breathable shirts are where form follows function and add comfort to protection. We like the function of these shirts, as the one piece hood to shirt design protects the back of your neck from the sun, as well as the sides of your face and ears.
The head and face are also very susceptible to harmful sun exposure. And remember, the exposure is not just from the sun above, but the sun's reflection off the water. In fact the reflection off the water is often more intense and potentially damaging than the direct sunlight. This is where a Buff® can make a big difference.
We've watched more fly anglers switch from the old baseball-style cap to something with a large brim for this exact reason. These vary greatly in design, from a floppy Gilligan or Boonie style (Simms Superlight Solar Sombrero) to the cowboy style (Fishpond Eddy River), to the comfortable straw hat (Sonora Straw Hat). There is something for everyone's style and fit.
Not into wearing a big floppy sun hat when fly fishing? That's okay because like we said, "There is something for everyone." For those who still want to wear their favorite ball cap, a neck and head gaiter like a Buff®, Gaiter, or Shade Flap is a great option. Buff® changed the way we protect our neck and face when they designed their original tube years ago. This, of course, has been modified and updated to what we wear today. The four-way, seamless, stretch fabric construction features UPF 50+ sun protection, the standard in fly fishing, and is extremely comfortable to wear.
Sunscreens have also changed over the years, especially in the environmental capacity. In previous years the water, reefs, and fish species weren't thought of when anglers smeared on their sunscreen protection for the day. Oxybenzone, Ooctinoxate and octocrylene, chemicals used in sunscreens to protect skin from damaging UV light, are bad news for corals because they increase a coral's susceptibility to bleaching and damaging coral DNA, which interferes with reproduction. Additionally, these chemicals are hard on fresh and saltwater fish. However, there are companies that now produce sunscreens that are coral, water, and fish friendly and don't harm the environment when washed off. We like that in sunscreen and recommend products from Fishpond and Stream2Sea. You may also have a favorite, and we would love to hear about it.
Below is a list of some of our favorite sun protection products that keep you on the water, into fish, but out of the sun's harmful rays.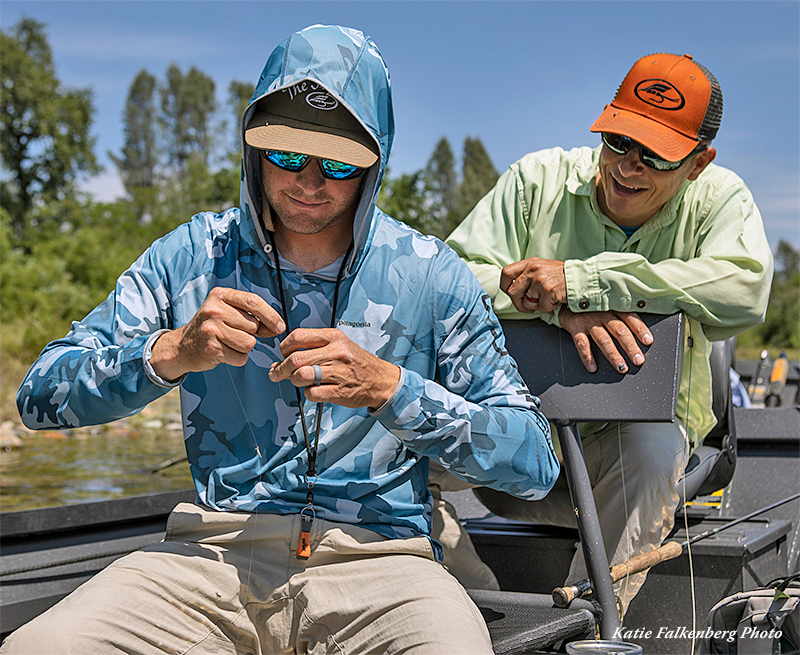 Patagonia Capilene Cool Daily Hoody – $55.00 – $65.00
In high heat and humidity, the Capilene Cool Daily Hoody is the next best thing to a cool breeze. The stretchy, ultralight 94% polyester/6% spandex fabric provides UPF sun protection, wicks away perspiration, and stays fresh with Polygiene permanent odor control. With a relaxed silhouette and soft, cotton-like feel, you can stay comfortable and focused on the fishing.
Skwala Sol Hoody and Sol Tactical Hoody – $89.00 – $119.00
The newest in sun protection from Skwala Fishing. These shirts, although different, are the same. Both these hooded sun shirts provide the utmost protection from the sun with a 50 UPF rating and the choice becomes the thickness of the garment. The scuba hood on both adds extra protection from the sun while still giving you great vision. Add the side pocket(s), 2 on the Tactical Hoody, and you've got a shirt that will block the sun yet be comfortable throughout the day.
Patagonia Capilene Cool Crew – $59.00
Patagonia's most versatile performance knit provides 50+ UPF sun protection while on the water. The HeiQ® Fresh durable odor control keeps your shirt fresh and your fishing partner happy. These technical tees are made from 100% recycled fabric, and will keep you cool, comfortable, and sun-protected in the harshest and hottest conditions.
Simms SolarFlex Guide Cooling Hoody – $119.95
When the sweltering sun threatens to end a long afternoon of tossing carefree casts, cover yourself with the Simms SolarFlex® Guide Cooling Hoody for men. The quick-drying comfort and UPF 50 sun protection of lightweight COR3 ™ fabric lets you keep chasing that elusive two-footer through the dog days of summer. The durable and flexible sleeve construction supports a range of movement, letting you cast from any angle. The hoodie features a flat-seam finish that creates a plush, next-to-skin feel.
Patagonia LS Sun Stretch Shirts – $99.00
If you are not into hoodies and prefer a more traditional button-down shirt then the Patagonia Sun Stretch is a great choice. It offers 50+ UPF sun protection, a quick drying fabric that is comfortable, and the stretchy material allows for full movement while fishing. Paired with a Buff® and good sun hat, you will be good to go on your next sun-filled fly fishing adventure.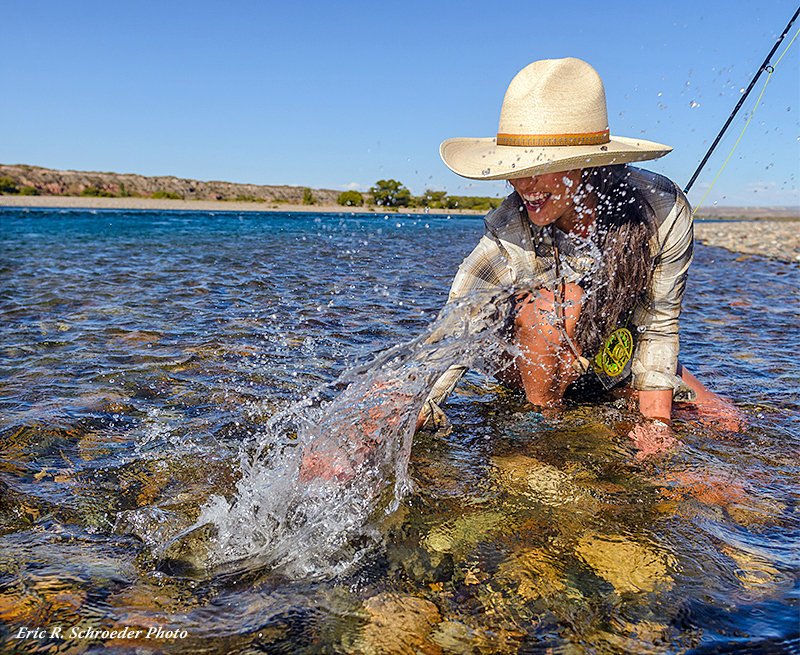 Fishpond Eddy River Hat – $59.95
The sweeping round curved brim and the pinched crown of a cowboy hat was possibly the most defining symbol of the American West. This hat was developed to provide maximum protection from the sun, rain, snow and stand up to daily abuse. The folks at Fishpond have lived under these hats for decades and wanted to add their own spin to the American tradition with the Eddy River hat, complete with Fishpond's signature Brown Trout jacquard webbing hat band.
Sonora Straw Hat – $15.00
Soft and supple, comfortable, with two sizes to choose from, and perfect for those of us who are becoming more cognizant of potential sun damage. This has been a favorite hat for some of our local guides for years here in Redding. And believe us, we know heat and sun here…
Coolnet UV+ XL & UV+ Bugslinger Buffs – $24.00
The do-it-all performance piece that can be worn 12+ ways, from a face cover to headband, balaclava to beanie. The four-way ultra stretch, seamless fabric construction is soft and cozy, made from 95% recycled REPREVE® microfiber. With UPF 50 sun protection, these products are approved and recommended by the Skin Cancer Foundation as an effective UV protectant for covered areas.
Bugslinger comes with built-in bug deterrent
Simms SunGaiter – $34.95
Simms SunGaiter helps you spend more time on the water with less sun exposure. Made from lightweight, quick-drying stretch fabric, it features laser-cut breathing holes, so you don't feel like you are breathing through fabric and can prevent your glasses from fogging up. The SolarFlex fabric offers UPF 50 protection and will cover from the top of your nose down to your shirt collar.
Shade Flap – $8.95
The easiest way to add sun protection to your neck and ears while still getting to wear your favorite fishing ball cap. Just slide this flap onto your favorite hat using the elastic band and you are ready to go. It's a simple solution and fully adjustable to fit any lid or head.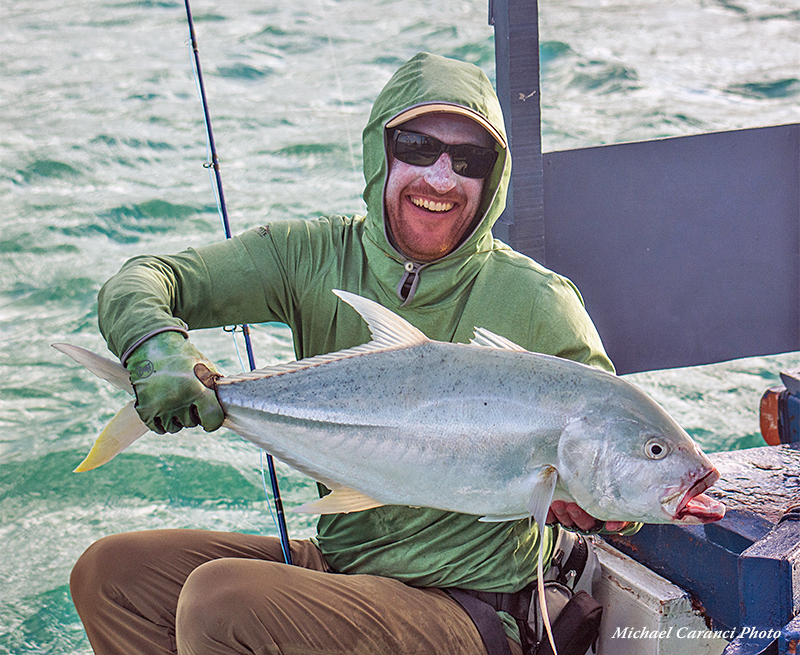 Sunscreens
Fishpond Sunscreen – $9.95
Protect yourself from harmful UVA/UVB rays with this all natural sunscreen. Fishpond has developed these products in conjunction with Joshua Tree, an industry leader in organic skin care. This sunscreen is reef and fish safe and water resistant for up to 40 minutes.
SPF 30
Fly-line safe
2 oz
So we are all covered up with shirts, hats, neck gaiters, and sunscreen. But there is something else we often forget about protecting from the sun — our feet. I don't know how many times I have burned the top of my feet while on a flats skiff fishing. I don't wear shoes because I want to know when I am standing on my fly line. So now, I bring a pair of socks to protect my feet from the sun. They work great as a physical sun barrier, and I can feel anything I am standing on.