Gear Review:  Scott Swing Fly Rods
by Chris King
When you set out to chase migrating fish, you better be prepared for a whole lot of heartache with an occasional pulse of adrenaline. Any given day Mother Nature will throw nasty weather at you.  Your buddies told you where to go, but the fish moved 20 miles upriver overnight. When you choose to play this game there is no guarantee that the fish will even be there. So, your gear better show up.
The swing series from Scott does just that.  From Scandi lines to long bellies to heavy tips on the end of a Skagit head, these rods perform.  They'll kick over a skater 100 feet out on a 20 foot leader and rip a 5 inch intruder out of the anchor and send it towards your target.
Spey casting produces a fair amount of torque on the rod and Scott's X-Core and Arc2 technologies really shine here and provide excellent directional stability. They feature progressive loading actions and fast recovery speeds. With components like titanium stripping guides and a completely redesigned aluminum reel seat that can accommodate both the new high tech reels and our beloved antiques, they feel incredibly light in the hand.
The 2 single hand rods in the series are a blast to fish. Equally comfortable with long belly lines and a bomber skating on the surface as they are with the shorter compact Skagit lines like the AirFlo Scout. These rods really bring us back to the glory days before the two-handers took over. If it's been a while since you went out and had a single-hand swing day, give these beauties a wiggle.
Some of our favorites in the line up:
9'8" 8wt
This gem will huk a shooting head to the far bank overhead and excels at roll casting the same head in tight quarters. Take this one along with a 280 grain Scout head from Airflo on your next Silver salmon outing to Lava Creek Lodge, AK and you'll put the hurt on 'em.
11' 8" 4wt
This rod is just magical with a 270 grain scandi line for skating dries for half-pounders. It performs equally as well with a 320 Skagit chasing trout with streamers and soft hackles.  This is our favorite on the Lower Sac for those evening caddis hatches.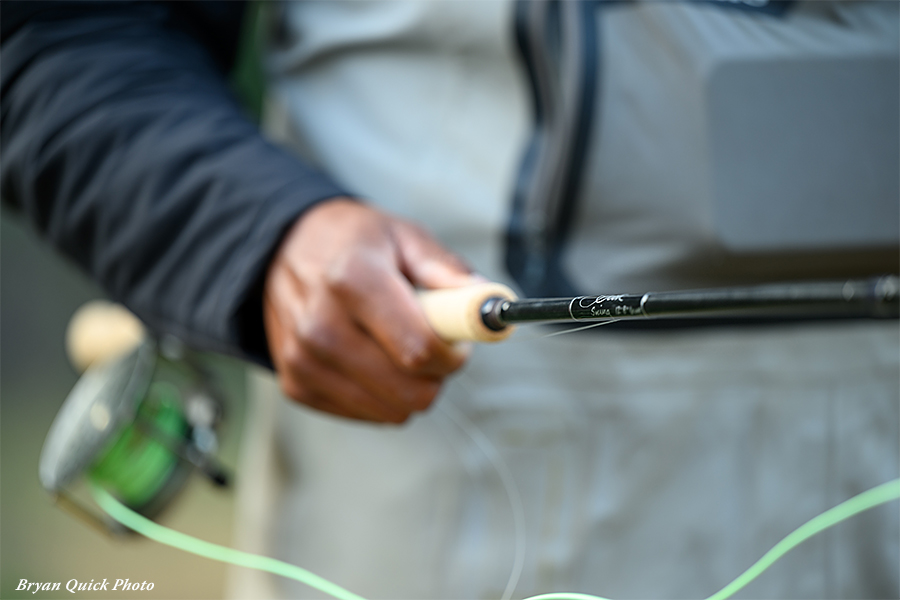 12" 8" 6wt
This is our Trinity / Klamath stick. Not too big for the half-pounders that show in the early season and just right for the 4-8 lb steelies that show up in the late fall. A great rod for on or near surface presentations with a 390 scandi or Rage head from Airflo and a wallet of Poly leaders.
12' 8" 7wt
One of the best Spey rods ever built was the 12'8" 7wt ARC. This new model in the Swing series holds true to its roots with a length that is just perfect for Northern California and Oregon.  Short enough to maneuver down the trails lined with doug firs and long enough to handle extended line control when you punched it to the far side of the river. Faster than its earlier cousin with a great feel and exceptional control.  If you're gonna buy one for NorCal / Oregon.  This is THE one.
13' 8" 7wt
If you're looking for a stick that is perfect for the big rivers on the coast, this beauty is perfect for long casts and open water. Wading deep on the giant gravel bars of the Pacific Northwest, this beast has plenty of length to help keep your D loop of the water and ready for launch. It likes grain weights in the 480 – 525 range and is ideal for long belly lines and exceptional line control for those super wide glides where the big boys sit.
14' 1" 9wt
The Viking Stick – his is the Scandinavian rod that performs flawlessly for this technique.  With mid and long scandi style heads, this rod is capable of incredible line speeds and wicked long casts. Incredibly light in the hand for a rod of its size.  With the power of Thor's hammer when it comes to turning the largest of Atlantic Salmon. With this rod, a scandi head in the 585 grain range, and a passport you are ready to conquer the world!
12' 8" 10wt
The King Slayer – the ultimate power stick.  Take this one with you when you are targeting the largest salmon on the planet. Tidewater kings are no match for this boomstick. Keeping the length under 13' helps with being in contact with all things Skagit.  It will turn over the heaviest of tips and the largest of flies.  When you have to go deep and need the power to turn true monsters, The King Slayer fits the bill.
If you'd like to look at the entire lineup or purchase a new Scott Swing Rod, follow this link:  https://catalog.theflyshop.com/scott-swing-fly-rods/