We are blessed to have so many fishing venues to choose from in Northern California when winter rolls around. No matter what the weather and river conditions, we literally can find somewhere to fish nearly every day of the year. Large winter storms that roll into the North State can often turn our rivers and streams into raging torrents. Even the Lower Sacramento River, our local tailwater fishery, is susceptible to high and turbid water episodes after heavy storms. When our moving water fisheries are blown, we turn to the many lakes, reservoirs and ponds in and around our area. These are solid alternatives that can keep you on the water and on the fish. These stillwaters are excellent fisheries in and of themselves and should not be overlooked or dismissed as mere alternatives.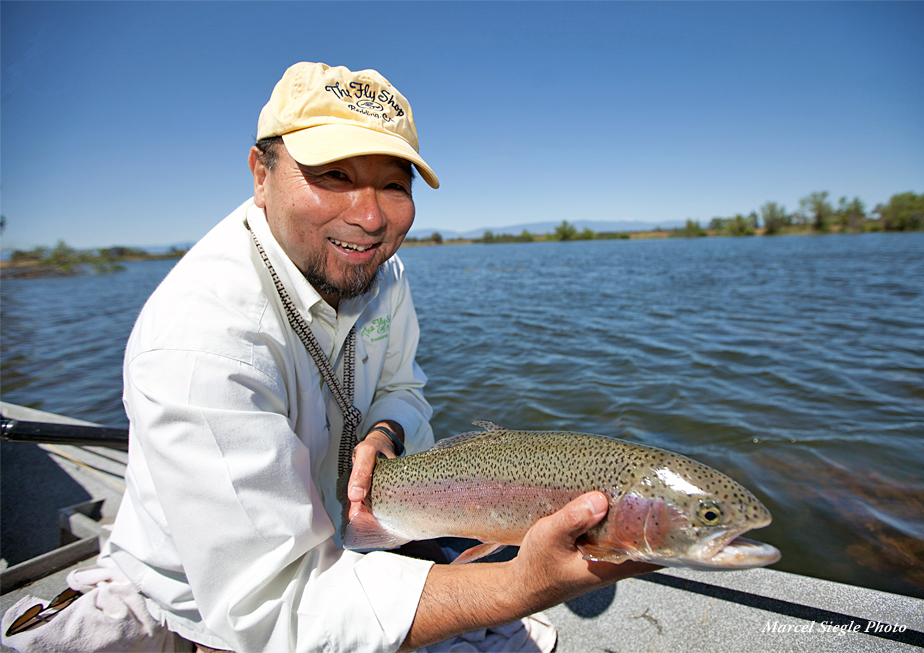 Baum Lake
A top choice among area fly fishers during the winter is Baum Lake. Formed by a small dam on Hat Creek and right next to the Crystal Lake Hatchery, this little trout gem is accessible to anglers on foot and ideal for small watercraft from float tubes to drift boats. With over a mile and a half of water to fish, Hat Creek enters the lake on the south end and flows north toward the dam, which creates a nice spring creek fishery. There are planted and wild fish, and rainbows and brown trout that will chase wooly buggers and damselfly nymphs. In the winter this lake is known for its sizable midge hatches, and on cloudy days you can see fish sipping emerging blue winged olives. Access is from the parking lot around the boat ramp, and on the west shore of the lake, anglers have foot access for those who don't own a boat. With a pram or drift boat, you can cover the entire lake chasing down the groups of actively feeding fish in and among the weed beds. This is a nice little fishery that should not be overlooked.
Lewiston Lake
There are times when the parking lot on Baum Lake can be pretty full, and if you are looking for solitude, another mountain lake that's a short 45-minute drive west of Redding offers strong winter trout fishing. Lewiston Lake is formed below the Trinity and Lewiston Dams, and is essentially a forebay to Trinity Lake. The lake follows the old Trinity River riverbed and on days when releases from Trinity Dam are high, the upper section fishes just like a freestone trout stream. Further down the lake, trout prowl drop offs and flats in search of midge larvae and dragonfly nymphs. Warmer days will see some Callibaetis emerging, giving lucky fly fishers the chance at some decent dry fly fishing. While you will need a powered watercraft to fish the upper section right below Trinity Lake, a drift boat or pontoon will work fine on the lower sections. Lewiston Lake can be technical, but rewarding for those fly anglers who enjoy unlocking the secrets of a new fishery.
Iron Canyon Reservoir 
When river fishing is not feasible, our guide staff is always game to take fly fishers to Iron Canyon Reservoir – a little known gem near Big Bend, California. Iron Canyon has saved many fishing days and anglers from heading home early. Iron Canyon Reservoir holds water siphoned from the McCloud River drainage on its way to the Pit River system. Where this redirected water enters the reservoir lake is where rainbows congregate to feed on aquatic worms and midges all winter long.  These chunky fish see little pressure and will mob your offerings all day. Bring a good selection of mayfly dries, emergers, duns and adults. Warm days on the flats will have some fish looking up.  Access to Iron Canyon Reservoir is best using a powered boat, but kayaks and pontoons will suffice. If you can hike, fishing from the shore can get you into some good action as well. Iron Canyon is smack down in the middle of nowhere and one of the least utilized still water trout fisheries in our area. Give it a try; you'd be surprised by what you might find and experience.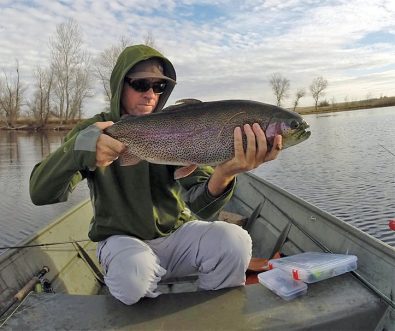 Private Waters
The Private Waters Program developed by The Fly Shop® has a couple excellent properties that offer solitude and reliable wintertime, still-water trout fishing. Luk Lake, just south of Corning, California, is only an hour north of Sacramento. This 30-acre lake holds rainbows all winter and is a great location to get away for a day to work on your cast, test out some new fly patterns or just enjoy the outdoors… and catch trout! This is a perfect lake for a float tube, pontoon or pram, but if you do not have access to one we have several small boats that can be rented. The rainbows key in on any hatching insects, and Luk is known for prodigious midge populations, and on cold, clear mornings – the lake can literally boil with rising fish. Damselflies are present in large quantities too, and stripping woolly buggers and damsel leeches can be effective and fun. And if the trout are not enough, the plentiful native bass and bluegill will come to a stripped woolly bugger. For folks in the Sacramento area who are eager to trout fish, but don't want to make the run to Shasta County, Luk Lake is a great choice.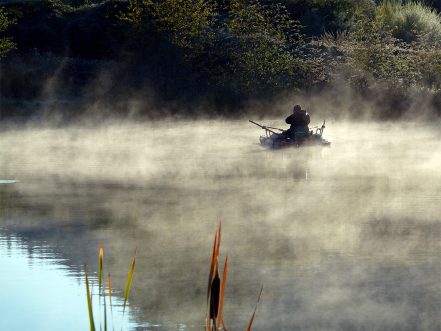 North of Redding in the Scott River Valley is our Private Waters stillwater venue, Sugar Creek Ranch.  Sugar Creek Ranch offers fun and exciting sight fishing all winter to wild and stocked rainbows on four of its seven ponds. Created in the early 1900s by a large gold mining operation, the tailing fields are now home to spring fed ponds teeming with rainbows and aquatic insects. Just a two-hour drive north of The Fly Shop®, the ranch sits right at 3,000 feet and remains ice-free nearly all winter long. Each of the four ponds can be fished from shore, while some anglers prefer to use float tubes. The fish will cruise the weed beds in search of insects, and midges are the staple of these fish's diet, but with Callibaetis, blue winged olives, Glossosoma caddis, damsels and dragonflies present, just about anything can be on the menu depending upon the temperature and the weather on any given day. Bring a full box of your stillwater offerings, a five or six weight rod, floating and intermediate lines and some polarized sunglasses for spotting cruising fish —the water is gin clear! It's a blast sight fishing for these trout all day, and the cold water makes these fish hot. Sugar Creek Ranch is a sleeper, a bit of a poke for most folks, but so worth the effort.
So not all is lost when our rivers in NorCal are blown out or unfishable. The choice is yours – you can stay home or go explore new waters and fish some of our excellent stillwater fisheries in the North State. Still waters offer an alternative to throwing up your hands in surrender and a great way to keep your fly fishing skills current and sharp. Besides the obvious benefits of getting outside in some fresh air and enjoying the outdoors after being cooped up inside, it can be just plain fun! If you haven't had the pleasure of fishing any of these great stillwater fisheries, give them a second look this winter – you won't be disappointed.