Summer Run Steelhead Fly Fishing in Northern California
By Bryan Quick
Stepping into the river, I made my way into the top of the first run of the day. The cool water seeped into my wading boots and felt great on my calves. My first cast unfurled perfectly – the Muddler dropped in next to the far bank and was quickly skating across the broken, swirled surface of the river. The fly's progress slowed momentarily over a large rock below the surface, and just as it began to dance its way toward the middle of the river, a large fish swirled on it, its back breaking the surface as it broke off the attack just short of the minnow. My heart pounded as I continued fishing the fly to the hangdown.
Chasing steelhead is a passion for many anglers in the North State. We are lucky to have two distinct runs – the summer and winter runs – on the Trinity and Klamath rivers that are worth pursuing, as well as the Central Valley steelhead we see in the Sacramento River system. As their designation implies, the name of the run signifies when they enter the river system to begin their migration up river to their spawning grounds. The summer run steelhead will enter the lower Klamath River from the ocean as early as July with numbers building throughout September. These fish are bound for both the Trinity and Klamath drainages and will make their appearance in the upper reaches as early as August, but in greatest numbers in December. Likewise in the Sacramento River, we will see adult steelhead showing up in the Red Bluff area as early as August with numbers building through November. Whether they are bound for the hatchery or to a tributary to spawn, they will be in the system in good numbers through at least January.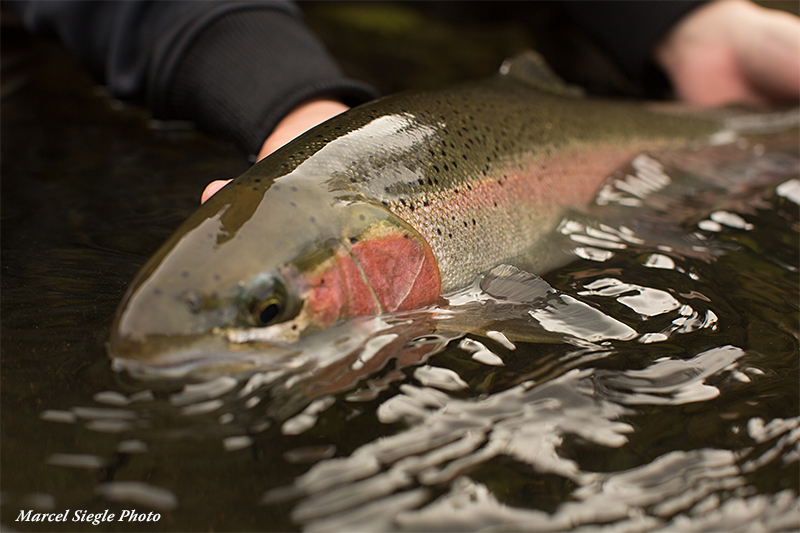 When these summer run fish first enter the river, they are extremely aggressive and will travel quite far from their lie to grab a fly. Brett's Klamath Skater, the Bomber, and Muddler Minnows fished on a floating line and 0X leader are perfect. For wet flies, any traditional pattern like the Silver Hilton or Green Butt Skunk, or that new-fangled Copper Beaded Assassin will draw grabs. Brett's Klamath Intruder in just about any color is another great fly.
When it comes to equipment, a single hand rod with a weight forward floating fly line, a 9-foot 6 weight, will get it done. However, this is a great time to bring out your two-hander in time to warm up your casting stroke for later in the fall. A Scandi Compact Head and floating Versileader work great to fish both skaters and wets. These longer, lighter heads are fun to cast especially compared to a Skagit and sink tip setup, and less effort is required. Most dyed in the wool steelheaders believe a 6 weight is overkill, but this will get some extra reach when you are fishing some of the wider sections of these rivers. A trout Spey 4 or 5 weight setup can be fun to cast and fish, but keep in mind you will have less mechanical ability to turn and land the larger, bright adults you will hook.
Fishing the Trinity and Klamath rivers through early September can be some of the most enjoyable steelhead fishing, as the temperatures are agreeable and waders are often unnecessary. You can leave the heavy jackets, gloves, and polypropylene underwear at home. A light jacket will take the chill off when you are in the river right after sunup or chasing long shadows at dusk. Some great steelhead fishing on the Lower Sacramento River around Red Bluff will require waders with insulation, as these waters are typically kept below 55°F and will chill you to the bone.
I doubled back on that fish, stepped back up a few paces, and tied on my trusty Beaded Assassin. I chose this fly to slow the presentation a bit and get it under the surface closer to the fish. Two casts later a flash appeared by the rock, and that sweet tug was all I felt before my Perfect sang. The bright, wild buck steelhead I later revived sent a shower of droplets over me as it sped back into the run toward its lie. This is what it's all about!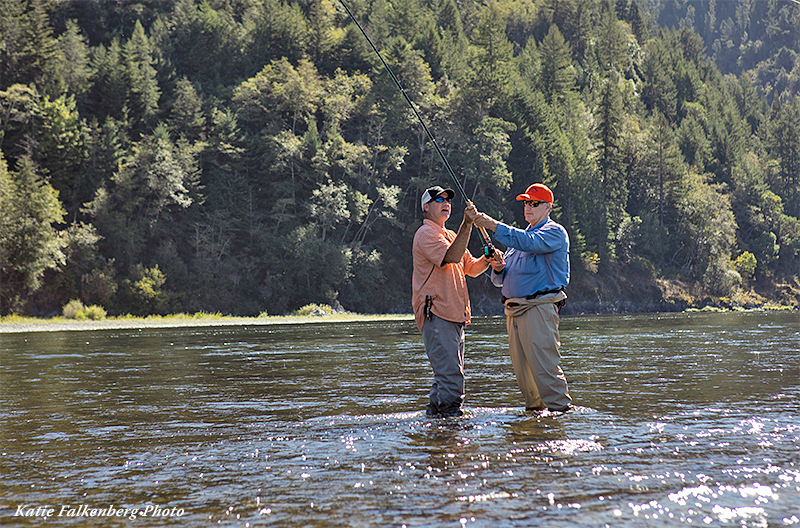 Want to learn to cast a two-handed Spey Rod? We have some great Spey Casting Clinics and a full 3-Day Spey School on the Lower Klamath River at Gold River Lodge.
Looking for more personalized, one-on-one casting and fishing instruction? A day spent with a guide is an investment in learning the ins and outs of swing fishing for steelhead.