A Day on the Trinity with Ernie Denison
By Erik Argotti
I first heard about Ernie Denison about 15 years ago when my good buddy Gabe Duran, who I guided with in Alaska, was moving back to his hometown in Northern California to start guiding the area.
Like most guides who work in Alaska or in many of the Rocky Mountain states, it is hard to pull off a full time guiding career without heading down to Florida, Louisiana or the Caribbean to fill in needed days on the water to make ends meet. Many of these guides hop back and forth between hemispheres, heading to South America for the winters to fill their calendars.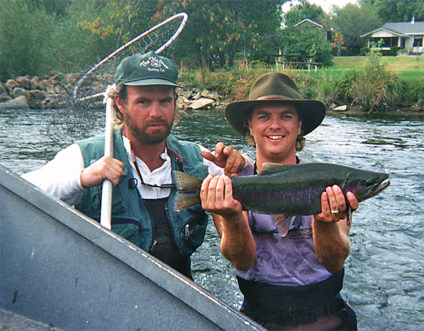 Gabe told me about this guy named Ernie who guided 300 days a year and most of his fishing was within an hour of his house. Having guided for a good number of years, it wasn't the work that was so interesting, it was the idea of guiding that many days a year. I would do some intense stints of 140+ days in a row, but I was done for a while, usually for the year and took some much needed time off. This guy was doubling that in a year and fishing on his days off.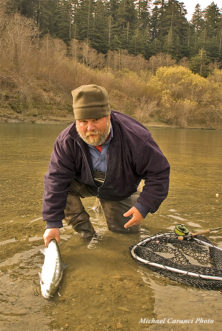 Fast forward to 2021 and a friend of mine and great customer, Tom, invited me to fish with him on one of his two days on the Trinity River for steelhead with the legend, Ernie. I was more than happy to take a break from the office and see the river, which I hadn't had a chance to fish yet. The excitement grew the day before when Tom gave me the report of the first day fishing. Tom hooked 10 and landed 5 and all nice big fish. Because of low water and no rain the early steelhead season had been slim pickings. November and December were tough and most days on the water you were working for a couple of fish. We had a really big storm the week before that brought some much needed water to the system and allowed many of those lower river fish to make their way upstream. This was one of the better Trinity river reports I had heard all season. The best part of it all is they didn't see another boat all day.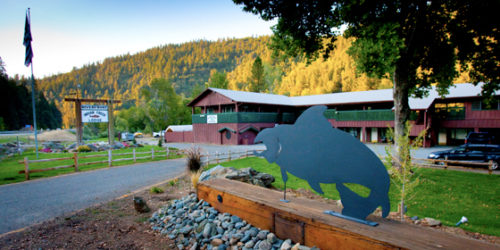 I was to meet those guys over at Indian Creek Lodge at 8 am. Due to snow and rain that morning I got an early start and pulled into the parking lot with plenty of time to spare. Tom and I got caught up and talked about some of his upcoming fly fishing trips and Ernie pulled in just before 8, ready to go.
The plan was made that we were going to float the upper river.  So, we all ran up to the top, dropped the boat in water and Tom and Ernie ran the shuttle as I kept an eye on the boat and rigged up my rod for the day.
Anybody who does anything for a long time, especially fly fishing, gets particular about the way they like to do things and that is no different for me. Given my choice, I love to feel the tug of a steelhead and would swing a fly any day if given the choice. But, I also love going with anybody who is really good at doing what they do and has a passion for doing it. I have had some great times with friends who throw jerkbaits in the shallows at night for big walleye. Others who have their boats decked out for Kokanee fishing and know the ins and outs, depths and rigs to catch them. I just like to get out and see all types of fishing, so I was ready to catch some fish no matter what type of fishing was planned for the day.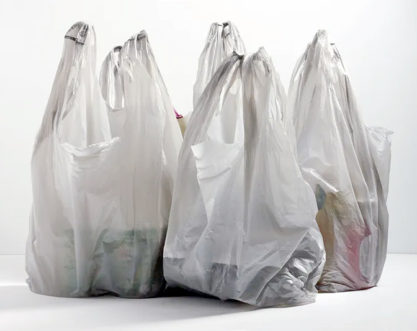 Watching Ernie get set up in the morning was surprisingly comical. Ernie doesn't believe in wasting time and money on "unnecessary gear".  All his terminal gear could be found in 3 plastic grocery sacks. With it raining, this system didn't seem to be ideal.  A couple of the bags were already filled with water and there were loose leaders, tippet, flies, hooks, egg patterns, beads, barrel swivels, weight, lots of little zip lock bags, and of course a couple even contained some garbage. As you can imagine, there is no organizing anything in plastic bags. He picked up one old bag at the end of it's life and all the gear dropped out of the bottom onto the side of his boat. Ernie gave a grin and responded with, "time for a new tackle bag". He took his time as we were in no rush, which is very typical of a day with Ernie. He was methodical, lumbering and worked at his own pace, but unbeknownst to us, he had a plan for the day and was in execution mode, the Ernie-way.
We finally got on the river around 10ish. But once on the water, Ernie was at home and everything seemed very fluid and crisp. He maneuvered his boat down the low, narrow, rocky river precisely and everything he did was very calculated, with minimal effort and NO wasted motion. With 30+ years of experience on the oars, Ernie knows how to move his boat with little to no wasted movement.  He was always putting the boat in a precise location and a lot of the spots we hit with only one cast and pulled up and adjusted our rigs for the next run.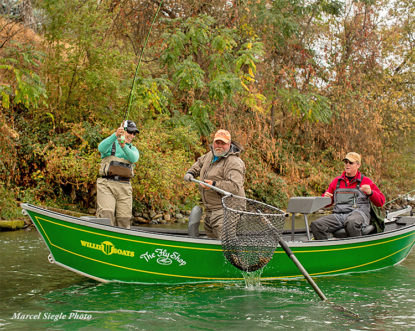 The rig setup that we were using that day had been masterfully thought out by Ernie.  His nymphing set up was very simple yet, easily adjustable and everything was predetermined and had a purpose. We had three different locations for the indicator which were moved by adjusting a toothpick and it varied the depth by a few feet. Weight was constantly on and off depending on each run. We rarely got snagged and were always just tapping bottom, which is exactly the drift you are looking for on the Trinity. It was a common thing to hear him say "strip them in, move your indicators to the deepest level, put on a weight and grab a seat". As we came up on the run, he would let us know ahead of time which side we were fishing, exactly where to put the cast and of course constant mending reminders. There was very little guess work for us, we followed his commands. Most of the time we did one run through and on some of his better spots we would hit it again and take a different line.
In the morning, Tom warned me about Ernie yelling to set, but I don't think I was quite ready for it. The second run as I was looking off at something and probably day dreaming when this bellowing "SET" echoed off the walls and made me jump. Luckily I wasn't the one he was directing the order at and Tom sheepishly looked away as he missed the potential fish.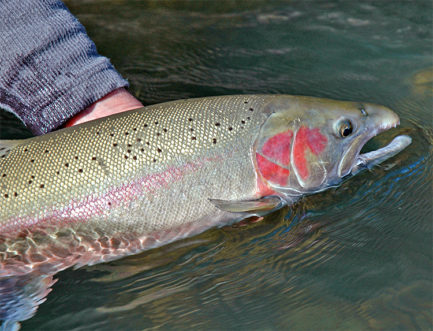 Ernie loves to guide his clients into fish and have a successful numbers day.  He is there to catch you fish. When it comes to steelhead fishing on the Trinity, Ernie enjoys clients that are experienced steelhead anglers.
Like most experienced guides, Ernie isn't too keen on tangles.  But what guide or angler really enjoys those anyways.  That is just time not spent fishing and they usually happen at the absolute worst possible time.
Ernie's river knowledge library is hard to fathom. This is his 32nd year with The Fly Shop® and he usually works between 240 – 280 days a year. On his days off you'll find him chasing whatever he heard is catchable in the area. That is a lot of hours on the river. He spends the majority of his days on the Lower Sacramento and almost just as many on the Trinity, with some McCloud, Pit River, Hat Creek and coastal trips mixed in. Just thinking about the amount of time on the oars staring at indicators and dry flies and the amount of fish he has netted and sees from year to year is just mind boggling
After a few Foster's that night he told us he estimated that he has landed around 30,000 steelhead in his 32 years guiding and personal time fishing. When you spend any extended periods of time on a river there is a certain connection to the water and I know it is cliche, but you kind of become one with the rivers you fish. Ernie has definitely achieved that oneness with the rivers he fishes, knowing exactly where the fish will be.  Although when you are in it, you don't  see it this way, you are just doing your thing. I know I felt it a little bit in Alaska when I spent 6 years on a particular river fishing it everyday for three-four months at a time. You start to "flow" with the river and your decisions are based less on logical thinking and more on feeling.
At the end of the day, we were both slowing down a little and it was cooling off both fishing and temperature wise. Tom and I were looking at each other and thinking we should just reel up and head for the takeout.  However, that isn't the Ernie way.  His enthusiasm didn't wane. He fished us to the very end and all the way through the last run, we were adjusting our rigs and fishing them.