Top 5 Bonefish Fly Fishing Destinations
Albula vulpes
Our friends at the Bonefish & Tarpon Trust tell us that there are 12 species of bonefish that have been identified in the genus albula. Bonefish have a very wide range of distribution from the Central and South Pacific, including Hawaii, Florida, the Bahamas, the Gulf of Mexico, Antilles, and throughout the Caribbean down to Brazil, as well as some West African waters and in areas of the Indian Ocean. Sure some spots are known for big bonefish and others for smaller fish (schoolies), but generally speaking, bonefish are present in good numbers and are aggressive feeders.
The following five bonefish destinations are standouts and offer a unique glimpse into the fascinating and often addictive pursuit of bonefish in clear, skinny water.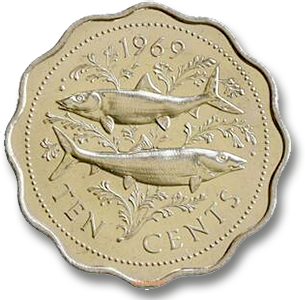 Bahamas
The Bahamas is all about bonefish, and most people would agree that the Bahamas is the Bonefish Capital of the World. Even their currency has bonefish on it!
Nearly all of the 16 major islands of the Bahamas – and countless smaller cays as well – are surrounded by flats that are teeming with bonefish of all shapes and sizes. There is something here for everyone: from vast schools of bonefish that are perfect for the novice flats angler, to trophy bonefish tailing in singles and pairs that are a challenge for even the most seasoned salts, to everything in between. Some places are best fished from the comforts of a modern flats boat, while other areas offer mile upon mile of wadeable white sand.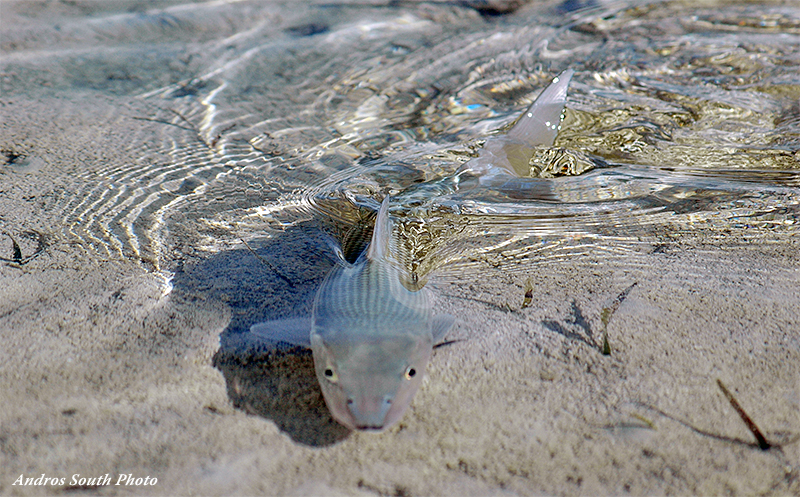 The Bahamas boasts a 50-plus year history of bonefishing. There are dozens of established lodges dotted throughout this island nation, all boasting some of the most experienced guides in the world. Everyone speaks English here, the food is amazing (especially if you enjoy fresh seafood and conch), and the laid-back atmosphere always makes for a relaxing, fish-filled angling holiday. And it's easy to get to, too! Most visitors can leave their home in the morning and by afternoon find themselves sneaking up on a tailing bone as it meanders across a beautiful white sand flat.
Belize
Belize is a small English-speaking country in Central America bordered by the Caribbean Sea to the east and dense jungle and mountainous terrain to the west. The coastline of this Caribbean nation stretches a total of 170 miles north to south and is home to the world's second largest barrier reef (185 miles in length), which provides protection for the nearly 1,000 square miles of pristine flats and around 450 cayes (pronounced "keys").
This idyllic flats fishing paradise is home to some of the world's finest fly fishing for the "Big Four:" bonefish, permit, tarpon, and snook. But it is Belize's strong population of bonefish that draws many anglers here for their first saltwater adventure, often the beginning of a lifelong passion for the flats. Bonefish in Belize are not always the biggest, averaging 2-3lbs with some larger bones up to about 7lbs. What they lack in size they make up for in numbers, often found in medium to large schools tailing in water so shallow their entire backs are sticking out of the water. It's a perfect introduction for those who want lots of shots at fish every day. Once you've figured out how to spot these "ghosts of the flats" and feel the power of their lightning-fast runs, you'll be hooked for sure. You better Belize it!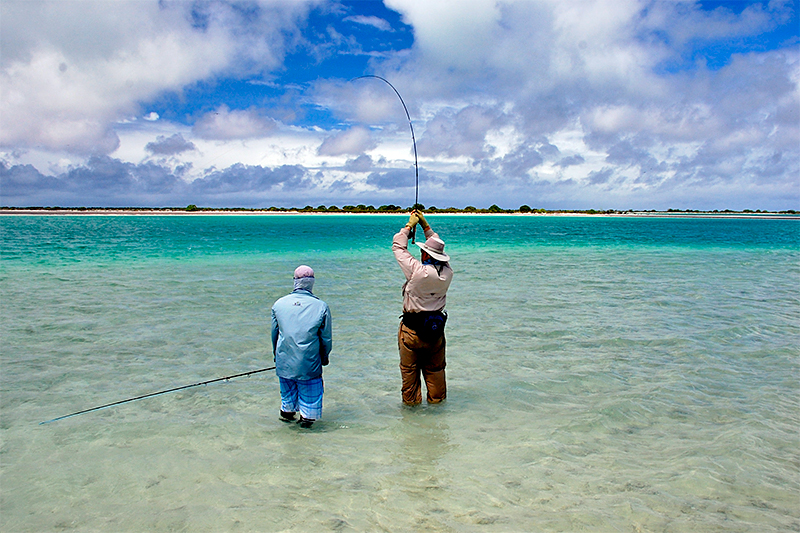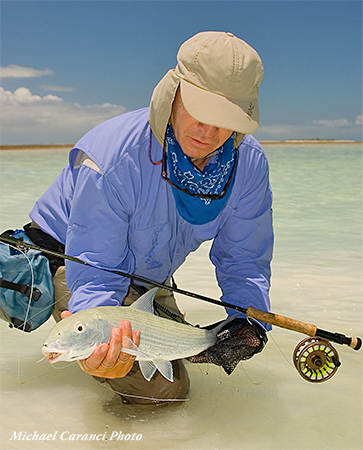 Christmas Island
Christmas Island (Kiritimati), located in the Republic of Kiribati (pronounced kee·ruh·bas) in the Equatorial Pacific, is the largest coral atoll in the world and undoubtedly the best known and most prolific bonefishing destination on the planet. Discovered in 1981 by intrepid saltwater fly fishers, Christmas Island remains enamored in the hearts of bonefish anglers everywhere – and it is still among the best places anywhere to wade shallow sand and coral flats for the mystic ghosts of the flats. Bonefishing at Christmas Island is done the way it should be: on foot. Fly fishers spend the entire day stalking these wary fish, usually on solid, white-bottomed flats that often stretch for as far as the eye can see. It is action-packed angling by any standards, and experienced flats anglers recognize that there is no place in the world that offers better bonefishing.
Because Christmas Island is so near the Equator, the weather patterns and angling are reliable nearly all 365 days of the year. A trip to Christmas Island is a must for flats fishermen and a welcome escape for snowbirds searching for winter sun, fun and bonefish.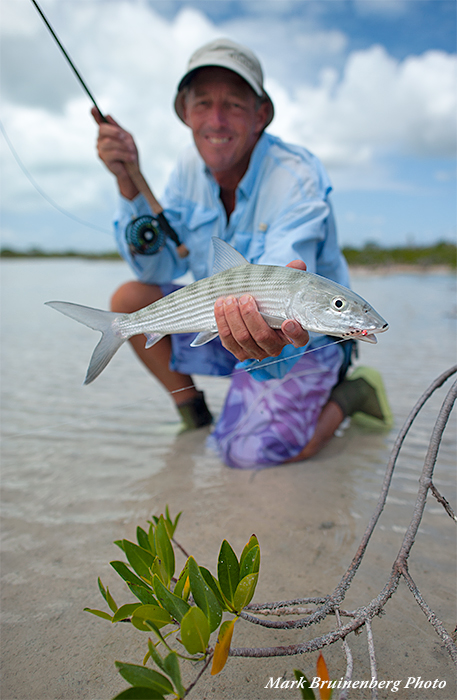 Yucatan Peninsula of Mexico
The Mexican Yucatan is "Grand Slam" country, where you can release a tarpon, permit, and bonefish in one day. Taking that to the next level, add a snook for your 'Super Grand Slam.' But without that bonefish, there are no "Slams."
South of Cancun, you'll find Chetumal Bay, Espiritu Santo Bay, and Ascension Bay, all of which are home to healthy populations of resident bonefish. These are diverse ecosystems, stretching from the Caribbean Sea to the mangrove creeks and channels deep in the backcountry. Between the sea and the backcountry are miles of white sand flats where bonefish feed on a variety of shrimp and crabs. You can hunt for them from a boat, poled by a skilled local guide, as well as wade for them in "skinny water." Whichever way you choose to get close to a bonefish, the cast must be precise, and the rewards are thrilling.
The season is long, and you can bonefish nearly all year in the Yucatan. Cold north winds can chill the water and shut down the fishing in the winter months, but that doesn't last long. The water warms in a few days of sunshine after the cold front passes, and hungry bonefish quickly return to the shallow flats. Perfect for your favorite 7 or 8 weight rod, tropical floating line and a handful of flies, grab your wading boots and head south for some fun on the flats of the Mexican Yucatan.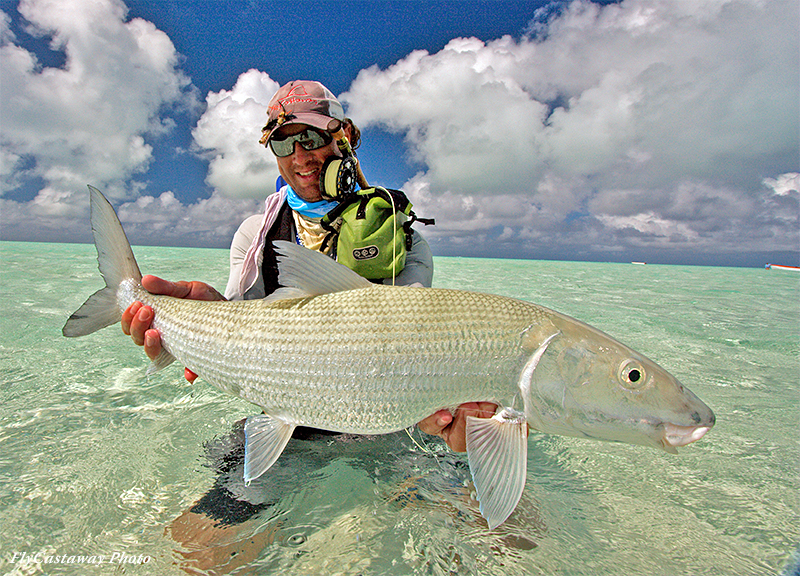 Indian Ocean St. Brandon's
St. Brandon's is frequently recognized as the best bonefish destination on the planet.  It's also one of the most difficult to get to. But anyone who's made the arduous trek to get there will tell you, it's worth it!
This is one of the most remote flats fishing destinations in the world – a group of over 50 small islands, coral ridges, and vast hard-packed sand flats that is only accessible by a 24+ hour open-water crossing from Mauritius. Only a handful of anglers get to experience these incredible flats each year, leaving the majority of the bonefish having never seen a fly or an angler.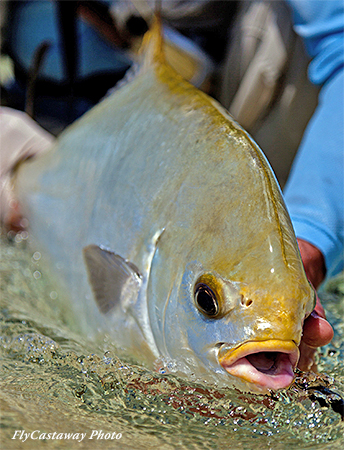 St. Brandon's is also home to great populations of Indo-Pacific Permit, as well as some of the largest giant trevally in the Indian Ocean; but the real draw is the epic bonefishing! The flats are composed primarily of white compacted sand, which is perfect for easy wading. And anglers typically encounter a nearly endless parade of bonefish every day. Sometimes large schools of fish averaging 4-6lbs patrol the flats, while larger fish in the double digits are also frequently spotted tailing in incredibly shallow water as singles and pairs. Most people fortunate enough to stalk these flats return home with stories of bonefish in both quantity and quality that are hard to fathom.