Essential Gear for Fly Fishing for Taimen in Mongolia
By
Michael Caranci
Taimen are the largest trout in the world, a prehistoric mega-fish. They're not just big … they're mean. In Mongolia, taimen will absolutely explode on the fly, sometimes coming completely out of the water. If they miss at first, taimen will usually come back and hammer your fly multiple times. They will often go airborne. Like a big tarpon, they will tail walk along the river's surface. In skinny water, they will rocket across the river for greater depths. The 4-foot-long predator on the end of your line will charge around the pool, bore deep and shake its head violently like a very, very big brown trout.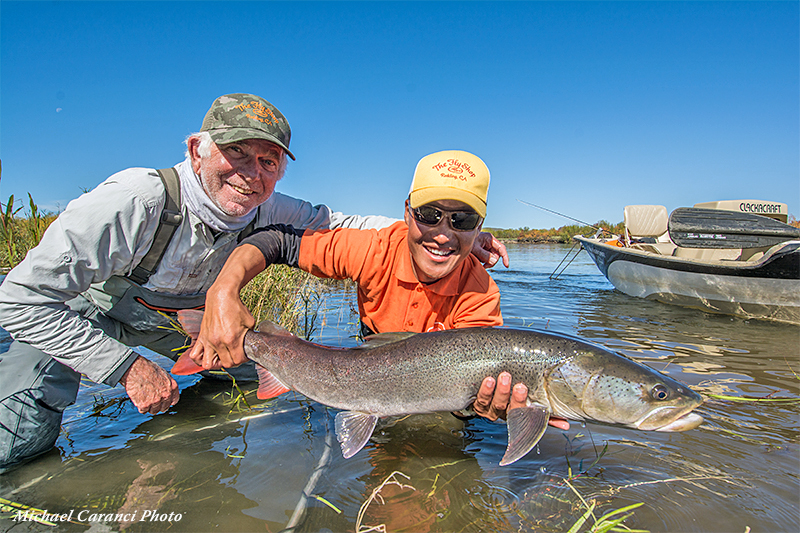 Taimen can be anywhere … and sometimes nowhere. A mature taimen will use 100 kilometers of river every year for its winter habitat, spawning beds, and to search for prey. They are frequently ambush predators, sometimes working in groups of two or three, waiting in places where they can strike unsuspecting prey. Groups of hunting taimen commonly "herd" baitfish into the shallows where they are vulnerable to attack, hence the nickname "river wolf."
Most taimen caught on the fly measure from 25 to 40 inches (around 1 meter). Fish over 40 inches are relatively common, and each season we land a few that are well over 50 inches (1.25 meters). A 50-inch fish is very likely 40-50 years old.
Taimen are top-tier predators, renowned for a ferocious appetite and an explosive strike. Their favorite prey are trout and grayling, and they do take well-presented streamers. However, taimen often feed on the surface, searching out small mammals and even ducklings. This means taimen aggressively take skated or gurgling surface flies, too. They own the river, and if they think they can eat it they will. They are the top of the food chain.
This is perhaps the world's most incredible fly fishing experience. Every taimen you encounter – whether you miss it or land it – is sure to create a lasting memory.
The following fly fishing equipment is what you need to effectively fish for taimen in Mongolia: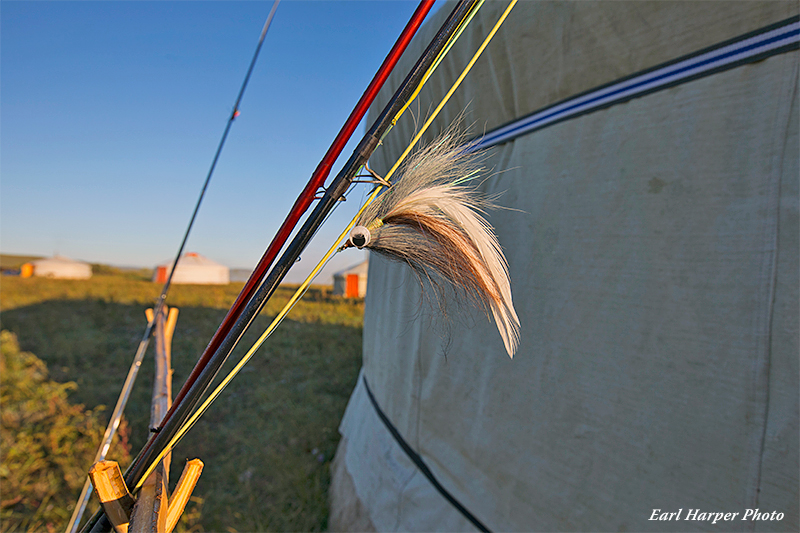 Fly Rods:
The go-to fly rod for most taimen fishing situations is a single-handed, 9-foot, 4-piece rod in either 8-weight or 9-weight. These rods are heavy enough to handle casting large streamers and wind-resistant topwater flies, yet also not over-burdening when casting them all day long for a week or more of fishing.
Switch rods are also effective tools, ideally in the 8-weight, 11-foot range. These rods can be great for casting very large flies that imitate small mammals, as you can use both hands to turn over large flies without putting extra strain on your shoulder.
Many guests will also bring two-handed rods to skate large mouse flies and streamers across the many braided riffles and pools of these wild rivers. When wade fishing in Mongolia, 8- or 9-weight rods from 12-14 feet in length are all great tools.
Fly Reels:
You'll want a reel that is well balanced to the size rod you're fishing and with a smooth drag system. The lighter the better because there is a lot of casting involved, and every ounce of weight adds up after a long summer or fall day in search of giant taimen.
Fly Lines: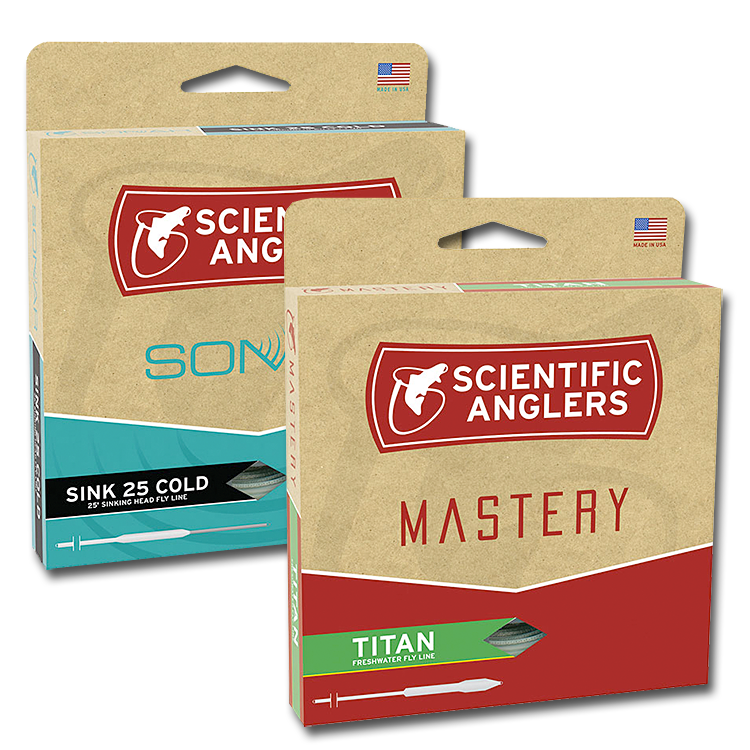 The proper fly line can really make a difference in taimen fishing. Lines that are over-weighted and have an aggressive front taper are ideal, as they will give you extra rod load and help pull larger and more wind-resistant flies through the air with less effort.
Most of the time we fish floating freshwater lines. It is also a good idea to have a 250-350 grain sink tip line for fishing streamers in some of the deeper pools.
Leaders:
Taimen leaders are quite simple. These are apex predators and are not in the least bit tippet shy. We often just use straight shots of a quality 20, 30, and/or 40lb fluorocarbon. Or, 7-9 foot tapered leaders of 20-30lb test generally work well.
We suggest that you bring a small spool of tippet in the 20–30lb range and one in the 30–40lb range. If you intend to use straight tippet as leader – which we recommend – then just bring a couple extra spools in each category.
Flies:
Both topwater flies and streamer fishing are highly effective for taimen. Watching a taimen destroy a surface fly is very addicting. Taimen will often explode on a surface fly repeatedly. Large poppers, gurglers, mice, and wounded baitfish are all prone to attack.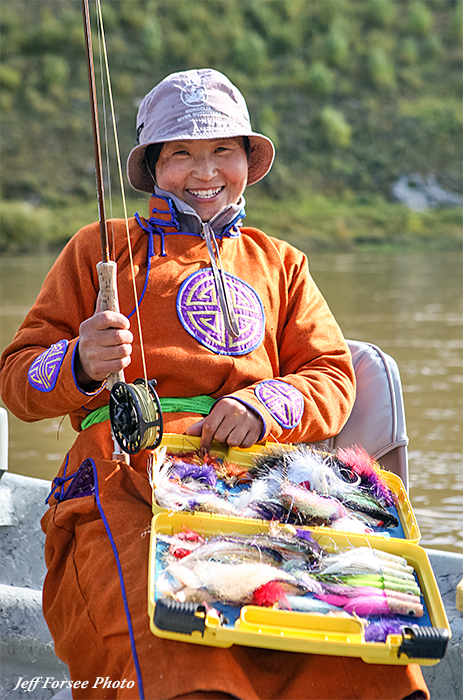 Trout and grayling are the primary prey for taimen, and large streamers are always a good option. The most effective colors tend to be representative of these prey species – white, tan, grey. Black is also a good color as it casts a large silhouette in the water.
There is little "matching the hatch" with taimen, so it's a great opportunity for tyers to get creative at the vice.
Perhaps the most critical component of every taimen fly is the hook. Taimen have a very hard mouth structure, and like a tarpon they can be very hard to hook. A stout hook with a large gape (2/0 – 4/0) is important. And the sharpest possible hooks are even more important. The sharper the hook, the better the odds of landing a taimen.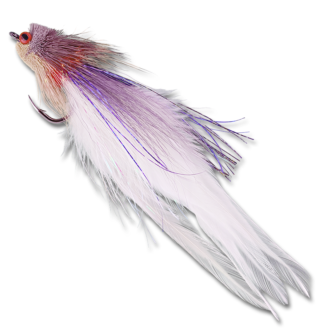 Taimen Flies:
Clothing and Wading Gear:
Weather in Mongolia is quite similar to Montana. Some days it is quite sunny and warm. Other days it can snow, with anything in between. Sometimes we see it all in one day! The most common questions every morning throughout most of the season are about what to wear, and will there be wet-wading or wadering up. There are days you'll start in shorts and wading sandals, have your waders, rain jacket, and warm layers on by lunch, and be back in shorts by the end of the day. Be prepared for all eventualities!
For waders, breathable Gore-Tex waders are the way to go. Rubber-soled boots are recommended in Mongolia, as these are wild, pristine rivers and felt-soles run the risk of importing potentially devastating aquatic invasive species. And because we spent a lot of time in drift boats and inflatables, no studs are allowed.
The varied weather conditions make a layered-clothing approach a must. Plan on some lightweight clothing for warm sunny days (shorts, lightweight fishing pants, lightweight fishing shirts, etc). You'll also want to bring cold-weather gear, especially for trips later in the season (fleece wading pants, midweight baselayer tops, a heavier fleece or windstopper jacket, and of course a good breath-able Gore-Tex rain jacket).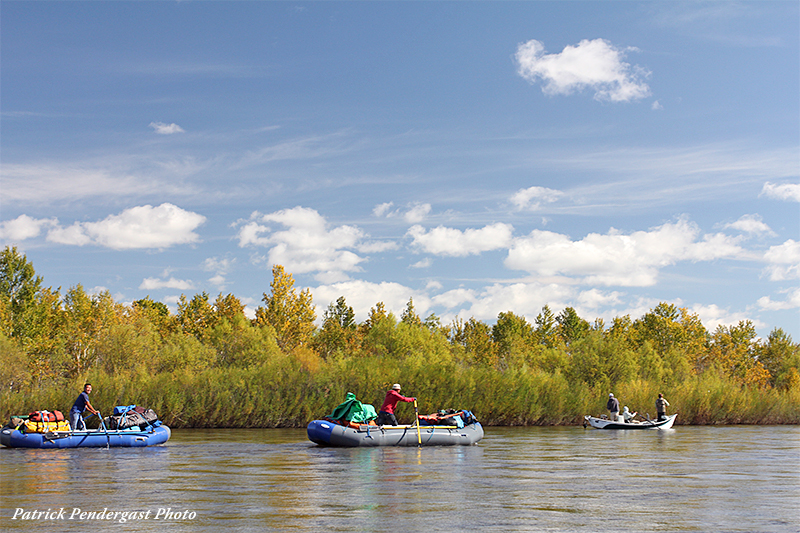 Luggage:
These are float trips where you'll cover 100-200 river miles during the course of your adventure. Please be sure your camp bags are 100% waterproof. And by that we mean submersible. On the river, your luggage will be transported primarily by boat. This means it will be exposed to the elements. Beware of non-waterproof zippers!
You'll want three different types of luggage:
One bag to leave at the hotel in Ulaanbaatar with your "city" gear
One large 100% waterproof bag for all of your "river" camp gear
One small 100% waterproof "day" pack to carry what you want for the day
Your large waterproof bag should be capable of holding your camping gear, including sleeping bag, spare shoes and other clothing. The TFS Submersible Duffel is the perfect bag for this! Other good options are the Simms Dry Creek Duffel, Fishpond Thunderhead Large Submersible Duffel, or similar.
Your small waterproof day pack should be large enough to hold your personal daily fishing gear such as jacket, gloves, hat, camera, spare reels, etc. Good options include: Fishpond Thunderhead Submersible Duffel, Umpqua waterproof boat bags, Simms waterproof boat bags, Fishpond Cutbank Gear Bag, Fishpond Castaway Rolltop Gear Bag, Patagonia Stormfront Backpack, or Patagonia Stormfront Great Divider.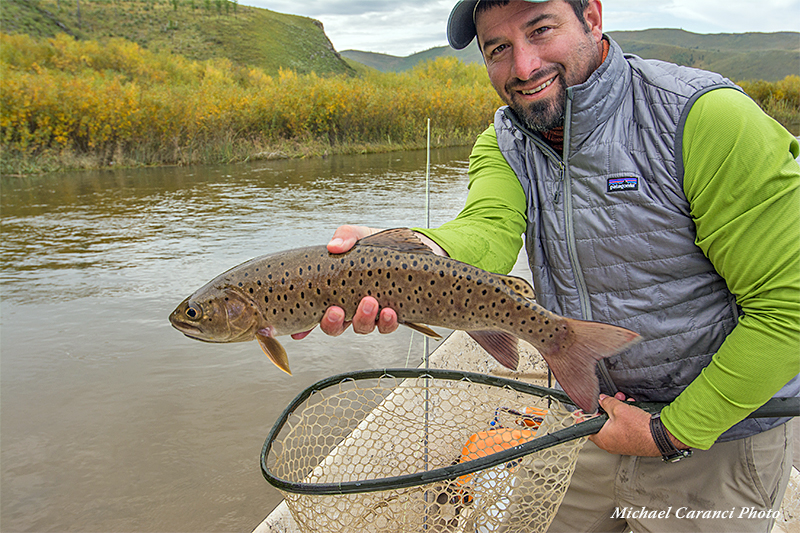 Trout Gear:
While taimen are the big draw for most anglers traveling to Mongolia, there are also some incredible trout and grayling fishing here! It's always a great idea to pack a standard trout rod (5 or 6 weight, 9 foot), with a floating line. 7.5 to 9' tapered leaders in 3x or 4x are preferred, as are tippets of a similar size in 3x or 4x. For flies, standard Rocky Mountain trout selections are great, along with a variety of generic dry flies and bead head nymphs, small streamers, and larger hopper or stonefly imitations.
Other Ancillary items to bring include:
Two pairs of polarized sunglasses (in case a pair gets broken or lost)
Stripping fingers, finger tape, and sun protection gloves made for fishing
Headlamp (Loon rechargeable)
Water bottle
Battery chargers and solar chargers (the camps are remote and there is no electricity)
Insect repellent (Mongolia is not a very buggy place, but it's not a bad idea to have a small bottle of environmentally friendly bug spray just in case)
Dry bag (optional)
Come to Mongolia prepared for a wonderful taimen angling challenge, celebrate every fish, and get ready for the adventure of a lifetime!
Put 43 years of experience outfitting fly fishers to work for you, and give us a call (800) 669-3474 or send us an email at travel@theflyshop.com We are here to help. We are America's Fly Fishing Outfitter.