Peacock bass are a formidable quarry on a fly rod, especially when they start approaching the 20-pound mark — what we call the gigantes! When hooked, the pull they generate shocks most anglers. We have seen anglers scream or drop their rods from the line burning through their fingers on the initial surge. You will definitely need to hold on tight to your fly rod if you don't want a dreaded "one that got away" story! Peacocks are not known for long, sizzling runs, but they will bulldog you right to the end and test the best fly tackle. This is mano a mano straight line fly fishing.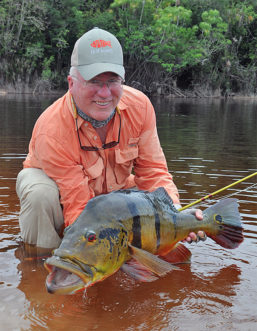 The Rio Marié is in a class of its own when it comes to trophy peacock bass. There are more fish measuring over 20 pounds in these waters than anywhere else in the entire Amazon Negro Basin or the entire world.
Keep in mind that targeting these true trophy peacock bass is not a numbers game, and not everyone will land a gigante, but on average, over half of the anglers fishing the Marié manage to land a fish over 20 pounds, and more 20-plus pound fish are landed on that river in an average week than most other destinations in the Amazon do in their entire season. The fish are there, and every single cast made has the potential for a world-record temensis peacock.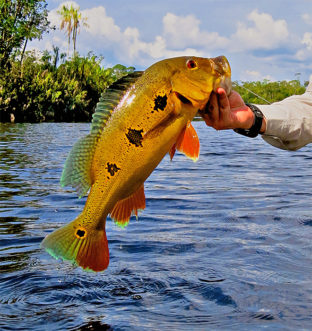 In addition to the giant speckled peacock bass (temensis), the river also has healthy populations of smaller butterfly peacocks. This beautiful, brightly-colored, aggressive strain of peacock bass hits hard and often takes to the air when hooked and helps keep anglers enthralled and engaged while searching for that one monster they came looking for.
The following essential fly fishing equipment is what you need to effectively fish for peacock bass, anywhere that they swim.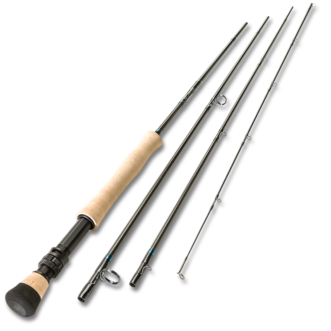 Fly Rods:
9-foot rods are by far the best for distance and accuracy, both of which are important on the Marié. 8-weight to 10-weight 4-piece saltwater fly rods are where you need to be for power. These rods have extra integrity built into them, and they feature oversized guides, a fighting butt, heavy-duty reel seats, and the proper taper to cast big streamers and fight heavy fish.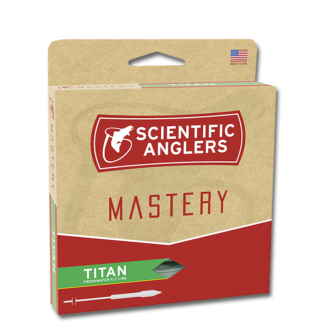 Fly Lines:
Aggressively tapered fly lines, purposely built for the jungle, are what you want here. Standard weight forward fly lines will not cut it. You will destroy your arm trying to cast a weighted 4/0 steamer, 800 times a day, with the wrong line. These new integrated shooting tapers have changed the game.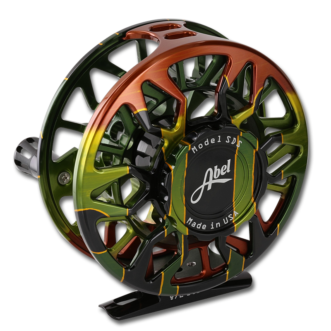 Fly Reels:
You'll need a quality saltwater fly reel that balances your fly rod. Peacock bass don't usually take you into the backing; however, a quality saltwater reel with a smooth and sealed disk drag, machined from bar stock aluminum, with a large, easy to adjust drag knob is the way to go.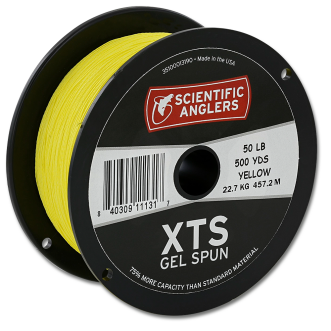 Reel Backing:
Scientific Anglers XTS Gel Spun Backing is rated at 50-pound test. You get what you pay for with this stuff. It allows for 75% more capacity than standard materials, but we like only having to buy backing once for the life of the reel.
Leaders:
50-60 pound fluorocarbon straight leader material. Heavy leader material is essential in trying to keep a 20-pound peacock bass from pulling you into heavy structure, which is exactly where they will go if you give them an inch. This is one of the only big fish on Earth that the guide won't yell, "Let him run" after you hook up.
Flies:
Large saltwater streamers tied on heavy-duty hooks (4/0 – 6/0) is what you want. Streamers with rattles built in are guide favorites. Make sure you have a good variety of sizes, colors and weights.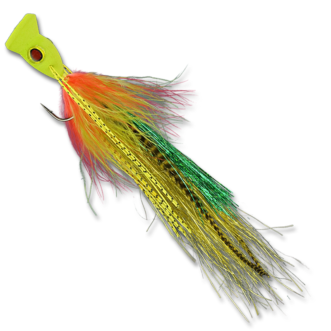 Topwater: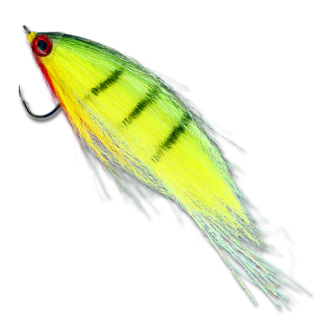 Streamers:
Clothing:
You'll want fast drying pants or shorts, the same type of garb you would wear flats fishing. You don't have to bring a lot of clothing, as there is daily laundry service onboard the Untamed Amazon.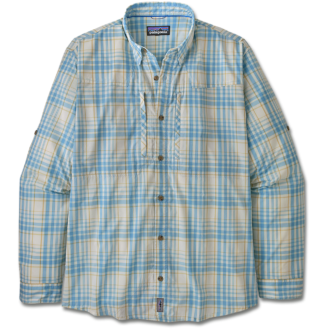 You will also want to bring three or four tropical, long-sleeved shirts for fishing and around the mothership. You don't need to bring a ton of clothes.
For footwear, a boat shoe with non-skid sole will give you plenty of support and traction on the skiff. Astral Loyaks or Crocs are also a good choice. Be sure to bring a couple pairs of lightweight, lightly-colored socks to protect your feet from the sun.
Luggage:
There is a strictly-enforced 40-pound weight restriction per person for the eight passenger turbo-prop Cessna Caravan flights divided as follows: One 10 pound carry-on piece of luggage and one 30-pound checked bag (soft duffel bags with no rigid bottom except for rod cases).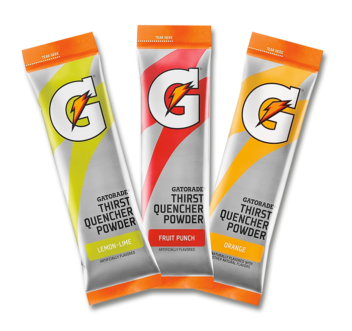 Electrolytes: 
Bring Gatorade, EmergenC, Liquid IV or another electrolyte mix. The jungle is hot and humid, and you will sweat a lot. Water is great, but if you are constantly sweating, you will lose salt and minerals, which will cause cramping. We like to drink three full water bottles mixed with electrolytes – one in the morning, one at lunch and one after fishing. Believe us, this is a game changer.
Other ancillary items to bring include: