Essential Gear for Fly Fishing for Dorado in Bolivia
by
Justin Miller
We don't know of a more badass freshwater gamefish than the golden dorado. Dorado are meaner than a junkyard dog, landing a big one is a feat in itself, and if you turn your back on one for a second while posing for a hero shot, they will take a chunk of flesh out of you. Yeah, they are belligerent and nasty – everything we like in a fish that eats 8-inch streamers, each other, and preys on mega-sized baitfish.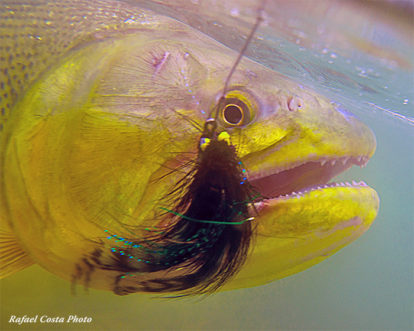 And no place we know of anywhere in the world is better to fish for dorado than Tsimane, located in the jungles of Bolivia where the Andes meet the Amazon. Imagine wading in a clear mountain stream that looks like the McCloud River in NorCal, casting to a brilliantly colored golden reflective fish, with razor-sharp teeth with a floating line and streamer. Now imagine strip-setting on a big dorado, say 20 pounds, that swam out from behind a boulder and garbaged your fly. All hell breaks loose as the golden bullet rockets into the air, gills rattling, as he turns its head down toward a rapid and starts a manic, reel sizzling run and fight. That's why you flew 5,000 miles to the remote jungle of Bolivia, and now you've got el tigre by the tail, and you better have the right gear to land him.
The following fly fishing equipment is what you need to effectively fish for dorado at Tsimane:
Fly Rods:
9-foot 9-weight 4 piece saltwater fly rods. These rods have extra integrity built into them, feature oversized guides, a fighting butt, heavy duty reel seats, and the proper taper to cast big streamers and fight heavy fish.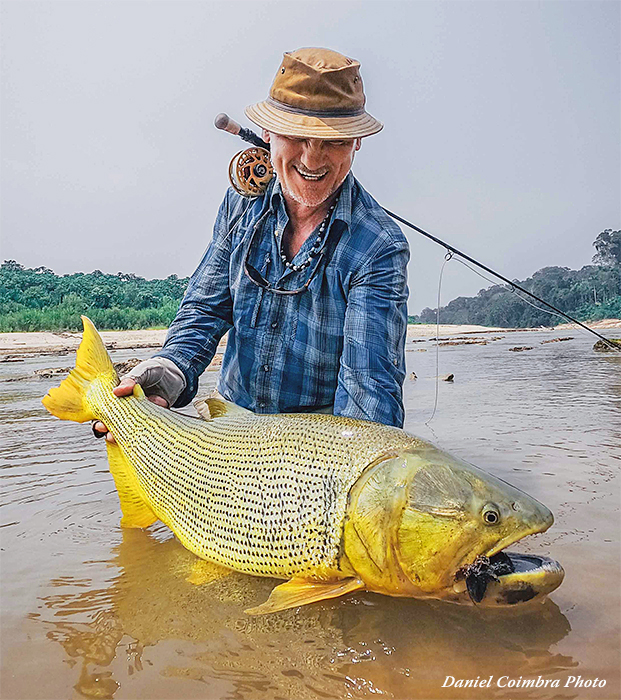 Fly Reels:
You'll need a 9-weight quality saltwater fly reel with a smooth and sealed disk drag, machined from bar stock aluminum, with an easy to adjust and large drag knob.
Reel Backing:
Scientific Anglers XTS Gel Spun Backing is rated at 50-pound test and allows 75% more capacity than standard materials.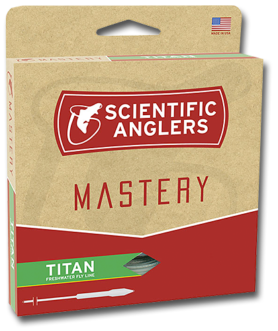 Fly Lines:
The proper fly lines are critical at Tsimane, as this is what will deliver the 7-inch streamer to your target and ultimately connect you to a trophy dorado.
Leaders & Tippet:
Leaders needed for Tsimane are super simple. Plan on bringing spools of fluorocarbon tippet in 20, 30, (40 pound a must) breaking strengths.
RIO Fluoroflex Saltwater Tippet
Dorado have razor-sharp teeth, so you'll need wire tippet material.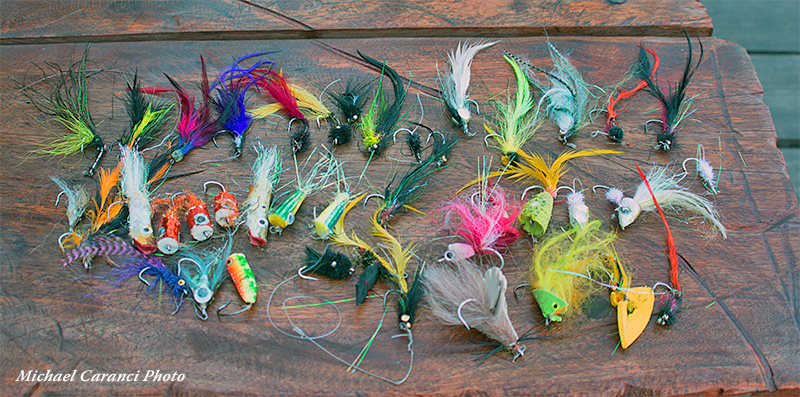 Flies:
Finally you will want a box of large streamers (4-8 inches), with a few top-water flies thrown in, tied on barbless saltwater hooks 2/0 to 4/0. The Fly Shop® has assembled a complete selection of flies, specifically for Tsimane — the exact flies we fish at Tsimane. The fly selection includes a saltwater streamer box (#19335 for $249.95). And if you end up not using all the flies, you can return unused flies to us for a full store credit.
Streamers: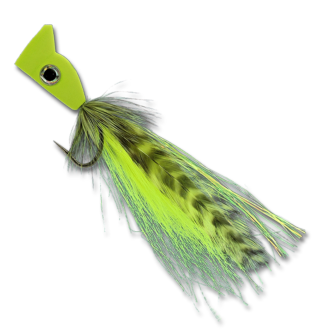 Topwater:
Wading Gear:
You'll be wet wading in rocky freestone rivers all week while fishing at Tsimane, so wading gear is critical, and a pair of sturdy, felt-soled boots is a must. Rubber-soled wading boots don't work on the thin algae film that covers the rocks and gravel.
Plan on bringing two pairs of neoprene socks, and bring a tube of anti-fungal cream and a small bottle of Goldbond medicated powder to keep your feet happy.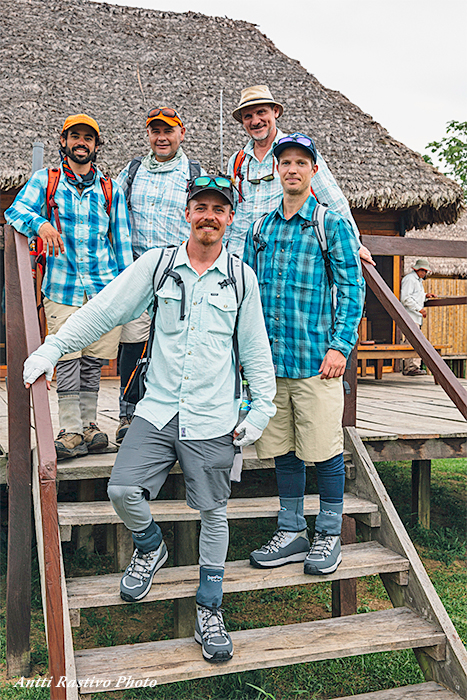 You'll want fast-drying pants or shorts over a lightweight base layer. The preferred wading set up is shorts over compression fitting running tights.
You will also want to bring 3 or 4 tropical, long sleeved shirts for fishing and around the lodge. You don't need to bring a ton of clothes; daily laundry service is provided at Tsimane.
Freshwater stingrays are rare but present in the waters of Tsimane, and an unfortunate misstep can result in an extremely painful ordeal. For protection, stingray guards will be provided when necessary (you can bring yours if you want to).
Other ancillary items to bring include: