Alternative Fly Fishing Adventures to Kamchatka, Russia
There is no argument that fishing in Kamchatka, Russia is one of the all time greatest fly fishing adventures left in the world! It's been a challenging four years for Kamchatka: In 2019, Yakutia Airlines canceled their flight between Anchorage and Petropavlovsk, 2020 and 2021 we had COVID to contend with and in 2022 the war between Russia and Ukraine broke out. When Kamchatka is finally open to travel, you can bet that we will be on the first flight back!
There are some terrific fisheries to seriously consider that closely resemble why we go to Kamchatka in the first place:
Adventure
Exotic
Remote
Mousing/Top Water Fishing
Bad-Ass Fishing
Float Trips in Alaska
Alaska rivers were the natural highways for natives to travel the backcountry, and float and fish trips allow us to see and experience what Alaska pioneers did 100 or more years ago.  Wilderness float trips in Alaska are a step back in time to when life moved at a slower pace – synched to the speed of the river and ever-changing landscape around every bend. The immensity of the country and deafening silence are profound and lasting on your psyche. We work with four different outfitters that do float trips in Alaska. For groups of 2-8 anglers, we can put together some great, one of a kind trips to some very remote locations full of hungry trout, char, grayling and salmon. Give us a call and we can find exactly what you are looking for. Below are some of the trips we offer:
American Creek
Alagnak River
Arolik River
Chosen "Kanektok" River
Goodnews River
Alagnak River
Moraine Creek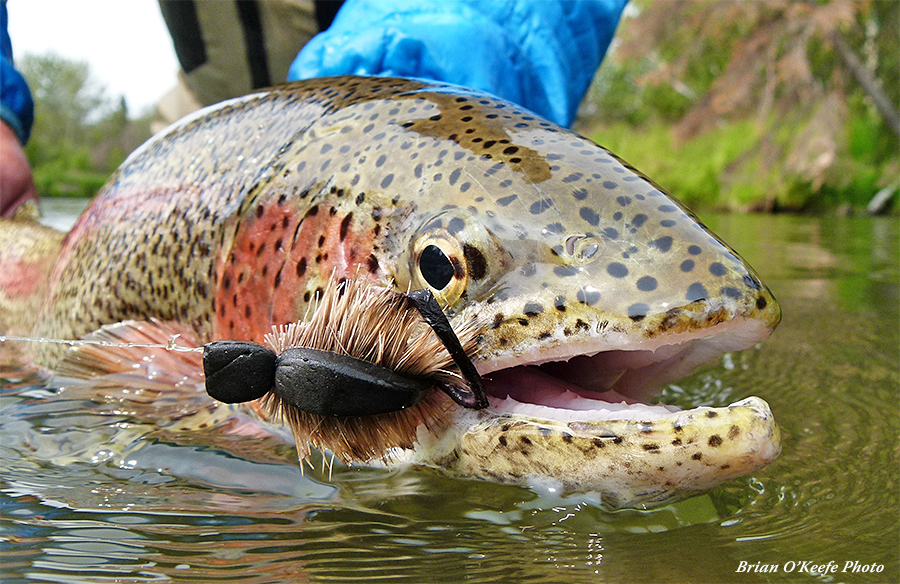 Aniak River Camp – Aniak River Lodge
Aniak River Lodge offers some of the best trout-mousing in Alaska. The Aniak River and its tributaries have an incredibly healthy and unpressured Rainbow Trout population. During every week of the fishing season, you can catch giant Leopard Rainbows on mice patterns. The months of June, July, and early August prove to be particularly productive for this unique top water action.
"Mousing" is their specialty, and it separates Aniak River Lodge from other fishing operations in Alaska. Check out some of the videos below:
2024 Availability
June 14-21, 2024 (12 people)
June 28-July 5, 2024 (12 people)
July 5-12, 2024 (16 people)
July 12-19, 2024 (16 people)
July 19-26, 2024 (16 people)
July 26-Aug 2, 2024 (16 people)
Aug 2-9, 2024 (4 people)
Aug 23-30, 2024 (12 people)
Aug 30-Sept 6, 2024 (12 people)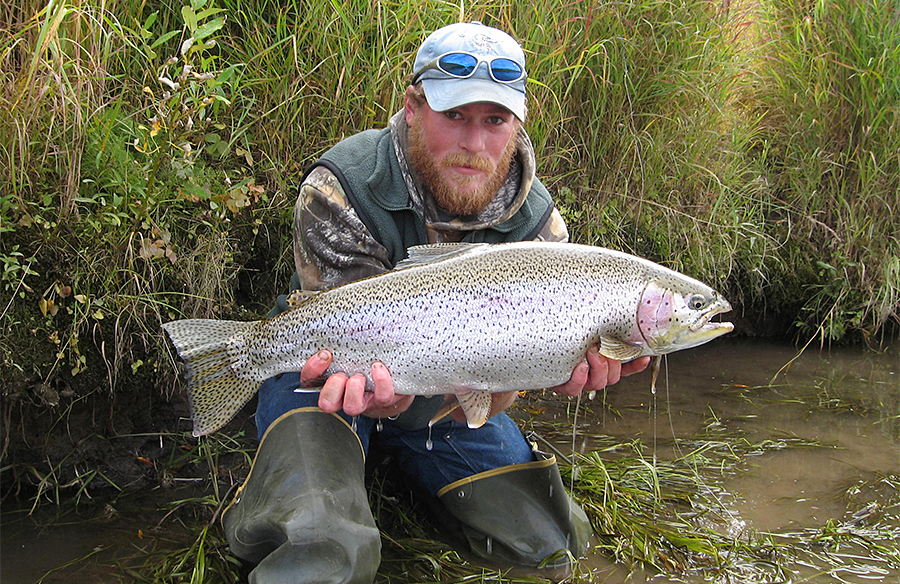 Upper Nushagak River Camp – Outpost on the Nush
There are few places where an angler can cast to more quality char and trout than the upper Nushagak River, in western Alaska. And, there is no place more secluded and remote in which to do it. The Nushagak is one of those fast-disappearing locations where the indigenous fish are as wild and untouched as the country they live in. Rainbow trout average 18 to 22 inches, with trophy fish taping out in the 25-inch range, colorful Dolly Varden almost the same, and grayling sometimes push the 20-inch mark. The comfortable camp, designed with the die-hard fisherman in mind, is situated on the upper Nushagak River, over 150 miles upstream from where it enters Bristol Bay. The camp accommodates just 6-8 anglers at a time, ideal for family groups and friends.
2024 Availability
June 6-13 (6 people)
June 27-July 4 (6 people)
July 18-25 (6 people)
Aug 29-Sept 5 (4 people)
Sept 5-12 (4 people)
Sept 12-19 (4 people)
Jungle Destinations
Jungle trips? Yes, jungle trips. A surprising number of displaced Kamchatka anglers over the last four years opted to give a jungle fishing trip a try. Think about it, jungle trips have all the ingredients for the makings, adventure, exotic, remote and great fishing. Be it Africa, Bolivia, Brazil, or Colombia, a jungle adventure will get you off the beaten path fishing some remote river for exotic fish like arapaima, payara, wolf fish, peacock bass and more.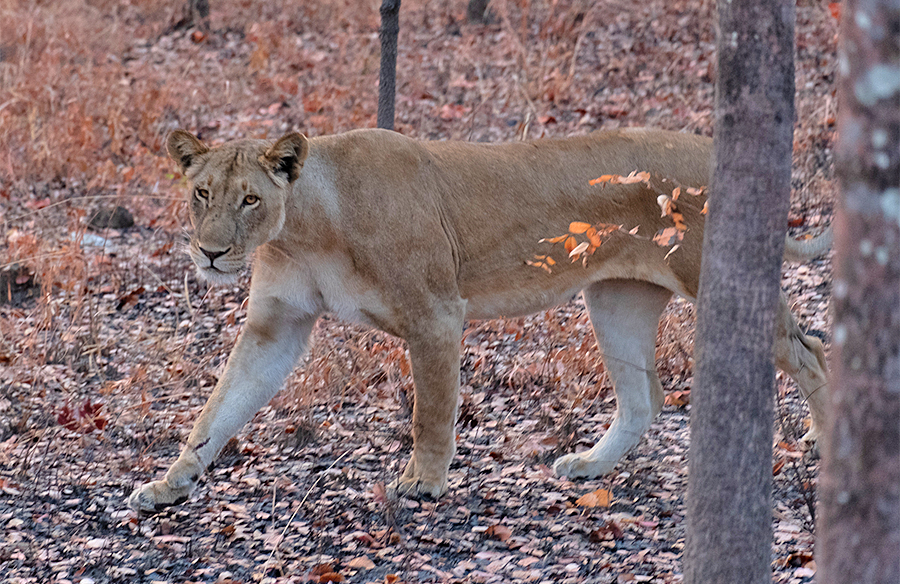 Tanzania – East Africa
Over the past 8 years, the fisheries of the Mnyera and Ruhudji Rivers in Southwestern Tanzania have fast built a reputation as one of the finest freshwater fisheries accessible to the discerning traveling angler. The trophy tigerfish, fish over 10 pounds, that call these rivers home provide unparalleled fly fishing opportunities. Here fishermen have a real opportunity of landing tigerfish over 20 lbs., with shots at multiple trophy fish on a daily basis. In the world of sportfishing, this is almost unheard of.
These two rivers flow through one of the world's last true wilderness areas, home to big game and amazing bird populations. You have to see it to begin to get an idea of just how unique the twin fisheries of the Mnyera and Ruhudji Rivers really are.
Fishing at Tanzania Trophy Tigerfish Safari is more than just another trip; it is a one-of-a-kind adventure to one of the most remote corners of the fly fishing frontier.
2 spots available November 4-11, 2023 – Hosted Trip
2023 Tanzania Trophy Tigerfish Safari Packages
7 Night/6 Day Double occupancy room and boat
USD$11,400.00/ person
"This is the hardest hitting freshwater gamefish that I've ever fished for.  The speed and aggressiveness of the takes is incomparable." – Mike Michalak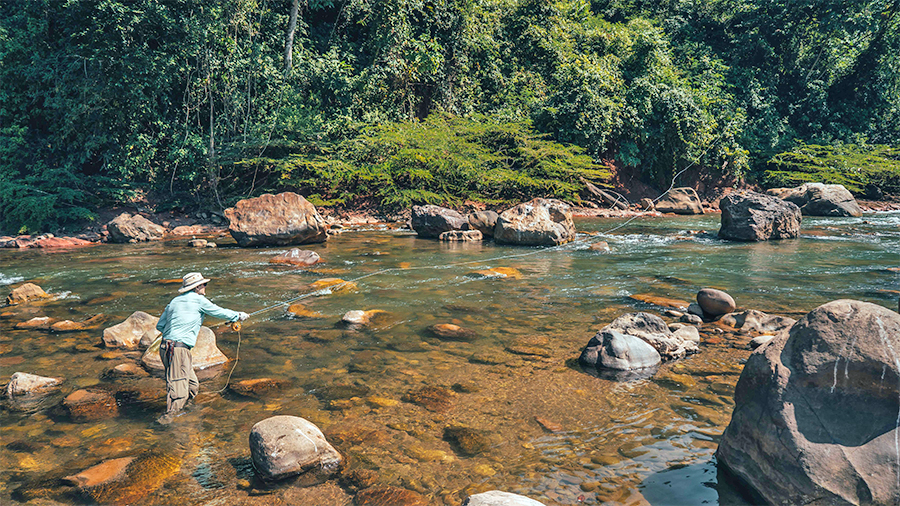 Tsimane's Bolivia Lodges
Located in a remote, indigenous territory of Bolivia where the Andes meet the upper Amazon, the rivers of Tsimane (Chimané) are both familiar and foreign. They're pure jungle freestone fisheries, surrounded by tropical vegetation, and as clear as any western trout steam. Virtually all of the fishing is done on foot, either wading or fishing from the bank. The rivers and their tributaries vary from sandy pools and gravel beaches to heavy riffles lined with freestone boulders.
This isn't your typical fishing from a skiff in stillwaters, but rather more closely related to chasing steelhead with a single hand rod.  Forget about blind casting to deep water, this is shallow, clear water where many times you are seeing and casting to a specific fish or group of Golden Dorado.
If you are missing the helicopter rides in Kamchatka, Tsimane offers a Heli fishing week at Pluma Lodge. Fly out daily (3 or 6 day options) to new water. This is fly-out fishing on steroids, the ultimate jungle fly fishing adventure on the planet, and we couldn't be more excited about it. Period.
Sécure Lodge

– August 24 – 31, 2024 (6 rods open) Prime Week!
9 night/6 day package - $7,600 per angler + $670 for indigenous and national park fees.
9 nights/6 days helicopter fly-out fishing package – $16,000 per angler
9 nights/3 days helicopter fly-out & 3 days boat/walk & wade fishing package – $12,500 per angler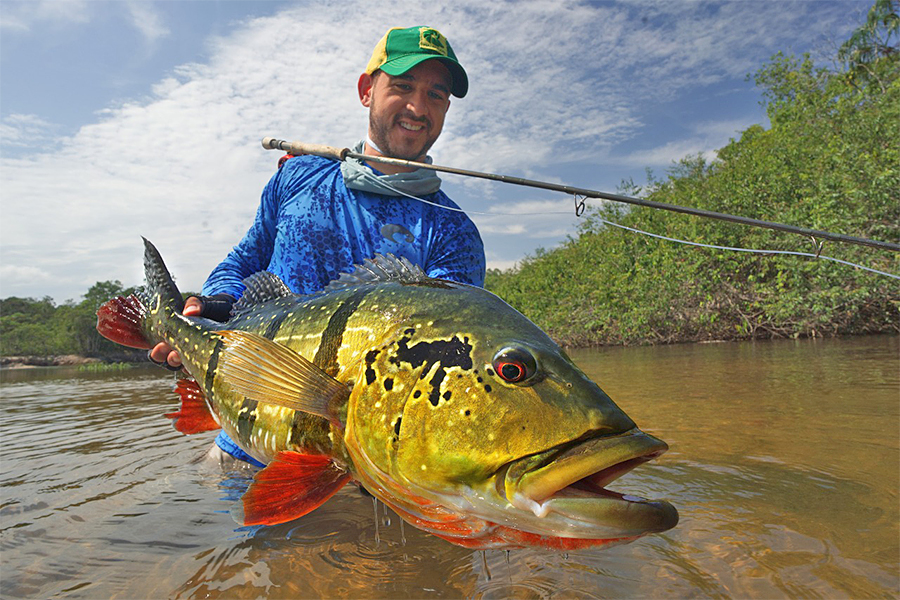 Rio Mataveni – Colombia
One of our newest jungle destinations for the adventure seeking angler.  The river tributaries of the eastern plains and Orinoco of Colombia were once home to virtually every world record peacock bass. At one time six of the top ten IGFA all-tackle, and many of the fly caught peacock bass world records came from this jungle hotspot. Then, 40 years ago, the region became a "No Go" zone when guerilla insurgents arrived, and anglers understandably lost interest.
Forget about drug cartels and guerilla warfare, visiting Colombia is now a wade in the Central and South American park since its government has settled political unrest problems and driven the drug lords from the once-famous sportfishing rivers in Latin America. The bad guys (FARC) have now been pacified and enthusiasm among anglers is quickly returning for the Mataveni and several other terrific regional rivers.
Spots available March 14 – 24, 2024 – Hosted Trip
$4,800 + $600 USD Indigenous fee, per person, shared boat fishing & single occupancy tents