Apres Fishing
By Chris King
Being a guide for over 20 years and now working at the Outfitters desk, I get asked where I recommend people eat or drink after a day on the water. Here is a list of my favorite spots to hit after a hard day of fly fishing.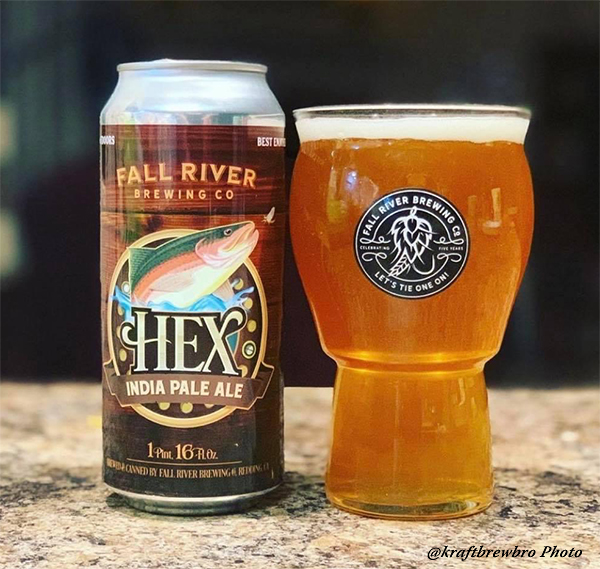 Fall River Taphouse:
Fall River Brewery has by far the best beer in town. With offerings like Hexagenia, Hooked, and Blood Knot, they have a fishing mentality just like us. The taphouse does not have food, but you can have food delivered or grab some burgers from The Habit or pick up some Hawaiian BBQ, as both are within easy walking distance. Fall River has a spot on the edge of town that's their actual brewery, and this is a much bigger place that will have food trucks at times, but there is not much for food in the immediate area.
Maxwell's Eatery:
Maxwell's is a downtown bar that is popular with the locals. They have great pizza and wings, and you will find all of your typical pub fare here. They have a great laid-back atmosphere like you would find at your neighborhood watering hole. They also have a smaller venue called Mini Max in another part of town that offers pizza by the slice and a limited bar menu. The garlic fries will have your significant other insisting you sleep in the garage. Neither of these has a full bar but rather a great selection of your favorite beers.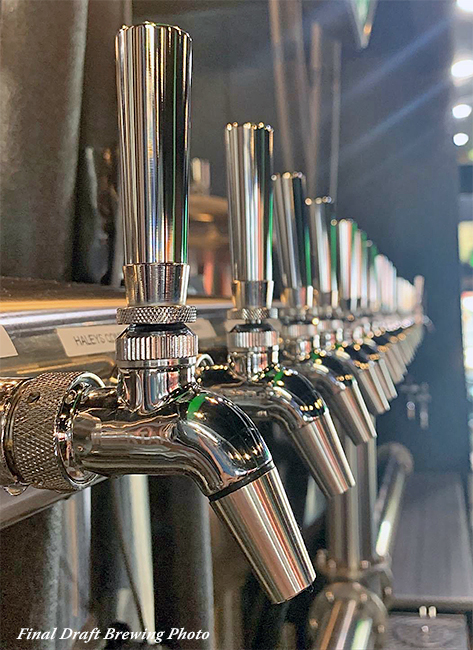 Final Draft:
This is another brew pub that has good food and good beer. The ambiance is great as there are always people having a good time. They have a couple cornhole games inside the main room, and there is a pretty hip vibe to the place overall.
The Park:
If food trucks are your thing, check out The Park. This spot downtown has a number of offerings circled around a bar that has several of the local beers on tap as well as others. There is a great outdoor sitting area and a few lawn games, including a giant bowling set. If you haven't had enough competition on the river and feel like you could still make a few friendly wagers with your buddies, this might be the spot for you. They also have live music several times a week.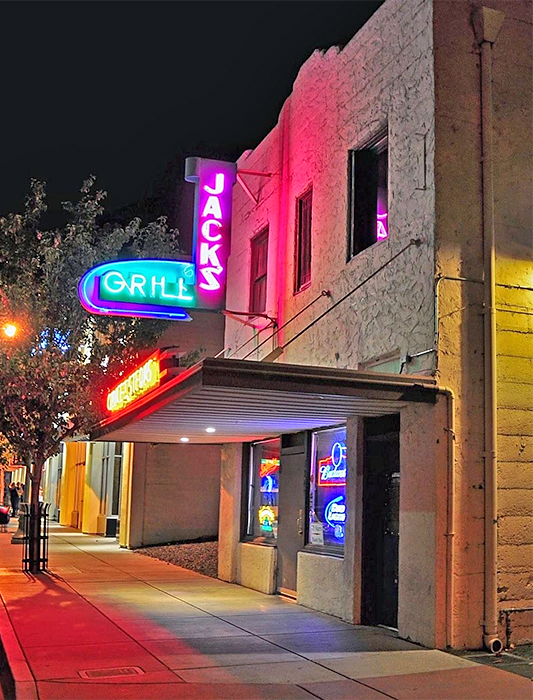 Jack's Bar & Grill:
Jack's has been a Redding staple since the 1930's. This legendary steak house has been a favorite among fly fishers since The Fly Shop® opened its doors. This is the place you go for a superb steak and stiff cocktail. Many nights there can be up to an hour wait for a table, so plan on a bit of a wait and pre-dinner cocktails. They don't have appetizers or ranch dressing, but this swanky hideout kicks out the best steaks in Redding and locals and travelers alike line up for them.
Market Street Steakhouse:
This steakhouse is everything you want in a modern-day restaurant. The atmosphere is upscale casual, and the steaks are what you would expect from a top notch steakhouse. On the lighter side, their signature burger is insane with wagyu beef that's served on a pretzel bun. They have a whiskey bar adjacent to the restaurant that has a dangerous selection of offerings. Make sure you start with their poke nachos. They are the best on this side of Hawaii.
Nello's Place:
This classic Italian eatery has been a Redding favorite for decades, complete with dim lighting, wraparound booth seating, waiters in ties and a table side Caesar salad. They have every classic dish you can think of and their sauces are on point. The veal parm is the best in town!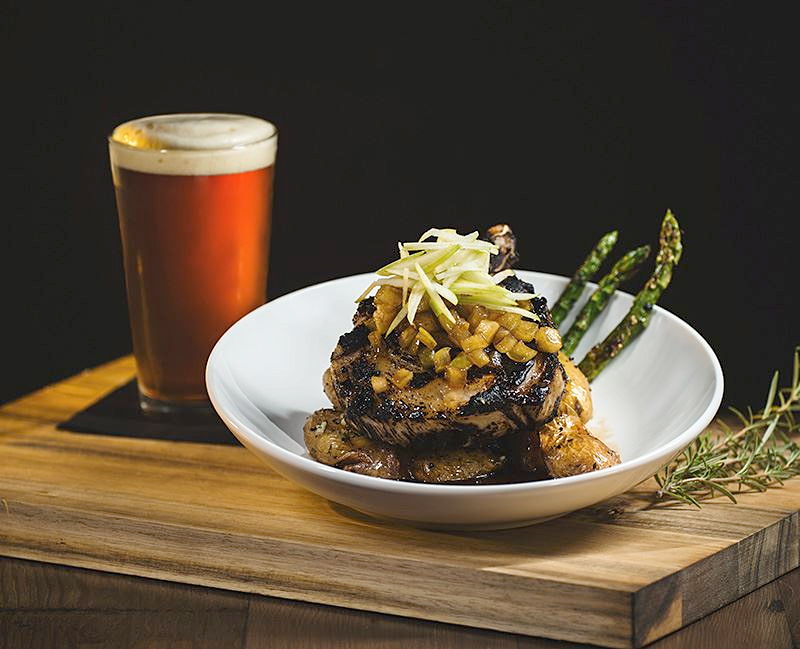 Woodside Grill:
The Woodside Grill (actually in Anderson) features creative Northern California cuisine, sourced from local farmers, ranchers, and food purveyors. They serve hand-cut steaks, fresh seafood, pastas, chicken and salads, including the black and blue salad topped with grass fed steak (delicious). Be sure to round out your meal with their signature Gaia guilty pleasure. Ask us about our all-inclusive package deals with the Gaia Hotel and Spa that includes lodging, guided fishing, and all meals at this wonderful establishment.
Thai Hut:
The Thai Hut is arguably the best Thai food in the area. You won't be disappointed if you're in the mood for some Pad Thai or a big plate of drunken noodles. After a rainy day on the river catching giant Lower Sac rainbows there is nothing more satisfying than a bowl of their Pho. You'll be ready to put back on your wet waders and jacket and launch the boat again. It's that Pho-king good!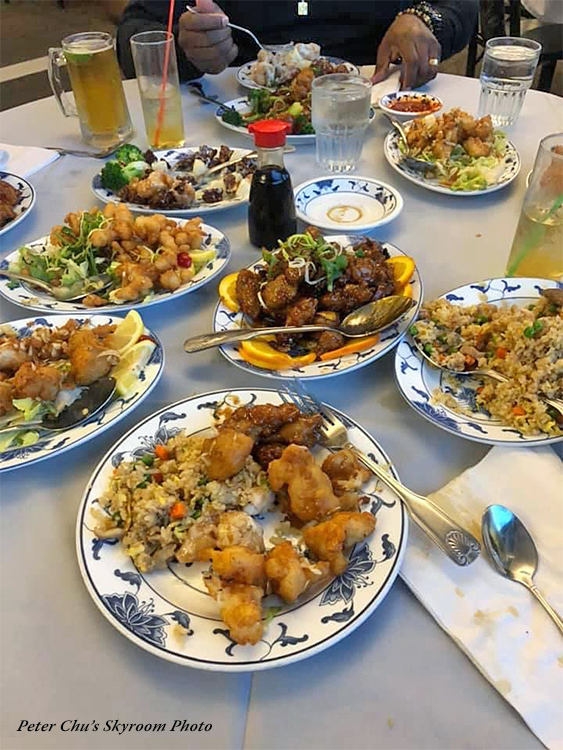 Peter Chu's Skyroom:
Chinese food with a view. The Skyroom is located on top of the airport. This great family-owned restaurant has been the place for all of your favorite dishes like General Tao's chicken, Szechuan noodles, and beef and broccoli. Try the hot and sour soup; it is different from what you're used to, and it's the best I've found anywhere. They always have nightly specials, and Peter himself is a joy to see wandering around the dining room making sure everyone is enjoying themselves.
I'm sure that I've missed some spots on this list, but I could go on forever with local hot spots.  These are just a list of my go-tos when I get off the river and what I recommend to my clients. If you have questions or have a spot you'd highly recommend, shoot me an email at chris@theflyshop.com.