On the seaward side of the largest and most biologically diverse atoll in the Caribbean Sea is built one of the most beautiful and complete lodges in Central America; Turneffe Flats.
For over 20 years it has evolved from a few "rough" structures on the beach to a world class dive, eco-tour and fishing operation. Singles, double occupancy, family and groups have very comfortable lodging available to them. Anglers and non-anglers alike will enjoy their stay at Turneffe Flats.
On Google Earth, go to coordinates: 17.25.31.40 N and 87.48.37.35 W to get an excellent picture of where you will be spending a week of fishing, diving or exploring the atoll. Or combine all activities.
Turneffe Atoll is about 30 miles off the coast of Belize. Even the boat ride in their 48′ dive boat from the mainland to the lodge is exciting as it finds its way through the Meso American Reef (the second longest barrier reef in the world), around and between several cayes and through mangrove channels so narrow you could reach out and touch the trees if you wanted. You might sight dolphins, manatees and several different bird species on the way. It is certainly a world away from the mainland, you just left behind a few minutes ago. The whole crossing takes about 90 minutes. Sit back, enjoy the sights and prepare for the relaxed atmosphere of Turneffe Flats Lodge.
Reservations & Rates
Fishing Packages (with Belize Taxes included)
2023 Double Occupancy Rates
June 24, 2023 through December 30, 2023 (double occupancy):
7 night / 6 day package: $4,590 per person
4 night / 3 day package: $3,090 per person
3 night / 2 day package: $2,090 per person

Single Occupancy (private room, guide & boat) , Atoll Adventure and Rest & Relaxation Packages are available upon request.

2024 Double Occupancy Rates
December 30, 2023 – July 27, 2024
7 night / 6 day package: $5,590
4 night / 3 day package: $3,290
3 night / 2 day package: $2,090

July 27 through December 21, 2024
7 night / 6 day package: $4,590
4 night / 3 day package: $3,290
3 night / 2 day package: $2,190
Single Occupancy (private room, guide & boat) , Atoll Adventure and Rest & Relaxation Packages are available upon request.
Inclusions
• Saturday & Wednesday airport transfers
• Lodging at Turneffe Flats
• Daily guided activity as per Package booked
• Three meals daily plus hors d'oeuvres
• Use of on-site amenities including pool, internet, sea kayaks and the gym

Non-Inclusions
• Bar tab
• Gratuities
• Equipment rentals
• Additional transfers fee on days other than Saturday & Wednesdays
• Marine Reserve Fee of $25 per person
• Blue Hole Park Fee of $40 per diver
• Additional transfers on days other than Saturday and Wednesdays
• Taxes
Travel Insurance
The Fly Shop® is not in the insurance business, but we recommend Travel Guard coverage as a service with a desire to see your best interests protected. It is impossible to know when an unfortunate situation (loss of luggage, fly rods, illness in the family, or an accident) may occur. However, such things can and do happen, and this insurance can provide a means of recourse against non-refundable financial losses.

• Travel Insurance Information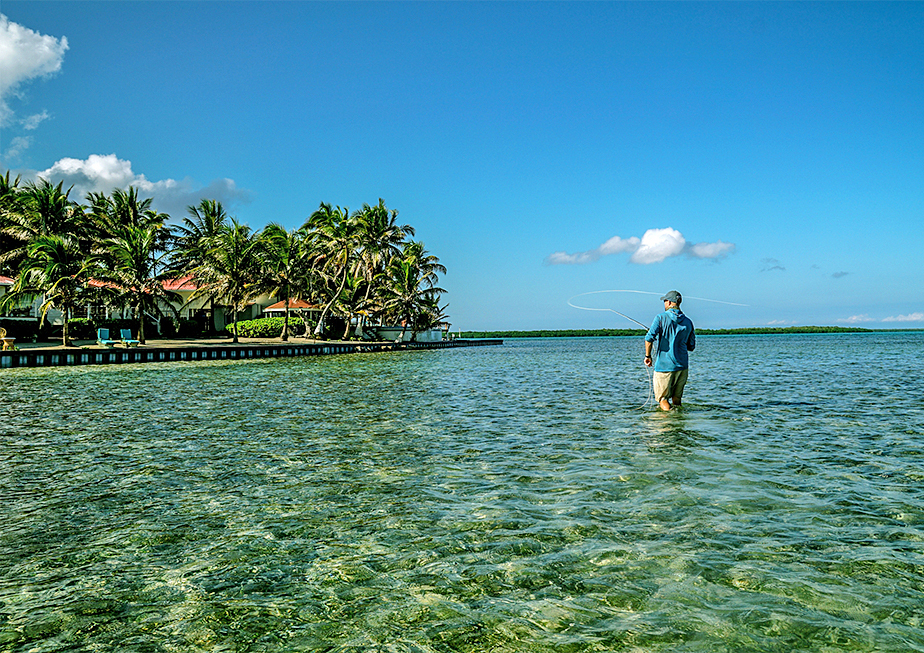 Seasons at Turneffe Flats
For more than three decades, Turneffe Flats has been known as one of the world's premier flats fishing destinations combining a remarkable fishery with excellent English-speaking guides, top-notch equipment, superior accommodations and service. The ability to sight-fish for Bonefish, Permit and Tarpon on any given day makes Turneffe one of the few places where a Grand Slam is always a possibility.
Read More
Bonefish:
Bonefish are present in equal numbers throughout the year - there is no clearly preferable time for bonefishing.

Permit:
Permit are also present throughout the year, although permit fishing tends to be more predictable when the prevailing winds are most consistent - generally in the winter, spring and summer.

Tarpon:
Tarpon fishing is quite seasonal since they're migratory. Our tarpon numbers begin to increase in April and May and drop off in September or October. Peak tarpon months are June, July, and August, and some resident tarpon are around throughout the year.

Grand Slam:
June, July and August are our best overall fishing months primarily because there are good numbers of all three species available. Summer temperatures are in the low-to mid-90s and a steady trade wind generally makes the weather very comfortable. Our centrally air-conditioned rooms make for comfortable sleeping throughout the summer.

Other Fishing:
Another favorite sport fish, the snook, can be found in the small mangrove creeks around the atoll. Add one of these to your grand slam and make it a "Super Slam."

Barracuda:
Barracuda are an underrated sport fish present in large numbers throughout the year. Reef species including snapper, grouper and jacks are also abundant year-round.

Weather:
Temperatures throughout the year range from 75-95 degrees (average 84). Water temperatures average 79-80 degrees in the winter and 83 degrees in the summer. A comfortable southeasterly trade wind blows throughout most of the year, and tends to pick up in March and April. June is called the "rainy season" in Belize but this relates primarily to the mainland rainforest and has little effect on the offshore atolls. Fall weather is generally wonderful with pleasant temperatures and mild winds; however, the weather can occasionally be dominated by "northers'" or cold fronts.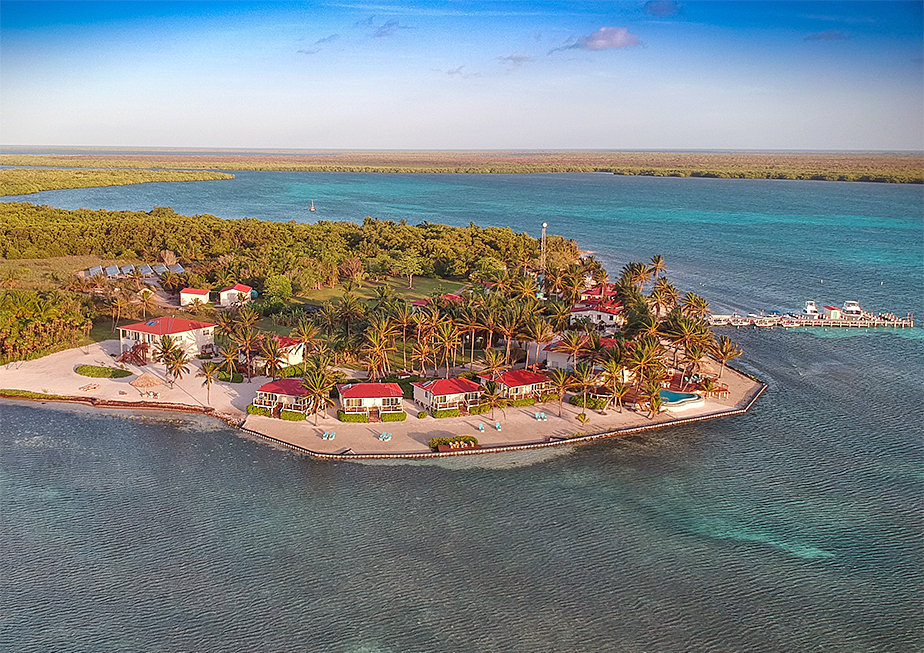 Getting to Turneffe Flats
Getting to Belize is easy, with numerous daily flights into Belize City from Dallas, Houston, Atlanta, and Miami.

It is important that all arriving flights land in Belize no later than 3:30 pm. Upon arrival at Belize International Airport, you will go through the immigration line, pick up your luggage, clear Customs, and exit the
Read More
terminal. As you exit, a Turneffe Flats representative will meet you and transport you to the Radisson Fort George Marina. At the Marina, you will be notified of the boat's scheduled departure time, which varies according to guest arrivals. There is a restaurant/bar at the Radisson (within sight of the dock) for lunch or a cool beverage while you wait for the boat to depart for the lodge. If for some reason you cannot find a representative of Turneffe Flats at the airport, please take a taxi to the Radisson Marina.

The boat transfer to the lodge is made on one of the lodge's two large dive boats, or a chartered water taxi. All of the boats are safe, and will make the crossing in about 90 minutes. It is not usually a rough boat ride, but rather an enjoyable ride out of Belize City, through the Barrier Reef, and across the Turneffe Atoll to the lodge. Dolphins are frequently seen on the crossing, and some incredible bird and marine life once entering the atoll. We do recommend applying sunscreen and packing a light jacket for the ride.

Upon arrival at the lodge, guests will head directly to the main lodge building for a welcome drink. You'll meet the lodge staff, then be shown to your room(s). Appetizers and cocktails are served nightly at 6:15 pm, with dinner served at around 7:00 pm. Turneffe Flats prides themselves in providing quality dining complete with fresh fruits, fresh seafood, and fresh baked pastries. Meals are served family-style in the main lodge, and are a tasty combination of Belizean and American dishes.

Each room has a coffee pot prepared and ready to go each morning, along with fresh-brewed coffee at the main lodge served with breakfast. Delicious breakfasts are served from 7:00-8:00 am. Lunch orders are typically taken the night before, although a midday meal at the lodge is also an option if requested. Immediately following breakfast on your first morning, the fishing director will meet with all of the anglers for a brief "fishing meeting," following which you will meet your guides and begin your fishing week.

Departure Date:
The boat will depart about 8:00 am, after a light breakfast, allowing for plenty of time to make the normally scheduled flights (12:00 pm. or later) from Belize City. They can accommodate any flight scheduled at 11:30 or later, but request that you do not schedule a departing flight earlier than that. For guests with late afternoon departure flights, the lodge can arrange a half-day tour of a wonderful Mayan Ruin site (Altun-Ha) or the famous Belize Zoo.
Lodging at Turneffe Flats
Located right on the beach with drop-dead-gorgeous views of the reef are 4 duplex cabanas with two spacious rooms in each one.

They are air conditioned, have a queen sized bed and an extra-long single bed, lots of closet space, sitting area and a chest of drawers. Each room has a private bath with hot and cold water.
Read More
There is the Reef Villa with three bedrooms and a common room. It has a beach front setting and a great view. It contains bedrooms #9, 10 and 11. #9 has one queen-sized bed; bedroom #10 has two single beds and #11 has two queen beds. All have private bathrooms. The common room has a couch and sitting area with satellite TV as well as a small kitchenette (but no cooking facilities).

The newest addition to the lodge is the Garden Villa. This deluxe accommodation has three bedrooms with private bathrooms and a common room. The common room is great for family or group gatherings. It contains a satellite TV and a small kitchen (without cooking facilities). Its lower level has a meeting room and an exorcise room.

The two villas are perfect for families, a group of friends or business partners. Call about availability for the villas.

The main lodge has the bar, dining room, and a small fly shop. The outside deck at the beachfront offers a great place to sip a cool drink, take in the breathtaking views and visit with other guests.

Following hors d'oeuvres and refreshments, dinner is the big meal of the day comprised of soup or salad, entree and homemade dessert. Entrees vary among seafood, chicken, pork and beef. Meals are a tasty combination of Belizean and International dishes served family-style. Fresh seafood, local produce and home-baked pastries are standard fare. Depending upon your plans and your preference, you will have the option to take a packed lunch or return to the lodge for lunch. If you have special dietary needs, we will do our best to accommodate them.
Fishing at Turneffe Flats
Your fishing at Turneffe Flats is with one of the most experienced group of guides anywhere. They understand flyfishing, know the flats and are eager to put anglers in front of bones, permit and tarpon. They are English speaking (Belize is an English speaking country) and experienced boatmen.
Read More
Start the morning off with coffee followed by a deliciously prepared breakfast (or something light like fresh fruit and toast and/or cereal. Then, at about 8:00 AM meet with your guide discuss what kind of fishing is available. Bonefish and permit are around just about every day and tarpon are in the area during the late spring and early fall, so you may want to chase permit first thing, then go for tarpon, stop for lunch and go out for bones in the afternoon for a possible flats grand slam. Talk over with your guide when the tides are favorable for the type of fishing you wish to do. He will do everything possible to make it happen.

Their fishing schedule is as flexible as possible. A standard day's fishing is about 8 hours. Generally the fishing day begins after breakfast and ends around 5 p.m. although it is adjusted depending on the tides and other factors.

Each day you will have the option to take a delicious packed lunch or return to the lodge for the noon meal. Our Managers will coordinate your fishing each evening for the following day. Early morning fishing, particularly for tarpon, can be exceptional, and arrangements to go tarpon fishing before breakfast are easily made. Talk it over with your guide to see if this is something you might want to do.

The boats are custom-built 16' Dolphon Superskiffs. They are all equipped with VHF radios and safety gear. For the comfort of the anglers, the boats have large casting decks at the bow and provide a smooth ride in choppy waters.
What Makes This Destination Special and Unique?
• Turneffe Atoll boasts the best bonefishing in Belize. The protected ecosystem of this vast coral atoll is ideal habitat for huge populations of bonefish, many of which live their entire lives in the shallow reefside flats. With such incredible habitat, the fish also tend to grow larger here than their cousins inside the reef closer to mainland Belize. There is nowhere else in Belize where you'll find more opportunities to stalk and cast to good numbers of good-sized bonefish.

• The hard coral and sand flats of Turneffe creates arguably the best wade-fishing opportunities in the Caribbean for tailing bonefish. Due to the shallow nature of the flats, it is common to see schools of bonefish feeding with the backs and tails out of the water. Sight-casting to tailing fish in ankle deep water is the pinnacle of flats fishing, and this is one of the best places anywhere to spend hours doing so every day.

• In addition to the great bonefishing, there are healthy populations of permit that reside in the inner lagoon of the atoll all year round, plus some seasonal tarpon in the spring/summer months. This makes Turneffe much more than just a great bonefish destination, as anglers here also have great opportunities to target permit, and grand slams are even a seasonal possibility.

• Turneffe Flats' Atoll Adventure Program is one of the best non-angling eco-adventure programs we've ever come across. They offer fully guided daily activities such as snorkeling, sightseeing, bird watching, dolphin and manatee viewing, nature hikes, cooking classes, and more. They will custom-tailor each adventure-packed day based on weather, the conditions, and your preferences. Combined with comfortable accommodations and fantastic food, this ensures that both anglers and non-angling companions will have a memorable holiday on the Atoll.

• There is a reef surrounding the lodge with sheer drop-off walls that offers spectacular snorkeling and scuba diving. The lodge does offer combination fishing and scuba diving packages. They have a full-time dive master, and are known for a dive program that is every bit as good as their fishing program.