Andros South Lodge Trip Report
March 6 – 13, 2022
Eric Ersch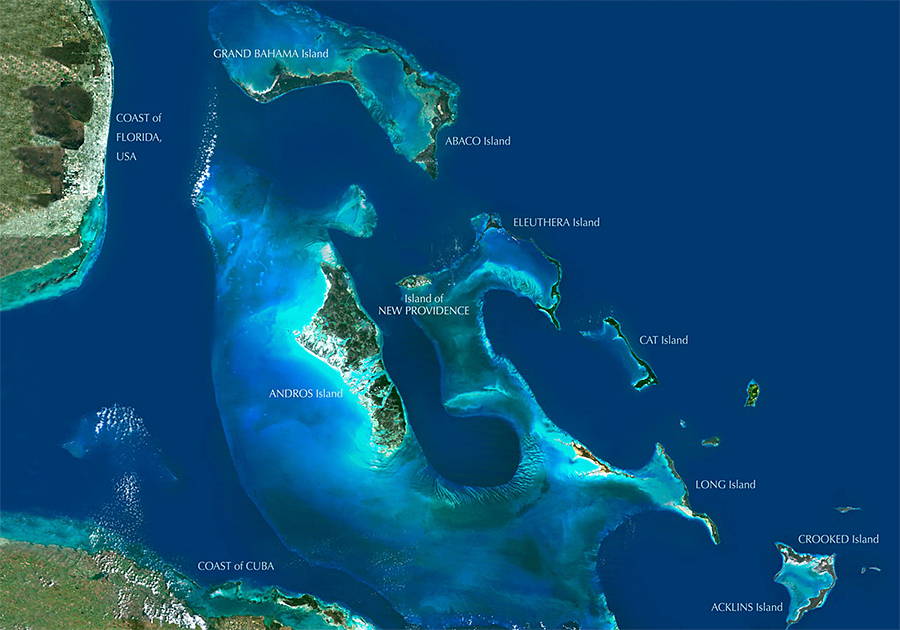 Andros Island is the largest of the Bahamian Islands, 104 miles long and 40 miles wide at its widest point. Andros has an area greater than all the other 700 Bahamian islands combined. Consisting of three major islands, North Andros, Mangrove Cay, and South Andros, each separated by estuaries called "bights" that cut east to west through the island. Andros is home to some of the largest bonefish in the world. Five and six pound bonefish are common, and fifteen plus pound fish have been released.
The south end of Andros drops off into deep water that stretches all the way to Cuba. The complex of islands, channels, creeks and flats on the south end encompasses nearly 200 square miles of spectacular bonefish habitat. Mangrove clad islands are surrounded by white sand flats that are a joy to wade and stalk fish in barely a foot of water. The fishing opportunities are varied, and often determined by the tide. One moment you could be casting to fish on the edge of a massive school, and your next cast may be to a 10 pound class fish in water so shallow that its dorsal fin is shimmering in the sunlight.
March 4 – Anxiety and the prep
I PCR tested on the morning of Friday March 4th at the Covid Clinic in Redding, receiving a positive result. Dejected, I went home for lunch to find a wildfire burning out of control within a couple miles of our house. No support or suppression had arrived, and flames were crowning through the forest pushed with strong winds. Watching the flames while nervously pacing in my backyard, my lovely wife told me that she would handle the homefront, and that I should drive back to town and get another test. It was not easy to leave my wife and home apparently at risk, but the wind direction was favorable. With a hug and a kiss, I loaded our dog into the truck and headed directly to Lab 24 for a rapid antigen test. Luck was on my side with a negative test, and I was soon uploading the results into my Bahamian Health Visa, preparing to fly to Ft Lauderdale on the following day.
I shared this little bit of personal drama to give you an idea of what some of our clients unfortunately experience prior to traveling. I'm more compassionate and empathetic towards our clients because of this experience. I chose the same testing service that Justin had been using, feeling confident that the  PCR would give a reliable result. With a 72 hour testing window, there is not much room for error with a long travel time, and it was stressful. I honestly thought that the trip was over before it began.
March 5 – California  to Florida flights
Flights went on time, starting with a 7am United Airlines departure flight from Redding, on to Los Angeles, Houston, and a 9:47pm arrival in Ft Lauderdale. A short taxi ride delivered me to the Fairfield Inn in Dania Beach, not far from the Ft. Lauderdale Executive Airport, where Makers Air is located.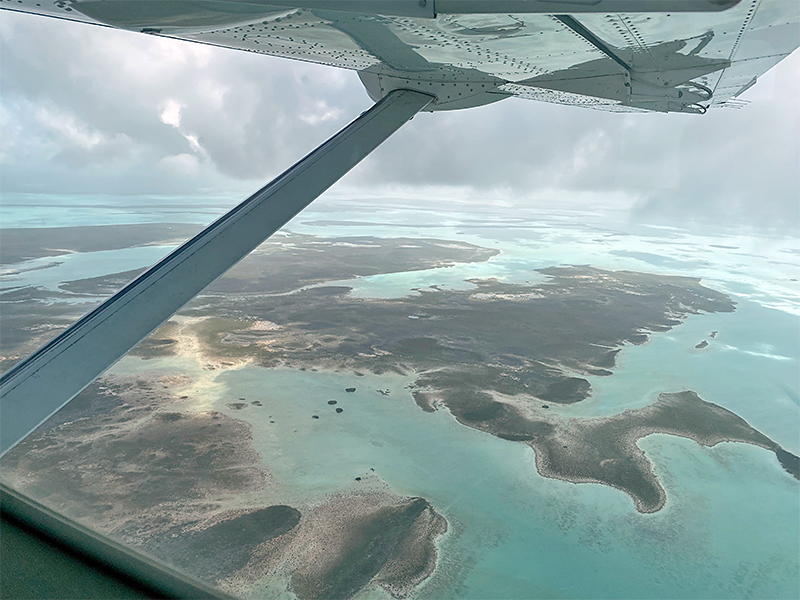 March 6 – Flight to Congo Town and meeting with Bill Howard / Mars Bay
I slid into the complimentary hotel office desk at 6 am, logged into my work email, and completed the Bahamas Health Visa Application. This felt way too last minute for me, as my Makers Air flight was scheduled to depart at 9:30 am. All systems go, and I walked out to the taxi with several hard copies in hand, headed for the airport. The flight was perfect, and a driver was waiting in Congo Town to take me to Mars Bay to visit Bill Howard.
Bill is completing an additional building with a new kitchen and dining room overlooking the ocean, and several guest rooms. Not quite finished due to construction challenges, but well enough for the guests to  use their rooms, this new building will upgrade the program with additional single rooms when available.
After a walk through the new building and a chat with Bill, I headed back north to meet the  guests of our hosted week at Andros South.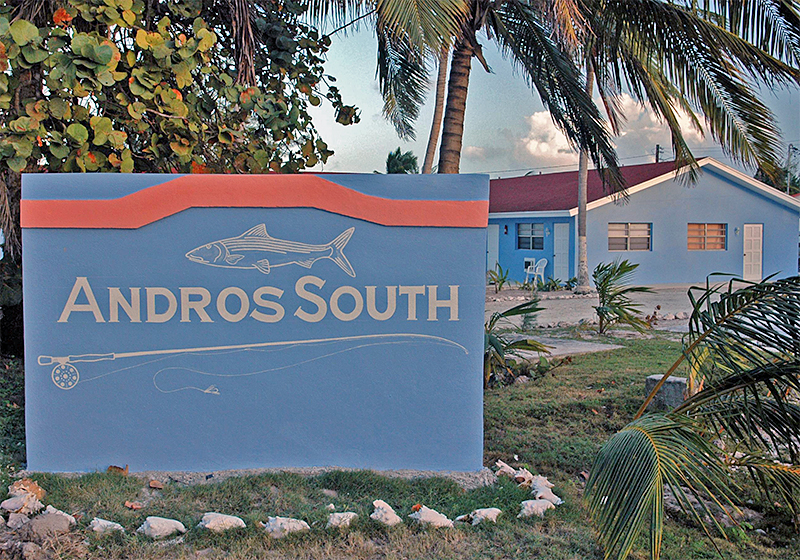 Andros South
I'd previously met Liz and Max, managers at Andros South, a few years ago at Rapids Camp. They were managing both lodges at the time, and currently spend their summers in Montana, running Andros South from October through June. Liz is the "front person" on the team, interacting with the  guests and seeing that their needs are met. Max handles the "behind the scenes" duties, boats, guides, vehicles, etc… They are obviously well respected by their staff. Liz is the contact person  when you have any special client circumstances, and answers emails promptly. Both are very personable, and I couldn't think of a better couple to run Andros South.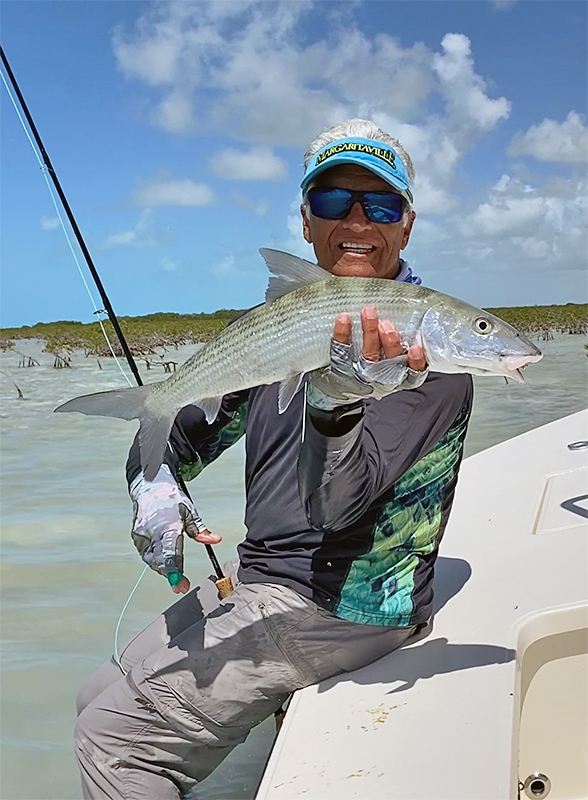 March 7-12 – Gone fishing
Classic spring weather. A front had just pushed down and we endured three days of wind and broken clouds. We shared the protected inland waters of Deep Creek and Little  Creek  with the boats from Bair's, hunkered down in the lee side of any shoreline offering protection. Though not spectacular, the fishing was steady with everybody getting shots and landing fish.
Day four dawned clear with light winds, and the fishing turned on as we ventured out to fish the south west side of the island. Many personal bests were landed over the next few days, with fish in the ten pound class not uncommon.
The guide staff is excellent and diverse. Charlie is guiding his 26th year, and serves  as senior guide – "Ya got ta be grateful Mon." Prince and Phillip are the young guns, fishing with enthusiasm, and trained by the team at Andros South.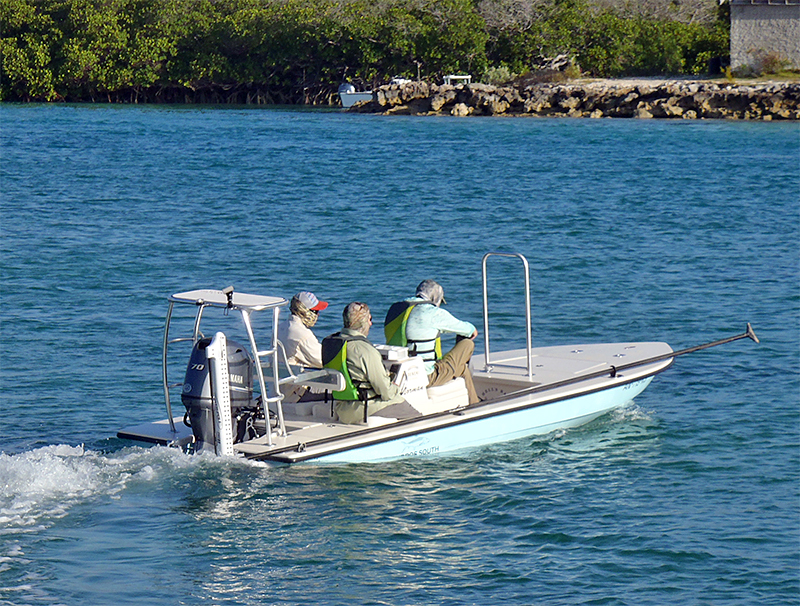 The brand new Hell's Bay Professional skiffs, complete with trim tabs, power poles, jack-plates, and Yamaha 4 stroke motors are the best lodge skiffs on the island. Super quiet on the pole, drawing 6″ of water, and smooth riding through a wind chop, these beauties are game changers over their previous Dolphin skiffs.
The fishery is diverse, starting with the skiffs positioned in Deep Creek, a couple miles south of the lodge. Depending on the weather conditions, the guides have access to everything south of there on the island. The westside is  accessed through Little Creek which connects the east and west shores. The run is @45 minutes to the westside, with extensive protected flats, barrier islands, and access to deep water. The larger fish seen on the flats were often darker in color, coming in to feed from deeper water, with the guides knowing which flats are often frequented by these big ocean fish. Smaller school fish are available for anglers new to the game. Personal best fish were released by nearly everybody during the week. The guides are well versed in both skiff and wade fishing, and capable of either depending on angler wishes and tidal conditions.
Food and accommodations
Located on the beachfront with a tiki bar and firepit, this is casual living, no shoes required. Single accommodations with private baths, though not  brand new, are very nice and comfortable. Meals are good, and the service is excellent. Dinners included mahi-mahi and grouper filets, conch fritters, BBQ ribs, and lobster tails, and Bahamian jerked chicken. Breakfasts were "to order" eggs, pancakes, standard meats, fresh fruit, yogurt, hash browns and grits. Lunches were made to order, with excellent sandwiches on homemade bread, fruit, chips, cookies and drinks. Being "all inclusive", the bar is open and  the cooler is always full of cold beer, with no depressing bar bill at the end of your vacation. This easily equates to happier departing guests and better tips for the staff.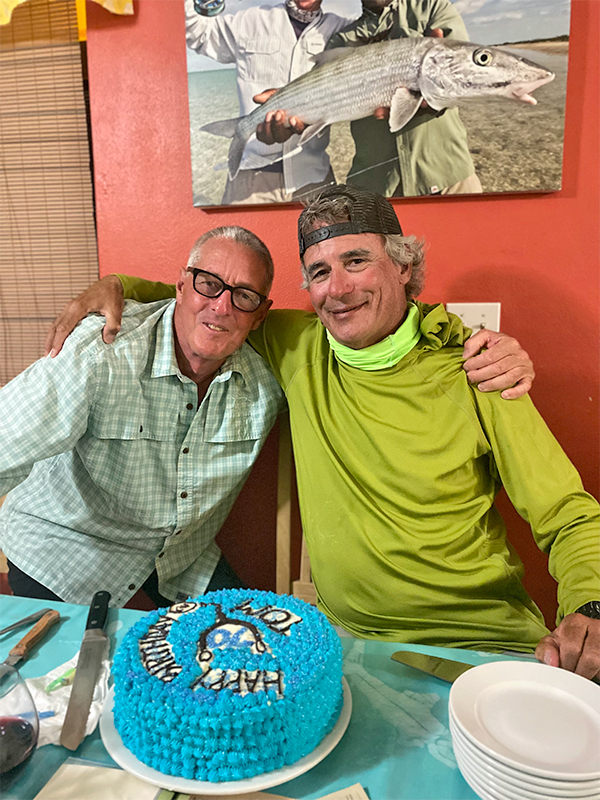 March 10 – Tom Howard's Birthday
I told Tom when we started fishing on his birthday, that I was not stepping onto the deck until he released either a 10lb bone, or 10 fish. Early in the afternoon Phillip called out a fish, and Tom was ready with his trusted Squimp in hand. He made the shot, the fish swam over and sucked the fly down, and Tom set the hook. All hell broke loose, with a fish well over 10 lbs heading for deeper water at high speed. Being the "line bitch' positioned in the cockpit, I immediately tried to get the line out from around Tom's right foot. Before I could accomplish that task, the line came tight, and broke. Returning to the dock and chatting with the other anglers about their day, this moment was brought to light. Smiling, my reply was, "that fish smoked his ass in a  heartbeat."
Cracked Conch dinner was Tom's request, and it was superb! The gals decorated the dining  room, made a special cake for the event, and Tom turned 70, with a little help from his friends.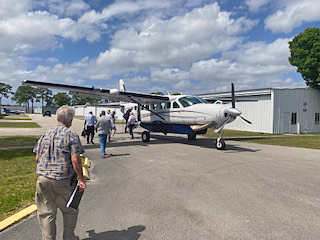 March 13
Easy connections via Makers Air from Congo Town and on to Tampa, where things "turned sour." We sat on the tarmac for over an hour with a mechanical issue. I was late arriving in SF, and missed my connection to Redding. United Airlines put me up in a hotel for the night, free of charge. I arrived home the following afternoon, and all was good.
Current flight challenges
Plane flights became a problem when WesternAir quit their daily flights from Nassau to Congo Town. Makers Air in Ft Lauderdale is a solid operation. You can phone the gals in the office and tell them your situation, and they are very helpful. They added a flight  for my week to meet the PM arrivals and AM departures. Good folks to work with.
Gear review – "The right stuff"
I watched my first tailing bonefish on Biscayne Bay in the early 80's, after eating a greasy breakfast at a waterfront cafe with Ron Hyde and Bill Curtis. Bill wore shorts, and his skin looked like hell later on because of it. His yellow Hewes skiff was an icon on the bay. We've seen guides die from carcinoma melanoma, and watched clothing morph through Tarponwear and  into the current trends of material and design. New is not always better, and the following is just my personal opinion. I'm an old dawg, still using some old school gear, and lucky to go fishing with good people and skilled guides on the best flats in the world. Thanks TFS.
Sun Protection: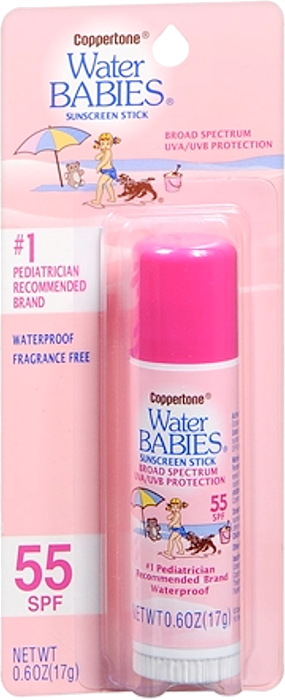 Lips: Coppertone Water Babies stick for my lips. No bad taste, stays where it's put, and no burnt lower lip, ever. One in my wading pack, one in my boat bag, and another on the bathroom counter.
Skin: Coppertone Sport spray. SPF 50 plus. It's not a lotion, so you don't sweat with clogged pores. Applied in the morning before fishing by spraying onto exposed areas and the backs of my hands. Reapply after lunch.
Sunscreen never touches the palms of my hands. Fish don't eat that stuff. Would you eat a steak soaked in gasoline? Sunscreen smells like the chemicals that it is, and you'll get it on your rod, flies, leaders, etc, if it's on the working surfaces of your  hands.
Sunscreen removal:  "Wax on, wax off".  Neutrogena bar removes all the built up sunscreen at the end of the day. Get those pores cleaned up and refresh your  skin with your favorite moisturizer.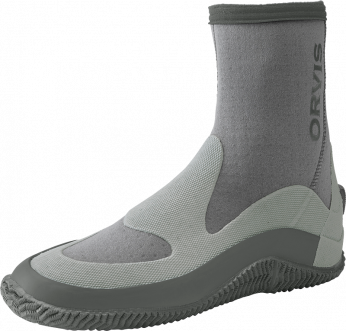 Footwear:
I travel with a comfortable pair of Reef flip flops, and a back up pair if a blowout occurs. Nylon straps for quick drying. These get me from the lodge to the skiff and back with foot protection. You don't want to cut your foot up on a water based trip. If you do, betadine will save you from staph infection. I never travel without it. I fish barefoot most of the time in the boat so I can feel the line if it tries to get under my fat feet. Cotton crew socks for sun protection while on the deck or in the cockpit during the heat of the day.
Wading Boots:
Orvis Christmas Island Booties for walking miles on the flats. Light for traveling, and very quiet while stalking fish.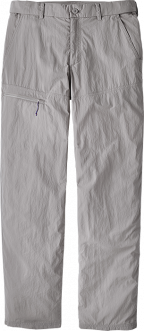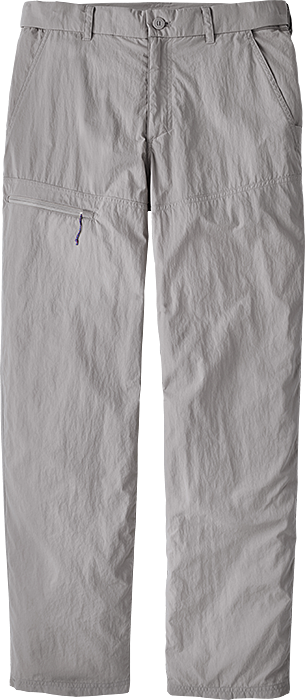 Pants:
The Patagonia Sandy Cay Pants are the best I've worn. Excellent design and materials. I took one pair to try them out. Wash them in the shower after fishing, and hang them to dry. Good to go in the morning. My standbys stayed in my duffel.
Shorts are comfortable around the lodge, and I take a couple pairs of surf baggies for a swim and chillin' with the bros.
Shirts:
This is where the old school kicks in. I wear cotton, long sleeve Columbia Bonehead shirts. Tan. Cotton breathes, evaporates sweat, and I like the way it feels on my skin more than the  synthetic materials so popular these days.
Tee shirts at the lodge. Did I say cotton? Oh ya.
Hats:
They just don't make them like they used to. I fish in these (similar to the Simms Superlight Sunshield Cap), and mine are 10 years old. Big broad bill with a black under bottom, and ear/neck  protection from the sun.
Buff®:
Too hot for me to wear while fishing. I wear one over my head for sun protection while running in the boat. You can't hear the guide calling out a fish or hear a tailing bonefish splashing  with a hood on or a Buff® over your ears.
Glasses:
Costas with amber lenses
Rod:
Winston Saltwater Air  7 wt. – Fished it all week and loved it! Like the Pattagucci pants; I fished it the first day and never picked up the Sage Salt HD that I've grown to love.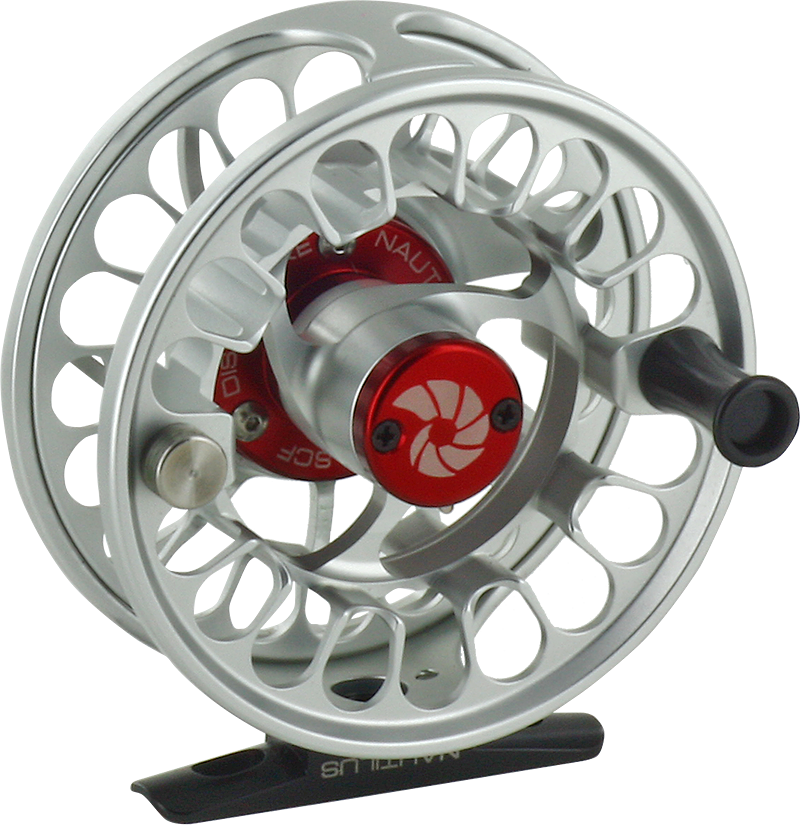 Reel:
Nautilus FXW 7/8 – Due to space age materials and construction methods, the rods we currently fish are featherweights compared to 20 years ago. That said, it makes no sense to me to attach a big, heavy reel and expect it to feel like a balanced combination. The FXW is no longer in production, but the NV-G 7/8 is an excellent option. Also, the Galvan Grip 7 is lightweight and fits perfectly.
Now for a touchy subject – backing, and this again is my personal opinion. The new tech says that gel spun is  "the bomb". It has a smaller diameter compared to the traditional Dacron, and you can get more on your reel. That makes an important difference while ocean fishing, where a yellowfin tuna or striped marlin has an entire ocean to run in without obstruction. If you hook a bonefish on a flat and it gets more than 100 yards away, you are not moving fast enough. You need to follow your fish for success. Mangrove shoots and roots often entangle your line or backing, and with a respectable fish, that almost always ends the game. Dacron is easier to see with its larger diameter, and you know where your line is in relation to hazards.
Fly Line:
SA Redfish Warm. Super accurate and fits the Winston Salt Air like a glove.
Leaders:
It's a game of inches, not feet, when you're stalking wary, skinny water bones. Stock leaders are generally flimsy because they lack adequate butt section, and are therefore inaccurate in the constant coastal wind. I tie enough 12′ leaders in an hour for the whole week. – 6' 40, 2' 30, 2' 20, all nylon, and 2' of 20 fluoro for tippet – Loop on the back end,  blood knots between sections, and an improved clinch to the fly.
I asked several of the guides if it mattered – 20, 16, or 12lb tippet? "No at all" – I fish 20lb fluoro tippet with few exceptions. It makes for a faster release, and therefore better fish survival. I feel that refusals by wild fish come from a poor presentation or incorrect fly selection, not larger tippet diameter. Fish that are pounded on a daily basis are obviously a different deal.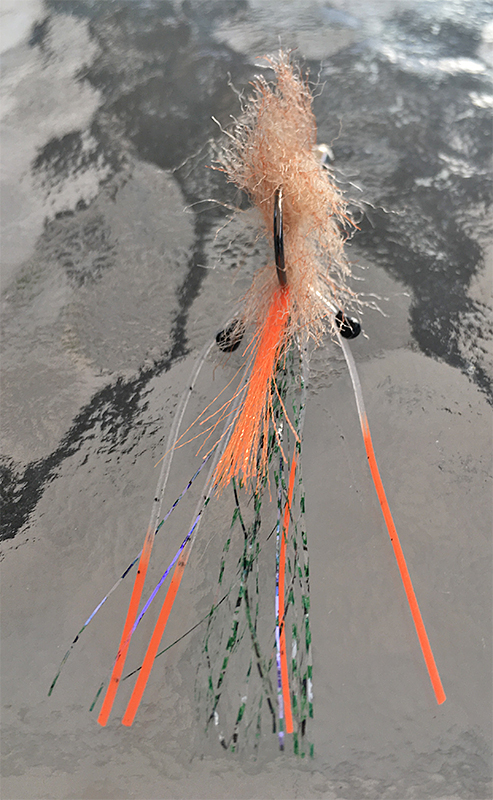 Flies:
Note from Andros South guides – They often fish bigger flies on a #2 hooks. #4 and 6 hooks were all I used. Gotchas, Squimps, tan EP Spawning Shrimp, Spawning Mantis, and tan Beck's Silli Legs.
Pliers:
5″ Manleys – These are what all the Key's guides used "back in the day". Been using them since the 80's. Still my favorites and affordable. I remove the plastic handles and wrap them with cotton cord for better grip, and finish with water based spar urethane.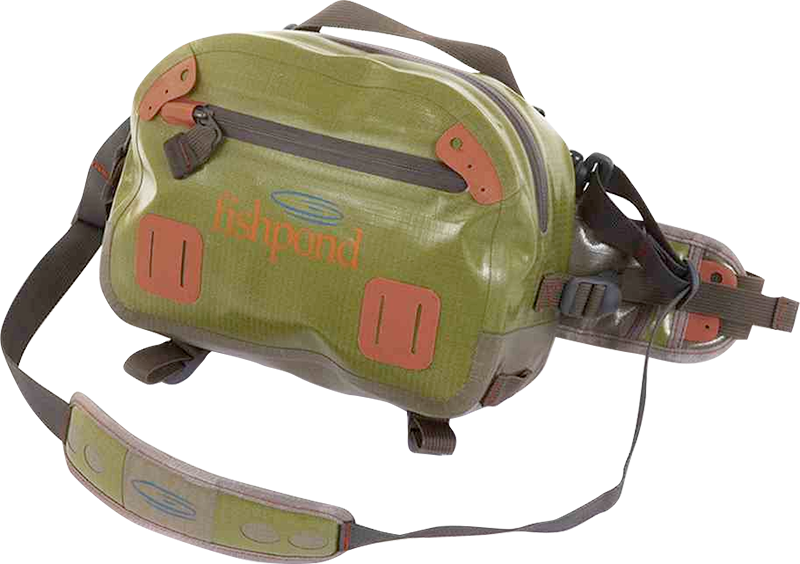 Wading Pack:
Fishpond Westwater Lumbar Pack – A water bottle fits inside, along with a powerbar and fishing things.
Boat Bag:
Fishpond Westwater Roll Top – It holds everything for the day, and it stays dry. Also serves as a carry on for plane flights if needed.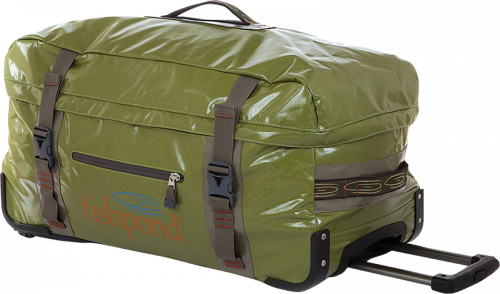 Travel Luggage:
Fishpond Dakota – The ultimate carry on! Easily holds 6 rods and reels, sun glasses,  and the zippered pouches are my "briefcase". Passport, itinerary, covid masks, receipts, and telephone are organized and safe.
Fishpond Westwater Roller Duffel – Best I've ever used!  Still strong after 6 years of my travel, and lent to many guys in the shop for their trips as well.