Size Matters! 
If you like your brown and rainbow trout BIG, fat, long and strong, with shoulders, the kind of fish that you could saddle and ride – then these two trips are right up your alley.
There is no argument that the largest brown and rainbow trout live in Patagonian Argentina – the sea-run browns of the Rio Grande in Tierra del Fuego, and the massive rainbows of Strobel "Jurassic" Lake outside of Calafate. 
Combining these two world-class fisheries where trout are measured in pounds, not inches, is a natural pairing – easy travel, with maximum time spent on the water. The Fly Shop® has organized hundreds of these combo trips and will walk you through the process, start to finish. Rio Grande trips run one week, Saturday to Saturday, while Lago Strobel Lodge trips do not have a set arrival or departure day and no set duration. In most cases, anglers will add another full week or a shorter four or five night trip to Jurassic Lake before or after a week on the Rio Grande.
Rio Grande
The average sea-run brown trout in the Rio Grande is over nine pounds, an amazing average. One in five is over fifteen pounds and one in fifty will be a real "PIG" that would tip honest scales between twenty and twenty-five! Even beyond that, a handful of trophy browns hooked each season on the Rio Grande will push 30 pounds  –  few are landed, and most are never seen as the backing pours off your reel. The top fish of all time, the lodge record, was landed by angler Brian Yamamoto in 2008 and was estimated by the river's fish biologists to be 41.5 pounds – 46 inches in length with a 25 inch girth. An absolutely mind-melting fish.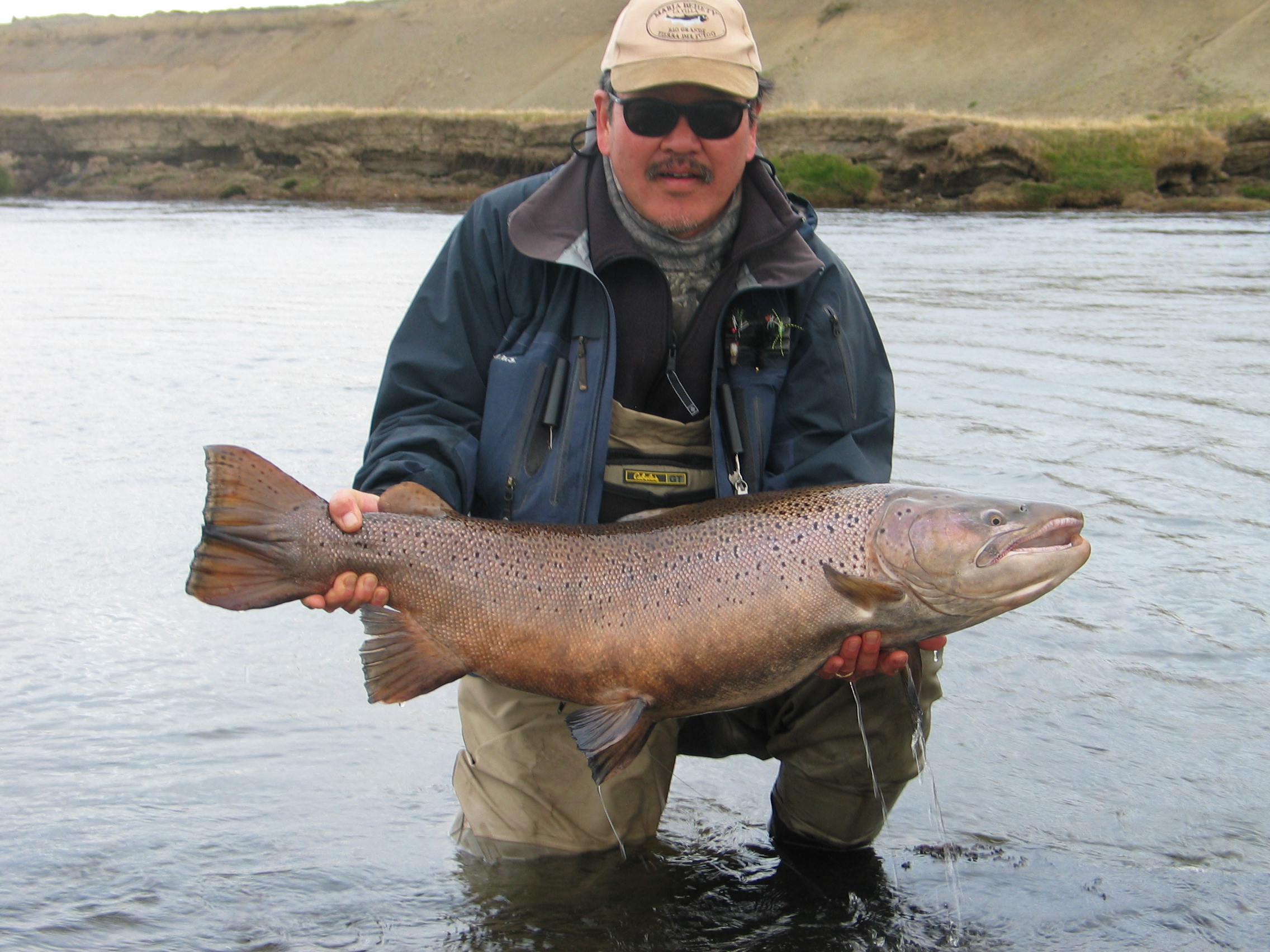 Estancia Maria Behety overlooks the Rio Grande and is an enormous ranch. The two lodges place guests within quick and easy striking distance of the very best pools of the Rio Grande. Anglers have access to more than thirty miles of the river frontage (102 pools) and enjoy the finest sea-run brown trout fishing on Earth.
March 16 – 23, 2024 (1 rod) $7,500 pp

March 23 – 30, 2024 (2 rods) $7,000 pp
January 06 – 13, 2024 (5 rods) $8,500 pp

March 09 – 16, 2024 (1 rod) $8,500 pp

March 16 – 23, 2024 (1 rod) $8,500 pp
March 23 – 30, 2024 (6 rods) $8,000 pp
Jurassic Lake
Jurassic Lake rainbow trout are big…really big! There are more rainbows over six pounds than under, and legitimate shots at fish in the 10 – 15 pound range and even fish approaching twenty pounds are an everyday occurrence. These giant rainbows reproduce naturally in the terraced Barrancoso River, are bull-strong, very aggressive, and gorge themselves on an endless supply of protein-packed scuds. They are aggressive fish that attack nymphs, streamers and surface flies, often with equal enthusiasm.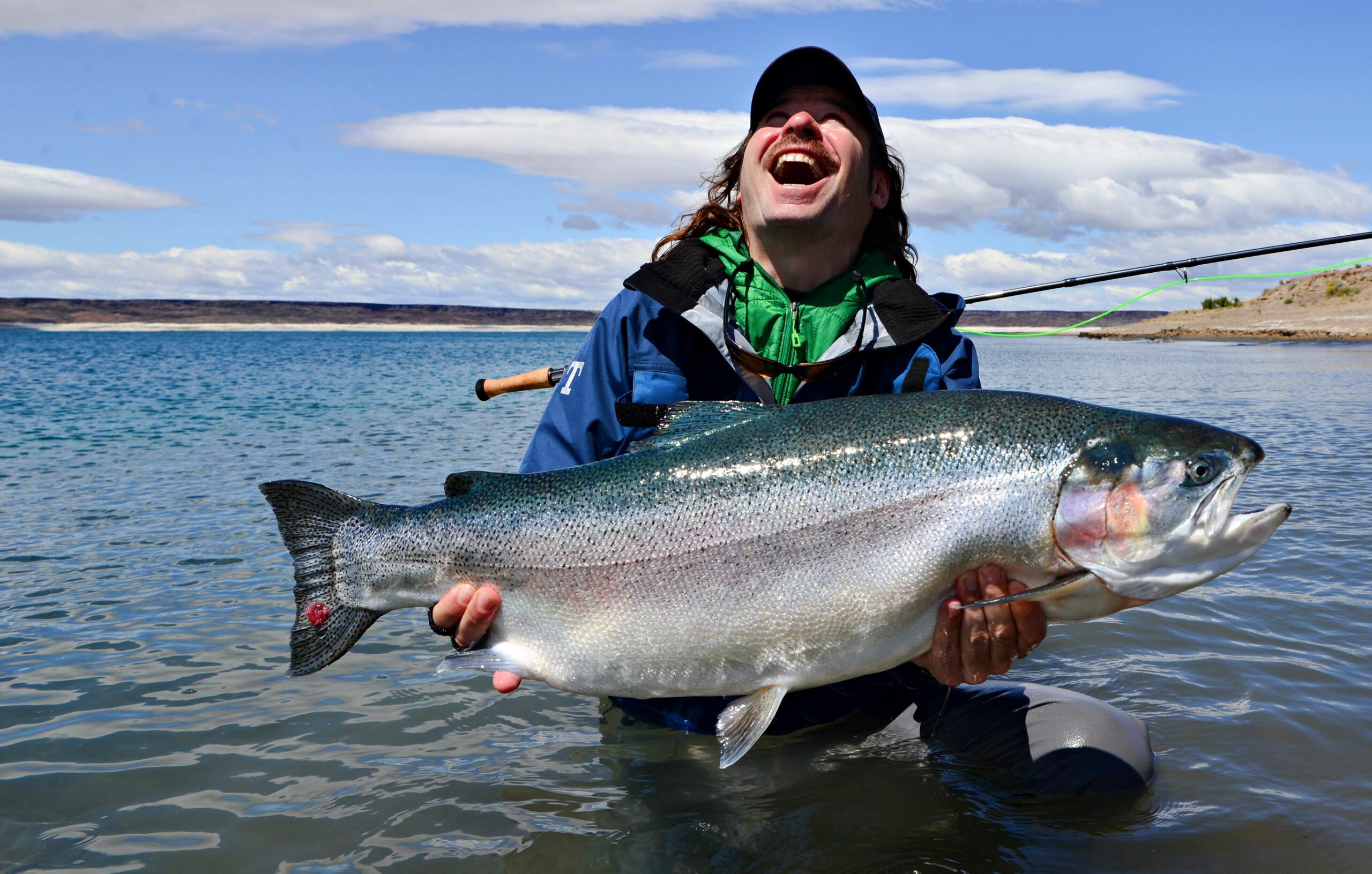 Lago Strobel Lodge on Jurassic Lake is the brand new sister lodge to Estancia Laguna Verde. Located on the remote northern shore of the lake within a massive 40,000-acre private ranch, it offers over 15 miles of shoreline and a half dozen protected bays. The small, intimate lodge accommodates a maximum of 8 anglers in shared rooms and is the choice of dedicated trout anglers looking for VALUE and trophy rainbows.  
7 night/6.5 fishing days $3,750 pp
5 night/4.5 fishing days $2,750 pp
4 night/3.5 fishing days $2,200 pp
Call or email us for availability
If you're a big fish hound and dream of catching the largest brown and/or rainbow trout of your life, you should seriously consider these two destinations. This is your best opportunity to join the "Twenty-Twenty Club" – a 20-pound brown and 20-pound rainbow in one amazing trip! 
Give us a call (800) 669-3474 | (530) 222-3555 or send an email to justin@theflyshop.com and let him custom-tailor a trophy trout safari for you in Argentina.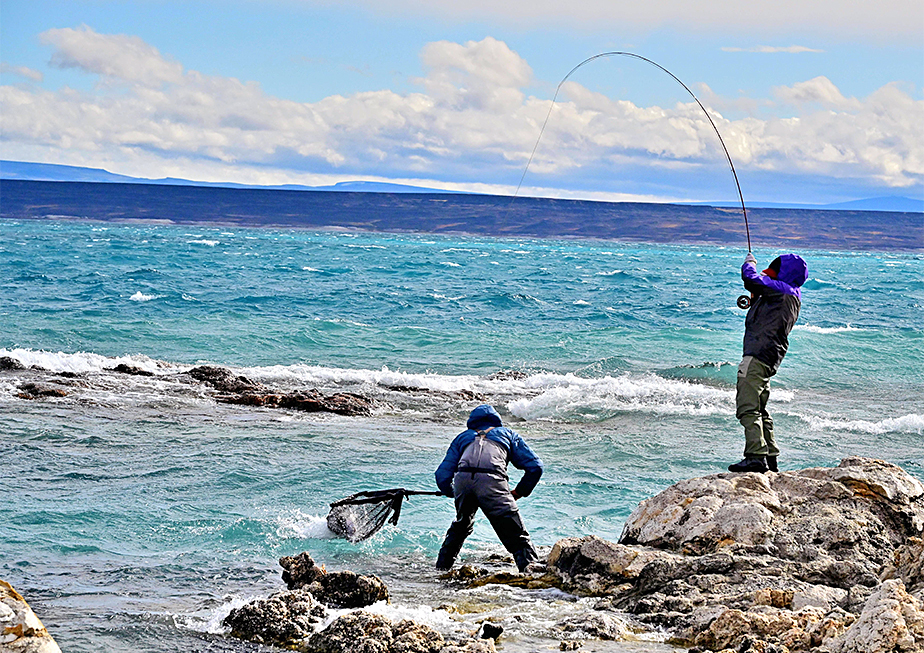 Trout here are measured in pounds, not inches!