This intimate, comfortable lodge has been carved out of some of the most inhospitable country imaginable, with nothing but flat, windswept, sagebrush-dotted volcanic plains as far as the eye can see. The "meseta de la muerta" (little table of death) to the south and the occasional glimpse of Mount San Lorenzo to the northwest and not a tree in sight for miles. The land seems too rugged for anything to live. At least live comfortably.  This is arguably, the finest trophy rainbow trout fishing on earth!
One might question the reasoning behind the expense of building such inviting accommodations in such desolate surroundings… until one has the chance to cast a line into nearby Jurassic Lake! This natural still-water with its 15-mile shoreline, ocean-sized swells and breathtakingly clear blue waters is a natural phenomenon, and until relatively recently, free of any trout. In the few short years since their introduction, the lake's rainbows have quickly reached massive proportions, due largely to the lake's staggering population of freshwater scuds. Trout in the 6-12 pound category are simply average, and fish in excess of 20 pounds are seen here on a fairly regular basis (seen, but only rarely landed!). And in addition to owning and having access to a majority of the lake's shoreline, the lodge also has sole access to miles of the lakes only tributary, the Barrancoso River, which also produces some enormous fish that make their way up from the lake. Harsh country, huge trout… and now, thanks to Estancia Laguna Verde Lodge, a comfortable place to call home during your stay.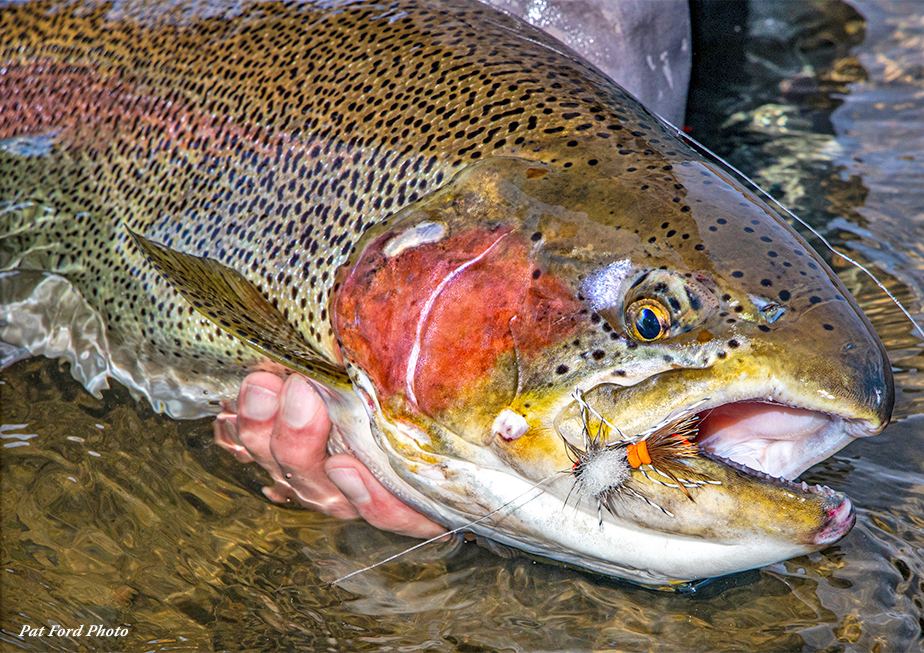 Reservations & Rates
Estancia Laguna Verde Packages (Double Occupancy)

2023/2024
• 7 Nights / 6.5 Days @ $6,500 per angler, double occupancy
• 5 Nights / 4.5 Days @ $5,200 per angler, double occupancy
• 4 Nights / 3.5 Days @ $4,400 per angler, double occupancy

2024/2025
• 7 Nights / 6.5 Days @ $7,500 per angler, double occupancy
• 5 Nights / 4.5 Days @ $6,200 per angler, double occupancy
• 4 Nights / 3.5 Days @ $5,400 per angler, double occupancy
• Non-angler: 50% off normal rate
• Single Private Guide + 35% of the rate
Inclusions
Included in your angling package at the Estancia Laguna Verde is round trip ground transfer between Calafate and the lodge, all meals and drinks at the lodge, ATV's, boats, and four-wheel drive use during the fishing program, one guide for every two rods, double rooms with en suite bathrooms, free internet wireless access, and satellite t.v., laundry service twice a week, tippet and leaders. Rods/Reels/waders and boots can be provided with advanced notice when available.
Non-Inclusions
Not included in your angling package at Estancia Laguna Verde are the flights to or from Calafate from wherever you're coming from or going to, and use of the lodge's satellite or IP phone (you are welcome to use these, but there is a charge), Gratuities for the staff, flies, rods, reels waders and boots
Travel Insurance
The Fly Shop® is not in the insurance business, but we recommend Travel Guard coverage as a service with a desire to see your best interests protected. It is impossible to know when an unfortunate situation (loss of luggage, fly rods, illness in the family, or an accident) may occur. However, such things can and do happen, and this insurance can provide a means of recourse against non-refundable financial losses.

• Travel Insurance Information
Seasons at Jurassic Lake
Generally speaking, the best months to be at Jurassic Lake are November through April.

Most anglers tend to shoot for dates during December, January, February or March, as this is the region's equivalent of spring, summer and fall, and the weather tends to be the most predictable. The wind is an ever-present feature here, varying between a strong breeze and a gale force, and while it doesn't affect the trout's appetite, it can play havoc with the fly casting. Typically, March and April see the lightest winds, but this
Read More
strongly subject to exceptions!

The early and late weeks (December and March) can be particularly attractive for those wanting to catch big trout in the Barrancoso River, as the stream often runs a bit higher (and with a glacial tint) due to runoff and/or rainfall during these months, allowing the largest lake rainbows to run far upstream, populating many of the miles of pools. During the middle months the stream shrinks dramatically, with sight-fishing for trout in the 6-15 pound range an unreal visual experience, sometimes even on skated mouse patterns!

There are also over a dozen other small lakes scattered around the ranch property, also blessed with prodigious quantities of scuds, and correspondingly bloated rainbows and brookies. Though these lakes have heavily-colored waters, they often provide fast and furious fishing for trout in the 2-8 pound range, and can be a fun diversion for a day.
Getting to Jurassic Lake
Guests need to arrive to Calafate on their day of arrival, a popular tourist town with several flights a day from Buenos Aires.

Many clients tag a trip to Jurassic onto the front or back end of a sea trout trip to Tierra del Fuego, an itinerary easily achieved via the daily flights between Calafate and Ushuaia. Anglers will be met in Calafate and driven the approximately 5 hours to the lodge, stopping along the way to grab a bite to eat and stretch their legs.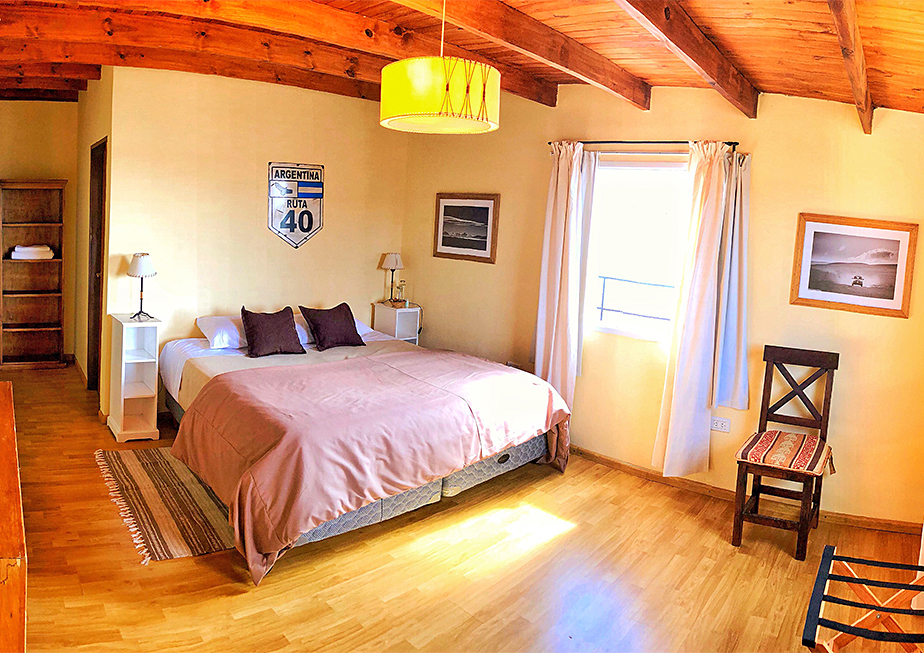 Lodging at Jurassic Lake
Laguna Verde Lodge stands in stark contrast to its desolate surroundings.

The facility has four double bedrooms (three for the standard weekly occupancy of 6 anglers, and a fourth for a group host, or in the case of a heavy snorer). Beds are comfortable and with appropriate linens, and all rooms have windows, dressers in which to store clothes, and efficient wall heaters. Bathrooms are roomy, with showers, vanities, towels, and plenty
Read More
of hot water. There is a large, bench-lined mud room where anglers change in and out of waders, and hang them (and any wet clothes) to dry. Guests step out of the changing room every afternoon into the warmth of the dining room, where tasty appetizers await, along with a cold or warm drink of their choice. After relaxing in the living room (where two of the 3 walls are large picture windows), wonderfully prepared dinners – always accompanied by some of the region's finest wines - are taken together with the guides. Dinners here are always something special, presented elegantly by the resident trained chef with the assistance of a capable sous chef.
Fishing at Jurassic Lake
A typical day at Estancia Laguna Verde will begin with guests enjoying a lovely breakfast of multiple entrée choices, including fresh fruit and juices.

Then everyone convenes to the mudroom to "wader up", grab their gear, and pile into their appointed vehicles. Most days, some anglers will drive to Jurassic Lake for the day (to access the lake requires about an hour of
Read More
first truck shuttle, then walking, then quad-runners), and some will go to the Barrancoso (about 20-minutes of driving in a truck to access the upper reaches…if you choose to walk and fish the entire few miles of river, it will be over an hour of combined quad-runners and trucks to get back to the lodge at days end).

Those fishing the lake will first access a large protected cove which they can fish either from shore, or by boat rowed by the guide. Then, if the wind is not too severe, they can pile onto a larger lake boat, and access many other protected bays around the lake's perimeter. Floating lines are the de rigueur choice here, allowing for quick changes between streamers, and oversized dries (yes, when the wind is down these monster trout sometimes cruise the surface, and can be sight-fished with large dry flies!); slow-sinking lines can also be effective, particularly fishing streamers or nymphs on heavy wind days. Lunches are taken in the field.

There are two basic choices for those spending the day on the stream, both beginning with a short drive to an upstream section. If when you are there the water has been low for some time, odds are good there will be few monster trout this high up, but the entire river is absolutely infested with 10-14 inch rainbows (with the occasional 20-inch "surprise"), which attack dry flies with reckless abandon; one can spend an entire day slowly plying the runs and pools of this upper valley, catching more fish than can be imagined, then walking back up to the truck for the short drive back to the lodge. If the water has been higher – meaning more large fish in the upper river - and the guides instruct it, you'll probably tie on a streamer immediately and fish it the rest of the day, prospecting in the colored water for giants. The second option begins the exact same way, but is for physically fit anglers that don't mind a strenuous day of hiking and clambering around big rocks. If the water is low, these anglers will fish at a faster pace in the upper river valley – with their choice of dries or streamers – then slow down and fish more deliberately as soon as they begin spotting trophies down in the canyon water. If the water is higher and colored, they will spend the day blind-casting streamers into all the deeper runs and holes, covering the water quickly and as efficiently as possible. At the end of this day, they will use quad-runners to ride out of the deep canyon to waiting trucks, which they will use to drive back to the lodge. Here, also, lunches are taken in the field.
What Makes This Destination Special and Unique?
• Strobel Lake and Estancia Laguna Verde give anglers access to the largest rainbow trout in the world. Anglers have a legitimate shot at hooking a rainbow in the 20 pound class each and every day, with an average rainbow tipping the scales at an honest 10 pounds. This is the place to set you own record and make your fly fishing dreams come true!

• The Estancia Laguna Verde offers a very diverse fishery in addition to the most shoreline access on Strobel Lake. Anglers are not locked into one spot to fish for the week; you can mix it up and not only fish the shoreline of Strobel Lake, but two different rivers, a spring creek and half a dozen other trout-filled lakes on this private estancia. Keep your fishing days fresh and interesting and varied by sampling all the different fisheries Estancia Laguna Verde has to offer.

• The lodging at Estancia Laguna is extremely comfortable with world-class cuisine a varied selection of fine Argentine wines and attention to detail by the lodge staff. You can even book your own private room if you like with no additional costs to you. Why take a chance and have a roommate that keeps you up all night, enjoy your own private room that will guarantee a good night's sleep, ready to hit the water hard well rested…

• An experienced, well trained and seasoned guide and lodge staff will take care of everything while fishing at Estancia Laguna Verde. The seasoned guides are hand selected by Roberto and Luciano Alba and have years of experience guiding anglers to trophy trout. Put your worries to rest, relax and let the capable staff at Laguna Verde take care of the logistics and mechanics of the trip, you're on holiday!