I was lucky enough to get started fishing with my dad when I was 3 years old. Most days I'd enjoy fishing especially if there was a cooler full of food and snacks! There were always a few days where the fishing wasn't great or we'd be out in bad weather longer than I wanted, but my dad kept pushing me along. It's weird to see how the tables are turning, and now I'm the one motivated to stay longer and understand his addiction.
I was born on the outskirts of Sacramento and grew up in some cool places that allowed me to ride mountain bikes, build tree houses, fish, and not have to rely on video games for entertainment. After 10 years there, my family decided to move to Missouri. Talk about a culture shock! Spending middle school halfway across the country gave me perspective on how much traveling can teach you. After a few years there we moved back to my dad's hometown of Redding, and with the exception of college, I've been here since my freshman year of high school, which is why I call this place home.
Q&A with Jordan Taylor (JT):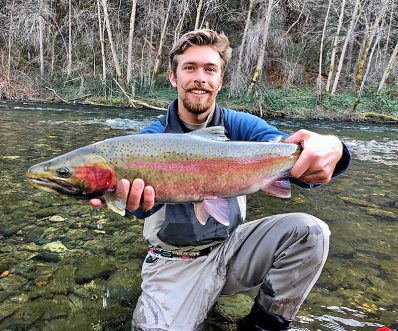 How did you get started in fly fishing?
Growing up I was always fascinated with fly fishing. When I was 10, I started mowing neighbors' lawns to save up money for my first beginner outfit. As soon as I had enough money, I went to my local fly shop and paid for it myself. After hooking a 10-inch bass and thinking it was a 10 pounder, the addiction only grew.
What does fly fishing do for you that keeps you coming back for more?
The pursuit for more and bigger fish is always there, but the failures and the big fish that get away will keep me out until I can't see anymore.
Favorite fish to pursue?
All species of trout. Growing up here in Redding has allowed me a lot of access to great trout fishing.
What fly fishing destination is on your bucket list?
Golden dorado in South America.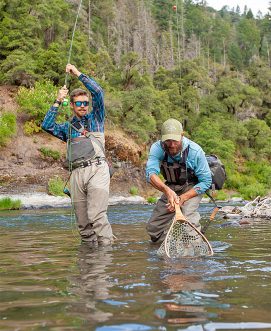 Favorite fly rod and why?
My favorite fly rod right now is my 9′ 6wt. Winston Air. The main place I use that rod is on the Lower Sacramento River here in Redding for the strong wild rainbows. It has been versatile enough for me to tie on a dry fly in Montana with good presentation and also had enough strength in the butt section to land my biggest steelhead last season.
Favorite reel and why?
The Galvan Torque is my go to reel from my small creek rods up to striper and Spey rods as well. It is a bombproof reel sold by a family company with the best customer service I have seen.
Favorite fly and why?
My favorite fly is a traditional pheasant tail soft hackle fly that I tie due to its versatility and ability to catch fish in almost every situation.
What is your greatest fly fishing extravagance?
Fishing the White River in Arkansas, throwing big articulated streamers for aggressive brown trout has to be one of the most memorable trips I've taken.
Which living or non-living fly fisher would you want to spend a day fly fishing with?
After working in The Fly Shop® for a while, I have heard a lot of great stories from both employees and customers about Mike Mercer having a sixth sense when nymph fishing, and I'd like to see what I can learn from his techniques to better my skills.
Who is your favorite writer?
Lee Wulff
What single issue in fly fishing do you feel has the greatest adverse potential?
Videos overpopulating local fisheries. A simple way to fix this would be doing instructional videos in well-known areas or not putting the river's name in the title. Whether catch and release or commercial fisheries, I think everyone can agree that overfishing is harmful to a fishery.
What is  the most memorable fly fishing trip you've taken?
Fishing a tailwater with a few of my best friends and family members who all knew how to fish, figuring out a river together, and sharing tips to make us all successful over the weekend. Spending time around the campfire with great company and food is one of my favorite things to do whenever I have free time.
What is your fly fishing pet peeve?
I hate to see anyone poaching or breaking the rules that are setup to help our fish populations stay healthy.
See below for some of JT's favorite products.