Selecting The Right Wading Boots for Your Fly Fishing Needs
We get asked all the time what wading boot is the best. This is a difficult question as each angler has a specific need or wading challenge, not to mention the different regulations or limitations by different countries and states on the types of soles or whether you can even use older boots. And then there's the challenges of float planes and boats. Trust us, no pilot wants an angler climbing onto their floats with studded boots. The same goes for climbing into a boat with your studs on. Hence the challenges of telling someone the perfect boot for them.
Wading boots have come a long way in the last 20+ years. What was once a very limited offering in the world of walking in the water has become its own industry with plenty of great options. I remember when I first got into fly fishing we had two types of soles on boots: felt or studded felt. Rubber wasn't even considered an option unless you wanted to slip and slide the entire day, potentially hurting yourself pretty badly. Fast forward to today and there are more sole options than most know what to do with, the majority of which are rubber based.
Many of the changes we now see in wading boots and soles started after 1987, when the first New Zealand mud snails were discovered in the Snake River (Idaho). This invasive snail changed everything in water-based recreational sports. Thought to have been originally brought to the U.S. by contaminated ship ballast water and/or the transport of live fish or eggs for the commercial aquaculture industry, these little (4-6 mm) hitchhikers have now been found in 10 western states, five Great Lakes states, and two Canadian Provinces. Hence the introduction and popularization of the rubber sole for wading boots. I'm sure you can see how felt soles would be a much easier way for these little hitchhikers to be transported with its porous nature compared to the dense rubber.
In 2000 Simms introduced their Aquastealth soles then in 2009 changed to the current Vibram rubber sole. They even contemplated removing felt from all of their boots to make sure they weren't adding to the problem. That changed rather quickly as felt was/is still needed in certain wading situations (such as the Pit River). Simms took this challenge to advance some of their boots and shoes to include both felt and rubber, like on the Confluence Wading Sandal. This gives you the best of both worlds.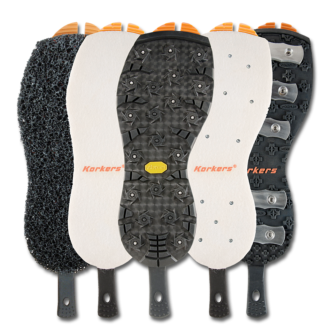 In 2000 Korkers came out with wading boots with their OmniTrax® Interchangeable Sole System. This enabled the use of multiple soles on one single boot. Yes, admittedly there were issues with these original removable soles. However, as time passed those kinks were worked out, and the soles now stay in place yet are easy to change. Korkers now offers nice sole options (sold separately) to make the boot you need for any situation. They were also intelligent enough to get you started by including a pair of hiking rubber soles and felt soles with each pair sold.
Now that we've covered a bit of history on wading boots and soles, we should talk about what we think makes a great boot. Of course, this can change depending on who you ask. Some prefer a boot with a more stable upper for ankle support while others prefer a more floppy upper. Other anglers could care less about the ankle support and are looking for more toe protection or a locking heel. There are so many things that go into selecting a comfortable boot.
Then you need to decide if you are looking for a boot with standard laces or the BOA lace system. This is another option that can be debated for hours. The old lace system is the proven system. However, the BOA adds a new ease to cinching down and getting out of your boots. At the end of the day simply pull the knob and you've freed your entire foot, all the way to the bottom lace. The BOA system is becoming more and more popular with anglers. There is an old argument, that if a lace breaks while fishing you can use just about anything to replace it, even tying the broken pieces together. If your BOA breaks while fishing, which is rare, you will ultimately need a BOA replacement kit. Fortunately, these are small and easy to pack in your vest, pack, or bag. Same goes for replacement laces.
Now that we've covered just about everything on wading boots, let's get to the meat of this thing: the boots that our staff wear and recommend: