2020 Alaska & Lava Creek Lodge End of Season Report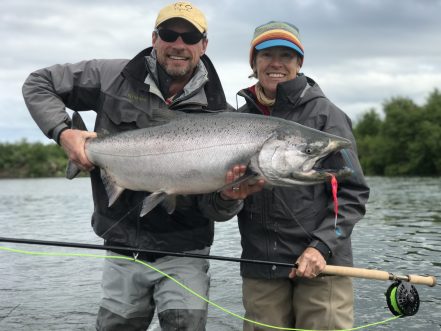 There is always a bright side, no matter how dark things seem!  And that was certainly the case when it came to sportfishing in Alaska this summer. 
With Covid numbers escalating in the US this past spring, and nearly all other countries in the world closing their borders to outsiders, there was a lot of doubt as to whether anglers would even be able to travel to and enjoy their own 49th state's many fishing lodges. Alaska was for some time ambivalent about allowing people from the rest of the nation to flood their borders for any reason, including what is arguably the lifeblood of the state, tourism and recreation. For some time they instituted a 14-day quarantine for everyone entering the state…and while certainly understandable, this obviously would not work for the majority of traveling fly fishermen. As the fishing season approached, with the 14-day prerequisite still in place, many lodges made the difficult decision to call off the season and roll their booked 2020 guests over to 2021. At that point there was so much uncertainty about Covid in general, many lodges decided it would be in the best interest of everyone involved – guests and lodge staff alike – to call off the season, hunker down, and attempt to ride out a year with no business. In a number of cases this decision was made for them, as several Native villages who play an integral role in anglers reaching specific lodges were making the sensible decision to shut down, in doing so closing off access to critical bush airports. It appeared the likelihood of anyone being able to enjoy a fly fishing adventure in Alaska in 2020 was quickly augering in.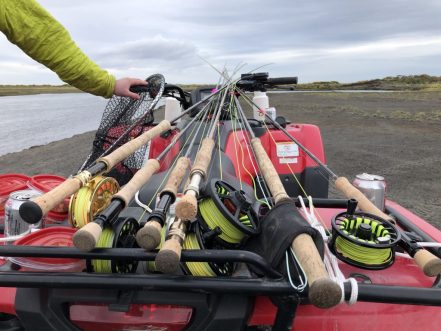 Then, at the 11th hour, faced with the very real spectacle of having to shut down virtually all tourism in their state for the all important few months of summer, the Alaskan government relented and decided instead that they would allow visitors, albeit with a stringent Covid testing policy in place. At this critical juncture there were still a handful of lodges who had not yet made the decision to call off the season, though they were literally days away from doing so… operations whose normal Alaska travel logistics still allowed them to physically bring guests to their lodges. Part and parcel to making the decision to operate were a whole new set of operating mandates from the state that would help ensure the safety of anglers while at the lodges – largely dealing with cleaning protocols and reduced occupancies. One such destination was Lava Creek Lodge, a hyper-remote lodge on the Alaskan Peninsula tucked alongside some of the finest king and silver salmon rivers left on the planet. Owner/operator Phil Byrd had been closely following the Covid politics and decisions playing out in Alaska, and the same day the state decided to allow tourists access to the state with mandatory testing, he made the decision to run his season. Having anticipated this possibility, Phil was already at his lodge and had spent the previous weeks gearing up for a season that he could only hope would come to fruition. He had everything prepared and in a state of readiness including his lodge facility, guides, food service, and importantly, a private charter that delivered guests directly from Anchorage to his lodge, eliminating any potential complications from bringing anglers in through remote Native villages.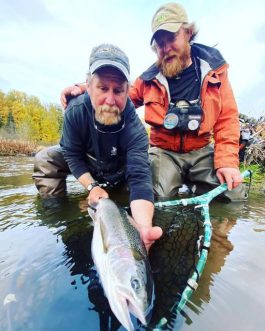 So we quickly called everyone slated to fish at Lava Creek Lodge – it was a very fully booked season – and explained the situation. Phil understood that not everyone would be comfortable traveling, so extended the offer to roll over payments/trips for those clients to the following season. It was already too close to the first week of king salmon season to operate, so we began with bringing guests in for the second week, in mid-June. The remainder of king season was a balancing act, keeping the lodge as full as possible while avoiding the scenario of having strangers sharing a cabin. It worked! Where people were coming with friends or family, the sharing of cabins was of course allowed. Where we had single anglers, they were given a private cabin.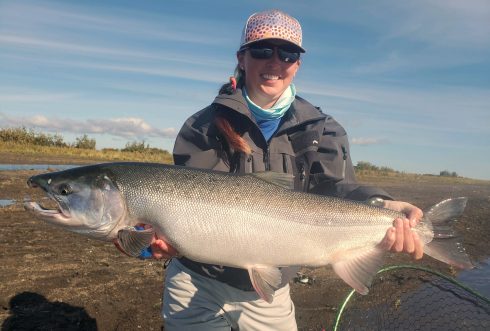 While the bulk of the king run came in a bit later than normal, we did still have a taste of great fishing early on, which quickly escalated into the unbelievable Chinook fishing we have come to expect at this amazing destination, for the remainder of the season. We hesitate to even put into print the numbers of chrome kings that were landed on many days during the season; even the "slow" days here would have qualified as epic just about anywhere else. We're talking double digits of chrome bright Chinooks to the hands of each angler per day!  All the salmon caught here are hooked within a rifle shot of the salt, so they are full-bodied, powerful, aggressive to a swung fly, and typically still bear the marks of recently shed sea lice. Combined with easy wading and shallow runs not demanding super heavy sinking tips, these fisheries are like a dream for serious king anglers. As well, Phil began flying guests up to a small tributary of the home river, where guests enjoyed fantastic Dolly Varden fishing, and even caught good numbers of quality rainbow trout. This action was so good, many anglers were willing to give up a day or two of salmon fishing just to enjoy such constant action on a light fly rod, on a trout stream that gets zero outside angling pressure.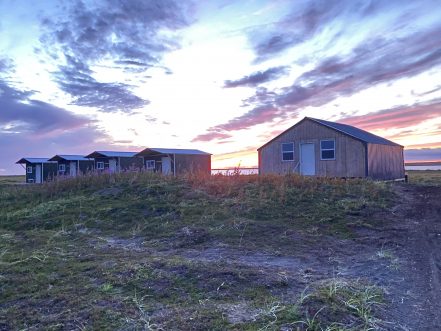 Our very own Justin Miller flew north to join the talented guide staff for the lodge's silver salmon season, beginning in mid-August. The lodge benefitted from his years of experience guiding and running wilderness fly fishing operations in Kamchatka, Russia, and welcomed his enthusiasm, world-class teaching ability…and for introducing staff and guests alike to the now infamous game of tundra golf! As with the kings, silvers were a little late in showing up in their normal ridiculous numbers, so our first week of guests split their time between finding silvers where they could, and visiting the upriver tributary to catch hordes of dollies and a few quality rainbows on six weights. By the end of the week silvers were beginning to show up in earnest, and when the second week of guests arrived it was coho madness, as usual. One river in particular – a stream the lodge had only just begun to fish the previous season – produced ridiculous numbers of sea-liced cohos on a daily basis, often drawn to the surface by Pink Pollywog poppers. These are big Peninsula cohos, fish that average 8 – 10 pounds but which commonly top the 12-pound mark; most guests will hook multiple chrome beasts in the 15-pound range during their stay, and a few lucky anglers will land silver salmon approaching 20 pounds, fish that look like kings when hooked. Justin actually stayed on into late September after the lodge had officially closed, hoping to find some of the steelhead we know run up the home river at some point in the fall. While he was unsuccessful in this endeavor, it was only because of the sheer number of silvers that continued to pour into the river daily; it was impossible to swing an Intruder through any of the likely steelhead runs without it being immediately attacked by mobs of bright coho salmon. 
From Justin Miller – 
"I could not have been more excited for the opportunity to guide up at Lava Creek Lodge this past summer. With my wings getting clipped – forced to miss trips to Australia, the Kola Peninsula and then the Kamchatka Steelhead Project due to the 'Rona – I was feeling like a caged animal. I pounced at the invitation to guide in the Alaskan tundra like a mountain lion. I had taken a group to LCL for Chinook in 2019, so I knew the rivers and the crew and was super excited to get back up there, this time to drive. The season went better than I could have ever imagined. Our team was amazing and all of them became among my closest friends on earth. The guests that came to fish with us were enthusiastic anglers who appreciated getting back out on the water as much we did in these crazy times. And then there were the fish… 
Witnessing Mother Nature send legions of salmon on a march upstream with us standing on the sidelines, throwing pink Hareball Leeches in their path…I have never seen such a ridiculous display. We had days like the old timers talk about – we could have walked across the river on their backs. It was an absolutely amazing season, one that saved me from the brink of insanity."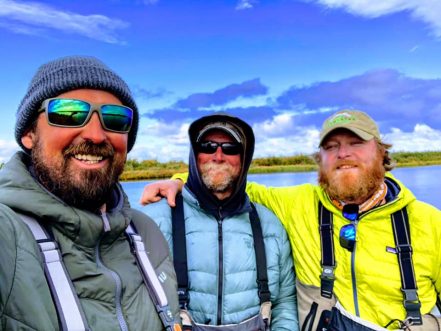 So despite the Covid-related uncertainties of early in the year, it was yet another superb season at Lava Creek Lodge. The fishing was amazing, the country untouched and beautiful, the lodging comfortable and safe, and the food better than ever. Next season has limited openings, so if you are interested in booking some space, give us a call at your earliest convenience.  
It is worth noting that for those who were willing to travel to Alaska in 2020, a number of lodges remained open and operational and delivered their typical world-class fishing and service to those travelers. Places like Bear Trail Lodge, Rapids Camp Lodge, Hoodoo Lodge and Hoodoo's Sandy River Lodge, Hidden Cove Lodge, Baranof Wilderness Lodge, Copper River Lodge, and Dave Jones' Ayakulik Outpost all made the decision to operate, and their perseverance was paid off with superb seasons and happy clients.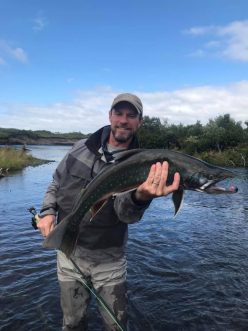 Overall, a relatively small percentage of fly fishing lodges in Alaska, understandably, made the decision to operate in 2020 – most postponed their operations until 2021 and rolled all or part of their guests' deposits over to those future dates. Predictably, this made for very little angling pressure on a lot of the finest remote streams and rivers in the state, and fishing that was even better than usual. Just as predictably, with so many operations rolling all their 2020 guests over to 2021, there will be a general shortage of available space at Alaska lodges next season. If you would like to plan a trip, give us a call and let us help…we have our finger on the pulse of Alaska, especially in these challenging times!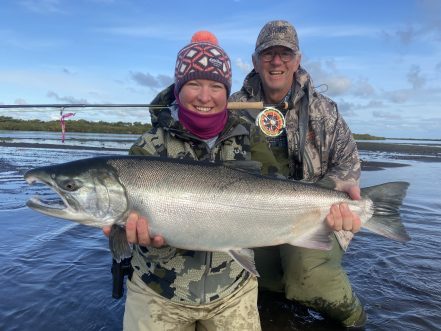 Finally, one of the questions we get most from people considering a trip to Alaska in these times is, "What kind of testing do I need to do before heading north?" In the early days of Covid this answer was a moving target, seeming to change weekly as Alaska struggled to come to a consensus regarding how best to keep Alaskans safe while also allowing some tourism to take place. While it is impossible to know what this will look like a year from now, we found the answer that Alaska eventually settled upon to be workable, effective, and in the fly fishing lodge business, very successful. In all the Alaskan lodges we work with, there were no active cases that arose during the season. Basically, in order to enter the state, you had to have a negative PCR Covid-19 test result in hand (and loaded in a State of Alaska Portal) that was less than 72 hours old when you stepped on the plane to fly to Alaska. Early on, most people were able to accomplish this where they lived at various clinics, doctor's offices, and even at some drugstores. As the country began to ramp up testing, however, it became more and more difficult to find such local sources. Fortuitously, Phil Byrd at Lava Creek Lodge actually put us onto a possible remote source for testing he had heard about, called Covid Consultants. After days of vetting the operation to make sure their protocols were in compliance with what Alaska was demanding, we were able to confirm that they were, and the majority of our guests from that point on took advantage of their testing services. In short, you call their offices to order and give a card number to pay for the test, and they FedEx a test kit to the name and address you specify, along with a prepaid return overnight FedEx shipping label. Receiving it, you wait until 72 hours before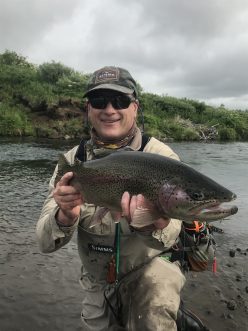 your departing flight to Alaska, then spit in the receptacle provided and FedEx overnight it to their labs (this is a saliva test, not a nasal swab, but both are the needed PCR-style test). They receive your sample, test it, and email you the official medical results in 24 – 48 hours. Now you have it on your phone to show at your point of entry to Alaska (it's recommended that you print a hard copy, as well). The company proved to be exceptionally reliable at servicing our clients, and the $200+ charged was a small price to pay to facilitate easy and effective entry into Alaska.
As we stated, with so many Alaska lodges deciding not to operate this summer and rolling over 2020 anglers to 2021, lodge availability next summer will be tight, but space still exists. If you are interested in fishing Alaska next summer, please don't delay in making your plans.  We have our fingers on the pulse of current availability and can help you with your 2021 Alaska fishing plans. Give us a call at (800) 669-3474, or email us at travel@theflyshop.com.
If you are interested in fishing Lava Creek Lodge next summer or fall, we have some excellent weeks available.
JUL 11 – 18, 2021      JUL 18 – 25, 2021     JUL 25 – AUG 01, 2021
AUG 01 – 08, 2021     AUG 08 – 15, 2021     AUG 15 – 22, 2021
AUG 29 – SEP 05, 2021     SEP 19 – 26, 2021
Mike Mercer and The Fly Shop Team
mercer@theflyshop.com
(800) 669-3474 • (530) 222-3555