Choosing Your Next Fly Tying Vise
A collaboration of ideas with Mike Mercer and Justin Miller
When you first start tying flies, you learn on what you have, which is often someone else's old rickety hand-me-down vise or some cheap thing that came in a beginners kit. But if you get hooked by the fly tying bug like we have, you will want to upgrade your vise pretty quickly. This is the most foundational part of the entire process, the tool that you will use for every fly that you crank out over the next decade, or even lifetime … it is not a decision to be taken lightly. So, the following are a few of our suggestions about what to take into consideration the next time you upgrade your fly tying vise.
Rotary vs Standard: Which vise style is best for you?
Standard – Mike Mercer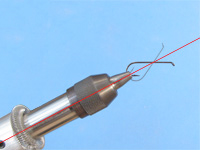 While most standard vises will rotate, the angle of the hook shank does not remain horizontal.  So if you are simply rotating to inspect the other side of the fly (to make sure it is as cleanly tied as the near side), standard vises function perfectly. They also often have simple designs without a lot of adjustment knobs, though this will vary between models. I have spent nearly my entire tying career using Regal and Dyna King vises, and while they are both at the top of their respective games, they are also significantly different from each other.
For the majority of my tying, I love the simple, straightforward features of the Regal. Its unique large lever and spring clamp design instantly adapts to whatever size hook you are tying.  Instead of manually opening the jaws adequately to accept the hook (as with most vise designs), then manually closing them to the correct pressure (with a levered cam lock) while being careful not to exert too much pressure and risk damaging the hook (or setting the jaw opening too loosely, allowing hooks to frustratingly move as you tie), with the Regal all you do is open the jaws with a pull on the large, comfortable lever, insert the hook into the jaws, then release the lever. The vise automatically adjusts to provide the perfect jaw pressure to hold whatever size hook you are using. It's really a pretty remarkable feature. Changing between a #2 streamer and a #18 dry fly requires no adjustments of levers or cams to properly accept and hold vastly different sized hooks, which I find highly useful. For me it is not about the time savings, as that is relatively minimal; rather, it is the elegant simplicity of the design, and never having to think about making adjustments for various hook sizes. The standard jaws that come with the Regal are perfect for a wide range of hooks, although they are a bit blunt for small hooks. For tying all my trout patterns, I install Regal's midge jaws, as they are perfect for flies in the #6–#20 range.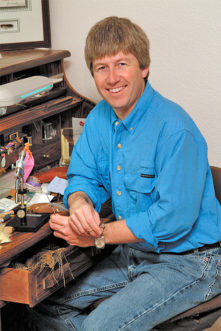 If I am sitting down to tie a bunch of tiny dries or nymphs – #20 or smaller – I will pull out my Dyna-King. This has nothing to do with the vise's ability to more firmly hold the small hooks; it has to do with the actual design of the vise jaws. With the standard jaws that come with this vise, I can comfortably tie down to #18 flies. The jaws are thin and tapered to a rounded point that grasps a tiny portion of a small hook's bend firmly, without intruding into the tying space between the hook's shank and point. Additionally, the vise's cam locking lever, once adjusted appropriately, locks tiny hooks solidly into place. If I install the midge jaws, tying flies even as small as #22 becomes relatively easy (about as small as I ever tie, and even then grudgingly). The Dyna King standard-style vises are beautifully-machined, precision instruments, and while they demand a bit more adjusting and maintenance than the Regals, they will often be the best choice for those tying a majority of tiny dries and wets.
True Rotary – Justin Miller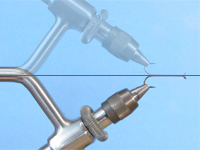 Full rotary vises are a relatively newer development in vise technology, but they have still been around long before my time. The idea is that as you spin the vise, the hook shank will always stay centered and level, with the hook shank itself being the axis of rotation. It is a great help for a variety of tying techniques, from palmering hackle, to working on the bottom side of the shank, to just checking out the backside of your fly. I love that the hook shank is always straight and flat – I can't live without it!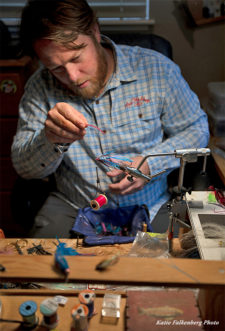 I have been tying on a Dyna-King Barracuda Junior for over 15 years. It is hands down my favorite vise. All of the Barracuda series vises are phenomenal, but the Junior is a little simpler, compact and lightweight. I take my vise with me on the road and in airplanes frequently, so all of those features are a big benefit, without any noticeable sacrifice in quality or performance.
Opposite of Mercer, most of my flies are very large. I am a steelheader above all else, so I frequently tie on hooks in the #2 to #2/0 range. I also tie a lot of saltwater streamers and crabs and other big stuff like that. The jaws on the Dyna-King are outstanding when tying on big hooks, even when you are really wrenching on them with heavy thread. All of the Dyna-Kings have a groove in the jaws that the bend of the hook fits into. This really keeps the hook from moving when the jaws are locked tight. The jaws can be very precisely adjusted, and then when you lift the arm to close the jaws you can feel the tension before you feel it click and lock into place. I have never had a hook come loose from my Barracuda, and I really reef on those big bugs. These aren't some delicate Parachute Adams!
Also, when I am tying these larger flies, I love being able to spin the full rotary function and see the back of the fly still level, and I will often rotate the fly to be upside down and tie materials on the top, which is actually the bottom of the fly. I really can't tie on standard vises for long anymore without getting annoyed that they don't stay level when spinning the handle!
Pedestal vs C-clamp
Most high-quality vises can be purchased with either a C-clamp or pedestal base. The C-clamp design allows the vise to be attached solidly to the edge of your fly tying bench (or for some intrepid traveling tyers, the steering wheel of their vehicle!). The C-clamp is the favorite of the vast majority of tyers for their permanent setups at home, as it is unarguably a more stable platform. Once the large knurled screw has been tightened, securing the vise to the table, there is no movement of the vise during the tying process. But, when you need to tie somewhere that has no table, or the table available is thicker than the C-clamp is wide, the pedestal base is the answer to the problem. The pedestal allows the tier to place the vise on top of the table … or tailgate, or cooler or picnic table, or any flat surface of the right height! Make sure the pedestal base is quite heavy and has rubber non-skid pads on the bottom, as the vise can rock side to side and scoot around on the tabletop as you tie, making for a nettlesome tying experience. Before you purchase your next vise, determining exactly where you will use it will help you decide between the C-clamp or pedestal base.
Obviously, there is also the option to have both for the same vise! Often tyers will use a C-clamp when tying flies at home at their dedicated tying bench and then remove the actual vise from the C-clamp base and have a pedestal base for tying while traveling. If this appeals to you, be aware that the stem length is shorter for a pedestal-base vise than for a C-clamp model. Fortunately, most vise manufacturers solve this dilemma by selling vise stems separately as accessories, allowing you to purchase what you need.
Tube Flies
Tube flies are a relatively new innovation in the world of fly tying. Instead of dressing a hook, the fly tyer wraps the materials directly onto a hollow plastic tube (or copper, or a variety of other options). Tube flies have seen a huge rise in popularity in recent years, especially with swing anglers who target steelhead, Atlantic salmon and sea trout all over the world. Leaders are fed through the tube and can slide loosely within it, and a piece of "junction tubing" is then slipped onto the leader – a soft rubber section of hose just larger than the diameter of the tube itself. Then a short shank bare hook is tied onto the end of the leader. Finally, you slide it all back and fit them together – the eye of the hook fits into one end of the junction tubing and the tube fly fits into the other, making it all one unit.
Tying tubes is not a difficult process at all, but you cannot just stick a tube into a standard fly tying vise. There are two ways to deal with this dilemma. The first one is extreme: If you are a hard-core tube fly tyer, there are vises dedicated to this style, so there are no jaws on the "vise" at all, just a long straight mandrel to slip the tube over. Obviously this option is not for everyone, and you probably won't want to drop $400 on a tube fly vise to see if you like tying them.

For the casual or beginner tube fly tyer, there are a few different adapters on the market that you can put into the jaws of your standard vise and turn it into a tube vise. These work great, don't break the bank, and don't force you to own two totally separate vises. The HMH Tube Fly Adapter is my favorite and the one I use.
Interchangeable jaws
While the standard jaws that come with a vise will be more than adequate for all the tying needs of most tyers, it's worth noting that many vise manufacturers offer specialty jaw options. Most common are "midge" jaws, with narrow, tapered jaws perfectly suited for tying smaller patterns. Some companies also offer oversized jaws that lock large saltwater hooks solidly into place, a task that is often beyond the capability of most standard jaws.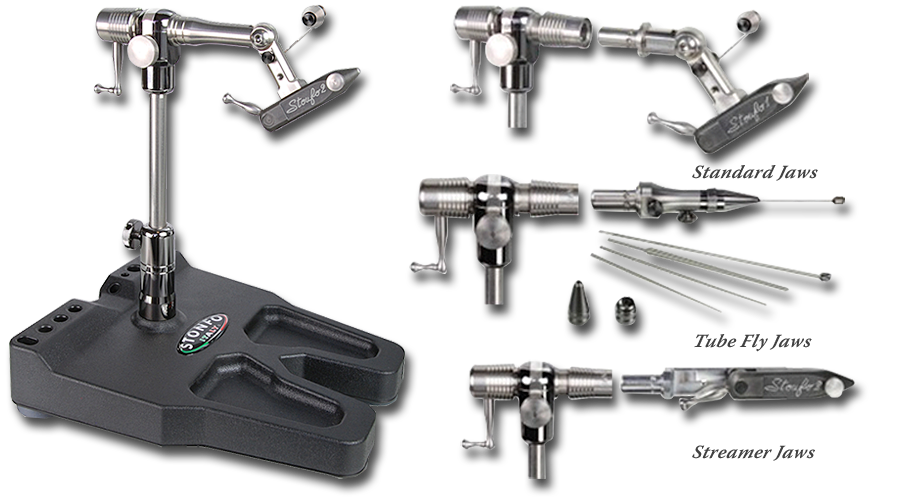 These alternate jaw options are easy to interchange with each other, and for some tyers offer perfect solutions to their tying challenges.
Conclusion
Your vise is the most important tool in the fly tying game, without a doubt. Purchase the best vise you can afford, and it will serve you a lifetime. Take all of these ideas into consideration when making your next big decision on what vise to commit to for the long haul. There is no simple answer to which one is the best. They all have distinct features, and it is a very personal thing to find the vise that fits your style of tying. Hopefully this article can point you in the right direction and help you know what features to look for during the vetting process. Remember that you can always give us a shout at The Fly Shop® to answer any other questions you may have to aid in your decision. We live and breathe this stuff and are always here to help!
Top 5 things to consider before purchasing your new fly tying vise:
1) What type of flies are you most into tying?
Trout, salmon & steelhead streamers, saltwater, tube flies?
2) What size flies will you mostly be tying?
Small, medium, large or all sizes?
3) Do you want a Standard or Full Rotary vise?
Strictly personal preference
4) Will the vise be permanently mounted at your home bench, or will you travel with the vise as well?
C-clamp, pedestal or BOTH?
5) Do you prefer the spring style jaws or locking cam style jaws?
Regal or Dyna-King?
Give us a shout at (800) 669-3474 if you have questions about purchasing your next vise or any general fly tying questions.