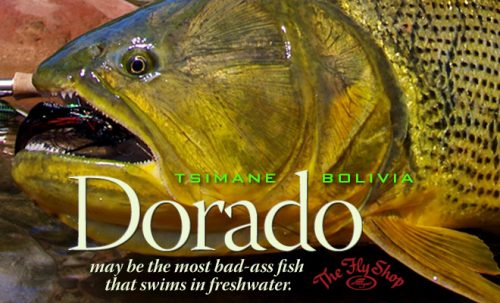 The Fly Shop® is Bullish on Tsimane's Dorado Camps for 2021.
We're going long on the fabulous Bolivian dorado fishery – Tsimane in 2021! Tsimane blends, like no other destination on Earth, the best aspects of fly fishing: sight casting, freestone mountain rivers, wading, clear waters, floating lines, and four different exotic jungle species of fish reaching very significant sizes. The fishing at Tsimane is like streamer fishing in a freestone river for tarpon on steroids. Dorado are badass game fish, high jumpers, strong runners and tremendously savage! Tsimane is a unique jungle fly rod challenge,  perfect recipe for a jungle fly fishing adventure of a lifetime.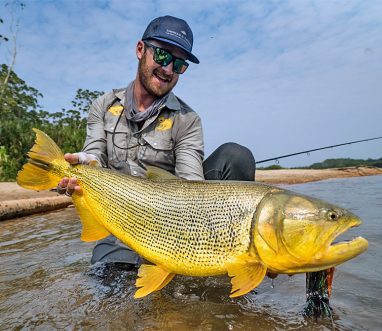 All of the Tismane camps will be opening in 2021! That's right, we recently learned from our friends at Untamed Angling that the Bolivian Environmental Ministry and the National Service of Protected Areas officially authorized the re-opening of the country's national park for tourism. 
By the start of the 2021 season, all of Tsimane's fisheries will have been rested for over a year. The fishing will be as good, better than when it first was discovered more than 10 years ago.  Why, because 10 years ago we didn't know squat about the fishery, except that it was loaded with Dorado. Now we have a thorough understanding of the resources and with virtually no one fishing it for a year, it will no doubt be spectacular. 
Be among the first to fish dorado at Tsimane in 2021. Space will be limited next season due to the number of 2020 anglers that were rolled over to 2021, however, some great weeks are still available.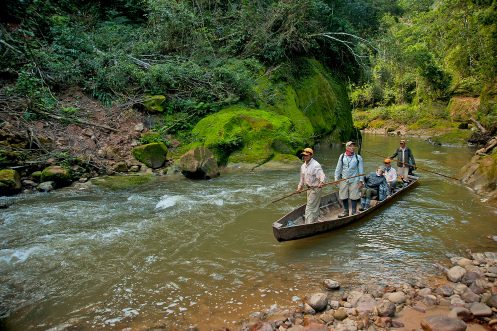 2021 Pluma Lodge:
From Pluma Lodge anglers have access to three different rivers, each different and unique: the Pluma River, Itirizama River, and the lower Sécure River.  This broad variety of waters and pools allow groups to fish fresh water every day, and rarely, if ever, repeat a beat.  The water types vary from deep pools to rugged terraced pocket water to classic runs and boulders gardens.  
June 12 to 19, 2021 (3 spots)         
July 24 to 31, 2021 (2 spots)
July 31 to Aug 7, 2021 (7 spots)
August 14 to 21, 2021 (2 spots)
October 16 to 23, 2021 (8 spots)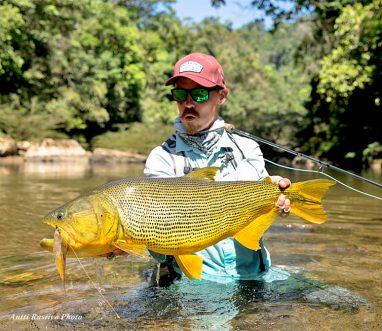 2021 Sécure Lodge:
Sécure Lodge is far upstream from the other two Tsimane camps and can accommodate six anglers maximum. Its fishing program is varied with upper beats of the Sécure River above the lodge; extremely beautiful with crystal clear water, wedged among mountains with access to two small feeder tributaries. The downstream beats of Sécure are shallow and open, its clear waters gradually infusing color from tributaries and features more logs, sunken trees and subsurface structure, perfect ambush points for holding dorado.
May 28 to June 4, 2021 (6 spots)         
June 4 to 1, 20211 (2 spots)
June 11 to 18, 2021 (1 spot)
June 16 to 23, 2021 (1 spot)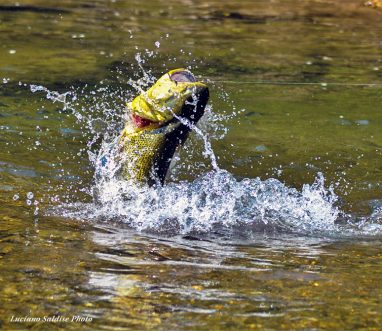 2021 Agua Negra Lodge: 
Agua Negra sits high on the banks of the middle Sécure River and only accommodates four anglers maximum at one time – perfect for small inclusive groups of anglers. It's fishing program focuses on the lower Agua Negra – wide and shallow, the Middle Sécure River and Upper Agua Negra Spike Camp – reminiscent of a Catskill's trout brook .  The variety of water at Agua Negra is amazing from small pocket water and plunge pools on the upper sector to the massive wood strewn runs that hold ambush-ready dorado.
June 26 to July 3, 2021 (2 spots)     
October 23 to 30, 2021 (4 spots)
Sep 25 to October 2, 2021 (4 spots)
Peace of Mind:
If the 2021 season is closed due to Covid-19 in Bolivia, you will be assigned to the 2022 season with 100% credit.
Tsimane availability next season will be tight, but space still exists. If you are interested in fishing Bolivian Dorado next summer, please don't delay in making your plans.  Give us a call at (800) 669-3474, or email us at travel@theflyshop.com.
The Fly Shop Team®
travel@theflyshop.com
(800) 669-3474 • (530) 222-3555