As if the Tsimane experience wasn't exciting enough, our partners at Untamed Angling have again raised the bar with a helicopter fly out program. Miles and miles of never before fished dorado water, not accessible on foot or from  boats, is now reachable by short daily flights in two helicopters from Pluma Lodge. For 2024 anglers will have the option of six full days of helicopter fly-outs or a hybrid fly-out week, featuring 3 fly-outs and 3 days of boat/walk and wade fishing.  This is fly-out fishing on steroids, the ultimate jungle fly fishing adventure on the planet, and we couldn't be more excited about it. Period.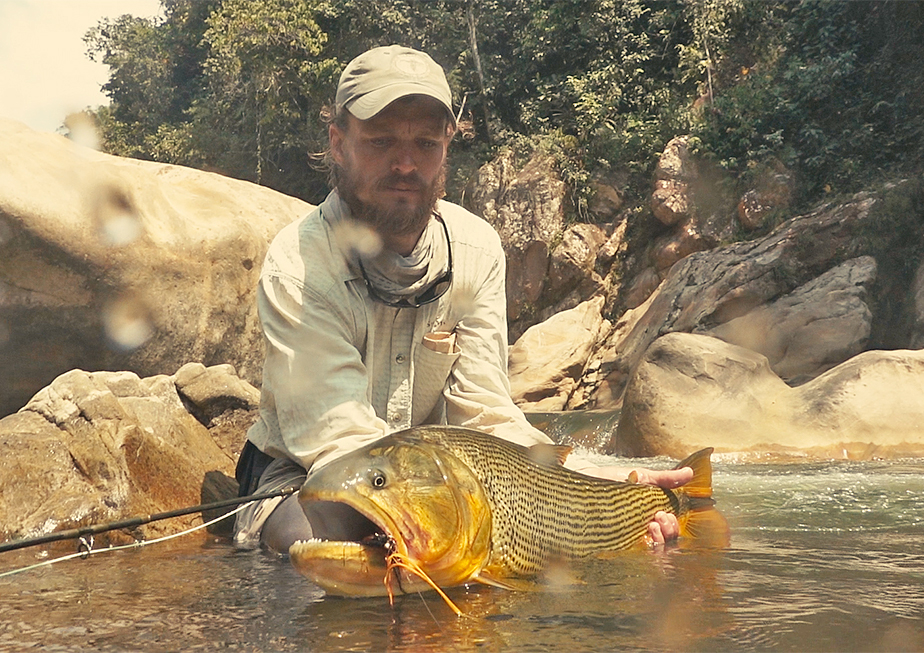 Reservations & Rates
▲ 9 nights / 6 days fly-out fishing package $16,000
▲ 9 nights / 3 days fly-out & 3 days boat/walk and wade fishing package $12,500
Inclusions
7 nights at Secure and Pluma lodges with all the meals and beverages | Wi-Fi and laundry, free of charge at both lodges | a total of 6 (six) days of guided fishing, transported by helicopter or fishing in the regular Lodge waters if the weather doesn't allow us to fly | two nights in a Santa Cruz at five-star hotel, single/private room | transfers in/out of Viru Viru International Airport, Santa Cruz, Bolivia
Non-Inclusions
International flights to Santa Cruz de la Sierra | food and drinks in Santa Cruz de la Sierra (except breakfast at the hotel) | tips and gratuities for the staff | tours in Santa Cruz de la Sierra | travel Insurance | Air taxes and other taxes
Travel Insurance
The Fly Shop® is not in the insurance business, but we recommend RedPoint and Global Rescue (IMG) coverage as a service with a desire to see your best interests protected. It is impossible to know when an unfortunate situation (loss of luggage, fly rods, illness in the family, or an accident) may occur. However, such things can and do happen, and this insurance can provide a means of recourse against non-refundable financial losses.

• Travel Insurance Information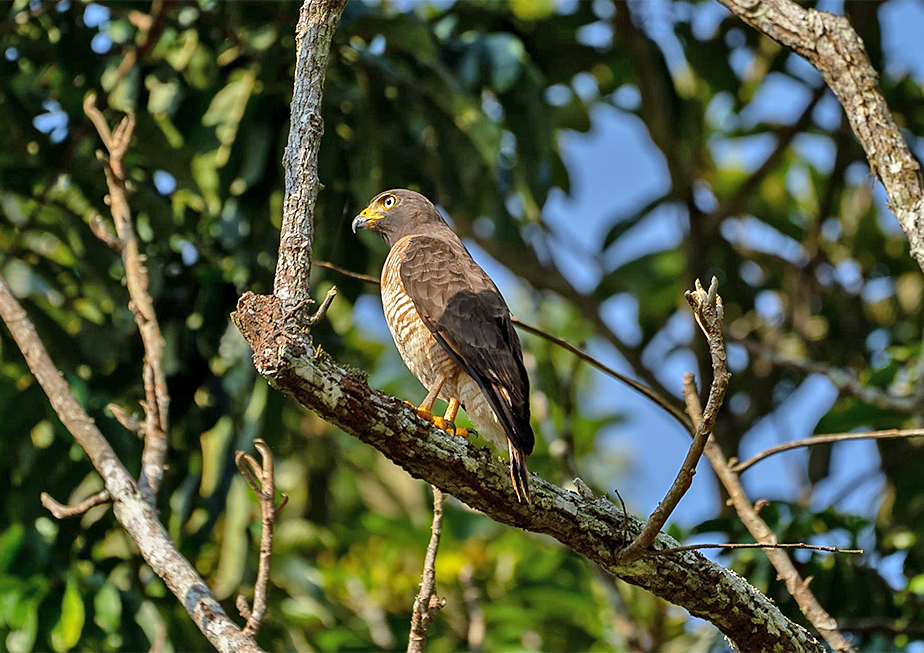 Seasons at Tsimane's Heli Fishing
The helicopter season runs from late June through Mid October and is timed to coincide with the dry season so the rivers will be at their lowest. Temperatures can see the 90's during the day and drop to the 50's or 60's at night over the course of its season. Of course, rains can come at ay time, but this is the best time of the year to fish there. The rivers are more like clear mountain trout streams where sight fishing is the rule.
Read More
Dorado, during their annual migration are always following the schools of local baitfish, called Sabalo, as these are there primary source of food. The Sabalo (and corresponding Dorado) migration begins in March or April according the intensity of the rainy season and water level. By May and June schools of Sabalo and Dorado are running upstream and present throughout the river systems in good numbers. These migrations continue throughout the season, so fresh fish are constantly arriving in the upriver sections.

What we tend to see is that in the earlier parts of the season, there may be fewer fish in the river overall...but those fish are super hungry and incredibly aggressive feeders, making for some truly exciting action. As you get later and later in the season, there are indeed more fish around overall, though some of those fish have been in the system for an extended period of time and may not be quite as aggressive overall. In general, we find the balance between numbers of fish and aggressive behavior balance out, and hookups for anglers tend to be fairly consistent throughout the season. This means you can plan your trip around whenever you can be there, as ever week of the season has the potential to be the best!

This is the rainforest, with wild freestone rivers that are subject to runoff from periodic, intense storms. While blowouts are very rare, they can happen. Typically if the water comes up one day, it'll be fishable the next and seldom do anglers miss more than a couple of days without ideal conditions and hungry, happy fish.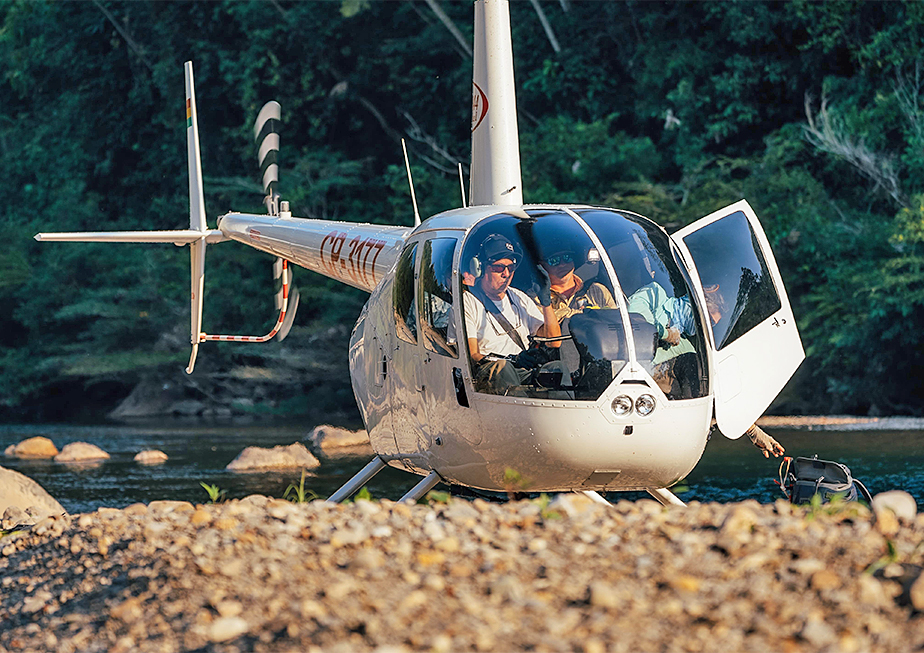 Getting to Tsimane's Heli Fishing
DAY 0 (Friday)
(Friday) Arrival in Santa Cruz de la Sierra. A host will be waiting for you at the Viru Viru International airport (Santa Cruz de la Sierra). Transfer from the airport to a Santa Cruz five-star hotel for the first night (breakfast included the next morning).
Read More
DAY 1 (Saturday)
Breakfast at the hotel. A host will pick the group up in the morning (time to be confirmed the night before). Transfer to El Trompillo Domestic Airport. Charter flight to Oromomo or Asunta Villages airstrips (depending on where you start the week) where the lodge team will be waiting for you. Dug out canoe ride from the airstrip to the lodge. In the evening, guides will help you prepare tackle and give a brief orientation about the fishing week.

DAY 2 to DAY 7:
Every day after breakfast, the helicopter will take anglers to the remote and untouched headwaters of Tsimane. Flight time is approximately 5-20 minutes, depending on the location. By the end of DAY 4 (Tuesday), anglers switch lodges—if you started in Pluma, you'll be heli-transported to Sécure and vice-versa.

DAY 8 (Saturday)
After breakfast, anglers will boat in a dugout canoe ride back to Oromomo or Asunta airstrips (depending on where your combined lodge week finished) to take the charter plane back to Santa Cruz. Once there, a host will pick you up and bring you to the five-star hotel where you'll spend your last night in Bolivia.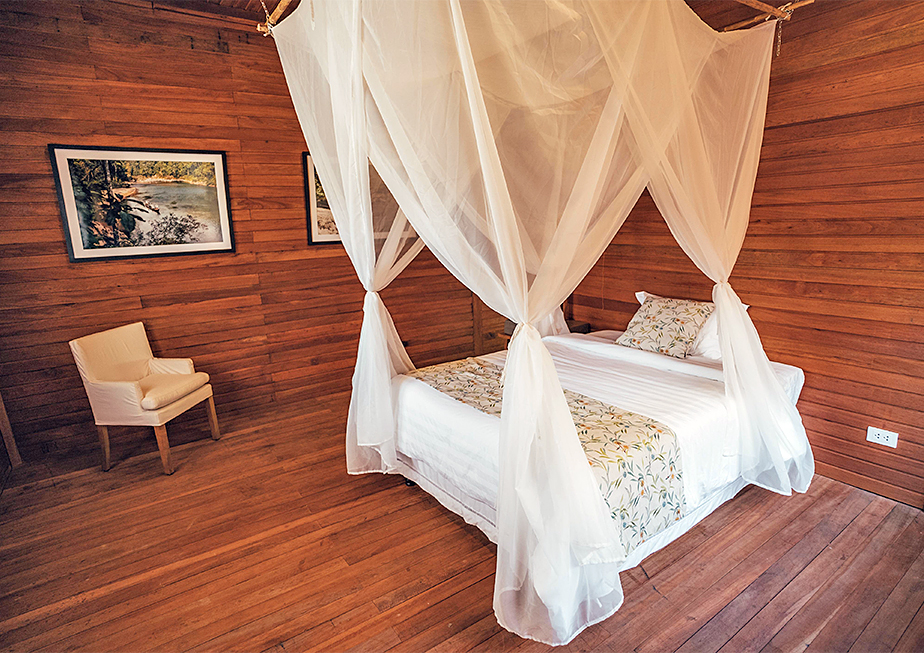 Lodging at Tsimane's Heli Fishing
Even in one of the most remote places in the world, guest will enjoy the comfort and style of a world-class destination.

Both Sécure and Pluma Lodges are very comfortable jungle lodges, built entirely from sustainable wood cut from the nearby jungle. The lodges feature six single rooms for up to 4 anglers.

The lodges are all brand new, and feature single/private rooms with private bathrooms, a queen size bed, a desk, an armchair, hot water, and electricity.
Read More
Generators provide electricity, 220-volts, so be sure to bring the proper adapters depending on your electronic device and country of origin. You can charge batteries and use electric shavers or hair dryers. Solar panels are also incorporated into the electronic grid for increased efficiency and sustainability. Electric power is available from 6:00 am to 10:00 am, and again from 5:00 pm to 12:00 am.

The Tsimane Pluma Lodge is built entirely from sustainable wood cut from the nearby jungle. The main lodge features four log cabins and sleeps up to eight anglers. Each cabin has spring box beds, private bathrooms with hot water and electric lights. Every evening guests will be delighted by the delicious International cuisine paired with great Argentine wines in a well-fashioned, spacious living and dining room.

Other features include:
• A private dining & living room
• Massage room
• International cuisine paired with great Argentinean / Chilean / Bolivian wines in a well-fashioned living and dining room
• All-inclusive bar: liquor, spirits, and special drinks
• A heliport
• Free Wi-Fi
• Free laundry
• Fly shop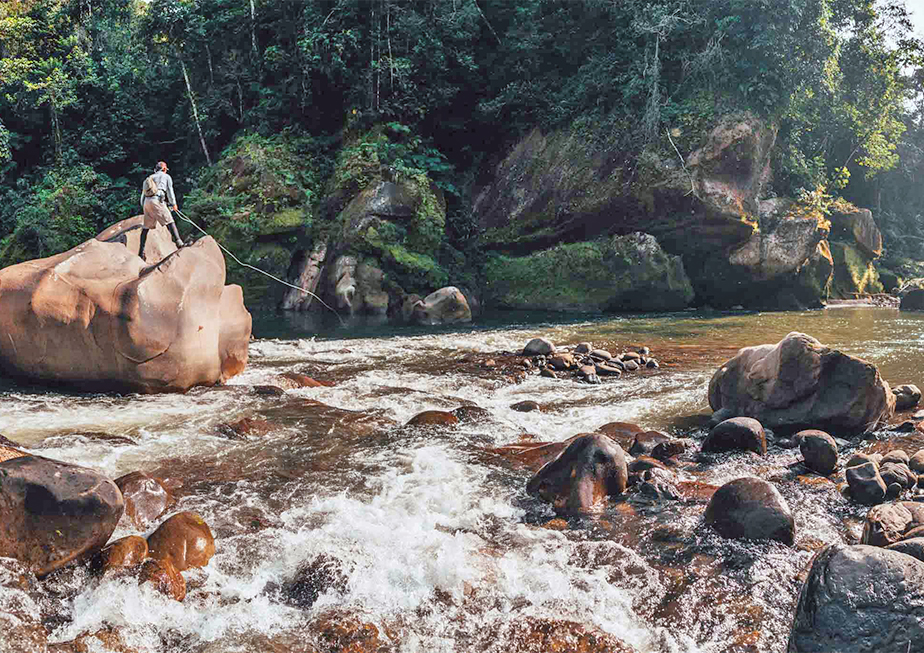 Heli Fishing Program at Tsimane
The season starts in late June and ends in late October.

They will operate two helicopters (one per lodge), both Robinson R44 RAVEN II with a capacity for a pilot plus three passengers (two anglers + one guide).
Read More
Each morning, the helicopters will fly pairs of anglers with their guides to different locations in the high-country to a variety of unspoiled headwaters in the vicinity of Pluma and Secure lodges. Lunch and cold beverages are carried by your and cold beverages for the fishing day.  At approximately 5:00 PM the helicopters will pick the groups up and return to the lodges.

All guides will have satellite communication to ensure permanent contact with the helicopter pilots and the lodges. The home-waters around both lodges will be also available and completely rested (as the regular program of Pluma and Secure lodges will not operate) in case of no- fly weather or if anglers prefer to try the classic Tsimane experience.

Besides the Dorado (the king of the river) there are other species to pursue, such as Pacu (our jungle freshwater permit) and Yatoranas. Together these species make a trio very difficult to match in warm freshwater fly fishing. The rivers we fish are very similar to freestone trout rivers with similar looking pools, runs, pocket water, and riffles. If you are a good and pragmatic trout angler, you will feel comfortable reading and fishing our rivers.

Fishing in these rivers, regardless of the huge populations of fish, represents several challenges for the angler. These fish can be spooky in such small and clear water and every pool and run must be thought-out and a plan developed with your guide before casting a fly into it. Dorado are very fast swimmers, super aggressive and flies must be placed not only with accuracy but also at the right time. Anglers who are able to shoot 60 feet of line with one or two false casts will have a big advantage. Being able to double haul in order to generate line speed will be a huge advantage. The flies we use are generally quite large and most anglers find it difficult to cast them accurately, with distance – in a hurry. We encourage guests to practice in order to get familiar with their equipment, flies and lines.

It's also worth noting that it is important to go light, carrying what you need in your shirt and pants pockets; a few flies, a spool of mono, pliers on your waist and nothing else. A small lightweight and waterproof backpack is highly recommended.

Catch & Release:
Tsimane practices a strict catch and release policy on all species. Avoid unnecessary handling of the fish. Barbless hooks are mandatory. Handling these fish requires special precautions, not only to avoid harming them but also to prevent injuries to anglers. All of these fish have very strong jaws and razor sharp teeth. And they know how to use them.

Wading:
Most of the fishing at Tsimane is done by wading in the river or fishing from the bank. The river structure varies tremendously, from sandy and small gravel beaches to sharp volcanic rock shoals transitioning through all kind of freestones and boulders. Wading is not difficult or dangerous; however there is a lot of it. We recommend guests to at least do some walking/running the weeks prior to their visit.

We strongly recommend our guests to wade behind their guides and to keep their eyes open. Stingrays are rare, but present in these waters and an unfortunate misstep can result in an extremely painful ordeal. For protection, stingray guards will be provided when necessary (you can bring yours if you want to). Together with a sturdy wading boot, keeping your eyes open and moving slowly you should experience no problems. It is very important to listen to your guide, follow behind him and his experienced and sharp eyes.

Wading Equipment:
Fast drying pants or shorts over a lightweight base layer (Patagonia Capilene # 1 or running tights), sturdily built wading boots, gravel guards and stingray guards as well as a wading staff is recommended.

Fly Fishing Gear: Fly Rods: 8 or 9 weight single handed rods, 9 feet in length are highly recommended. The 9 weight is the Tsimane standard. We also recommend bringing a light 6 weight rod for fishing big dry flies for Yatoranas in small creeks and tributaries.

Ideally, you should have two rods rigged with different lines or flies at the boat. One 8/9 weight rigged with a good dorado streamer and other one with a Pirapitinaga fly. An extra backup rod will be necessary. Powerful rods with a strong butt section are a must. Saltwater fly rods are perfect. Consider carrying a spare rod with you each day, just in case you blow one up on these fish.

Fly Reels: As with rods, reels that have been designed for saltwater fly-fishing are the best choice. Fly reels that feature a strong, smooth disk drag with a large arbor spool are perfect. A big Dorado or Pirapitingas will easily have anglers into their backing. Bring a reel that you are comfortable with and that is in good working order. Weight of the reel is important; since you will be casting a lot, keep it light. 30 pound backing is required.

Fly Lines:
Most of the fishing is done close to the surface. Weight forward floating lines for tropical waters is what you need. We've worked closely with Scientific Anglers to design a line specifically for use in these jungle environments: The SA Jungle Titan Taper. Other tropical lines like a General Saltwater Taper, Redfish Taper, Rio Outbound Tropical Short or comparable warm water fly lines will also work. At times a clear intermediate tip line (also available in the Jungle Taper) can be good, especially if a cold front moves through or rains bring the water up. Do not bring conventional cold water floating lines, as the hot weather makes the lines turn soft and gummy. It can also be a good idea to bring a fast sinking tip or shooting taper. For this we recommend a 200 or 250 grain 15 foot sink tip, just in case…

Leaders:
Spools of Fluorocarbon should include 40, 30, 20 pound breaking strengths. Due the rocky river-bed and other aggressive fish in the rivers, we prefer fluorocarbon material. When fishing in off color waters or with sinking tip lines for Dorado, sophisticated leaders are not needed. However when fishing under normal clear water conditions with floating lines, everything changes. We tie some specific leaders according the species, the conditions and the size of fly we are using.

Normally, we use 6 - 9 foot leaders with a heavy butt section and 20 - 30 pound tippet breaking strength. This allows good presentation for big flies without spooking them. Our guides can assist you in building a leader for each fishing situation. You don't need tapered leaders, just bring spools of 40#, 30#, and 20# Fluorocarbon.

Wire:
All the fish we catch in Tsimane, are heavily armed with sharp teeth and wire tippet is necessary. Spools of 25 to 40 pound American Fishing Wire, Rio or Tiger Titanium are fine choices. Please bring wire tippets in grey or camouflage color. Pre-tied Leaders (for barracuda or pike) are not recommended. Over the years we have learned that most of our guests under-estimate the amount of wire tippet they will go through during a week of fishing in Tsimane's waters. One spool of tippet is rarely enough, and we recommend you bring two spools of 40# tippet, and one spool of 30# tippet.

Flies:
For flies we predominantly use baitfish imitations, in full black, and/or a combination of black and red, purple, orange and yellow. Flies should swim well with good action and tied full with plenty of volume. Flies in lengths from 4 to 8 inches with barbless hooks 2/0 to 4/0 are the norm. High quality, saltwater hooks are required.

As for patterns the most typical fly used is the Andino Deceiver. It's similar to regular Deceivers but with bead chain eyes and a muddler or craft fur head. However other baitfish imitations have proved to be very successful, among them; Puglisi Streamers in medium to very big sizes, Lefty's Deceiver or Umpqua's Tarpon's Snake are good options. Flies with lots of flash are not recommended.

Pole Dancers, Foam poppers, Titanic's sliders (size BIG), big mouse imitations, and Dahlberg Divers are very good choices for Dorado on surface. Flies like the Chernobyl Ants or other big terrestrials and bugs imitations are excellent for Pirapitingas and Yatoranas.

Besides the Dorado (the king of the river) there are other species to pursue, such as Pacu (our jungle freshwater permit) and Yatoranas. Together these species make a trio very difficult to match in warm freshwater fly fishing. The rivers we fish are very similar to freestone trout rivers with similar looking pools, runs, pocket water, and riffles. If you are a good and pragmatic trout angler, you will feel comfortable reading and fishing our rivers.
What Makes This Destination Special and Unique?
• THE MOST UNIQUE DORADO FISHERY IN THE WORLD Tsimane is the only fishery we know of, anywhere in the World, where you can wade fish in clear mountain streams for Dorado. Tsimane is an extremely unique fishery, an exotic jungle fly fishing adventure, far off the beaten path and the #1 jungle fishing trip in World. If you had to make one jungle trip, this is the trip; it will change you for life.

• THE MOST RESPECTED JUNGLE OUTFITTER IN THE WORLD Tsimane is outfitted by the "Jungle Guys" Untamed Angling, the most experienced and recognized jungle outfitters in the world; the same fanatic anglers that discovered the Rio Marie', the giant peacock bass fishing destination in Brazil. These folks are pros with years of operating experience in the Jungle; you are in very capable hands. The management and staff will take care of all the logistics, support and mechanics of the trip, all you have to do is fish as hard as you can and enjoy the experience.

• GIVING BACK TO THE ENVIRONMENT AND INDIGENOUS PEOPLES Tsimane is an award winning collaborative program between local Indigenous Indians, the Bolivian Government and Untamed Angling in an effort to promote conservation, sustainability and culture. A portion of your dollars are making a difference in native's life and the understanding and conservation of the Bolivian Jungle and its native species. Thank you.

• DELUXE JUNGLE FISHING LODGE IN THE MIDDLE OF NOWHERE Just because you're in the most remote corner of the Bolivian Jungle mountain lands doesn't mean you have to be uncomfortable. Anglers fishing at Tsimane are accommodated in a deluxe lodge boasting every imaginable amenity you would expect in a topnotch fishing operation. Spacious guest rooms with full bathrooms, 24 hour power, ceiling fans along with fine cuisine prepared by a trained chef are what to expect. You sleep comfortably at night after a dining on world-class food and be well rested and fueled for a full day of fishing trophy dorado.

• WILDLIFE VIEWING ODYSSEY Tsiamne Lodges are located in a National Park; an Indigenous Territory named TIPNIS, within the regions of Beni and Cochabamba. It is part of the Vilcabamba - Amboró Conservation Corridor, in the Sub-Andean strip of the tropical Andes between Peru and Bolivia. Every day angler will see hundreds of Macaws, Toucans, giant and colorful butterflies, different mammals like jaguars, tapirs, and native deer, all living inside a pristine jungle forest environment. Anglers come to Tsimane to fish, but are exposed to wildlife viewing odyssey like a National Geographic movie. Bring your camera and your binoculars for this trip, you don't want to miss a thing…

• FREE USE OF FLY FISHING EQUIPMENT: If you don't have the appropriate fly fishing equipment, Untamed Angling can provide free use of T & T Fly Rods, Nautilus Fly Reels and Scientific Anglers Jungle Tapered Fly Lines. They also have conventional gear for those anglers that want to fish for catfish.