Rivers were the natural highways for natives to travel the backcountry, and float and fish trips allow us to see and experience what Alaska pioneers did 100 or more years ago. To go to Alaska just to fish is to miss out on what is really there to be caught. Every day is a new adventure where the fishing is often secondary to the grand splendor of the Alaska wilderness.
We encourage anglers with an ounce of adventure in their souls to experience a true wilderness float trip in the Alaskan bush…it will change you.
Founded in 1993, Alaska Rainbow Adventures quickly became one of the leading providers of float trips in Alaska. These guys have it dialed, and there is no one more capable to show you the remote backcountry wilderness of Alaska and keep you completely comfortable and happy than Paul and his crew. You do not stay in business that long unless you are doing things right.
Accessible only by floatplane, all these trips are handpicked to offer anglers the best opportunities to experience wild Alaska, at the best times to fish each location.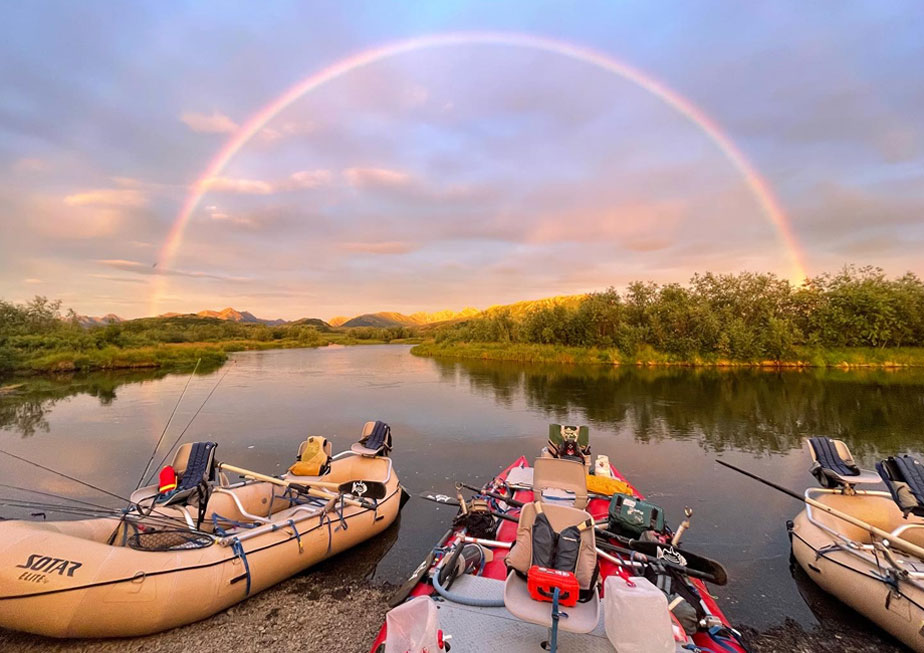 Reservations & Rates
Trips vary in length from 5-10 days for groups of 2-10 anglers and prices vary from $4,595 - $7,295 depending on the float.
Trips run from June to the end of September depending on the float and desired species.
Inclusions
Air transportation from the trip's starting point and return flight to the starting point unless otherwise noted. Accommodations while on the river in comfortable tent camps, meals, and guiding service. Alaska Rainbow Adventures also supplies life jackets for your comfort and safety.
Non-Inclusions
Overnight accommodations and meals at the starting or ending point of your trip, fishing license and tackle, gratuities, or items of a personal nature, your sleeping bag and pad for use on the trip, alcoholic beverages of any kind, park fees, taxes, travel/extraction insurance.
Travel Insurance
The Fly Shop® is not in the insurance business, but we recommend Travel Guard coverage as a service with a desire to see your best interests protected. It is impossible to know when an unfortunate situation (loss of luggage, fly rods, illness in the family, or an accident) may occur. However, such things can and do happen, and this insurance can provide a means of recourse against non-refundable financial losses.

• Travel Insurance Information
Seasons at Alaska Rainbow Adventures
While ARA offers multi-day wilderness float trips from early June through late September, one should note the Alaska fishing season is relatively short and revolves around the life cycle of the five species of Pacific salmon. The salmon arrive in Alaska's rivers not only at different times but at periods that can vary from watershed to watershed.

This availability of the salmon, and whether they are pre-spawn, actively spawning, or post-spawn can strongly influence the behavior of resident species, the rainbow trout, grayling, and char, and where in a watershed
Read More
they are available to anglers as they follow the life dance of the salmon. What phase the salmon are in, and where they are in the watershed goes far towards explaining how a particular week can offer average fishing yet have epic fishing in the same area the next.

No matter when you are here, they will put you on the best fishing holes, one after another, all day long as you present your fly to fish from one of our custom-built inflatables or while wading, and while doing so experience the whole of the rivers we float, rather than just a few miles from a lodge.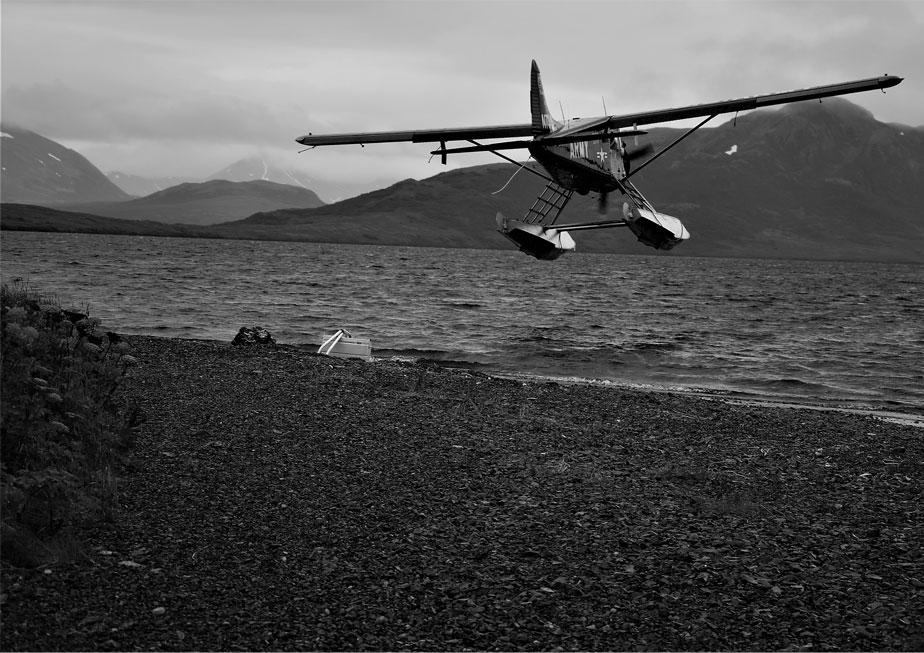 Getting to Alaska Rainbow Adventures
Trips start from the hub cities of Bethel, Dillingham, King Salmon, Iliamna, and Anchorage depending on the river you choose to float. On the morning of your trip, you will board a float plane from one of these hub cities for the scenic flight to the river. This charter float plane flight is included in the price of the trip, but you are responsible for airline arrangements to Anchorage and on to the hub city start to your float. Most floats require an overnight in the hub city as well. We will provide specific accommodation arrangement options upon making your reservation.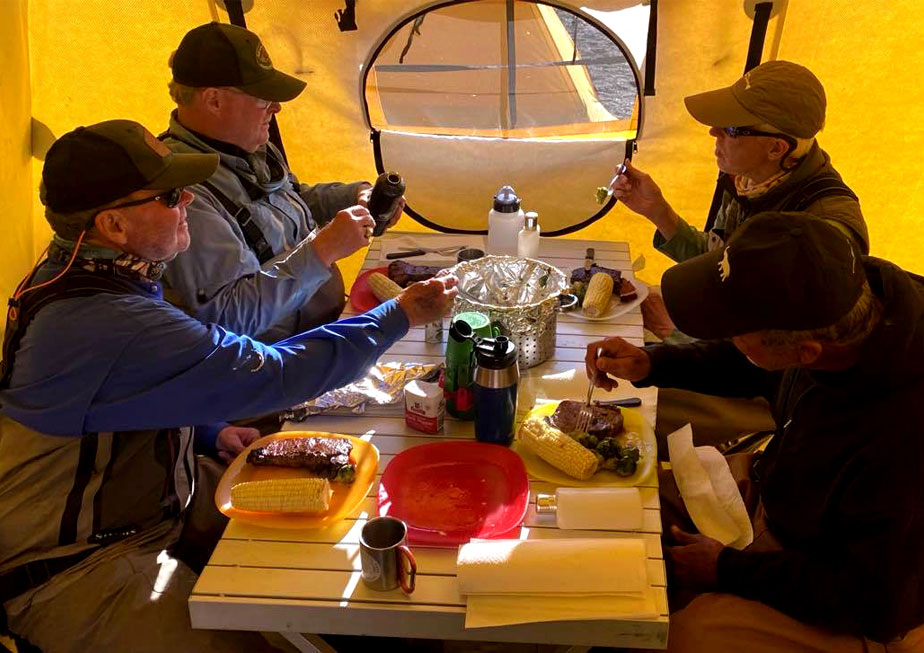 Lodging at Alaska Rainbow Adventures
Alaska Rainbow Adventures offers a few different types of float programs - Intimate Rivers, Standard, and Deluxe, depending on the river and your preference. Match up your comfort level to the species you are after, when you want to go, and we can get you exactly what you want in an Alaskan fly fishing adventure. Alaska Rainbow Adventures is also always up for putting together a custom trip for you and your group, so please let us know what river you are interested in and when you would like to go and we will do our best to make it happen.
Read More
Intimate Rivers Programs
The Intimate Rivers program encompasses a couple of ideas... they are floats on "smaller streams" that offer a more intimate overall experience, or can be a less expensive option on some waters that are normally listed as deluxe or standard style trips.

On some waters, this style of trip is necessary due to the river not having direct access by a lake or just because the size of the stream is such that the larger rafts used on deluxe trips are not practical.

These trips allow you to get up close and personal with trophy salmon, trout, char, and other species on smaller streams. You still get the same personal service and attention to detail that has long been a hallmark of an Alaska Rainbow Adventures fly fishing float trip.

This level of service is the least expensive option, utilizing smaller rafts and fewer amenities than the other trips all to save weight and the numbers of aircraft required. It is a roughing-it, bare-bones style adventure, without seats in the rafts or cots in the tents and are comparable to what most other operators offer as "standard" Alaska float trip fare, and not to be confused with the upgraded standard or deluxe style trips.

For tents, we use Everest expedition tents which are large enough that you do not feel crammed into one like a sardine without the oil, as you might in the one or two man tents some other operations offer.

While they try for a 2-1 guest to guide ratio on all their Alaska float fishing trips, occasionally when there is an odd number of participants the intimate rivers style trips will end up with a three to one ratio.

All their float trips require some participation and group effort. Your participation with unloading the rafts, moving camp gear, and setting up and taking down sleep tents is greatly appreciated. Each day anglers will be able to rotate guides enabling everyone to fish with each member of the staff. Intimate Rivers trips are only available on select waters... Arolik, Talachulitna, Aniak, American, Kwethluk, and Kisaralik rivers.

Standard Fishing Program
The Standard style trip program upgrades the experience and comfort level over the Intimate Rivers program and is available on select waters.

This trip is part of their "Alaska Lodge Style Float Trips" because the "accommodations" are like no other you will find on an Alaska float trip anywhere!

Each of these tents is used to house two anglers and is spacious enough to provide ample space for your gear, as well as being a comfortable retreat should the weather become inclement.

Alaska Rainbow Adventures equips these tents with chairs and comfortable cots, a welcome luxury after a day of fishing - just toss on "your pad and bag" and enjoy a good night's sleep.

The "Alaska Lodge Style Float Trips" also feature a custom-built dining tent and screened areas, both of which are capable of holding the entire group for dining or as a gathering area. Tents on these trips are all made in Alaska for its extreme conditions

"Standard" trips feature fourteen-foot rafts from some of the largest producers of whitewater craft in America to get you safely down the river. Each raft comes equipped with a custom rowing frame and a pair of high-back seats located in the front section of the rafts with gear and bags in the stern.

All of the Standard style trips will feature a 2-1 guest to guide ratio and require some participation and group effort. Your participation with unloading the rafts, moving camp gear, and setting up and taking down sleep tents is greatly appreciated. Each day anglers will be able to rotate guides enabling everyone to fish with each member of the staff.

The Standard style trip is offered on The Alagnak, Moraine, and Togiak rivers.

Deluxe Fishing Program
Alaska Rainbow Adventures Fisherman's Deluxe style trip program upgrades your experience and comfort level over their Intimate Rivers and Standard style programs and is available on select waters.

With three decades of experience behind them, the "Deluxe Alaska Fishing Programs" are for those of you whose days of tent camping in little tents and sleeping on the ground are behind you. They feature amenities that ensure you a safe and comfortable Alaska experience, and the fishing is pretty damn good too!

This trip is part of their "Alaska Lodge Style Float Trips and has the same accommodations above as far as sleeping and dining tents.

Where the Deluxe style trips differ from the Standard style...

You have two anglers and their guide floating the river in custom-built drifter rafts. Each of these is equipped with custom frames with casting stations front and rear, allowing for an exceptional angling experience.

The Fisherman's Deluxe-style trips also feature an additional gear boat on which the majority of the camp gear gets carried. The drifter rafts, being less heavily loaded, are then more maneuverable, allowing access to runs you might not otherwise be able to reach.

All the Deluxe style trips will feature a 2-1 guest to guide ratio and require some participation and group effort. Your participation with unloading the rafts, moving camp gear, and setting up and taking down sleep tents is greatly appreciated. Each day anglers will be able to rotate guides.

The Deluxe style trips are offered only on the Alagnak River

ARA has a separate style trip for the Goodnews and Kanektok Deluxe style trips... Where the Kanektok and Goodnews Deluxe style trips differ from the Fisherman's Deluxe stye are you have two anglers and the guide floating the river in custom-built rafts, each of which is equipped with custom frames with front and rear seating. This trip style does not offer the additional gear boat to carry the camp gear. Instead, they utilize significantly larger rafts for two anglers, guide, and all the gear in order to comply with USFWS regulations for these areas.

This trip feature a 2-1 guest to guide ratio and does require some participation and group effort.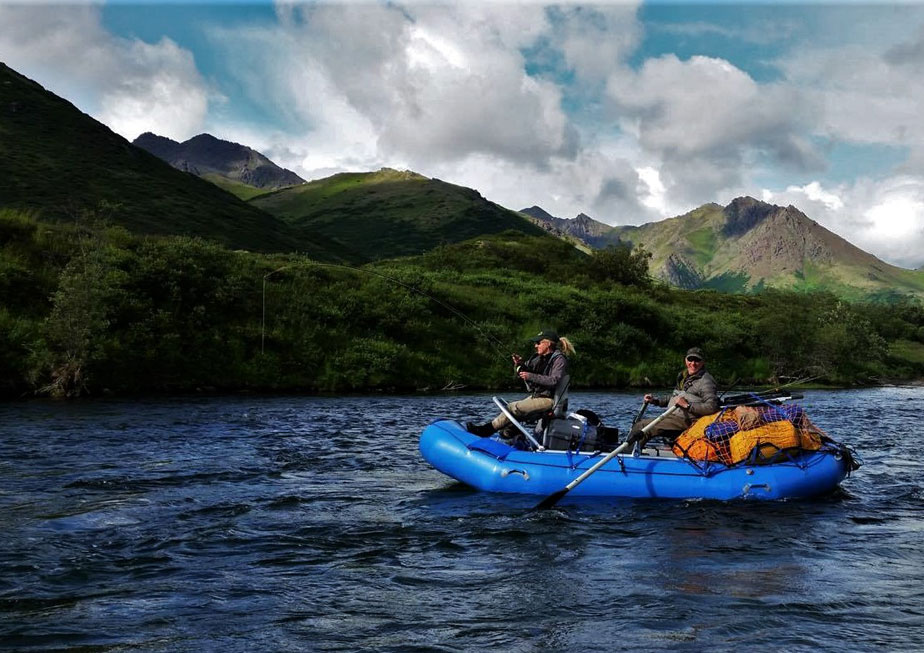 Fishing at Alaska Rainbow Adventures
Alaska Rainbow Adventures offers numerous Alaska float trips on the states most "epic" float waters, including the Kanektok or "Chosen" River, the Goodnews, the Arolik, Kisaralik, Kwethluk, Togiak, Stuyahok, Koktuli, Chilikadrotna, Talachulitna, Lake Creek, Alagnak, Moraine and the American River. Below is more detailed information on the most popular trips they run each season.
Read More
Alagnak River (Bristol Bay Region)
The Alagnak or "Branch River" is located 290 miles southwest of Anchorage, and accessed from King Salmon, Alaska.

The Alagnak River traverses the beautiful Alaska Peninsula, flowing about seventy miles from its twin sources of Kukaklek and Nonvianuk Lakes into the Kvichak River, shortly before entering Bristol Bay.

This river has a long history of being 'the river to float' for trophy rainbow trout fishing in Alaska. Its bountiful rainbow trout kick off the season on June 8th each year as they slash into out-migrating schools of salmon fry. Swinging large streamers like the Dolly Lama are popular at this time!

The Alagnak's clear waters also host some of the largest runs of Pacific salmon in the world with the one of the largest runs of sockeye in the state. Sockeye salmon and a few jack kings arrive in the waters of the river in late June, followed soon after by the main run of adult Chinook as the calendar slips into July.

The massive influx of salmon into this uniquely Alaskan fishery does not stop there, as the sockeye and kings are closely followed by chum salmon, with their runs in mid to late July headed to the lower two thirds of the river. Pinks come in droves in even years and silver salmon flood in from mid-August to well into September (when fall fishing for rainbow trout can be hot!).

Most years find Paul with a few trips scheduled during what we call "Sockeyefest" in late June through mid-July. While it is not just about fishing for sockeye salmon - as other species also abound - it is a celebration of the one fish species that drives the biological diversity of the region. If it were not for the tens of millions of these magnificent salmon returning, spawning and then in death feeding everything here, not much, not even the beautiful leopard rainbows the Alagnak is famous for would be here!

For an unbelievable Alaskan adventure ask us about combining the Moraine Creek float fishing trip with a segment on the Alagnak River in August and September for some of the biggest rainbows Alaska has to offer.

Aniak River (Kuskokwim River Drainage)
The Aniak is located about three hundred miles southwest of Anchorage. The Aniak fishes well beginning in mid-July with the king salmon run, and winds up in mid-September with coho salmon and rainbow trout fishing reaching their peak.

When conditions are right from mid-July to mid-September, the Aniak can offer exceptional angling for rainbow trout, all five species of Pacific salmon, Arctic char, grayling and even northern pike in the lower river. Most of the streams of southwest Alaska run crystal clear, including the Aniak during good weather, but we are talking optimal conditions, which is when things on the Aniak can be exciting. This is not the river for the inexperienced or those looking for an easy float, but the rewards can be exceptional!

Arolik River (Southwest Alaska)
The Arolik River is a fly angler's paradise. This pristine southwestern Alaska waterway is prolific in how it fishes, intimate in size, and manages to maintain those qualities along its entire length, all while offering the traveling angler an exceptional float fishing and wading experience.

The fishing season on the Arolik kicks off in early June as anglers target the region's heavily-spotted leopard rainbow trout. Soon after, sizable numbers of king salmon enter the river. These are the largest of the Pacific salmon and any angler tying into one of these behemoths within the confines of the diminutive Arolik is in for quite the battle - perhaps reason enough to plan a visit to southwest Alaska!

Up next, it's chum and sockeye salmon along with innumerable Dolly Varden and char. If you are lucky enough to be here as July fades into August, you may find yourself attempting to hook into all five Pacific salmon species, grayling, rainbows, and char all in one trip! This is when dime bright silver salmon first enter the Arolik and make themselves available to anglers well into September… which of course is also a prime time for rainbow trout that are now fat and sassy after a summer of plenty!

One should note that as with most strains of rainbow trout in Alaska, a mid to upper twenty-inch fish is likely to be ten or more years of age and the Arolik's beautifully-spotted rainbow trout are no exception. These trout share a love of eating mouse-like rodents or voles, so be sure to include a few durable mouse patterns in your fly boxes, such as the Morrish Mouse and/or Mr. Hankey. Action for these rodent-eating aerialists can be fast at times, though these rainbows are anything but predictable. As on any watershed in Alaska, these trout move around a lot and are found where there is food, and finding where that is can vary from week to week, so do not expect easy pickings, though there will always be plenty of Dolly Varden to fill in between these big rainbows.

Goodnews River (Southwest Alaska)
The Goodnews River float trip begins at Goodnews Lake on the North Fork - which is located some 385 miles southwest of Anchorage, AK - and accessed from the hub city of Bethel, Alaska.

If ever there was a place where the piscatorial stars align in Alaska it would be on the Goodnews River, in western Alaska.

Alaska Rainbow Adventures bookends their Goodnews River float trip program with trips to the Kanektok River each year, with the first trip starting on Independence Day and the fall session starting out on September 10th (where an eight- or ten-day trip is available).

This float fishing trip offers exceptional scenery, high wilderness values and non-stop fly fishing action. By the time mid-July gets here there are already a healthy number of rainbow trout, Arctic Grayling, King, Sockeye, Chum, and Pink salmon and the occasional northern pike available. As the month wears on, the Goodnews sees an influx of Arctic Char/Dolly Varden (affectionately referred to as "Charlies!"), and Coho (silver) salmon in epic numbers begin their return to the river.

In the gin clear waters of the Goodnews it is common to see a literal biomass of fish that span the river channel from bank to bank, and nose to tail as they move upriver from Bristol Bay and the Bering Sea.

Each day becomes a euphoric progression of hearty meals, amazing fishing, wildlife viewing, solitude, and the camaraderie of driftwood fires and the reliving of the day's events. It is a veritable Never Never Land for the fly fishing Peter Pan in all of us, and all you need are your happy thoughts and a confirmed reservation.

Kanektok River (Southwest Alaska)
The Kanektok River float starts some 360 miles southwest of Anchorage, AK, at the outlet from Kagati and Pegati Lakes, and is accessed from the hub city of Bethel, Alaska.

The Kanektok or "Chosen River" is one of Alaska's great fishing destinations, and as such, many an angler has found themselves spending hours poring over all the available literature about these fabled waters.

This is where mouse patterns go to "prove they are worthy" of being fished in the rest of the world, or to die! Our Independence Day start on the Kanektok River brings with it an explosion of rainbow trout action!

Yes, let the fireworks begin because this trip on the Kanektok is before any of the five species of Pacific Salmon populate the entirety of the river, and it is when the Kanektok's spectacularly spotted leopard rainbows are most available and are looking up!

You will fly to the headwaters of the Kanektok via a chartered floatplane from the village of Bethel, Alaska. For the next eight days and seven nights you will float, camp, and fish the river, taking in scenic vistas, netting rainbows, and as we slide into the lower reaches of this Southwest Alaska gem, take on the mighty Chinook, Chum, and Sockeye salmon as they arrive in the river bright and full of fight! In the fall the Kanektok's voracious rainbows have had a whole summer of feeding to fatten up and fill out, many easily growing to double the size they were in spring, and it is at this time they are truly at their prime. It is our September 10th start date that brings the seriously addicted rainbow anglers to Alaska and in particular to the Kanektok in search of these trophies. Everything works, be it drifting flesh or egg patterns, or on top with mouse patterns such as Morrish's Mouse, Mr. Hankey, or other rodent patterns. Toss in unusually large numbers of voracious "WOG"-crushing Coho's, uncountable numbers of dollies and other available species, and yes, the fishing is pretty much off the charts on this near hundred-mile float through Fly Fishing Heaven!

Flowing some ninety miles from Kagati and Pegati Lakes to the village of Quinhagak on the Bering Sea, the Kanektok River has long been known among trout aficionados as an amazing fishery for the much-acclaimed Alaskan leopard rainbow trout. The Kanektok has the distinction of being on the bucket list of many anglers, which speaks volumes of its reputation.

Given the length of the float, the vistas and sights, the numerous channels and braids, as well as the availability of stellar campsites, no two trips down this river are ever the same.

Like its sister rivers the Goodnews and Togiak, the Kanektok possesses monster runs of sea-run Dolly Varden/Arctic Char as well as superb Arctic Grayling in the 18"-22" range.

The river is also renowned for amazing runs of Coho (Silver) Salmon, as well as the jaw-dropping availability of Chinook (King) Salmon and non-stop Sockeye Salmon action, all depending on the time of year one chooses to float.

The Kanektok is one of Alaska's most productive and diverse fisheries, intimate and small for the first few days, fishing well for the species that frequent this section of the river; then becoming braided and offering idyllic and wadeable rainbow water. After you reach the lower thirty or so miles you are in perfect salmon water, truly an eic Alaskan wilderness fishing experience.

The multitude of campsite options predicates that the fishing from each evening's camp will be more than memorable, and quite likely will result in much rollicking around the fire that night, rehashing the fish tales with the opportunity to create more within a few steps of the campfire.

Moraine Creek (Bristol Bay Region)
Moraine Creek is located 220 miles southwest of Anchorage in the Katmai National Preserve, and accessed from King Salmon, Alaska.

The Moraine may be one of the more heavily fished streams in the Bristol Bay region, be it by anglers flying in for the day from area lodges or by the other locals, viewing Alaska's magnificent brown bears! But neither should keep you from considering fishing the Moraine as they are here for a reason - the sockeye salmon that have come here to spawn and the abundant numbers of rainbows that follow them. Angler success is high here and for the adventurer Moraine Creek is among the best locations to view, photograph and admire Alaska's Brown Bear in their natural habitat… and you will likely catch more than a few fish along the way!

All of this is enhanced by being on a float trip which puts you and your fellow anglers on the water before and after the planes from the lodges have come and gone for the day - in doing so you will get to fish the Moraine and see it for what it truly is, a small wilderness stream far from any roads that fishes exceptionally well and which at times you will find nearly abandoned but for you and your fellow anglers. While you never really know what you will get as far as the number of other people you may see on the Moraine, you can be assured of the opportunity to cast a line to many trophy rainbow trout and perhaps even that fish of a lifetime.

Togiak River (Southwest Alaska)
The Togiak River float starts some 350 miles southwest of Anchorage, AK, and is accessed from the hub city of Dillingham, Alaska.

The Togiak River in many ways epitomizes the fishing fantasy so many anglers envision when they think of Alaska.

Crystal clear water flowing silkily over round cobbled gravel beds, teaming with almost every species of fish known to inhabit this awesome land, and winding its way through miles and miles of soaring, jagged mountains. The Togiak is completely isolated, with only the gurgling of the river, the breeze in the foliage, and the cries of loons, eagles, hawks, and seabirds to provide the soundtrack to a fishing excursion unrivaled in North America.

The Togiak River ... meanders its way towards the Bering Sea coast from our put-in location at its headwaters on Togiak Lake. It passes a number of tributaries which offer phenomenal fishing, and jaw-dropping campsite vistas. It is not uncommon to sit around a roaring fire in the evening, recalling the day's fishing and wildlife viewing whilst the moon rises from behind the surrounding peaks as you listen to a chorus of wolves and owls calling out in the night.

Of course, all of this sounds idyllic; and we have not even discussed the fishing to be had here!

The Togiak boasts a large biomass of fish ranging from Dolly Varden/Arctic Char by the thousands and the beautifully-colored purple metallic dorsal-finned Arctic Grayling, to rainbow trout that max out in the 32"+ range… and did we mention the Coho (Silver) Salmon runs?

Silver Salmon so thick and feisty that you may find yourself back home weeks later asking your physician if he has a way to treat "Coho Elbow". These fish do not have far to travel from the sea, and aren't fighting a heavy current, so when they strike a fly they have energy to spare, and they will take it out on the angler with a vengeance.

Complimenting the Coho run, the Togiak also offers King Salmon as well as Sockeye Salmon runs that are very difficult to beat anywhere.


What Makes This Destination Special and Unique?
● Intimate Groups Small, intimate groups – usually 2-8 people a week – make this a perfect opportunity for inclusive groups of anglers and families that want a private fly fishing adventure. For most floats you will have the river all to yourself each day, or early mornings and evenings on the more popular floats. There is no better way to connect with family, friends, or colleagues than in remote Alaska on the banks of a river full of fish in complete solitude. Connect, fish, drink, eat, rest and repeat.

● Species Variety These floats are designed to cover and see lots of water on the river of your choice. Covering so much water puts you over a lot of fish and you will see the river evolve as you float down day by day. Depending on the season and river, you can test your skills on as many as ten species of fish, including Leopard Rainbow Trout, Arctic Char, Dolly Varden, Giant Kings, Chum, Pink, Sockeye and Silver Salmon, Grayling, and Lake Trout in beautiful surroundings…all with family or friends, or those that will be friends by week's end.

● Multiple Floating options Many outfitters have one or two floating options. Alaska Rainbow Adventures has over 15 different rivers to choose from, from small intimate rivers where it will be only you and your three closest buddies in complete solitude, to exploring the more popular options for that once-in-a-lifetime leopard rainbow. Tell us your desires and we will match the comfort level and desired species to make your trip one that is right for you and one you will never forget.

● Experience With almost 30 years' experience, Alaska Rainbow Adventures is the top outfitter for muti-day floats in Alaska. You can count on these guys to execute an amazing experience from start to finish. They have the right gear, local knowledge and their decades on the water have given them time to dial in each program to where they are at now; these folks are pros with many years of operating experience in Alaska. You are in very capable hands - the float staff will take care of the logistics of the trip; all you have to do is fish to your heart's content.