This South Island fly fishing Mecca is the #1 heli-fishing experience in New Zealand and possibly on the planet.
Cedar Lodge is located on New Zealand's South Island, about 90 minutes northeast of the resort community of Queenstown. The snow-capped peaks of the Southern Alps surround the Makarora Valley and the cozy lodge that has hosted the most illustrious names in fly fishing for nearly twenty-five years.
Still, of all the wonderful things that are said about the guides at Cedar and the spectacular location, it's the fishing at the lodge that has made this spot a must for serious fly-rodders. When you lift off from the heli-pad located on the property and turn in any of three directions, they are immediately inside Mt. Aspiring National Park. These are the most productive fly fishing grounds in the country and, arguably, the most difficult to get to on foot. The alpine geography of the park is spectacular. Other than the two-lane highway that carves through the center of this national treasure, there are no roads, and the trails to many of these incredible streams and rivers are extremely rugged.
All the water of New Zealand is open to the public, but Cedar Lodge using their B-3 Squirrel helicopter, can be on water in minutes that seldom sees anyone but Cedar guests. There are, in fact, more than two dozen blue ribbon streams and rivers within easy striking distance, fisheries with enough diversity to appeal to any angler. The most distant are the wild, rugged, coastal rivers, home to both sea-run and resident trophy browns and rainbows. The angling menu is completely filled with crystal clear spring creeks and classic freestone rivers.
Every day at Cedar is memorable, one that begins and ends with some of the most gorgeous flight seeing imaginable. Once on the water, the fishing and hiking are not particularly strenuous and the success of each day is measured by a different yardstick. Though large numbers of fish are not uncommon, what is more likely are large fish. Casting skills are important – accuracy more so than distance – and proper presentation is usually the only necessary key to success. Fly selection isn't critical as these often huge trout rise aggressively to any number of dry flies. Nymphs are devastatingly effective, and streamers are occasionally the answer to the trophy trout that swim in most of the huge, deep pools.
There's nothing fancy about the accommodations, yet they are understatedly elegant. Rooms are private, quiet, nicely furnished and, of course, each with a full bath finished. The property has been significantly updated in 2014. The grounds even include a 5 hole country golf course. Cedar is large enough to host eight anglers comfortably and has a casual atmosphere that makes guests feel immediately at home. There are no extras in the package once you arrive at the lodge. Every soda, glass of fine New Zealand wine, beer, or cocktail is included.
What isn't available is a lot of space. The best of the New Zealand fishing season is short, November through March, and much of the lodge is reserved each year by returning guests.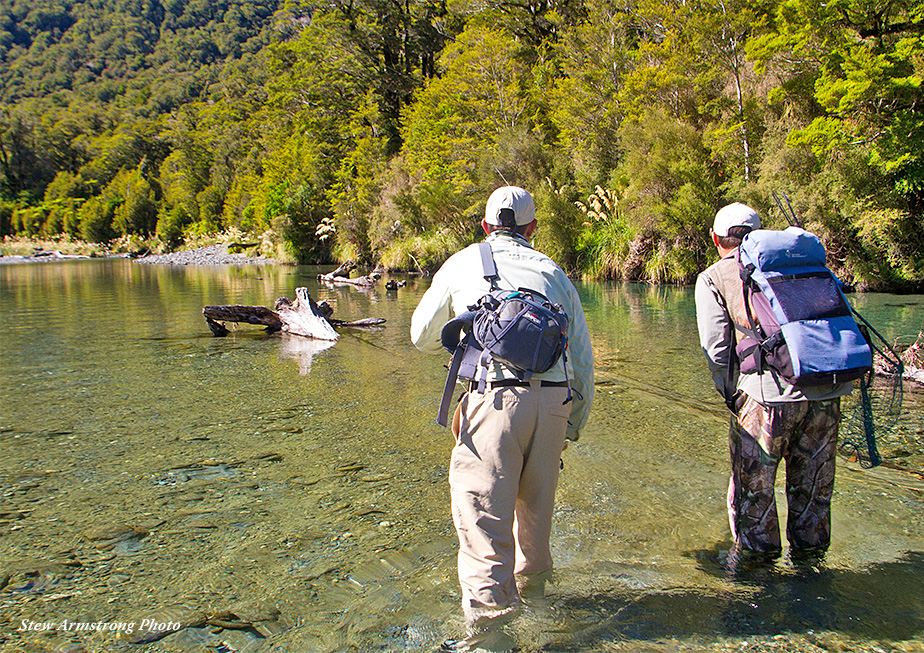 Reservations & Rates
The cost of the week-long Cedar Lodge package in 2022/2023 is $10,850.00 USD per person, double occupancy.

• All rates include the New Zealand Government Tax of 12.5%
• Shorter stay rates available (call us at 800-669-3474 for details)
Inclusions
Included in your angling package at Cedar lodge is all accommodations, meals, liquor, guiding services, loaner waders and rods and reels, and daily helicopter fly-out (weather permitting). Prices are based on shared twin accommodations and two (2) fisher persons per guide (though there are sometimes a limited number of single spots available, at listed prices).
Non-Inclusions
Not included in your angling package at Cedar Lodge are International airfare to New Zealand, round-trip auto transfer from Queenstown to Lodge, which costs $600 NZD for the car (it is typically cheaper to rent a car, if guests prefer), airport fees, gratuities or items of personal nature. All rates are per person, double occupancy unless noted otherwise. Prices are subject to change without notice.
Travel Insurance
The Fly Shop® is not in the insurance business, but we recommend Travel Guard coverage as a service with a desire to see your best interests protected. It is impossible to know when an unfortunate situation (loss of luggage, fly rods, illness in the family, or an accident) may occur. However, such things can and do happen, and this insurance can provide a means of recourse against non-refundable financial losses.

• Travel Insurance Information
Seasons at Cedar Lodge
The seasons in the southern hemisphere are the opposite to those in Europe and North America. Cedar Lodge is located in the heart of the South Island of New Zealand and enjoys a temperate climate.

Spring (November):
The functional opening of the fishing season for Cedar Lodge, and the rainbow trout are just gaining their post-spawn weight back again. There is often dry fly activity, but the emphasis is often with nymphs. The trout
Read More
are sometimes still in groups, so higher per day catch rates are not unusual. Anglers should expect cool-but-warming air temperatures.

Early Summer (December):
This is considered peak fishing, particularly sight-fishing for numbers of trout – action can be with both nymphs and dries. Possibly the best time if you like the smaller mountain streams, as the water flows are still full, so the fish are not yet especially finicky (by NZ standards). The days are long and warm, and because Americans generally don't like to travel to fish during the holidays, the streams are pretty lightly fished.

Mid Summer (January, February):
The most popular time for fly fishermen to visit New Zealand. The good news is the rivers are low and easy to wade, and the trout are easy to spot in the streams... but the good news also means the fish are warier, and more selective. On smaller rivers – usually meaning the mountain streams - these conditions demand careful stalking and delicate presentations with small dries and nymphs. On larger freestone rivers anglers can expect some great cicada and other terrestrial dry fly fishing.

Late Summer (March, April):
The most calm, dry, and predictable weather of the season, historically. Less fishermen means the trout start getting less fussy again, and both dries and nymphs can produce well. Expect cool-and-getting-colder air temperatures. After a long summer of eating, trout tend to be in superb condition.
Getting to Cedar Lodge
For the next 6 days, you'll be fishing at one of the most famous fly fishing destinations in New Zealand!

Depart the States for New Zealand:
Direct flights from the Los Angeles International Airport (LAX) or San Francisco International Airport (SFO) via Air New Zealand depart in the evening, arriving two days later into Auckland on the North Island of New
Read More
Zealand. Though the flight time from LAX or SFO to Auckland is only 12 to 13 hours, you will cross several time zones and the International Dateline, arriving two days later on the calendar.

Arrive in Auckland:
Air New Zealand flights will arrive into the Auckland Airport, a super-modern international facility, early in the morning. Here you will clear immigrations (passport control) and customs. This is all very easy, and you will immediately know you are in a different land, by the courteous and polite nature of the airport officials.

From the International Airport it is a five minute, free shuttle bus ride (or a pleasant 15-minute walk, albeit with your luggage in tow) to the adjacent Domestic Terminal. Here you will take one of several daily domestic flights via Air New Zealand to Queenstown on the South Island. The flight takes only about an hour and fifteen minutes. Located on the shores of Lake Wakatipu, which means "Lake of the Sleeping Giant" in the native Maori tongue, and across from The Remarkables mountain range, Queenstown is the South Island hub for adventure tourism, magnificent scenery and emerald blue waters.

Once you arrive in Queenstown, there are two options. If you are scheduled to go directly into the lodge, we can provide contact information for a private driver. The driver, who knows every bump in the road, will leisurely make his way up the valley in an air-conditioned vehicle, showing you some of the highlights along the way, with a stop for lunch, if appropriate, time-of-day-wise. The drive from Queenstown to the lodge takes approximately 1 1/2 hours. The cost of the round-trip auto transfer from Queenstown to Cedar Lodge is $600 NZD – for the car, and should be paid to the driver in cash upon arrival at Cedar. If there is a group, the amount will of course be split between everyone. If you will be spending the night in Queenstown before heading out to the lodge, there are a number of excellent accommodation options to choose from – we will be glad to help you with this choice. Then, the next day at a pre- arranged time, the driver will meet you here and transfer you to the lodge.

Depart New Zealand for the States:
After breakfast and saying your goodbyes to the Frasers, anglers will be transported via auto back to Queenstown in plenty of time to catch a flight up to Auckland to begin their journey home, or the continuation of their New Zealand angling or travel holiday.

Direct flights from Auckland to LAX or SFO depart in the evening between 7 and 11 p.m., arriving Stateside the same day, mid-morning (remember the International Dateline).
Lodging at Cedar Lodge
Some might argue that the world-class fishing is secondary to the mouth-watering taste sensations from Cedar Lodge's kitchen!

Cedar Lodge's 5-acre property lies astride the banks of the Makarora River, dead-center in the Southern Alps and is bounded by the majestic Mount Aspiring National Park. Once you lift off in the lodge's modern
Read More
B-3 Squirrel helicopter, you can travel in any direction over spectacularly rugged and beautiful mountain landscapes before setting on the banks of a wild "kiwi" river for a day's fishing. Heli-fishing with Cedar Lodge is trophy trout hunting like no other.

There are 4 spacious and comfortable double occupancy rooms, connected to the main lodge with a breezeway. The rooms have recently been remodeled and feature en suite, full bathrooms, comfortable beds, and offer plenty of space to unpack and organize your gear. The large picture windows in the rooms afford amazing views of the Southern Alps and Mount Aspiring National Park.

These gourmet delights are created by one of Cedar's fabulous chefs.

Cedar Lodge features the very best "clean and green" produce New Zealand has to offer. You'll dine on world famous Lamb and Venison, fresh seafood from NZ's bountiful ocean, farm fresh vegetables, fruits freshly picked, and exotic desserts that are to die for!

Your evening dining might begin with New Zealand King Prawns - stir fried in lime oil and served on Udon noodles, topped with a red pepper sauce... followed by the main course - French Cut Venison Rack served rare on a bed of garlic mash with a redcurrant jus accompanied by a medley of fresh seasonal vegetables... and your delectable dessert - decadent, smooth as velvet, Lemon Crème served in a demi-tasse with coconut praline on the side.

As always, each meal is complemented with a selection of award winning New Zealand wines from legendary wineries such as Matua Valley, Villa Maria, Kim Crawford, Church Road, Akarua, and Two Paddocks.
Fishing at Cedar Lodge
The use of felt-soled boots is now banned in New Zealand.

These are full fishing days, and the exact schedule will depend on the guest's wishes, water conditions and prevailing weather conditions. Anglers, two at a time with a guide, will board the modern and safe B-3 Squirrel helicopter at the lodge or nearby landing zones and fly to one of a dozen or better remote rivers, usually no more than 20 minutes away. You will be in the field all day, until the helicopter returns
Read More
in the afternoon at an agreed upon take-out site. Seasoned Kiwi guides will carry lunch, ground-to-air capable radios and emergency supplies.

All the water of New Zealand is open to the public but Cedar lodge using their B-3 Squirrel helicopter, can be on water in minutes that seldom sees anyone but Cedar guests. There are, in fact, more than two dozen blue ribbon streams and rivers that are within easy striking distance and these fisheries have enough diversity that they appeal to every angler. The most distant are the wild, rugged, coastal rivers where there are sea run brown trout and resident trophy browns and rainbows. The angling menu is completely filled with crystal clear spring creeks and classic free stone rivers.

Typical Fishing Day:
7:00 a.m. - Coffee is ready
8:00 a.m. - Breakfast is served
9:00 a.m. - The first helicopter departs for the day
5:00 p.m. - Extraction out of river by helicopter back to Cedar Lodge
7:00 p.m. - A gourmet dinner is served

Special Notice Regarding Felt-Soled Wading Boots:
The use of felt-soled boots is now banned in New Zealand. The move is to help prevent the spread of the introduced alga, Didymo, which is a microscopic organism that can be transferred on wet equipment. Felt soles are a high risk as it is impossible to effectively decontaminate the soles other than by freezing, which is not practical in all circumstances. In any event, we would not recommend bringing felt-soled wading boots into the country - unless the traveler has proof that they have been decontaminated, customs will seize the boots. With forward notice, the lodge can provide wading boots for clients.
What Makes This Destination Special and Unique?
• One thing that truly sets Cedar apart from other NZ lodges is that they do all their fishing via short helicopter flight access, the cost of which is included in the package rate. Not only do you start and finish each fishing day with some spectacular flights in the Southern Alps, but you access streams that get almost no pressure outside of Cedar Lodge guests. With so little pressure, the big trout in these streams are aggressive, translating into more hookups for anglers of all skill level.

• With only eight guests a week, and being owner/operated, Cedar Lodge maintains a very flexible fishing schedule, and is able to cater to specific guest desires on a daily basis. If you prefer small streams, rivers with more rainbows than browns, whatever – they will do all in their power to cater to your desires!

• Cedar Lodge guests get to sight-fish to large rainbow and brown trout in a variety of size streams, each with its own character and personality. There are few places in the world you can find such large fish willing to come to the surface and eat dry flies in gin-clear water, so consistently. Most days you will have repeated chances to hook some of the biggest trout of your life.

• Cedar Lodge is fine taking guests for less than a full week trip. So if you want to tag a few days fishing to the end of a business or tourist trip, they are an ideal choice. A few days helicopter fishing at Cedar Lodge will create memories that will stay with you for a lifetime.

• The lodge has free loaner gear – waders and shoes, and rods and reels. For those not wanting to pack their own gear all the way to New Zealand – or not wanting to purchase the specialty-colored fly lines or non-felt-soled wading shoes required - this can be an attractive option.