Estancia de los Rios is located in the remote Cisnes (Swan) Valley of Chile, Patagonia. It is a massive private ranch encompassing 360,000 acres (562 square miles) of rugged, remote landscape defined by the Andes to the west, and high desert to the east and the border of Argentina. Behind locked gates are more than 60 miles of private rivers, spring creeks, lakes and lagoons providing world-class dry fly fishing for brown trout.
Estancia de los Rios is owned and managed by the Dufflocq family, a name synonymous with fly fishing in the southern hemisphere, and one the first families of fly fishing in Patagonian Chile.
Located northeast of the mountain town of Coyhaique, not far from the tiny village of Villa Tapera, the estancia's extensive private water access allows guests to fish over well-rested water each and every day without having to repeat a fishery unless they want to.
Anglers at Estancia de los Rios are accommodated in a spacious and lovely log-constructed lodge, featuring 6 double occupancy rooms, each with its own private bathroom. The lodge sits a mere 300 yards from the home river and views of the distant mountains from the front veranda are spectacular – it is always a popular spot to share an adult beverage with friends and relive the day's trout angling.
A week's fishing at Estancia de los Rios is a total immersion into a quickly disappearing way of rural Patagonia life, where an 8-hour horseback ride through the mountains is what it takes to visit your closest neighbor, and time seems to have stood still for decades.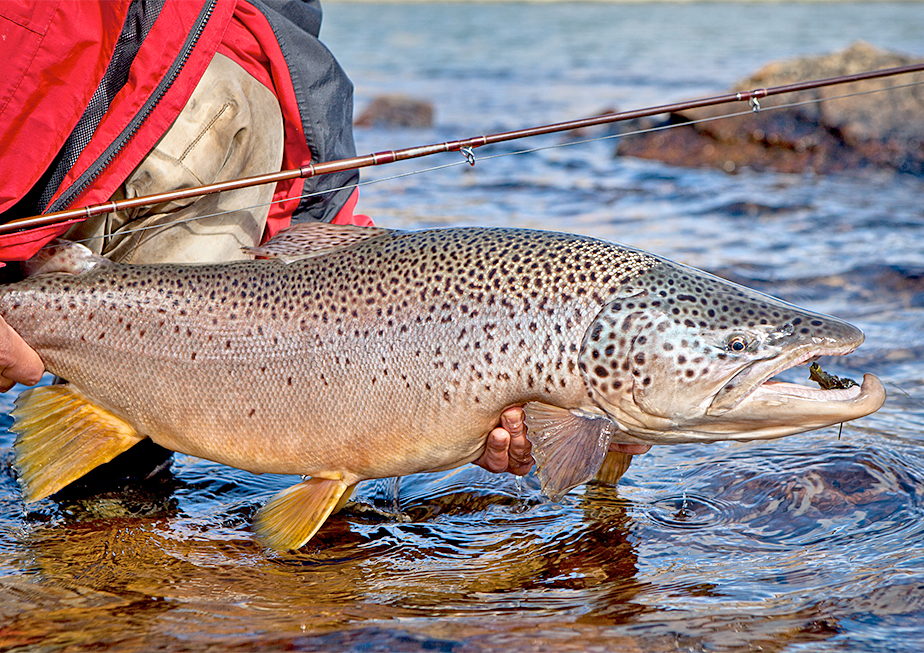 Reservations & Rates
Standard Week Packages (Saturday – Saturday)
Seven nights lodging and 6.5 days of guided fishing
$6,600 per person, shared room and guide
$8,000 per person, single/private room, shared guide
$9,000 per person, single/private room, private guide
Inclusions
Seven nights lodging in room with private bathroom |daily guided fishing | all meals (lunch and dinner accompanied by a selection of Chilean wines, beer including Pisco Sours and non-alcoholic beverages | all transfers between lodge and fishing locations | fishing license |Wi-Fi | one guide for every two anglers (unless a single angler booking) | one guide for every four non-fishing guests |use of vehicles, boats or horses required by program | Balmaceda Airport (BBA)/lodge/Airport (BBA) transfers
Non-Inclusions
Not Included Air travel | hotel and/or transfers prior to or after fishing itinerary | hard liquor | use of fishing gear, flies (flies available for sale at the lodge, 3 dozen flies for $100 – rental rods $30/day) | gratuities | laundry service | telephone calls | or other items not specifically mentioned as included.
Travel Insurance
The Fly Shop® is not in the insurance business, but we recommend Travel Guard coverage as a service with a desire to see your best interests protected. It is impossible to know when an unfortunate situation (loss of luggage, fly rods, illness in the family, or an accident) may occur. However, such things can and do happen, and this insurance can provide a means of recourse against non-refundable financial losses.

• Travel Insurance Information
Seasons at Estancia de los Rios
Trout and salmon are not native to South America. They were first introduced into Chile and Argentina's regional rivers beginning in the early 1900's, primarily by European owners of large estancias in the south who imported the eggs and smolt by ship from hatcheries in both the U.S. and Europe. The first brown trout were introduced to Chile's rivers in 1906, and three decades later the world-famous strain of McCloud River rainbows (Salmo Shasta) were added to the cold, clear rivers and streams
Read More
of that part of Patagonia. Subsequent government-sponsored introductions into the pristine lakes and rivers of the Lakes Region of Chile were very successful and this area blossomed into a sport-fishing mecca in the 1950's and 1960's, made famous by writers such as Rodrick Haig-Brown, Ernest Schweibert and Joe Brooks. Additionally, introductions into Patagonian waters have been highly successful and the Aysen Region of Chile (Coyhaique) is now considered the sport fishing center of Chile. Rainbow and brown trout are the most abundant species and trophy-sized brook trout can be found in a few remote areas.

Spring in Chile begins in late November and early December. Trees have dropped their blossoms and warm summer weather lands in Patagonia before Christmas presents have been opened. Trout season in Chilean Patagonia swings into high gear by the New Year, and continues until leaves turn crimson and drop with the arrival of winter in late April. The summers of Patagonia are abbreviated, much like those of Montana and Wyoming. Warm days often begin with cool mornings and can be punctuated by sudden thunderstorms. But for the most part, the best time to visit this fantastic part of the world is from mid-November through mid-April.

Opening day in Chile is in November, traditionally a time when North American fishermen are preoccupied with family and holidays. Schools in South America release their students just before Christmas and the rivers of Patagonia don't see much pressure until after the first of the year. The landscape is ablaze with a mind-baffling wildflower display, known locally as "Chocho" (Chilean word for "Lupine Season"). European Lupine carpets the landscape in an explosion of violets, reds, purples and yellows. Fish are on the surface, targeting caddis and mayfly emergences. Their January is our June/July. Spring snow melt is gone, the weather's reliable temperatures are pleasant, and the hatches are predictable. Mosquitoes aren't a concern in most of Patagonia, and in fact there are very few things in Patagonia that can be a nuisance, or potentially harmful to you…it is a very safe country in terms of dangerous creatures.

By the first of February trout begin to key on the caddis hatches and hoppers, stag beetles and other terrestrials that dominate mid-summer fly fishing action. Probably because of the weather, February and March are the most popular months to travel to and fish Patagonia.

Too, our winter is a great time to escape to Patagonia's summer and trout fish for a week or so; something difficult to do when Michigan or Vermont is frozen solid.

April is the beginning of fall in the Southern Hemisphere. Kids go back to school and the traffic is light on the streams and rivers of Chile. Like the Rockies, the weather is less reliable in the fall; days are shorter and temperatures are cooler. Dress for a full range of weather possibilities and plan on some of the best mayfly hatches (especially small blue-winged olives on overcast days) as well as streamer fishing.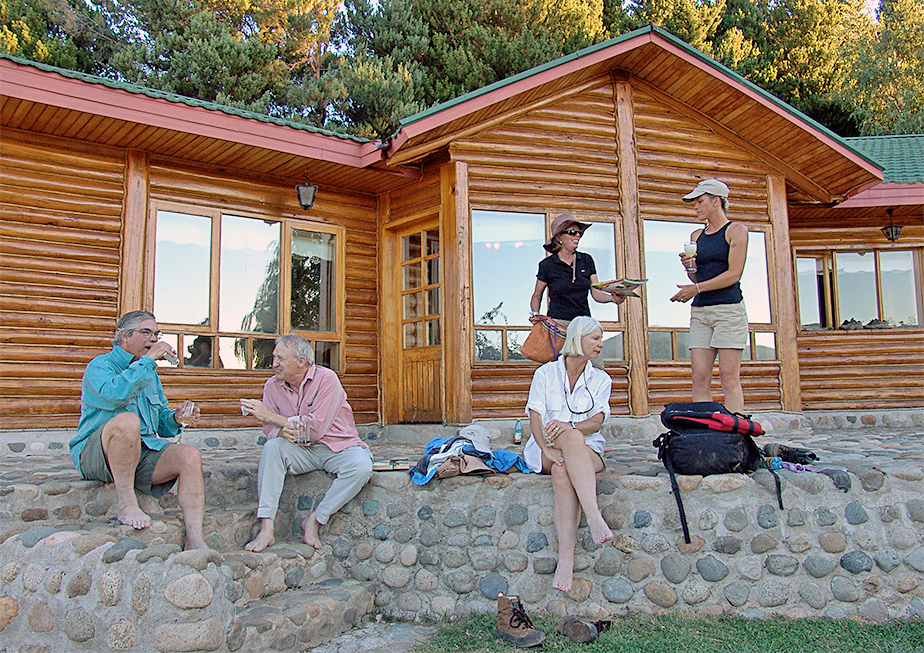 Getting to Estancia de los Rios
Flight arrangements:
When making your airline plans, please arrange to arrive in Balmaceda (BBA) from Santiago (SCL) no earlier than 13:00. On departing Balmaceda, please book a flight back to Santiago in the afternoon no earlier than 14:00 This will allow plenty of time for auto transfer to and from the lodge. For making your air reservations between home and the lodge, we highly recommend the travel agent services of Alicia Regueiro, at Holdy Tours, in Walnut Creek, California. She is an expert in South American air travel, as well as hotels, city tours, meet-and-greet transfers, etc. You can reach Alicia at (800-446-1111) or via email at Alicia@holdytours.com
Read More
Day of Arrival:
After a comfortable night in Santiago (or following a morning arrival from the States), guests are to arrive Balmaceda Airport (BBA) mid-afternoon, no earlier than 13:00. Here you will be met by a staff member of Estancia de los Rios and driven to the lodge, an approximate 4.5 hour drive. The trip to the remote lodge inside the estancia is highlighted by beautiful roadside scenery, waterfalls, forests, and stunning mountain vistas of the Southern Andes.

Anglers and their companions are met upon arrival and introduced to the lodge hosts and staff. Each of the guest rooms is well-appointed, has a private bath, and the amenities are in stark contrast to the remote Patagonian location.

Time permitting, depending on your flight's arrival time to Balmaceda, and after getting organized in your room, you can join your guide for a fly-fishing session, hiking, horseback riding or bird watching. In the evening you will return to the lodge for cocktails and delicious picada (charcuterie in South America) followed by a hosted gourmet meal.

Your host will discuss with you the variety of fishing options for the week and make plans for the next day's adventure.

The Angling Week:
These are full fishing days, and the exact schedule will depend on the guest's wishes. Breakfast and dinner will be served in the lodge and fine mid-day meals are served in the field, streamside.

With more than 60 miles of rivers, several spring creeks and many lakes on the ranch, Estancia de los Ríos provides world-class dry fly fishing opportunities on a daily basis. The lodge is located on a 360,000-acre ranch in the heart of Chilean Patagonia. Expect vast uninhabited valleys surrounded by the majestic Andes Mountains, a place of spectacular beauty where you can enjoy unparalleled seclusion and privacy.

Each fishing day can be custom tailored to your wants, needs and ability, and you will be sure you will never run of out of angling options.

The after-angling cocktail reception always includes Pisco Sour, the Chilean version of a Margarita, a variety of domestic beers and some of Chile's finest varietals. Dinners, like all meals at the lodge, are informal, sumptuous, and accompanied by delicious Chilean wines.

The Day of Departure from the Lodge:
Anglers will be transported to the Balmaceda Airport and begin their journey home with a mid-afternoon flight to Santiago (SCL) or the continuation of their South American angling or travel holiday. Please book your departure flight out of Balmaceda (BBA) no earlier than 14:00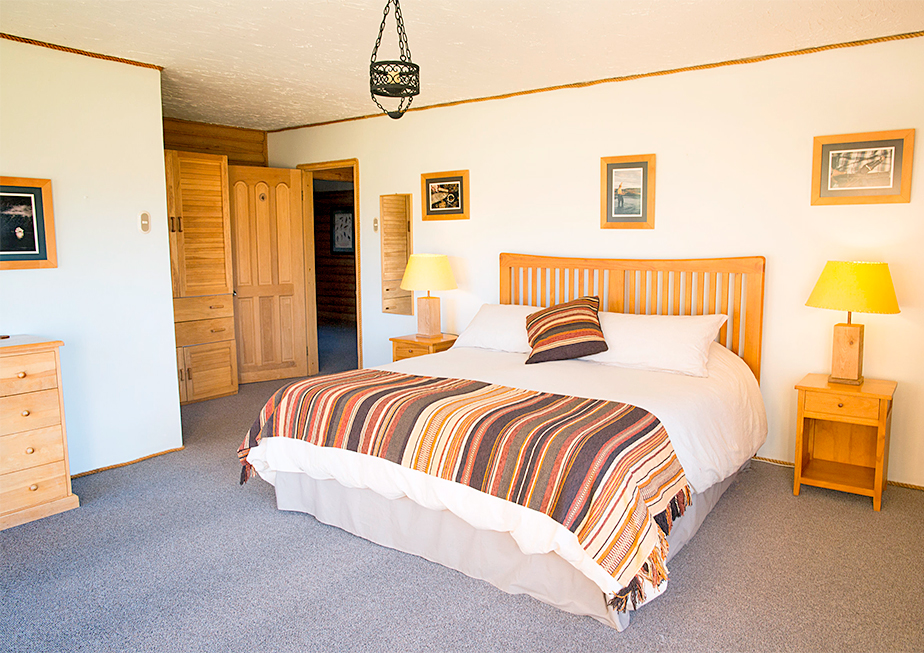 Lodging at Estancia de los Rios
Located only 300 yards from the home river, the main lodge is a large one story log building with 6 spacious double guest rooms, all with private bathrooms and incredible mountain views. There are also several attractive common rooms for guests to enjoy at their leisure. Satellite Wi-Fi is available to stay in touch with family, and there is a fly tying bench for those who like to twist their own bugs.
Read More
Additionally, there is a large mud room for storing waders, boots and gear as well as ample living and dining rooms for guests' use and enjoyment. The front of the lodge features outside terraces built of natural river stones, a favorite gathering spot for friendly conversation, coffee in the morning and adult beverages and delicious hors d'oeuvres in the evening. Adjacent to the main lodge there is a "Quincho", a special building purposely built for the chef to prepare classic Patagonian barbecues – asados – at the end of each week. The food at Estancia de los Rios is prepared by chefs and focuses on traditional Chilean cuisine and a balance of locally and estancia-sourced meats and produce, along with homemade breads and desserts. Lunches and dinners are paired with some of the finest regional wines and beer. A complete continental breakfast is available each morning before heading out to fish for the day. During the fishing day, streamside hot and cold lunches are prepared and served by your guide. At the end of the day, evening festivities start with appetizers like empanadas, picadas and traditional Pisco Sours, the margaritas of South America. Fine multi-course dinners are served in the formal dining room. Dinners at Estancia de los Rios are an event, embracing old-world tradition, delicious regional cuisine, and friends.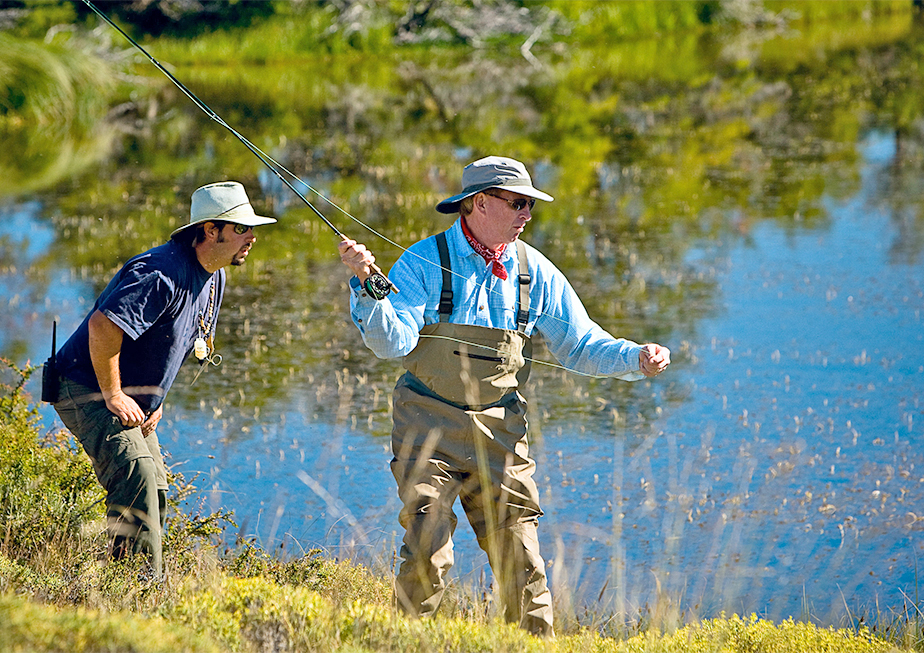 Fishing at Estancia de los Rios
Saturday:
Anglers should take an early flight from Santiago to the Balmaceda Airport (BBA) just south of the town of Coyhaique. One of the estancia's guides will be waiting for you just outside baggage claim; he will help with your bags and drive you to the lodge along the scenic Carretera Austral, the Pan-American Highway, Route 7, which runs south for approximately 770 miles from Puerto Montt to Villa O'Higgins. The trip from the airport to the estancia takes about 4.5 hours depending on traffic (mostly sheep, cows and oxen), and photo stops. Upon arrival at the lodge there is a brief orientation by your host, followed by a light lunch, and then you are off for your first afternoon of fishing. Early that evening you'll head back
Read More
to the lodge for a welcome cocktail, followed by a delicious meal. During dinner the head guide will explain the week ahead and the next day's fishing options.

Sunday:
Typically, anglers fish upstream casting dry flies and nymphs. The river has excellent and regular hatches, and a healthy population of brown trout. A good fish weighs from 2 to 5 pounds, and often rise to take well-presented dries. The challenge here is to spot the largest fish within your casting range! After the morning's fishing, you will enjoy a streamside lunch. The afternoon program includes a nearby spring creek, then a short walk back to the river to take advantage of the main hatch. Spring creeks require more patience and delicate work but they can be extremely rewarding. The hatches on the main river are always exciting, with stretches suddenly coming alive with fish feeding on the surface. When this happens, you want to be close to the largest fish and equipped with the right fly. On a recent summer afternoon our good friend Claudio hooked and landed four beautiful brown trout between 3 and 5 pounds, all on dries, in a little more than an hour.

Monday:
Today you'll fish down the valley towards the Andes. Here the river runs much larger in size due to a large tributary coming in from the north. We will fish below the junction. Here the river goes through a narrow canyon between some rocky banks; pools are very deep and slow, and are good holding spots for large trout. We will use streamers or nymphs until we see some action on top, then change to dries. You'll fish each pool very carefully with a streamer or nymph, waiting for the big one to take. As soon as these fish grab the fly, they head to a big log or rock - you have to react fast in order to stop them, if you can.

As we fish upstream the river opens into beautiful runs with gravel beds. Here the rest of the group will join us for a streamside lunch. This section of river has no access but by wading. We continue fishing, trying various dries and nymphs as we approach the evening hatch…

Tuesday:
This day we will go to the headwaters. Here the river is smaller and has an interesting structure. We will start with nymphs, fishing pocket water and a few deeper holes, covering between a couple of hundred yards to no more than a mile of river during the morning. As the water temperature rises, we'll switch to a dry fly. Using a smaller rod, you should be able to land between 10 to 15 fish in a morning. In general, wading is easy and safe. The rivers have gravel bottoms and are not slippery. The water is very clear so it's easy to avoid large underwater logs or boulders. After the morning's fishing we'll join the group for an "asado", the traditional Patagonia barbecue with lamb or slabs of beef attached to iron stakes thrust into the burning coals and rotated slowly. The charred meat is washed down with a robust Chilean red wine. Later, after the asado and some rest, you'll get ready for more fishing. In the afternoon, our goal is to catch a large trout on a dry fly during the hatch. We'll go to a pool or run where we know there are larger trout. Once there and the fish start rising, you will excellent and regular hatches go after your trophy.

Wednesday:
This is a small water fishing day and we will travel to a small stream located in a valley south from the lodge, not more than 20 miles away. You'll start with nymphs, slowly covering just a half a mile during the morning. The stream is narrow with grass overhanging deep undercut banks – this water holds strong brown trout in great numbers, many of which have rarely before seen a fly. After lunch, we'll fish further downstream where the river is larger, using hoppers cast close to the grassy banks. This valley is without doubt one of the most remote and beautiful corners of all Patagonia.

Thursday:
By now your guide will have shown you many of the secrets of our great waters. Like all previous days, you will fish a section of river you have not fished before, or return to one of your favorite spots. In the afternoon we will target the evening hatch on the main river, watching for the subtle rises that reveal larger trout. Later we'll head back to the lodge for cocktails and a Patagonia- style lamb barbecue dinner.

Friday:
Enjoy a morning session of sight-fishing for large browns in the shallows of a nearby lake. Fish here are very active even on a bright and sunny day, allowing you to see fish as they come to your dry fly. Curiously, most fish come to your fly deliberately, slowly examining your offering with great attention before finally opening a large white mouth to inhale it. The excitement of this type of fishing has no parallel since you are able to watch all the action…the visual anticipation of the strike, and waiting for the fish to go back down with your fly is hard to take! The size of fish here is quite remarkable; this particular situation is very much like sight-fishing a large spring creek.

Saturday:
After breakfast and saying goodbye to your newfound friends, you will be driven to the Balmaceda Airport (BBA) to catch your plane back to Santiago in time for your connection home.
What Makes This Destination Special and Unique?
• PRIVATE WATER FISHING – Estancia de los Rios encompasses 360,000 acres (562 square miles) of wilderness Chilean Patagonia. With over 60 miles of private rivers, and spring creeks, it's not necessary to repeat a fishery, unless you truly want to, and you certainly don't have to worry about another angler crowding into your own private river for the day. That's peace of mind and an experience worth every cent of the price tag.

• REAL PATAGONIA – A week here is like stepping back in time, both culturally and fishing-wise. You'll return home knowing you've experienced authentic Patagonia on a private working ranch. The lodging is super comfortable, so you'll wake up each morning refreshed and ready for another day on water that you don't have to share it with another person, except your family and friends.

• DIVERSITY – From small walk and wade freestone rivers, full day float trips on larger water, intimate spring creek fishing, to sight-fishing private lakes and lagoons, the fishing program at Estancia de los Rios is as diverse as we have ever experienced. It would take literally a lifetime to see and fish all the water they access. There is something for everyone here and the multi-faceted fishing will keep your experience fresh and entertaining.

AUTHENTIC EXPERIENCE – The Dufflocq family has a long history of fly fishing in Chile, arguably the first family of fly fishing in Chile. Their love and respect for Patagonia is reflected in every facet of their working estancia and the fishing program they orchestrate. This is an authentic glimpse into the fascinating world of rural Patagonia where gauchos work the land as they have for a hundred years… it will be sure to have a lasting impression on you.

• FAMILY – Estancia de los Rios is a small operation, accommodating a maximum of 12 guests at a time. This is no big corporate lodge, but a family-run operation where personal attention and flexibility in the daily fishing program is the norm. Your fly fishing trip will be custom-tailored to your wants and needs and you will go home with wonderful memories, and as a new member of the Dufflocq family.