Muskellunge "Musky" are the largest native freshwater apex predator in North America and grow to immense proportions. The IGFA world record, landed in 1948, weighed over 67 pounds, measured over 60 inches long and sported a girth of 34 inches. And while most fish won't quite reach these sizes and dimensions, musky are ferocious gamefish with no known predators. They will attack just about anything that swims in the north country, including juvenile beavers, adult ducks, and just about anything it can fit in its bucket-sized toothy mouth.
The Epic Narrows Musky Camp is outfitted by our friend and partner Derek Botchford from British Columbia, Canada. Derek and his team are professional anglers and operate three of the best steelhead operations in B.C including Frontier Steelhead Experience, Bulkley Basecamp and Babine Steelhead Lodge. This group of talented anglers, guides and outfitters are the best in business, hands down, and are extremely excited about their new operation they have being exploring and fully vetting for three of years. And so are we.
The Epic Narrows Musky Camp, located on Lake of Woods Ontario, Canada, is the only operation we know of that is dedicated to fishing muskies exclusively with a fly rod. Lake of the Woods is massive, covering an area of over 1,700 square miles and with over 14,500 islands, 65,000 miles of shoreline and boasts the densest population of musky in the world. In addition to musky, the lake also harbors large populations of small mouth bass, northern pike, lake trout and walleye.
Lake of the Woods is a world-famous musky fishery, perfectly designed by nature, offering sheltered waters, visible structure, big bodies of shallow water and a mix of tannic and clear water to fish each day. The Epic Boys have spent the last three years perfecting the special techniques, flies and lines and fly rigs to effectively fish for musky. Don't get us wrong, this is very challenging fishing, but with this talented team – everyone will get many chances over 5 days of fishing.  It is extremely rare to not hook a fish during your stay, and the average is one encounter a day. This includes follows to the boat and bites. With a large population of musky to target, and the big leaps and bounds in fly, rod and line technology, musky are now a very catchable species on the fly.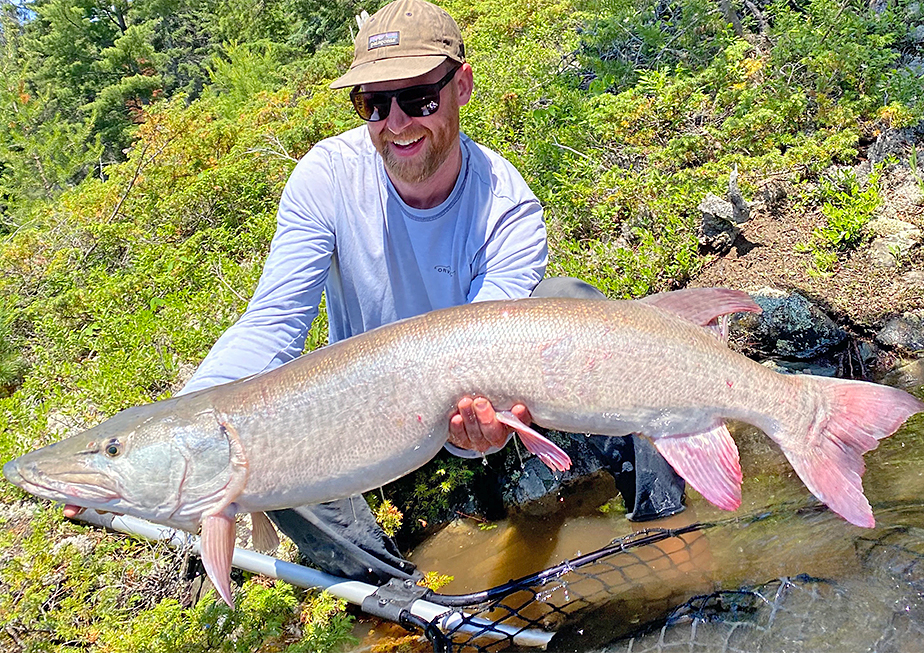 Reservations & Rates
The Fly Shop's Hosted week: June 22 – 27, 2024 (limited to five - six anglers maximum)

Rates: $5,000 USD plus tax – 5 days and 5 nights
Inclusions
Included in your package at Epic Narrows Musky Camp are all food at lodge, accommodations, flies, rods, reels flies and a multitude of fly lines, beer and wine, shuttle to and from Winnipeg to the cottage, multiple sessions of fishing throughout each day (common to fish 12 hours of more per day all combined).
Non-Inclusions
Not included in your package at Epic Narrows Musky Camp are flights to and from Winnipeg, hotel in Winnipeg "Courtyard Winnipeg Airport", hard alcohol (available at duty free), gratuities for kitchen staff or guides, 8 day Ontario Non-resident Fishing License (Zone #5) ($54.38 CAD & Outdoor Card ($8.57 CAD).
Travel Insurance
The Fly Shop® is not in the insurance business, but we recommend Travel Guard coverage as a service with a desire to see your best interests protected. It is impossible to know when an unfortunate situation (loss of luggage, fly rods, illness in the family, or an accident) may occur. However, such things can and do happen, and this insurance can provide a means of recourse against non-refundable financial losses.

• Travel Insurance Information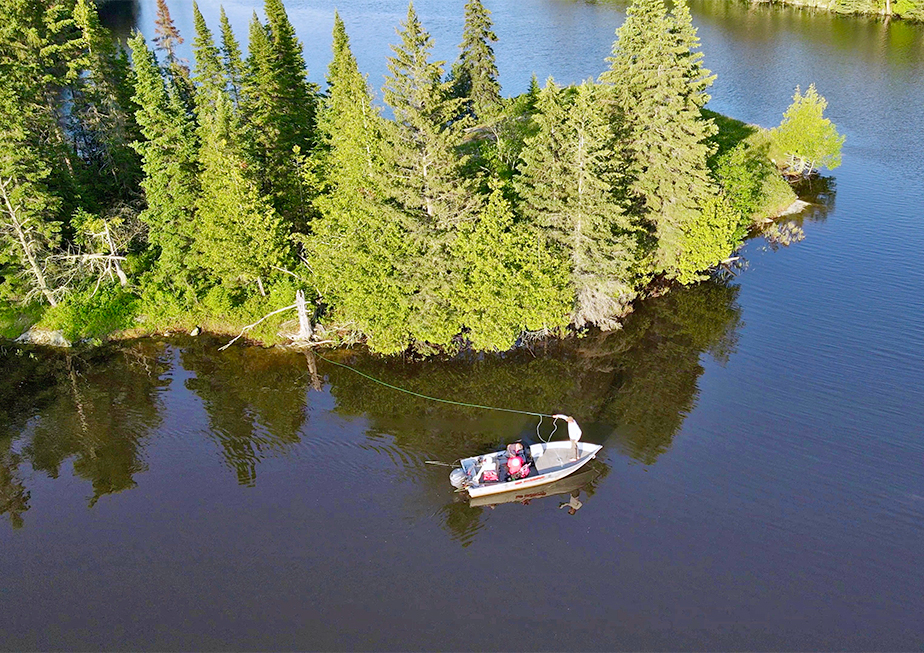 Seasons at Musky Camp
The musky season in Northwest Ontario, Canada is short.

We fish mid-June through the end of July.

This is peak season, and correlates when muskies are in the shallows over weed beds and on laid up on sand shoals, post spawn. This is when muskies are seriously on the feed.
Read More
In Northern Ontario, especially in June and July the days are long with as much as 16 hours of sunlight. June is the coolest summer month, and also the best time during summer to fish for muskies.

During the fishing season, expect temperatures to range from the low 50's in the morning to mid 70's during the day, with varying degrees of humidity.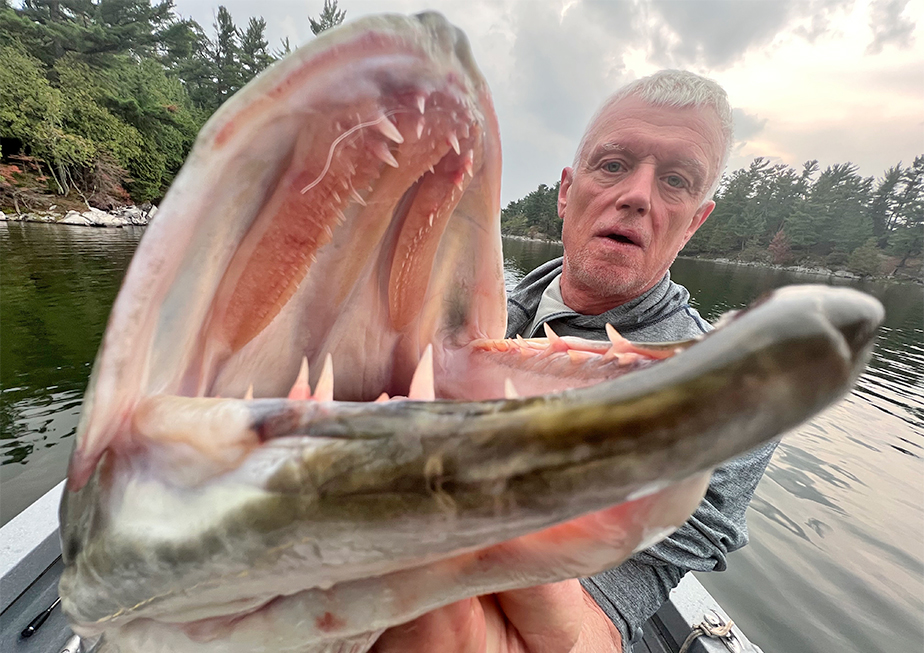 Getting to Musky Camp
Epic Narrows Musky Camp (typical itinerary)

Friday:
The day before you are scheduled to arrive at the camp, you will fly from your home airport to Winnipeg Manitoba, Canada (YWG) the geographical center of Canada. International flights are usually no more than a 2.5 hour flight from any major hub in the U.S. You will clear Canadian Immigration and Customs in your first port of entry into Canada or in Winnipeg. Overnight in Winnipeg, dinner this evening is on your own. Suggested hotel, Courtyard Winnipeg Airport.
Read More
Saturday:
Very early on Saturday morning, you will be picked up at your hotel and shuttled to the small town or Kenora, followed by a short boat taxi to the lodge, an approximate 2 hours in total transfer time. Fishing will immediately follow, allowing for a full day on the water.

Sunday – Wednesday:
These are full fishing days, starting early in the morning after a delicious breakfast. Expect to be fishing as many as 12 hours per day – dawn to dusk in some cases. Fishing starts as close as a 10 minute boat ride from the lodge. Lunch is taken on the fly and often includes a shore lunch, freshly prepared by your guide. The dinner schedule is flexible depending on the fishing day.

Thursday:
On day six, after a hearty breakfast, you will be shuttled back to Winnipeg, Manitoba (YWG). Baring any travel delays, you should be able to catch a 12:00 noon flight back home.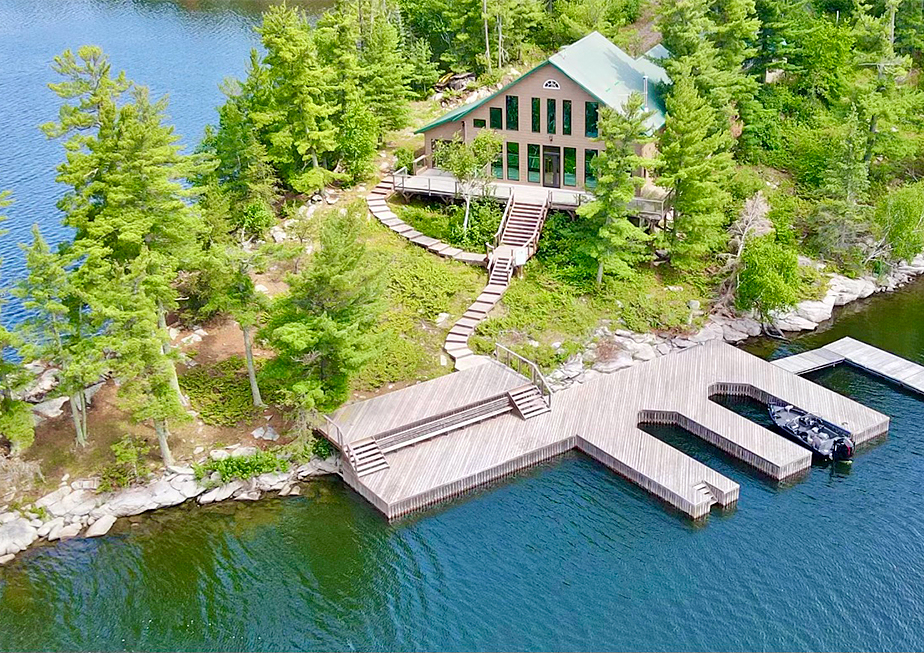 Lodging at Musky Camp
You will be accommodated in a beautiful water-front cottage, located on a private peninsula only minutes from the fishing grounds. There are both single and double occupancy rooms available fully furnished with comfortable beds and all linen.
Read More
The rooms are tastefully decorated, and are plenty large enough to get unpacked and get organized. The three bedrooms share three bathrooms featuring hot showers, sink and vanity, and flush toilet. 24 hour power is available through a hydro-plant.

There are massive decks overlooking the water and where the fishing boats are moored. The decks are a great spot to relax with a cocktail, take a swim or fish for musky in the adjacent cove.

Delicious food is prepared by professional chefs, who have mastered their craft cooking for anglers fishing at Epic's British Columbia steelhead lodges and camps and paired with wine and beer. There is no set meal schedule, meals are centered around the best fishing times for musky – usually dusk and dawn.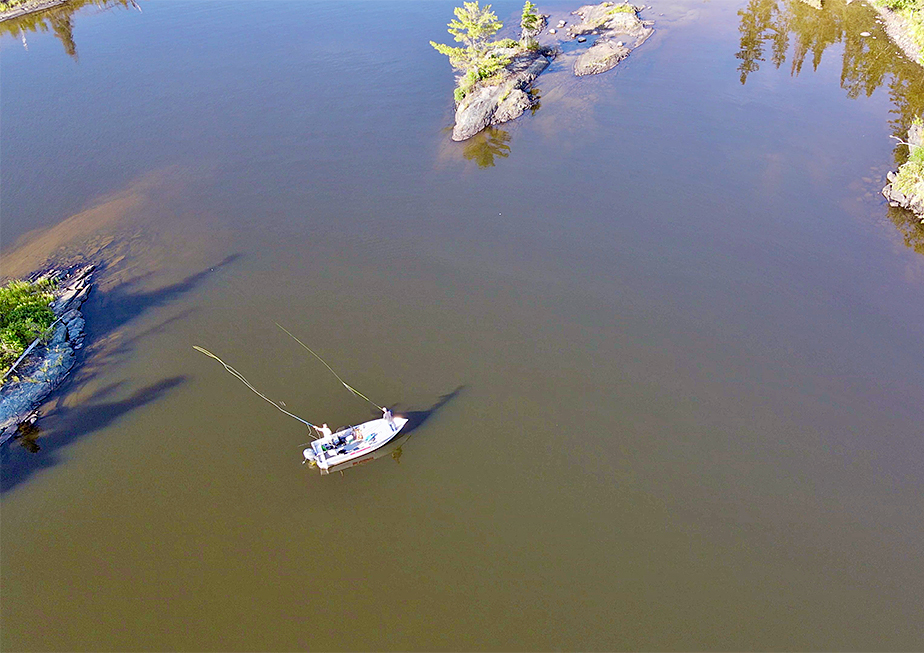 Fishing at Musky Camp
This is intense fishing! If you're looking to catch obscene numbers of fish, this trip probably isn't for you!

There are some great fisheries in North America to find trophy musky, but anyone in the know will consistently tell you about one iconic fishery that surpasses the rest by an exponential degree – Lake of the Woods. Lake of the Woods possesses perfect habitat for a prolific musky population, including sheltered waters, visible structure, big bodies of shallow water and a mix of tannic and clear water to fish each day.
Read More
The fishing program is centered around casting large surface and subsurface flies to trophy musky in predominantly sheltered waters. The biggest fish feed during moon rise and moon set, sunrise and sunset which are called majors and minors. The top water fishing can be very exciting and productive right at dark so we really like to make sure we are on the water at this time.

Our most productive fishing will consistently be early in the morning and late in the evening. Mid days we often take off but occasionally there is a very good mid-day bite. Multiple fishing sessions per day will be offered and guests can fish them all, or take some sessions off to catch up on sleep. Musky on Lake of the Woods average around 42 inches, but guests will have a real opportunity to beat the coveted 50 inch mark.

There may have been a time where slinging big musky flies was just too much work, however modern technology in lines, rods, and flies has made relatively easy. The flies range from 6 - 12 inches and are tied as light and as sparse as possible. The new shooting heads take care of all the work. The outfitter likes to use 2 handed, overhead casting surf fly rods which really takes the effort out of it. It takes a bit of practice to make sure your rod is doing the work and not your shoulder, but once you get it down it is no different than any saltwater fishing.

Our outfitter will supply the flies but guests are welcome to bring their own. Check with us before you buy any to make sure they will work on our waters as musky files can cost as much as $40 each. 10 and 11 weight rods are ideal and we will go over the best lines in detail in our pre-trip (however floating lines or light intermediate shooting heads are ideal). This is not a dredge game at all. In fact, most likely 30% of takes will be on giant poppers on the sun phases. Musky are hard to land on surface bites, anglers need to wait for the fish to take the fly and sink with it, then drive home multiple hard strip sets. Razor sharp hooks are a must!

In addition to trophy Musky, there is great small mouth bass fishing in June using poppers, as well as crayfish and minnow patterns. There are lots of 4-pound smallies to target in the Lake of the Woods. There are also big pike that frequent the shallow bays and lagoons along grass lines in the lake that can be targeted or caught as a bycatch while Musky fishing.

Quick Musky Facts:
● Musky can live up to 30 years. They are old, and smart; however, this area allows you to have musky encounters nearly every single day. Mysteriously, the musky has never left the North American territories and can only be found in the Northern parts of the U.S. and the Southern parts of Canada.

● There is no doubt in our minds and we can say this with confidence, Lake of the Woods is the finest musky fishery in the world today.

● Conservation – one of the few examples of a fishery that is far better today than it was 25 years ago. The musky fishing is even better today, thanks to the modern management and high-quality fishing regulations. You can leave the warm water trout and salmon closures behind and have a reliable healthy fishery to explore.

● The underlying bedrock of Lake of the Woods is among the oldest of geological formations to be found on earth. It is a beautiful lake to explore with over 14,000 islands.

● The IGFA world record musky, landed in 1948, weighed over 67 pounds, measured over 60 inches long and sported a girth of 34 inches.
What Makes This Destination Special and Unique?
● UNIQUE OPPORTUNITY – Muskies are a new species to pursue with a fly rod, as exotic as a peacock bass, golden dorado, or taimen. This is an opportunity to check a fish off your bucket list, the largest freshwater predatory gamefish in North America, and not leave the continent. How cool is that?

● PROVEN OUTFITTER – Derek Botchford and his Epic Team are arguably some of the finest outfitters and guides in world. Their attention to detail, technical knowledge, hospitality skills and mastery of the gear and techniques needed to be successful make this trip an instant hit. Let the professionals take care of all the details, you just concentrate on connecting with a trophy musky.

● AN HONEST CHANCE – They say steelhead are a fish of 1,000 casts, and musky a fish of 10,000 casts. Epic Narrows Musky Camp gives angler's legitimate daily shots at musky. If your goal is to move, hook and land a musky, we can't think of a better spot to be.

● EASY TRAVEL – Canada is easy and safe to travel to. Winnipeg, Manitoba is usually no more than a 2.5 hour flight from any major hub in the U.S. We can't think of a more user friendly country to travel to than our northern neighbors. No language barrier, just bring a passport and you are in. That correlates into easy, expedited travel to pursue an exotic gamefish species without leaving the continent.