Located in the Chubut Province of Central Patagonia, Las Pampas Lodge is in the "heart" of the Rio Pico area in the Chubut Region of Argentina. The lodge is located beyond the well-traveled roads and just outside the tiny border town of Aldea Las Pampas. The lodge is surrounded by countless spring creeks, rivers, streams, and lakes, much of which is located on private estancias that see little or no pressure from other anglers.
This is amazing country, and little has changed from the days that Butch Cassidy roamed the mountains and valleys. There are countless small spring creeks and freestone streams to walk and wade, most of which are home to aggressive brown and rainbow trout. Some rivers have some really big fish, while others feature large populations of trout.  Expect large foam dries on the end of your leader, and memorable surface takes. Also available are a series of mountain lakes home to trophy brown trout and rainbows, many of which love to take huge dries from the surface. If you like big trout in small water with no-one else around, this is the place for you.
The Rio Pico watershed is home to nearly a dozen spring creeks, all of which ultimately feed into the Pico. Varying greatly in size, length, depth, and current speed, each creek presents its own unique set of angling challenges. For lovers of small and at times technical waters, these often-overlooked gems have a great deal to offer. Most of these intimate spring creeks hold surprising numbers of good-sized rainbows and browns that are all too willing to rise to a well-presented dry fly.
Las Pampas Lodge is a beautiful European-style log and stone structure featuring a main common area with a guest lounge, dining room, and bar that is flanked by four spacious double occupancy guest rooms, all with a private bath.
Each guest room opens onto a cobblestone veranda overlooking the surrounding Andes mountainous landscape. The inviting main room has a central fireplace surrounded by a semicircle of plush built-in lounge chairs where guests can gather each evening for cocktails and share their daily adventures. The lodge has every amenity you'd expect from a classic trout lodge without being over-the-top.
It's a remarkable region nestled east of the Andes' highest peaks, where fertile lake systems and multiple spring creeks coalesce into an intimate and iconic South American trout stream, which ultimately slips west across the border into Chile and on to the Pacific.
All the best fishing,
Reservations & Rates
2024 Rates

▲$6,800 7 night/6 day package (double occupancy)
▲$7,950 7 night/6 day package (single occupancy)
▲$8,000 10 night/9 day package (Expeditions add-on) (double occupancy)
▲$9,150 10 night/9 day package (Expeditions add-on) (single occupancy) *based on availability

Extra Night for Trips over 10 Nights / 9 Fishing Days (Expeditions add-on) ▲ Double Occupancy $700 ▲ Single Occupancy $800
Inclusions
Included in your Las Pampas package are transfers in/out of Esquel (ESQ) Airport to Las Pampas Lodge, lodging, all food and beverages; English speaking, fully-equipped guides, and assistant guides; daily transfers to fishing areas; and all terminal tackle (leaders, tippet, flies), private waters fees, and fishing license.
Non-Inclusions
Not included in your Las Pampas package are international or domestic airfares, Buenos Aires hotel and transfers, and gratuities.
Travel Insurance
The Fly Shop® is not in the insurance business, but we recommend RedPoint and Global Rescue (IMG) coverage as a service with a desire to see your best interests protected. It is impossible to know when an unfortunate situation (loss of luggage, fly rods, illness in the family, or an accident) may occur. However, such things can and do happen, and this insurance can provide a means of recourse against non-refundable financial losses.

• Travel Insurance Information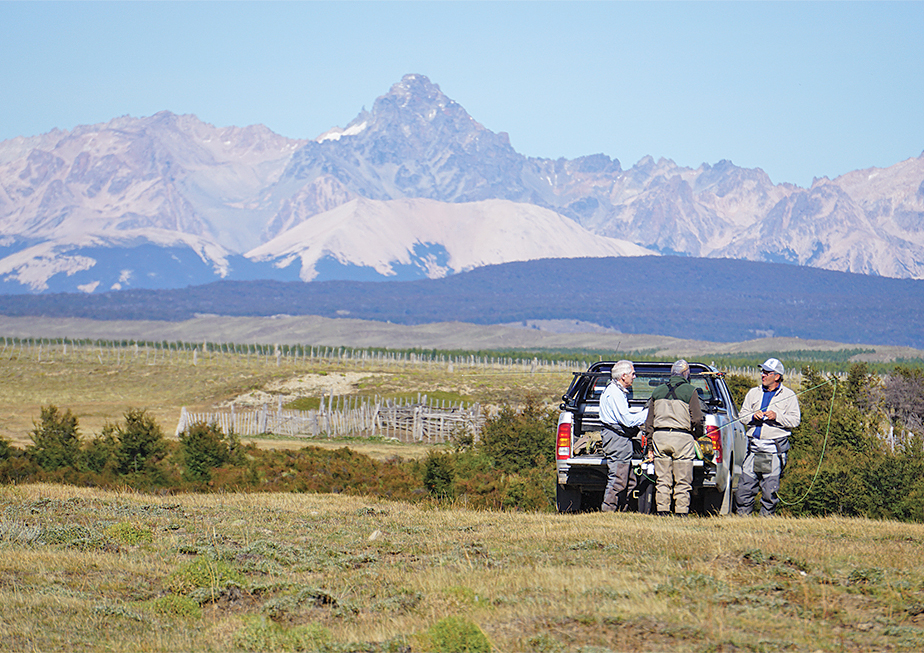 Seasons at Las Pampas Lodge
Spring: November and December
The fishing season officially opens in Argentine Patagonia on November 1st, although most Patagonia outfitters don't open their doors until the first of December. Spring is a special time to visit Patagonia as the Andes Mountains still hold a large amount of snow and valleys are covered with spring flowers. Precipitation decreases throughout the month of December and average temperatures rise along with the length of day until the summer solstice on December 21st.
Read More
Since the water is higher this time of the year, the largest fish tend to be more aggressive and accessible. Fishing is generally spectacular but flexibility is a must as streamers, dry flies, and nymphs are all used depending on the river levels and daily weather conditions.

Large flies tied with rubber legs, long hackles, bunny fur, and foam (Chernobyl's, Bichos, Mutant's, Fat Alberts, etc.), are very effective this time of the year due to the aggressive nature of the fish and lack of pressure. You can leave your 5X at home but be sure to bring some 0X and even a sink tip to go down and dirty. Your guide will be as anxious as you are as they have been waiting for the season to begin.

Normal tourism season begins after Christmas and the New Year, so this area is much more relaxed and the fish are very willing. Imagine a Christmas where it is light until 10:30 pm and you can sit on the deck enjoying a glass of Malbec instead of watching snowflakes. If you're looking for a great place to spend the holidays, imagine long days, great fishing, energetic guides, and a very relaxed atmosphere with few people.

Summer: January through March
Summer is the most popular month for fishing and tourism in Patagonia. The kids are on vacation and tourists abound. The weather is the best this time of the year with decreasing precipitation and the warmest temperatures. Some snow remains on the highest Andes peaks but almost all the spring flowers are already gone. The grass is getting long, and with warmer temperatures - you guessed it - hoppers and terrestrial insects are prolific and you will enjoy dry fly fishing almost exclusively. There are uncountable species of beetles, ants, hoppers, crickets, wasps, and other unidentified flying objects this time of the year and the trout are looking up for them. And particularly in the month of January, some of the trees that overhang the river are loaded with small green "gusano" inchworms, devouring the foliage…and on a windy day, hundreds might blow off into the water. You can imagine the trout's reaction! A South American phenomenon: the hottest, brightest, and clearest days are the best dry fly and fishing days! Yes, it's true, a bluebird-fisherman's dream! You might have to drop down to 3X, 4X, and occasionally even 5X and use a dropper to attract fish in the crystal clear water. You will have lots of sight-fishing opportunities daily, and wet wading is possible a majority of the time.

Water levels continue to drop and water temperatures rise this time of the year. Every fishery is open and in perfect shape giving you the most options. This is prime time and finding an open spot can be difficult.

Fall: April
Fall is the favorite of many anglers, and is a great time to visit Patagonia. Summer tourist traffic drops off completely and the outfitters have most of the fisheries to themselves. Temperatures decrease and precipitation rises this time of the year, which normally brings on the fall feeding frenzy of trout with cooling and rising rivers. Browns and brook trout are getting ready to spawn and many of the larger fish which swam back into the lake during the middle of summer, are migrating back to the river to feed or spawn. Fall colors in Patagonia are spectacular and if you are lucky enough to be able to come and enjoy the fall, you will probably become addicted to the beauty, the tranquility and the fishing. Although the days are not as long as the spring and the summer, you still get plenty of time on the water; in fact, you might actually get more fishing as the guides are extra excited to fish this time of the year! You will enjoy the coziness of the lodge, the fall foods, and the fireside conversations with some of the most passionate fishermen in the world. You'll be thrilled to wake up to foggy mornings, fall colors, and snow-capped peaks while getting ready for the ultimate fly fishing adventure.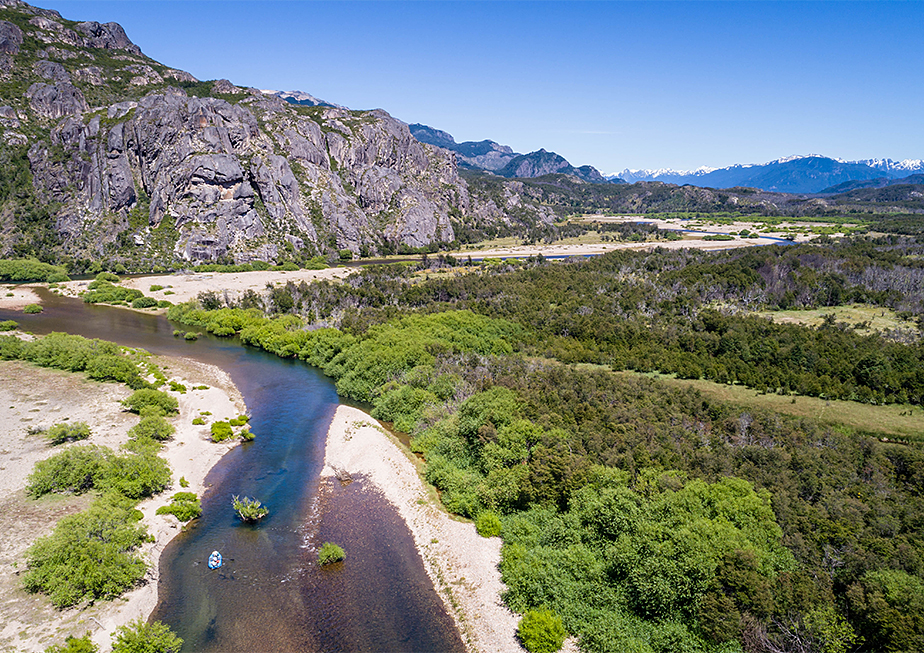 Getting to Las Pampas Lodge
Traveling to Argentina is relatively simple and painless. There is a wide choice of convenient, daily flights from Los Angeles, Atlanta, Dallas, Houston, Miami, and New York. Most flights are direct, departing the States in the afternoon or early evening and arriving the next morning.

Almost all the international flights into Argentina arrive at the Ministro Pistarini Ezeiza (EZE) International Airport of Buenos Aires, 35 km from the Federal Capital. First you will clear Immigrations (Passport Control) then you will retrieve your luggage, and clear Customs.
Read More
Arrival Buenos Aires:
Getting to Patagonia is not difficult. It is actually very simple: take an overnight flight to Buenos Aires from one of several major cities in the U.S, get a good night's rest and awake in Argentina. If you have so pre-arranged, you will be met by our professional agents LOL Argentina at the airport and transferred to your hotel or to the domestic airport for immediate departure to Patagonia.

Our agents, LOL Argentina in Buenos Aires will re-confirm flights, make dinner reservations, share a cocktail, and take you on a city tour if you wish.

Buenos Aires has two airports, an international and a domestic. You will arrive from your country of origin at Ezezia (EZE) and depart to Esquel (ESQ) from the domestic airport, Aeroparque (AEP). It is necessary to transfer by ground from the international airport to the domestic airport for your flight to Patagonia. Depending on the time your international flight lands, you might be able to travel directly to Patagonia on the same day. Or you can opt to spend a night or two in Buenos Aires, the Paris of South America, and relax and enjoy the city.

Arrival Day: Flying to Esquel (ESQ)
After landing at the Esquel Airport and being met by a Las Pampas Lodge representative, guests begin the 2.5-hour drive south from the airport to the lodge, probably thinking they're getting a feeling for what the final destination's landscape will be like. Not so. In the first hour, the road passes through arid lands reminiscent of Utah. An hour later things look more like eastern Montana before the region hints of Yellowstone and Montana's Paradise Valley. By the time anglers reach the lodge, it becomes clear that this is a place unto itself — both familiar and totally unique at the same time.

You will be met with a refreshing drink and wonderful appetizers, and a delectable dinner – the first of many to come – is served at approximately 8:00 p.m.

During cocktail hour the lodge manager and/or head guide will provide a comprehensive orientation on the days ahead and answer any questions you might have.

Departure Day: Flying out of Esquel (ESQ)
Anglers will be transported to their departure airport – Esquel (ESQ) – to connect back to Buenos Aires to begin their journey homeward. Flights bound for the United States usually depart Buenos Aires late in the evening for an easy and comfortable connection home, arriving the following morning.
Lodging at Las Pampas Lodge
Lodging, food and beverage
Las Pampas Lodge is a beautiful European-style log and stone structure featuring a main common area with a guest lounge, dining room, and bar that is flanked by four spacious double occupancy guest rooms, all with private bathrooms.

Each guest room opens onto a cobblestone veranda overlooking the surrounding Andes mountainous landscape. The inviting main room has a central fireplace surrounded by a semicircle of plush built-in lounge chairs where guests can gather each evening for cocktails and share their daily adventures.
Read More
Upstairs, guests enjoy a living room with comfortable couches, a flat screen TV, a private office with a computer and phone, and a fully-equipped fly tying table. The lodge has every amenity you'd expect from a classic trout lodge without being over-the-top.

The cuisine at Las Pampas Lodge is best described as gourmet farm-to-table fare. The head chef, a graduate of Le Cordon Bleu, is passionate about the food he prepares and uses only the freshest local and organic ingredients. Many of the vegetables are grown by the community in the nearby town and sold to raise funds for the local school. Eduardo, the lodge's full-time caretaker and cameo breakfast cook, collects fresh eggs daily and prepares fresh cuts of chicken, lamb, and beef from the free-range livestock that roam the property.

Breakfast is a standard and a filling meal featuring made-to- order eggs, toast, bacon, fruit, coffee, tea, and juice.

Lunch is served streamside by your guides and commonly includes homemade gourmet dishes, salads, beverages, and desserts.

Dinner is served late evening in traditional Argentine fashion, and the typical menu is comprised of inspired choices that range from fresh lamb and vegetarian dishes to thick-cut steaks and chops — all of which are paired with local Argentine wines.

All in all, Las Pampas Lodge is a truly remarkable place. From its location way out at the end of the road, to its spectacular mountainous backdrop, to the depth and diversity of its fishing program, few places can claim all that it offers.

Add to that a dedicated, friendly, and local staff, and it comes as no surprise that Las Pampas Lodge captures the true essence of Patagonia.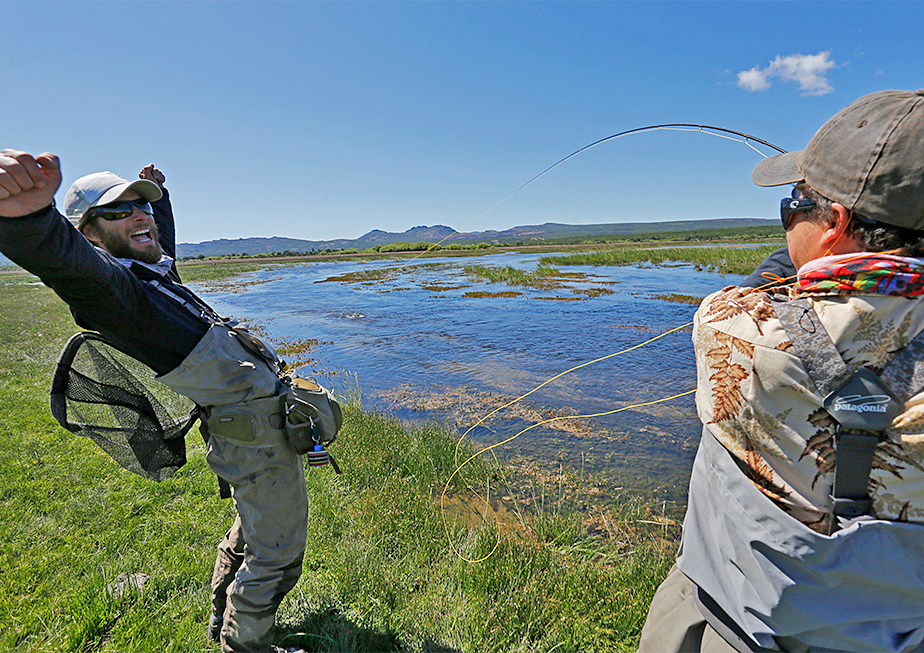 Fishing at Las Pampas Lodge
With a multitude of spring creeks, small to medium sized freestone rivers, and trophy still waters, as well as a mix of rainbow, brown, and brook trout all within a relatively small radius, anglers have at their disposal far more options than they could experience in a two or even three-week stay. Guests are encouraged to communicate with the head guide and manager when planning each day of fishing. Generally speaking, the majority of fish caught are rainbows and the larger fish are brown trout.
Read More
The rivers
The Rio Pico begins as a small willow lined spring creek and grows quickly as additional spring creeks and small freestone rivers add to its volume. As the river flows westward, it breaks into multiple channels that flow swiftly through open pasturelands. Below the channels the Pico is joined by two medium-size freestones — first by the Rio Pampas and further downstream by the Rio Nilson. The next 10 miles of the Pico offer abundant and sometimes large rainbows and fewer but larger browns that can surpass the 27-inch mark. Although these sections of the river are public, they are very hard to access, requiring two things that Las Pampas has: permission from local landowners to drive to the river on their property and keys to locked gates.

All in all, the Pico offers more than 25 miles of water, five distinct floatable sections, and endless wade fishing opportunities before crossing into Chile on its way west through the Andes. Upper, middle, and low reaches are accessed very easily from Las Pampas Lodge. In addition to the much-touted Rio Pico, we fish other systems, such as the Rio Pampas and the Rio Nilson. These are medium-sized freestone rivers where anglers typically see steady action, sight casting to rainbows and browns in the 10 to 20-inch class. Both streams offer miles of fantastic walk and wade opportunities.

Included in Las Pampas' never ending nearby offerings is the mighty Rio Corcovado — a large freestone river with gin clear water pouring out of the huge Lake Vinter. "The Corco" — as locals call it — holds the healthiest trophy brook trout in the world and also provides anglers the possibility of catching the biggest rainbow trout in all Argentina rivers. These hogs sit behind the spawning trophy brookies and feed on minnows and eggs. Every angler should fish this unique river at least once in his or her lifetime.

The Spring Creeks
The Rio Pico watershed is home to over a dozen fantastic spring creeks, all of which ultimately feed into the Pico. Varying greatly in size, length, depth, and current speed, each creek presents its own set of angling challenges. The spring creek Terremoto (earth quake in Spanish) is a slow moving, highly technical fishery that puts out some impressive and deep-bodied brown trout.

For lovers of small and at times technical waters, these often overlooked gems have a great deal to offer. Most of these intimate spring creeks hold surprising numbers of good-sized rainbows and trophy browns that are all too willing to rise to a well-presented dry fly. They are one of the secret gems of Las Pampas Lodge.

The Still Waters
Despite the wide array of river, stream and spring creek fishing options, the Rio Pico area is best known to locals for a series of five highly productive lakes scattered throughout the region's rugged hills. Though each lake has its own nuances, they all share similar shorelines dominated by rocky outcroppings, thick vegetation, and monster trophy fish feeding on any "unidentified flying objects" that hits the water near them.

Typically, the Las Pampas guides will row their anglers just off the shorelines enabling their guests to both blind cast and sight cast large dry flies towards the banks. While many northern hemisphere anglers immediately dismiss the thought of lake fishing, we feel it remiss to visit this region without giving it a go.
Not only do these lakes produce the region's largest fish, but they also can provide very exciting fishing complete with crushing topwater takes and memorable sight fishing opportunities.
Casting a big foam fly from a raft to a rising fish with the potential of having a 20 to 28- inch brown or rainbow come up and suck it in brings a whole new experience of lake fishing.
Typically, anglers and guides leave the lodge in the morning after a hearty breakfast in fully-equipped 4x4 trucks loaded with inflatable NRS rafts with specially-designed fishing frames.
The majority of the drive is spent on rough back roads that are interesting and adventuresome in their own right, before coming back to the lodge late in the afternoon after spending the day on the water.
Lunch is taken on the fly on the water or in the field. On return to the lodge, after a full day of fishing, anglers will have plenty of time to clean up, enjoy a wonderful cocktail hour with hors d'oeuvre, followed by a delicious dinner served with fine Argentina varietals.

A Fishing Day at Las Pampas
Today, we go to "Africa" a maze of spring creek channels of the Rio Pico in a massive valley, surrounded by arid steppes and snow-peaked mountains. The valley floor is covered by thousands of braided spring creek channels, aquatic vegetation and sweet grass - loaded with browns and rainbows eating Caddis or whatever other aquatic insect is hatching. A short drive (5 minutes) from the Las Pampas Lodge has us driving through a locked gate and entering Nuñez's 7,000 acre cattle ranch where our fishery awaits. It's an amazing resource of small watersight fishing to free rising wild trout, exclusive to Las Pampas guests. My first good shot at an eating fish, lands a 23 inch rainbow taken on a Missing Link - thanks Mike Mercer! It's all I can do to navigate the fish through a maze of obstacles as she leaps and runs in every direction – all seemingly at once. Marcel, fishing with Anka, lands a fat brown that is easily 23 inches just upstream from me, minutes after my bow is released. We sneak along the banks, crawl on our bellies and wade between channels sight fishing to sipping trout the next couple hours, (we each have our own guide) until the hatch finally quiets and the fish go rest. It should be noted that this is not tiny spring creek fishing in a channel that is three feet wide, five feet deep (which is not that uncommon in Patagonia). This water is wide, up to and over 40 feet in width in some spots and with good current, cold water and hard fighting fish, that won't suffer being lined or a bonked on the head by a sloppy cast. "Africa" is classic spring creek fishing – the real deal and a lot of fun!

We meet up with Rob and Ted that have been floating the main Pico, once the myriad of braided spring creek channels combines to form a single channel and enjoy a quick and delicious lunch steam side, then Rob and Ted head to Africa and we jump in the raft with Martin to continue the Rio Pico float Ted and Rob were on this morning. We have about 1.5 hours to fish, before we have to bail on the fishing, head back to Las Pampas, grab our gear and head back to Chile. The border crossing closes at 6:00 p.m. As we are getting into the raft, a fat 20 inch brown cruises by us, Marcel casts his Fat Albert in front of it and it eats - this is going to be good! This is super slow water, barely moving and bordered by a thick wall of willows that are partially submerged. We are actually fishing up stream, blown by the wind. Marcel and I cast a Fat Albert to the submerged willows, back bays, weed patches and cut banks and absolutely wail on the fish - all on dries, great takes, nothing less than 19 inches and fish up to 23 inches - amazing. I lose count of how many eats we have and fish we land, but it was non-stop action for just better than hour and Marcel and I are slack-jawed over the quality of the fishing and the fish! – Pat Pendergast
What Makes This Destination Special and Unique?
• The owner, guides and staff at Las Pampas are hardcore anglers that live and breath fly fishing. They are talented and enthusiastic professionals that will go the extra mile to make a guest happy. They are not clock waters, so expect a full day on the water and then some. They are generous with their knowledge of their local fisheries, culture and lives. And they love what they do! After a week spent at Las Pampas, you'll not only leave a better angler, but you will make friends for life. It's simply – The Las Pampas Way.

• Las Pampas offers an amazing array of trout fisheries; several privately accessed. Guests have a daily choice of waters, from stalking tiny spring creeks, to mid-size freestone streams, to lakes loaded with trophy browns and rainbows (several of these still-waters offer dry fly fishing for trophy trout). Las Pampas is especially well-suited for those who like to fish smaller streams for impressive-sized browns and rainbows, or fish from a boat in a series of lakes for true trophies. You will have lots of water all to yourself each day.

• At Las Pampas, expect a 100% pure Argentine experience. The staff is a collection of some of the most talented hardworking and service oriented staff we have ever had the pleasure of fishing with in Patagonia. Expect to pampered from the time you reach Esquel until you depart for home. Let the talented Las Pampas team spoil you, your only job is to have fun, recharge and take it all in.

• Very comfortable lodging, farm to table gourmet food, open bar and world-class wine cellar. There are no annoying extras charged to guests at the lodge. This all-inclusive package features roomy double occupancy rooms for each guest, delicious and beautifully-presented meals, and bar drinks/wine that are included in the lodge rate. You will be spoiled rotten here!

• The owner, manager and head guide Augustine Fox, leads by example and is the hardest working member of the Las Pampas Team. Augie's enthusiasm and energy is infectious and you can count on him to orchestrate a memorable experience. Get ready for the trip of a lifetime.