Imagine being in an Alaskan wilderness only a short 45-minute flight from Anchorage, in a comfortable lodge (that only takes 6-8 guests per week) on the banks of a great trout and salmon river, with superb guides and wonderful food.
Yeah, yeah, that's all fine and good, you say… but I can find that at a number of lodges. OK, how about not just 6, but 7 days of fishing during your week (you fly in early on your day of arrival and fish, and depart late on your last day, after fishing)? Well, that IS good, you admit, but what about the fishing? Ah, so glad you asked! What really sets Talaheim apart from other operations is that you access 6 of your 7 days of fishing via helicopter, magic carpets which drop you in on small streams not accessible in any other manner.
Literally, no one else has ever fished these waters, as there is nowhere to land a float plane, and they are largely too small to run a jet sled on. They are, wonderfully, geographically exclusive fisheries available only to Mark Miller and his Talaheim Lodge guests. They all load up with spawning salmon – during the course of the season many get all five species of Pacific salmon – and consequently they are also chock full of gorging rainbows and, in some cases, sea run dollies. For the angler wanting to escape ALL other anglers and enjoy fast fishing in a wilderness setting, Talaheim is an excellent choice.
2022 Reservations & Rates
The cost of the week-long Talaheim Lodge package is $8,600.00 USD per person
Inclusions
Included in your angling package at the Talaheim Lodge is Round trip airfare from Anchorage to Talaheim Lodge, six nights lodging – seven days fishing, six days' helicopter fly outs – one-day traveling by river boat fishing local waters, great food, wines and draft beer served in the evenings, guides, use of lodge rods ($50 charge for broken rods) and waders (rent for $50 per week), and fishing license plus king tag (during-season).
Non-Inclusions
Not included in your angling package at Talaheim Lodge are fishing equipment; Alaska State Fishing License (and tags if applicable); gratuities (please have cash); alcohol other than what is served at dinner and items of a personal nature.
Travel Insurance
The Fly Shop® is not in the insurance business, but we recommend Travel Guard coverage as a service with a desire to see your best interests protected. It is impossible to know when an unfortunate situation (loss of luggage, fly rods, illness in the family, or an accident) may occur. However, such things can and do happen, and this insurance can provide a means of recourse against non-refundable financial losses.

• Travel Insurance Information
Seasons at Talaheim Lodge
Mid-June sees the largest pushes of king salmon into the small coastal rivers Mark accesses via helicopter.

As well, there are always resident rainbows and some grayling in a lot of the smaller streams the lodge fishes. By the end of June the first of the sea run dollies begin showing, as well. This is a great mixed-bag time, for the angler who really wants a great shot at bright kings in the mix. Also, Mark can fly you into some shallow lakes and sloughs where northern pike will demolish a skated mouse pattern – a real hoot on a fly rod!
Read More
July is the time of plenty at Talaheim, and our first choice for trout fishing. The kings have pushed up into the smaller spawning tributaries, and most of the rainbows from larger downstream rivers follow them up like magnets. Many of these little heli-accessible creeks are choked with hyper-aggressive trout and dollies, many of which can be sight-fished. As well, though they will certainly take egg patterns, these rainbows will also climb all over mouse and streamer patterns, an added bonus not often found in the famous and pressured waters of Bristol Bay. If you like catching big numbers of 16"-22" fish on a 6-weight in small water, you'll like Talaheim in July. For those who like to do day floats in rafts, this is a great time to experience wilderness floats on water never seen by other humans – really amazing!

August is the time for those who like to mix some silver salmon action in with their trout. Just as the "early" salmon – kings, chums, and sockeyes – are getting mature and dropping eggs in the creeks, the cohos begin pouring into the coastal streams (as well as the Talachulitna River, literally in the lodge's backyard). Mark will again use the helicopters to drop guest in for bright silvers one day (many of which can be caught on surface flies), and then trout the next. As well, he has a couple of secret little char streams that tend to load up with colorful 2-5 pound specimens this time of year, and are a blast, as they are largely sight-fishing opportunities.

Talaheim stays open into early September; along with the crisp nights, cool days and beautiful fall colors come even more silver salmon, and some of the largest, fattest rainbows of the season. This is not the numbers game fishing of mid-summer, but for the angler willing to throw streamers, there is always a shot at a trophy trout. The dolly varden are aflame with spawning colors – not only do they look like neon signs in the water, but they make for beautiful photo opportunities, as well.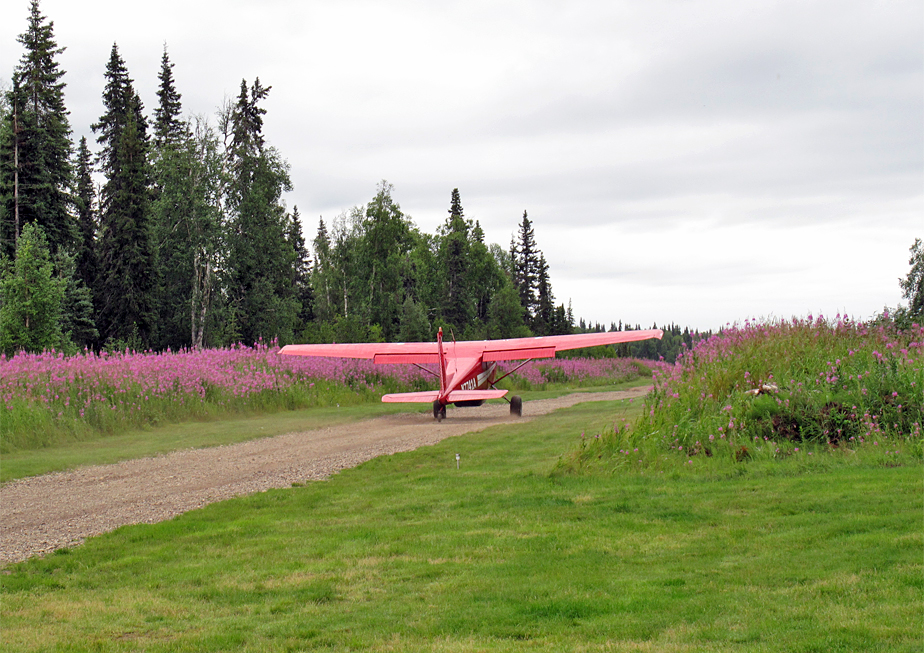 Getting to Talaheim Lodge
On the day prior to your scheduled arrival date at Talaheim Lodge, you should plan on traveling to Anchorage and overnighting.

We suggest staying at one of the hotels within close proximity of Lake Hood as this is where your flight will depart from the following morning. Hotels that are very close to Lake Hood include The Millennium Hotel, Puffin Inn and the Courtyard Marriott.
Read More
Once you arrive into Anchorage and are checked into your hotel, call Mark Miller of Talaheim Lodge at (907) 733 2815, or locally, check in with Maitlin at Great Northern Air at (907) 248 1968. Let them know you are in town and confirm where you are staying in Anchorage. You will already have your meeting details in place - they will confirm you on these flight arrangements to the lodge for the following morning.

Most flights to Talaheim Lodge leave Anchorage at 7:00 am on Sundays, and depart the Lodge on Saturday evenings at 5: 00 pm. This schedule allows for fishing both on your day of arrival, and departure, making for a 6 night/7 fishing day itinerary. The lodge may vary flight times from time to time to better suit your needs. By mid-August on through September, flights leave Anchorage for the lodge at 8:00 am., to accommodate the gradually shortening days. Flights will be based out of the TransNorthern building at 4101 Float Plane Drive, just 100 yards down from Lake Shore Drive, next to the main airport. Your hotel shuttle or cab should know where this building is located - in some cases, Mark Miller will pick you up at your hotel. This will be confirmed to you when you call the day prior to your scheduled arrival day.

On your day of arrival, Talaheim Lodge will have made your flight arrangements with a certified and fully-insured air taxi operator, Great Northern Air (or in some cases, Mark Miller will fly you out personally). The flight will take approximately forty-five minutes and flies over some marvelous country. It is not uncommon to spot moose and bear from the bush plane while flying into the lodge. You will land on a gravel strip at the lodge.

Return flights to Anchorage leave the lodge at approximately 5:00 p.m. on the day of departure. You can then either overnight in Anchorage this night or catch a red-eye flight back home. There are usually many flights leaving Anchorage from 12:00 am to 2:00 pm each evening.
Lodging at Talaheim Lodge
Located on a bluff near the Talachulitna River, with a tremendous view of the surrounding mountain range, Talaheim Lodge is a rustic comfortable lodge with separate cabins, and a spacious-yet-cozy main gathering/dining area.

All the cabins have their own bathrooms/showers, and are all just a short walk on the lodge trail through lush forest and undergrowth to the main
Read More
facility. As well, there are historical buildings on-site, and the grounds are well-kept, with native and colorful introduced flowers everywhere. All of this on the banks of the Talachulitna River, a pretty stream that experiences strong runs of salmon annually, and harbors a resident population of rainbow trout and grayling.
Fishing at Talaheim Lodge
Due to the helicopter access advantage, the vast majority of the streams fished by Talaheim Lodge see no outside pressure; there is no need to get up before dawn to be the first ones on the water.

Typically, you'll arise around 7 a.m., enjoy a leisurely breakfast, then wader up and take a short flight to the nearby streams, making your first casts around 9 a.m. When trout and dolly fishing, Mark will drop two
Read More
anglers and a guide off at a point somewhere along one of the creeks, with instructions to simply walk and fish at whatever pace they prefer; later that afternoon, he will fly the stream corridor until he finds them, then will land and pick them up. It doesn't matter whether you like to fish slowly and methodically, or burn up the water at a torrid pace – it all works! The guide carries a backpack with all of the lunches, spare tackle, radio and emergency gear, and will give you excellent fly fishing instruction all day long. If you are fishing for kings or silvers, the same schedule applies, though usually you will fly to a coastal stream, and spend more time on less water, once you've found a concentration of fish. Once Mark has picked you up at day's end (typically after about 8 hours on the water), you'll return to the lodge, where you can grab a shower and relax in your cabin, then repair to the lodge to enjoy a great meal prepared from scratch. Usually in the evenings, Mark Miller and his guides will discuss with you your fishing options for the following day.

Besides great fishing and fly fishing instruction, Talaheim also offers heli hikes in the surrounding mountains, a spectacular landing on nearby glaciers where you can get out and walk around, evening bear viewing, and even prospecting for gold! These are strictly optional, of course, but the helicopters give tremendous flexibility to guests, should they decide to take a day off from the fishing and simply do some amazing sightseeing.
What Makes This Destination Special and Unique?
• Talaheim Lodge utilizes helicopters to place anglers on crystal clear creeks that are impossible to access in any other manner. These headwater streams are absolutely pristine, filled with spawning salmon, and loaded with aggressive rainbow trout and Dolly Varden. Because the trout and dollies see so little pressure, they love to eat skated mouse patterns. Silver salmon fishing on coastal streams can be excellent in August. Anglers will catch many fish here each day, regardless of their skill level!

• In the unlikely event weather prevents flying (almost never happens, as helicopters can fly in almost any weather), the lodge is located on the banks of the Talaheim River, an excellent salmon and trout stream. The lodge keeps jet boats here to whisk anglers up and downstream. You don't have to worry about missing any fishing time due to not being able to fly.

• The flights between Anchorage and the lodge are included in the rate, about a $600 value. There is no hassle in trying to organize a commercial charter flight between Anchorage and the lodge. All you have to do is get yourself to Anchorage – the rest has already been taken care of for you!

• Talaheim is on a 6 night, 7 fishing day schedule, which means guests get an additional day of fishing compared to the standard 7 nights and 6 fishing days built into most lodge's packages. You get more bang for your buck at Talaheim Lodge.

• Owner/operator Mark Miller – who lives at the lodge year round – is a true Alaska character who has been taking guests for over 40 years. He goes out of his way to give his guests the Alaska trip of a lifetime, and the heli-fishing is an amazing way to see the country. Mark loves to fly clients into the mountains on sightseeing forays, and often lands on the edge of huge glacier fields to serve field lunches (with glacier ice in their drinks) and let people walk around on the ice. You go to Talaheim for the fishing, but Mark makes sure there is more to the adventure than that.