Mike Gorton's remote outpost camp on the Goodnews River has been popular with hardcore anglers for decades.
This midrange-sized river is far enough off the beaten track so as to have very few free floaters, meaning most of the many miles of river "belong" to Mike's guests for the week they will be there. The Goodnews experiences all five major runs of Pacific salmon, and has excellent populations of both rainbow trout and sea-run dolly varden, as well. The camp itself is located just about where the upstream tidal influence ends, meaning the salmon one catches will be dime-bright and full of fight. The rainbows tend to be most numerous further up the river from camp, and wonderfully, are very fond of skated mouse patterns (as well as the standard streamers and single egg patterns).
Guests stay in well-appointed tents erected on wooden platforms, and enjoy the benefits of camp-wide boardwalks, propane heaters, great food and guides, and fishing literally out the front door.
Reservations & Rates
2023 RATES

• June 21-28 Kings, Rainbows, Grayling, Chum, Sockeye $9,360
• June 28–July 5 Kings, Chum, Sockeye, Rainbow, Dolly Varden $9,360
• July 5-12 Kings, Chum, Sockeye, Dolly Varden, Rainbow $9,360
• July 12-19 Kings, Chum, Sockeye, Dolly Varden, Rainbows $9,360
• July 19-26 Grand Slam, Kings, Rainbow, Dolly Varden- Kids Kast and Katch Week $9,360
• July 26-Aug 2 Grand Slam, Rainbows, Dolly Varden, Silvers $9,565
• Aug 2-9 Silvers, Rainbows, Dolly Varden, Grand Slam $10,360
• Aug 9-16 Silvers, Rainbows, Dolly Varden, $10,360
• Aug 16-23 Silvers, Rainbows, Dolly Varden $10,360
• Aug 23-30 Silvers, Rainbows - Sold Out
• Aug 30-Sept 6 Silvers, Rainbows Cast and Blast Week $10,360
• Sept 6-13 Silvers, Rainbows Cast and Blast Week** $9,565

Goodnews River Lodge reserve the right to revise the pricing as economic conditions dictate.
Inclusions
All rates include round trip airfare from Anchorage to Goodnews Bay ($1250 in 2022), the $115 Native Land Use Fee, deluxe tent accommodations, meals, amenities, daily guided fishing trips away from the camp, guides (2 anglers to a boat/guide), flies, terminal tackle, and waders and wading shoes if needed. At the end of the week the camp will vacuum seal the salmon filets you wish to bring home and put them in waxed boxes for your travel home.
Non-Inclusions
Not included in your angling package at Goodnews River Lodge are flights to and from Anchorage, Alaska, fishing license, gratuities, alcohol, fishing gear, or items of a personal nature.
Travel Insurance
The Fly Shop® is not in the insurance business, but we recommend Travel Guard coverage as a service with a desire to see your best interests protected. It is impossible to know when an unfortunate situation (loss of luggage, fly rods, illness in the family, or an accident) may occur. However, such things can and do happen, and this insurance can provide a means of recourse against non-refundable financial losses.

• Travel Insurance Information
Seasons at Goodnews River Lodge
June 17 - 24:
This is the start of the prime time fly fishing for Kings 4-8 hookups per day is the norm. The Rainbow and Grayling fishing is phenomenal on top. Anglers have the opportunity to fish Chum and Sockeye Salmon as well this week.
Read More
June 24 - July 1:
salmon Prime time flies to Kings. Peak Chum fishing, some sockeyes and super Rainbow and Grayling fishing- bring a dear hair mouse. There is a shot at dry fly fishing for Dolly Varden as they typically enter our river system this week.

July 1 - 8:
Prime time flies to Kings. Peak Chum fishing. Good Sockeyes. Great Trout and Grayling on top. Super Dolly Varden fishing on dry flies. 4 July 8-15 Still good fly fishing for Kings rounded out with perhaps the best week for light rods and dry flies. Chums on top, Rainbows on top, Grayling on top and lots of Dollies on dries! Someone will catch a Silver Salmon this week!

July 15 - 22:
This is the week of our tournament to benefit the Kids of Goodnews. What a great week to be here. The only place I know where you can catch all 5 species if Salmon on the fly in one day. This is the week to do it. The Trout and Dolly dry fly fishing is perhaps at its best.

July 22 - 29:
Prime time Silvers on top. Sea-lice bright fish averaging 12-17 lbs-20 lbs to 60 day is normal. Dollies are still eating dry flies and the Trout are around, but not at their best.

July 29 - August 5:
Prime time Silvers on top. Sea-lice bright fish averaging 12-17 lbs-20 to 60 per day is the norm. Dollies are still eating dry flies, and the Trout are around, but not at their best.

August 5 - 12:
Silvers, Silvers, Silvers! Still good Dollies, some Trout.

August 12 - 19:
Peak Silver Action! Should have a flooded river by now, so Dollies are somewhat sketchy and so are the Trout.

August 19 - 26:
Peak Silver Action! Need we say more?

August 26 - September 2:
Peak silver on top! We should be starting to see some fish colored up. The majority are bright fish. The Dollies are coming back onto dries/wets, the Trout are back on eating walked marabou muddlers (This is the time for 10 lb. Trout).

September 2 - 9:
Super Silvers on top. 50% or more are colored up. Dollies eating waked streamers and eggs – maybe dries if the weather doesn't get too cold. Trout and Grayling are both eager to eat just about anything.
Getting to Goodnews River Lodge
Goodnews River Lodge is accessed by air charter from Anchorage.

From Anchorage, the lodge recommends their private charter Trans Northern. It is a two-hour non-stop flight and eliminates the hassle of flying through Bethel and into Goodnews, and is included in your trip cost.
Read More
The flight is direct, non-stop from Ted Stevens Anchorage Airport to Goodnews Bay, and return. The flight leaves at 10:00 am on Wednesday mornings, and guests are asked to be at the airport by 9:00 am for processing. The gate currently being used is in the "A" concourse, located on the lower level of the airport on the far side of baggage claim, and does not require that the guest go through the normal security screening lines. Specifically, to find the gate: Very simply, as you face the terminal, the A gates are on the bottom level to the left at the very end. There are plenty of signs and they will not have to go through security. You'll want to be dropped off at the very end of the terminal by your taxi, then follow the signs to Gate L-2.

Remember that you will be checking in at the gate, NOT at a ticket counter on the upper level. We will have a sign at the Gate saying TransNorthern with flight information. The plane will make the trip in slightly over two hours, and then the guests are transported from the airport directly to the camp via jet boat.The return trip on the following Wednesday leaves Goodnews Bay at approximately 12:00 pm, and arrives back in Anchorage by 3:00 pm. We ask that guests do not make reservations for their flights home before 7:00 pm that night. All of this is obviously dependent on the weather, and delays are not uncommon, but not too frequent either.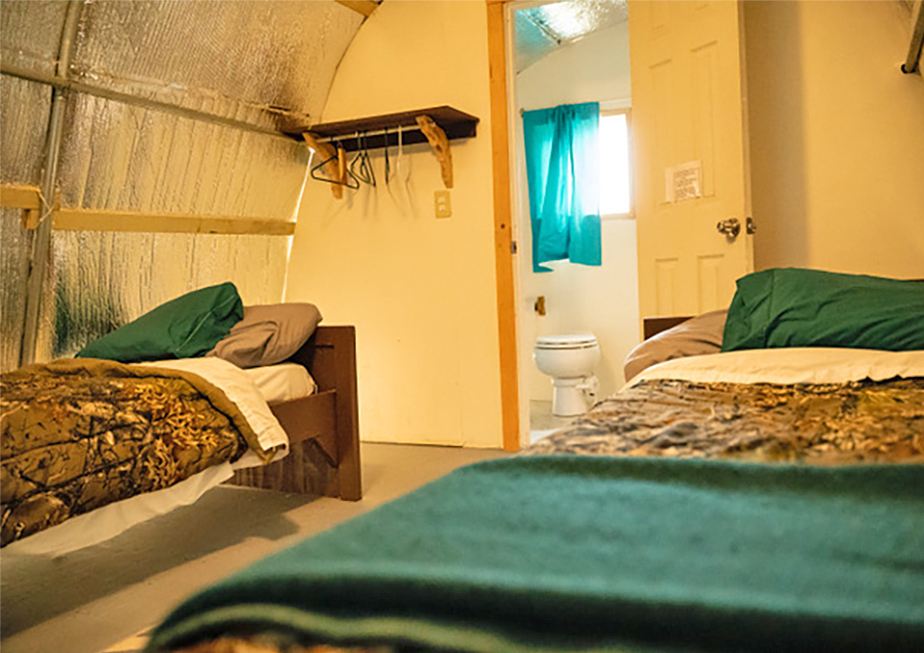 Lodging at Goodnews River Lodge
Goodnews River Lodge is the only full service fishing lodge on this three branch river system.

The camp is made up of 10 Weatherport guest tents, each elevated off the ground, and connected to the main common area by a mostly elevated walkway. Each tent has a metal door with a window in the front, a frame window in the rear allowing for cross ventilation, and a full ensuite bathroom with flush toilet and shower. Each tent is
Read More
supplied with a propane heater, and a propane lamp should any guest wish for light after the generator is turned off at 10:30pm. (It comes on at 5:00am so there is full power to all tents in the morning). The common area consists of a dining tent, which also houses a sitting area, fly tying bench, and a shop for souvenirs. Next to it is the bath facility, with 6 complete baths, each with a shower, water heater, and a chemical toilet. This facility connects to a heated drying tent for guest's and guide's waders, jackets, etc, and is kept warm all night so all clothes are dry for the next day's fishing.

The commercial kitchen features standard Alaskan fare, from steak to salmon, and can accommodate most requests. A full breakfast buffet starts the day at 7:00am. Dinners are a choice of 3 entrees and a fish dish every day. Lunches are a sandwich board with many choices, and there is always hot soup available for anyone who wants to come in for lunch. Shore lunches are provided upon request. Since the tents are located right on the river, you can fall asleep to the splashing of the migrating fish.
Fishing at Goodnews River Lodge
Since the camp is located at the top of the tide line on the main branch of the river (there are three distinct, and very fishable branches, each with its own character), the vast majority of salmon fishing for all 5 species is for chrome bright, sea-lice fish fresh from the salt.

Since the river is at it widest and deepest in tidewater, some of the king fishing is best done from one of 10 skiffs that carry two anglers (or 3 if
Read More
there is a party that wishes it). There is everything from high powered skiffs for a long run upriver, to a drift boat. However, there is ample opportunity to wade fish both the tidewater areas, the mouths of all three branches as they split off the main tidal section, and miles of river, if that is what the angler wishes. There are wonderful opportunities to swing a fly on one or two-handed rods for all of the salmon species. Silvers are best caught wading, but can also be fished for from a boat. Each evening all guests are given the opportunity to decide what they wish to fish for, where they would like to fish, and how they want to fish for the following day.

The fishing day is normally 8:30 am to 5:30pm. Most guests find this ample time. However, during King season when the tide is right, the guides, by request of their anglers, will take anyone wishing back out after dinner until 10:30 pm. Due to the location of the camp, there is also great fishing right out in front of the camp, especially for silver and chums as they make their way upriver.

Most fly anglers can expect to hook up on 4-8 chrome bright kings per day, with an average size of 20-30#. There are many kings landed over 30# each week, and some that push 50. Plug pullers can expect to do even better. Along with the kings come the chums, and in recent years, a staggering amount of Sockeye, all of which can be caught alongside the kings, or targeted specifically. Pink runs are heavy every other year on the even years. But the silver run is epic, and arguably the best fishing the river has to offer. Starting around the 20th of July and continuing well through the end of the season, they pour into the river by the thousands. These are chrome-bright fish that just love to eat poppers on the top, and 30-50 fish landed per day is the norm. After a few days of this hot action, most anglers need a break.

The Rainbow fishing starts in the early season with fish aggressively hitting streamers, and then the Mouse when the water temp hits 48 degrees. This is done by wading, drifting, or a combination of both in all three branches of the river, and as much as 30+ miles upriver. As the salmon start to drop eggs, the bows congregate below them, and a bead egg is pretty hot, but you can still get them to take a mouse. Our bows average 18-24" and are readily available most of the season. Good anglers can expect 15-20 bows per day, based on the week.

The sea run dolly varden hit the river in mid-July, and move upriver as they track the salmon. These fish just love to hit skated dry flies, and catches of up to 50-80 dollies per day from 14-22" are not uncommon, and can provide a welcome break from wearing your arms out catching silvers.