The Duncan's Steelhead Camp is based on a small river flowing directly into the Shelikof Strait, and is about as remote a location as can be imagined.  Guests are flown into a remote coastal lagoon, where a quick helicopter flight will bring them to their home for the next week.  For the following 6 days, their only companions will be brown bears, foxes, eagles and amazing numbers of steelhead, big silver salmon and char.  More than just another great flyfishing experience, this place is an adventure!
Known as the Emerald Island, Kodiak is a lushly vegetated and unpopulated part of Alaska.  There are no roads to the vast majority of the island – making what the Duncan's have discovered out there even more amazing!  The camp is in the center of the fishery and has immediate walking access to both the downstream estuary water and many miles of stream upriver, much of which is broken riffles, moderate runs, pools and tailouts.  All transportation here is on foot – the stream is simply too small to run jet sleds on.  This is walk and wade fishing at its best, and it helps if anglers are in good shape.   The season is short – September through mid-October – designed around the heart of the fishery's steelhead and silver salmon runs, so rod space is extremely limited.
The river camp theme of the operation allows for increased fishing time and mobility. Each two fishermen will have a hard-working guide at their side every day, all day, and in the unlikely event anglers aren't exhausted from fighting big ocean-fresh fish by dinnertime, they can wolf their meal and finish the day right outside their tent.  Since the wilderness status of the area does not allow permanent structures, the camp uses top-quality Weatherport tents, erected on wooden platforms.  Hot water, heated, lighted tents and great food round out this remote, top-notch operation.  It is the real Alaska, remote and loaded with wildlife, and offers a great combination of fly-fishing and service at a great value.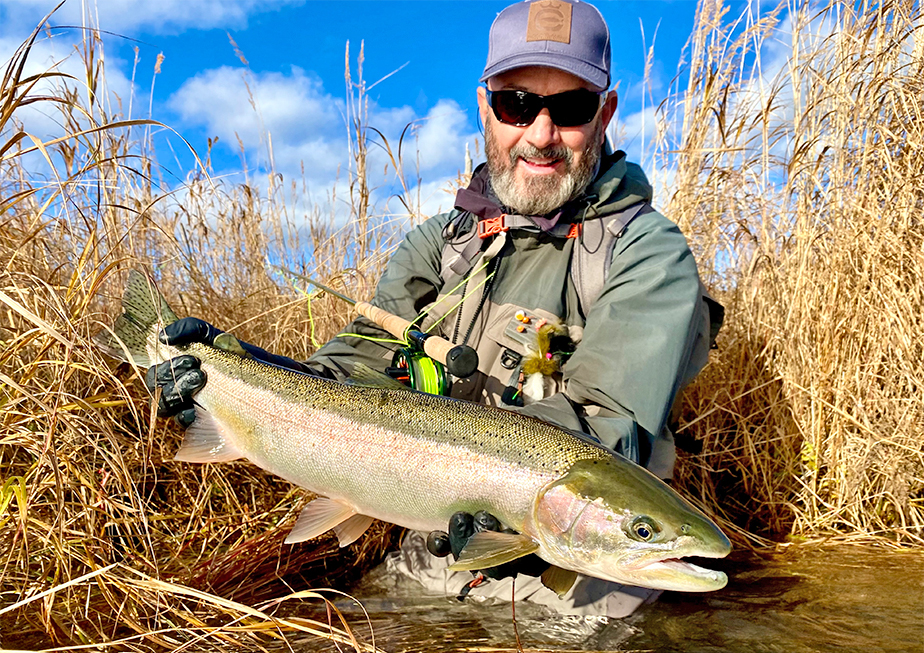 Reservations & Rates
The rate in 2023 is $6,100/person.
Inclusions
Included in your angling package at the Duncan's Steelhead Camp are meals (including beer and wine with dinners), sodas, lodging, and guiding services on the river.
Non-Inclusions
Not included is roundtrip transportation between Kodiak and Camp, a sleeping bag, fishing tackle, fishing license, Koniag Land Use Permit, items of a personal nature, and any favorite alcoholic beverages. Due to the fact that the lodge is in a wilderness area with no electricity allowed, there are no freezers, so no fish can be kept to take home.
Travel Insurance
The Fly Shop® is not in the insurance business, but we recommend Travel Guard (AIG) and Global Rescue (IMG) coverage as a service with a desire to see your best interests protected. It is impossible to know when an unfortunate situation (loss of luggage, fly rods, illness in the family, or an accident) may occur. However, such things can and do happen, and this insurance can provide a means of recourse against non-refundable financial losses.

• Travel Insurance Information
Seasons at Duncan's Kodiak Steelhead Camp
The season is short at Duncan's Steelhead Camp, beginning in mid-August and ending in mid-October. Both steelhead and silver salmon are available throughout the season.
Getting to Duncan's Kodiak Steelhead Camp
Guests will want to fly to the town of Kodiak and overnight the day prior to going into camp. The following day they will be flown into the camp, where they will get set up and ready for the fishing week ahead. Anglers are welcome to do a little fishing right around camp on their own this day, if they'd like. The process is reversed on the day of departure, though it is not always necessary to spend that night in Kodiak - it is recommended by the Duncan's, though.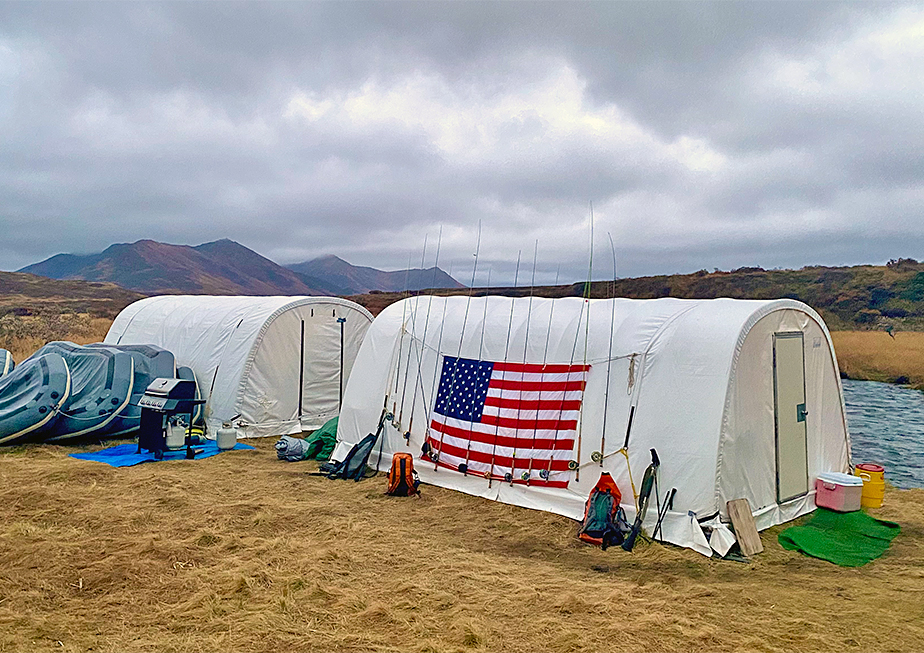 Lodging at Duncan's Kodiak Steelhead Camp
There are 6 anglers a week, and each two anglers will share a comfortable, heated tent, each with their own cot (guests need to bring their own sleeping bag). Meals are taken in the main dining tent.
Fishing at Duncan's Kodiak Steelhead Camp
Though there are lots of beautiful big silver salmon in the slower sections of the home river, the main draw here is the strong run of steelhead that show up annually in August, and are still pouring in when the camp closes in mid-October. These steelhead tend to average 5-8 pounds, with a big fish in the teens. Fishing methods are completely up to the angler - many prefer to swing fish for these close-to-the-ocean screamers (with either a single handed or double-handed rod), while others will dead drift nymphs to get even larger numbers of hookups. For the silvers and steelhead both, a floating line is often all you need, though some modest sink- rate sinking tips can also be helpful at times.