Trip Questionnaire: Once you have arranged your travel details, please click on the link below. This will take you an electronic questionnaire form that we ask you to complete and submit to The Fly Shop. Please be sure to click the "Submit" button at the end of the form. The information provided will help us — and the outfitter best coordinate your trip.  THANK YOU!
Questionnaire: Click HERE
Getting to Bahia Honda Sporting Club
Ground Transportation Services:
The lodge does not include transportation, but they highly recommend and are happy to arrange for shuttle transportation to and from the Key West airport @ $120/vehicle each way. Not per/person, so if there are a group of you and you will all be there at the same time the price is $120 total. It is a little more for hotel pick ups in Key West. Taxis are readily available at the airport (estimated $100 each way) and Uber is becoming available but not always reliable. Once at the lodge no other vehicle transportation is necessary, they are a water-based operation.
Address: 21966 Raffy Rd, Cudjoe Key, FL, 33042
Note on Arrival Time at the Bahia Honda Sporting Club: If you and your party are delayed, or for any other reason anticipate not arriving at the Bahia Honda Sporting Club until later in the evening, please call the Lodge and alert them to your estimated arrival time. This will allow them to organize your dinner service accordingly.
TARPON TACKLE
Remember, all rods, reels, lines, flies and leader material are provided by the guides as part of your package price. If you do bring your own rods and reels, the proper set up is very important when fishing at Bahia Honda. You are welcome to bring your own flies, but all the guides have specific flies for each location, time of day and weather conditions. The Most important element at Bahia Honda is being able to accurately present a fly with minimal false casts. Quick and accurate is the key, not necessarily distance.
MANDATORY ITEMS
You need good polarized glasses and a good rain jacket!
Long sleeve, light weight, quick drying, natural colored shirts.
Light colored hat and buff
There is ZERO wading opportunity. Most anglers have running shoe or go barefooted.
FLY RODS
Multi-piece 10, 11 or 12 wt. fly rods in 9 foot lengths are our favorite choices. Tarpon fishing requires two things from your fly rod. Present the fly correctly in a variety of conditions, and fight the fish effectively. Not every rod that is capable of casting beautifully is a great fish fighting tool, and few rods that can whip a hundred and fifty pound tarpon quickly are delicate casting tools. For many anglers, the eleven weight has become the tarpon rod of choice. Looking on both sides of eleven, the ten weight rod feels good when casting smaller tarpon flies, but may fall short on pulling power after the hook up with a fish pushing a hundred pounds. A twelve weight is a serious fish fighting tool, yet it's sometimes difficult to load during the cast unless you're "in tune" casting that heavy of a rod. The eleven weight sits in the middle, easier to cast than the twelve, and definitely more fighting power than a ten. Scott, Winston and Sage produce fine tarpon rods, along with several other rod building companies.
FLY REELS
Reels specifically designed for saltwater fly fishing are highly recommended. Smooth, sealed disk drags, plenty of backing capacity, and sturdy machined aluminum anodized frames are features to search for in a reel.  Models to consider include: Abel SDS Series "9/10" or "11/12", Hatch Iconic 9+ and 11+ and Hardy Fortuna Regent.
FLY LINES
At Bahia Honda Sporting Club, they use only a clear weight forward floating line, so do not bother with bringing any sort of sinking lines. Cortland Clear liquid series is a great line we recommend and they make a Tarpon specific line. Monic also makes a clear floating line for Tarpon. If you are going to have two lines, one with a full clear and one with a nice shooting light opaque bluish tinted line.
LEADERS
Your guide will make a custom leader for you when you and they will have all the leader material with them. If you would like to bring leader material, we suggest spools of Mono in 50#, and Fluorocarbon in 50# and 60#.
TARPON FLIES
Remember, all flies and leader material are provided free of charge by your guides. Each guide is very particular about the flies they use and they change depending on the season, time of day or current conditions. There is no need to bring any flies with you unless you want to fish your own patterns.
BOAT REFRESHMENTS & LUNCH
Your guides are responsible for stocking the cooler and providing drinks. In the morning they will ask you if you would like a specific beverage for the day and pack it in their coolers. The lunches are prepared by the chef in the morning so they are fresh for your day on the water. 
FISHING LICENSE (No Fishing License is required)
A saltwater fishing license and permits are not required if:
You fish from a for-hire vessel (guide, charter, party boat) that has a valid charter license.
GUIDES
Bahia Honda contracts exclusively with a few local, independent Florida Keys professional guides. The guides are very friendly, with many years of experience in the area, and demonstrate professional conduct. The lodge also has a FFI certified casting instructor on staff willing to give any level of instruction at no additional charge. Top notch pro guides for the great casters with lots of experience. Top notch pro guides for the beginner casters who want to learn and those who want to improve.
FISHING DAYS
Guides will arrive each morning by water, dock their skiffs, come up and greet their anglers, find out their preferred drinks for the day, pick up lunches, pair off and head out for the day.  You'll be welcome to use the lodge's tackle, they use fly rod outfits of the best quality and are very particular about lines and leaders.
The lodge is located in the heart of the Lower Keys right in the middle of one of the most famous flats fishing locations in the world and they specialize in sight-fishing big tarpon in clear water over beautiful flats. Long run times to and from the fishing grounds each day are not the norm here, one of their favorite spots is just a 3 minute boat ride away from their private dock.
Their fishing area begins at the famous Bahia Honda area to the North, and South down toward Key West. Islamorada, Marathon, and Key West are the three main destinations for tourists, anglers, and recreational boaters. But conservation measures and economic factors in the area discourage tourism and protect most of the Lower Keys from overdevelopment, leaving relatively few restaurants, a few dumpy motels, and very few tourists.
As a result, the waters of the Lower Keys are considerably less congested with very few boaters, and a huge area to fish. Large expanses of intertwined flats span from the Atlantic sandy bottoms to the colorful backcountry of the Gulf waters.
Tarpon – The guides like to sight fish for tarpon in shallow water, usually in less than three or four feet. Most often guides pole over a light bottom, watch them approach, and have anglers present their fly. The average size tarpon is about 80 lbs., more than most anglers want to handle. Occasionally near the mangroves you can encounter smaller tarpon, less than 40 lbs. They're great fun at any size. Last but certainly not least, in some areas of the Keys deep water channels produce lots of very large schools of rolling tarpon. Commonly fished in the afternoon, with the backdrop of a beautiful sunset these schools are something of a spectacle.
ACCOMMODATIONS
The lodge is simply spectacular, located waterfront on an open water bay, with a great deal of privacy.
They handle up to ten rods at the lodge with private and shared accommodations. The lodge interior is exquisite, a luxurious design and décor including Italian marble floors throughout. A vaulted ceiling towers over the great room, which opens onto the pool and courtyard, overlooking the Atlantic Ocean. The lodge also provides a flat panel television, a computer area with high-speed internet access, and an open, well stocked bar for your pleasure.
Upon your return to the lodge after fishing you'll find an array of hors d'oeuvres and cocktails, an open bar stocked with an impressive selection of liquors, craft beers, and assorted beverages, all complimentary, included in your package rate.
ALCOHOL
Bahia Honda Sporting Club has an open complementary bar including non-alcoholic beverages, beer, liquor and house wine. If you have a special drink you would like, we can request it for you and they will do their best to accommodate you. A humidor full of cigars is also available for guests to enjoy while staying at the Lodge.
MEALS
Breakfast is a casual affair, taken on the sunny outdoor porch, overlooking the pool. They understand that some like to take their time in the morning, relax with coffee, and ease into breakfast, while others wake up ready to eat. They offer anything from a buffet style arrangement to an extravagant full English meal.
Lunch plans are determined according to the fishing agenda, usually during a mid-day break back at the lodge for a few hours out of the sun. On occasion the tides require anglers to have lunches on the skiffs, prepared to order by the chef.
The chef team creates a new dinner menu each day, based on their guest preferences. At dinner guests dine communally at a large table with the guides and hosts. It is at dinner that they confirm the fishing plan for the following day. After dessert they offer drinks and cigars around the outdoor fire in the courtyard, and under the stars.
DRESS ATTIRE AT THE BAHIA HONDA SPORTING CLUB
The atmosphere is very laid back at the Lodge. You're on vacation! Please feel free to wear whatever is comfortable during the day. Some of the guests and the host like to wear a nice, collared shirt to dinner. 
MAID & LAUNDRY SERVICE
The lodge has daily housekeeping/room service. For guests staying longer than 4 days, the lodge can do some laundry so you can have clean shirts for the whole week.
BOATS
All our Captains are outfitted with top of the line skinny water flats skiffs such as Hell's Bay, Burton, East Cape, Maverick or Ranger boats that are perfect for poling in shallow water hunting Tarpon. 
COMMUNICATIONS
You can expect modern communications including WIFI at the lodge and throughout the property. Cellular service is also very good at the lodge and typically really good on the water as well. 
GRATUITIES
We feel gratuities are completely at the discretion of our guests. But we are regularly asked for guidance on what is customary. If you feel your trip warrants such gratuities… Guides commonly receive $50-$75 per day of guide service from each angler. Chef/Kitchen/House staff/Manager as a group generally receive $75 per person per night – a suggestion only. You can choose to leave the guide a tip each day or you can leave the tip to the Manager to disperse it to the staff and guides. They want to make it convenient for you, so you can pay for your tip in cash, check or put it on a credit card and the manger can distribute it.
CLIMATE
The Florida Keys are situated within the subtropical region of the Western hemisphere. Because of its proximity to the Gulf Stream and the Gulf of Mexico, the Keys have a mild tropical-maritime climate where the average summer and winter temperatures rarely differ more than 10 degrees. December through April, referred to as the dry season, receives roughly 25 percent of the annual rainfall, usually ahead of cold fronts. June through October is considered the wet season, receiving approximately 60 percent of the yearly total in showers and thunderstorms.
CLOTHING & GEAR
CLIMATE AND GENERAL CLOTHING
Between April and July, the average day time temperatures are in the 80's and nighttime temperatures in the 70's. Generally speaking, the weather is consistent and very pleasant. When packing, keep in mind that the lodge dress code is extremely casual. Clean and dry fishing clothing is always acceptable at the dinner table. Other than your fishing related clothing, a couple of tee-shirts, and a pair of casual shorts or pants, we recommend only one set of street clothes for travel days. Pack lightly!
The key to staying comfortable in the Keys is to remain cool while protecting yourself from the sun. Lightweight clothing with plenty of ventilation is recommended. Odds are you will probably get wet when running in the boat or during a rain shower. You want your fishing clothing to shed water and dry quickly in the humid air. Plan on packing one long sleeved shirt for each day you are there.
LUGGAGE
We recommend roller style, soft-sided duffle bags for nearly all our travels. Ideally you have a bag that adheres to airline size restrictions but it still large enough to fit a couple of rod tubes, tackle, boots and other gear. If you have a particularly large bag, we advise you to communicate with your commercial carrier as well as the TSA regarding any baggage weight restrictions that might be applicable.
We carry many excellent sets of luggage by Patagonia, Simms and Fishpond. These bags are the ideal size, bulletproof, and are equipped with efficient roller systems. Some models also have separate compartments for storing wet boots and/or waders or even rod tubes. Don't forget to mark your luggage with appropriate personal identification bag tags, supplied by The Fly Shop®.
LIGHTWEIGHT SHIRTS
Color is VERY important. White, light blues and grays are the only colors you should bring. These Tarpon are very shy and receptive to colors and bright shirts can have a huge effect on your day on the water. Fishing shirts should be cool and dry quickly, have breathable flaps that allow air to circulate through, and should be easy to pack and maintenance-free. Skwala, Patagonia and Simms make several different models and styles in long sleeves. We recommend, without a doubt the long sleeved versions. Proper fishing shirts also should be equipped with chest pockets for storing small items like tippet material or a cleaning cloth for sunglasses and camera lenses.
SHORTS
Fishing shorts should also be made of a synthetic quick dry material. We suggest shorts with pockets and belt loops for accommodating pliers. Patagonia, Skwala and Simms make excellent models. If you are sensitive to the sun, we recommend long pants. If you wear shorts we suggest packing pants along in case you are getting burned.
LONG PANTS
Sun protection is the primary function of long pants when fishing in the Keys. Skwala and Patagonia make great pants and shorts specifically designed for fishing. They will protect you from the sun, are wind resistant, and dry quickly. Some pants have removable pant legs that zip off to become shorts. Most styles of pants are also suitable for wearing at the lodge or on your travel days. 
SUNGLOVES / FINGER GUARDS
Sun-gloves made by BUFF, Simms or Glacier Gloves are great for protecting your hands from the sun. We also recommend finger guards or tape for protecting your fingers if you do not want to wear gloves.
ADDITIONAL CLOTHING & SHOES
Tee-shirts, shorts, and lightweight pants will round out your everyday attire. Flip-flops, sandals, or tennis shoes are ideal for wearing around the lodge. There are no wading opportunities while at Bahia Honda. You will NOT need any wading boots or a hip pack.
BOAT SHOE 
Bahia Honda's use of skiffs aids you to accessing fish in shallow waters, stalls movement due to tide fluctuation, and is a very stealthy way to fish the area. When bow surfaces get wet due to crossing windy bays, this can take a toll on angler's traction and movement on the boat. With any situation where demanding casts are a must, your balance and footing are the concrete foundation leading to successful casts. When it is hot, many anglers prefer to simply go barefooted. Barefoot with socks if you want some sun protection. However, many anglers also enjoy wearing comfortable sandals or rubber-soled shoes for more traction and/or sun protection. No Tevas or anything with heavy laces or buckles. Many guests wear Crocs and they work great.  Another great option are Astral water shoes.
Guests at the Bahia Honda Sporting Club are fortunate to enjoy a solid 8-9 hours of fishing every day on the boat. These long days add up fast to wear and tear on your feet, back, and overall posture. For those with flat feet that result in painful hours standing on the bow a boat shoe with good support is an absolute must!
RAIN GEAR
A high quality, lightweight rain jacket and pants is another essential piece of clothing. Patagonia, Skwala and Simms make great lightweight jackets that will keep you dry during rainstorms or while crossing choppy water on a lengthy boat run.
POLARIZED SUNGLASSES
This is your most important piece of equipment for any type of sight fishing. The Tarpon is primarily all sight-fishing. Without the ability to see the fish you are stalking, you put yourself at a great disadvantage. Copper and Brown lenses are the best choice for this type of fishing. Yellow lenses are great for mornings, late afternoons, and cloudy conditions. Always bring two pair of polarized sunglasses in case you lose or break a pair.  Smith, Oakley and Costa Del Mar make a variety of stylish frames to choose from. We can special order bifocal or trifocal lenses for many of these frames with enough advanced notice. A lanyard or "croakie" is also invaluable in order to keep from dropping or losing your glasses. It is always a good idea to have a pair of glasses for boat rides as they get a lot of salt spray and are tough to clean on the water.  Wear these during the boat ride and then swap them out for clean glasses once you reach the fishing grounds.
HAT
While fishing, hat color is important. This is the highest point the fish can see. We suggest light colored hats such as tan, white and light blue. Bring two hats or caps for sun protection. If you are sensitive to the sun, make sure to bring a hat that covers your head as thoroughly as possible. Hats that have dark colors underneath the brim help to reduce glare from the water aiding in spotting fish.
SUN PROTECTION
The sun is very intense even on cloudy days. Pack some sun block and lip balm with a minimum of 30SPF UVA/UVB but we suggest 50UVA/UVB. There is a product on the market called Smart Shield that is a totally organic bug repellent/sunscreen and actually works well. There is also a product on the market called a BUFF that has become fashionable with serious anglers on the trout stream as well as in the tropics. It is a comfortable, lightweight, and breathable garment that functions similar to a bandana and will keep UV rays off of your head, neck, and ears. We carry several models and styles.
INSECTS
Biting insects are not typically something to worry about at The Bahia Honda Sporting Club. They are rarely an issue in the boat, but sometimes at dusk there can be some no see-ums around the lodge. If you are sensitive to bugs, plan on packing a good quality insect repellent with DEET for the gnats and no see-ums in the evenings.
BOAT BAGS
A boat bag is important for carrying your tackle and gear with you on the boat each day. Running in the boats over open water oftentimes sprays mist into the boat, so you should have some type of waterproof or water resistant bag with you in the boat for storing cameras, lenses, tackle, flies, extra reels, spools, sunscreen, rain jackets, spare reel parts, bottled water, snacks, or anything else you don't want to carry on you while fishing. Patagonia makes a wonderful 99% waterproof bag called the Great Divider. It is also the exact dimensions of the under seat storage area on an airplane.
We often use the Great Divider as our carry-on luggage. Simms and Fishpond make very comparable products in several sizes as well. Everything stays dry, salt free, and out of the humidity. Remember guides will have a lot of the gear you need with limited space, so pack lightly.
PLIERS & BELT
Although your guide will be equipped with pliers, we recommend a quality pair of corrosion resistant pliers as an essential tool when fishing… especially for big Tarpon. Pliers by Loon, Dr. Slick and 3-Tand aid in hook removal, cutting heavy monofilament, and tying big game knots. All pliers should be kept in a sheath and have a check-chord to avoid dropping them overboard. Don't forget to bring a synthetic belt to be worn in order to accommodate your pliers' sheath.
TOOLS & GADGETS:
Items like nippers, hemostats, and hook hones are necessities in every fishing pack. The tools can be kept on a retractor or on a lanyard. A Leatherman multi-tool is also a nice extra to have in the boat bag.
LENS CLOTH
While poling in a boat searching for Tarpon, it seems like glasses are always getting wet when landing unruly fish or on boat runs. This can be quite frustrating if you are not prepared with a quality lens cleaning/drying cloth. Consider taking one of Chum's Lens Cleaning Kits or something comparable to wipe the water and sweat off of your glasses. Tip: Always grab some toilet paper, Kleenex, or a napkin and store it in a shirt pocket within an empty leader package to keep it dry. The freshwater in the cooler is always a good spot to rinse your lenses as well.
TRASH BAGS & ZIPLOCS
Always throw in a couple of small trash bags for packing any wet or dirty gear for the trip home in order to keep mildew from spreading through your clothing. Having some Ziploc baggies on hand are also a good idea for keeping camera equipment or papers dry in your boat bag.
FIRST AID KIT & TOILETRIES
A simple first aid kit with Band-Aids, alcohol wipes, Imodium, waterproof tape, and Dramamine for motion sickness is always a good thing to have on hand. The lodge provides shampoo and soap but does not have other personal items like razors, deodorant, shaving cream or toothpaste. Make sure to bring your own.
FLASHLIGHT OR HEADLAMP
A flashlight or headlamp can be an invaluable item to have while travelling. Our favorite is the Loon Nocturnal headlamp. Headlamps are great for reading at night while your roommate is sleeping, and free up your hands to get organized in the dark.
OTHER MISCELLANEOUS ITEMS
Measuring Tape
Camera and storage cards
Battery operated Alarm Clock (cell phone)
Extra Batteries and chargers
Knife or Leatherman Tool
EQUIPMENT & ACCESSORIES
LINE CLEANER
Saltwater has a way of making fly lines sticky and dirty after a few days of use. Anglers should also bring along some sort of line cleaner to keep your fly line in good working order. Rio and Scientific Anglers both make excellent products.
ROD CARRIER
For anglers who prefer to carry on rods, you should strongly consider investing in multi-piece rods (4-piece) that will fit in a quality rod carrier. This makes it simple to consolidate all of your rods into one case and is less alarming to airport security. Our favorite is the Fishpond 4-piece carrier called the Dakota Bag. It holds numerous rods as well as room for reels and other carry-on approved tackle. The Patagonia Rod Roll is also a great product for carrying multiple rods.
SPARE PARTS & LUBRICANT
Locate a very small fly box and stock up on any extra spare parts applicable for your reels. Today's quality fly fishing reels are very sophisticated and have a few moving parts including springs, o rings, drag knobs, pawls, etc. that will wear out after significant usage. It is also a good idea to have an old toothbrush for cleaning and some synthetic lubricant on hand as well.
MAINTENANCE AND STORAGE
It is very important to rinse dirt and sand from the inner workings of your reels, rods, pliers, fly boxes, etc. following every day on the water. A quick freshwater rinse will keep reels working correctly and keep all of your equipment in good working order. Once you arrive home from your trip, you should take apart your reels and soak them in soft soapy warm water. A light coat of synthetic oil on the surface of your reels is also a good idea before storing them. With fly rods, make sure to wipe them down with some Windex or 409. This will keep the glass finish looking sharp and prevent rust from forming in the guides and reel seat.
Using the Clock to Spot fish
On the flats, your guide will often spot fish before you do. When this happens, your guide will refer the numbers on a clock to give you the fish's general direction. For example, the bow (front) on the boat would represent 12:00 O'clock. Exactly perpendicular to the boat off of your right shoulder (starboard) would be 3:00 O'clock; perpendicular to the boat off your left shoulder (port) would be 9:00 O'clock, etc. In addition to the direction, the guide will also refer to a distance measured in feet. For example: "Okay, two fish coming at 11:00 O'clock — 50 feet".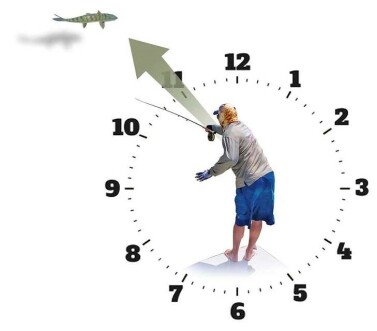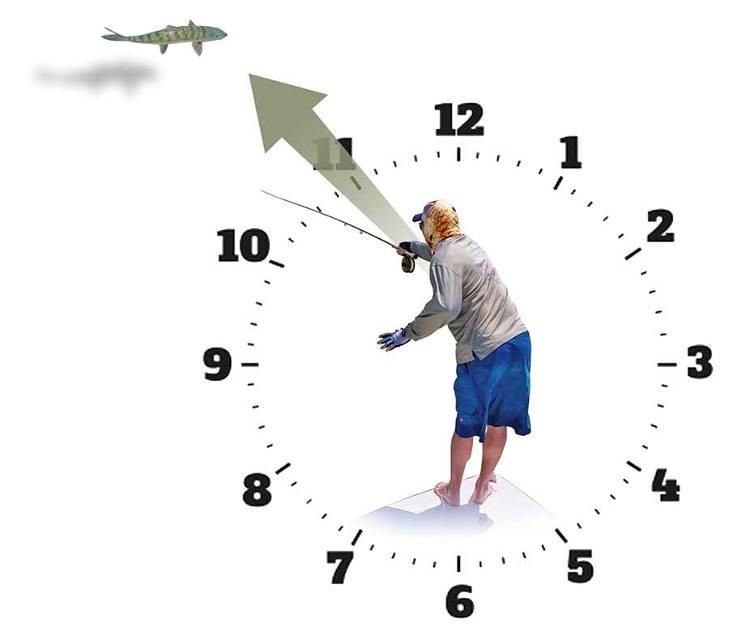 Bahia Honda Sporting Club Contact Information
If you have any problems during your trip with missed connections, or want to leave an emergency number for family members or office:
The Fly Shop:
530.222.3555 / 800 669 3474 / travel@theflyshop.com
Bahia Honda Sporting Club
Address: 21966 Raffy Rd, Cudjoe Key, FL, 33042
Email: fish@bahiahondaclub.com
Lodge phone: (305)395-0009