Montana Wilderness Lodge is located just south of Glacier National Park in Northwest Montana. This remote destination, located a couple hours' drive from Glacier Park International Airport in Kalispell, is one of the most exciting wild trout dry fly fishing destinations we have offered in quite some time. The South Fork of the Flathead is known in the fly fishing world as the Mecca for dry-fly cutthroat trout fishing.
Rich and Marcey McAtee are the owners and operators of the lodge and were raised in the area with their families going back several generations in Northwest Montana.
There are two separate fly fishing options to choose from: 7 days on the wilderness part of the South fork of the Flathead River accessible only by horseback and multiple Lodge packages that offer both floating and walk and wade fishing close by. Depending on your adventure level, Montana Wilderness Lodge has you covered.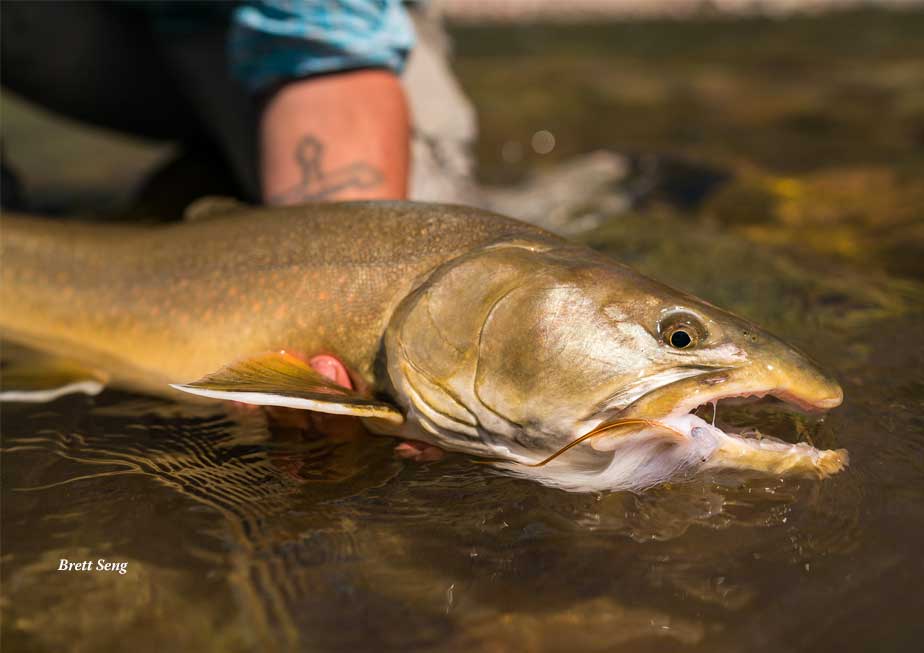 Reservations & Rates
2023 7-Day Wilderness Fly-fishing Pack & Float Trip: $7,900 USD per person

2023 Lodge Fly Fishing Packages:
3 night /2 day $1,125/person
4 night/3 day $1,600/person
5 night/4 day $2,075/person
Inclusions
Included in your stay with Montana Wilderness Lodge is daily guided fishing (2:1 guest to guide ratio), basic rods/reels, flies, tippet, leaders, lodging, meals, non-alcoholic beverages, wine with dinner and transportation to and from the fisheries from the lodge.
Non-Inclusions
Not included in your stay with Montana Wilderness Lodge is transportation to the Lodge, Montana fishing license (purchase online prior to your trip), liquor/beer, personal items, gratuities and 8% Montana Lodging Tax.
Travel Insurance
The Fly Shop® is not in the insurance business, but we recommend Travel Guard (AIG) and Global Rescue (IMG) coverage as a service with a desire to see your best interests protected. It is impossible to know when an unfortunate situation (loss of luggage, fly rods, illness in the family, or an accident) may occur. However, such things can and do happen, and this insurance can provide a means of recourse against non-refundable financial losses.

• Travel Insurance Information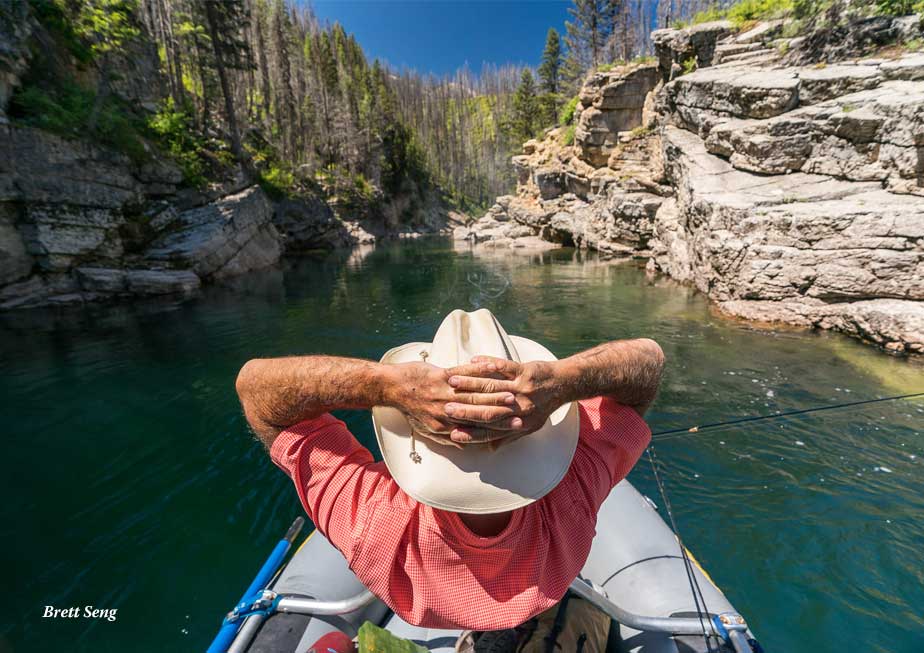 Seasons at Montana Wilderness Lodge
The wilderness floats are run for a short 8 week season that runs from the end June to the end of August. This is perhaps one of the wildest locations in the lower 48. Weather can change quickly; summer is short in the "Bob" and there is always a chance for summer snow storms and nights dipping below freezing. Anglers need to be prepared and ready for anything Mother Nature can throw at you. Although there is always a chance for these weather extremes, the summer months is typically a
Read More
pleasant time to be in the "Bob". Days are generally clear, sunny and nice and nights cool and crisp – perfect for sleeping.

With such a short window for eating and the nature of cutthroats, most anglers' fish dries their entire stay. This doesn't make all these fish a "gimme". Poor drifts will put fish down and sometime a few fly changes are needed to bring some of the bigger fish to the net. Various attractor mayflies, different size and color caddis flies, stoneflies and terrestrial all produce at different times of the year and day.

The season out of the lodge is a little longer and goes from mid-June to the end of September. One of the exciting fishing opportunities that is offered from the lower river is intercepting big bull trout coming out of Hungry Horse Reservoir as they head on their journey up the South fork. Anytime from Mid-June to Mid to End of July, anglers position themselves in some of these lower reaches just above the reservoir and swing huge streamers to these lake beasts that can get up to 15 pounds. Typically, the best time for this is the last week of June and the first week of July. July and August fishing around the lodge can be very exciting for Cutthroats on dry flies. Similar flies used on the upper section produce excellent results. Caddis, Mayflies, Stoneflies and terrestrials are all great patterns to have in your fly box.

August and into September there can be some amazing hopper fishing on both the main south fork and the smaller tributaries. Casting big foam bugs along the banks always get looks from these opportunistic feeders trying to put on weight during the short Montana Summers.

As the season gets farther into September, colder weather becomes more likely and the days are getting shorter and evenings get cooler. Fishing still remains very good throughout this time, but just remember to pack some gloves for the cold morning starts.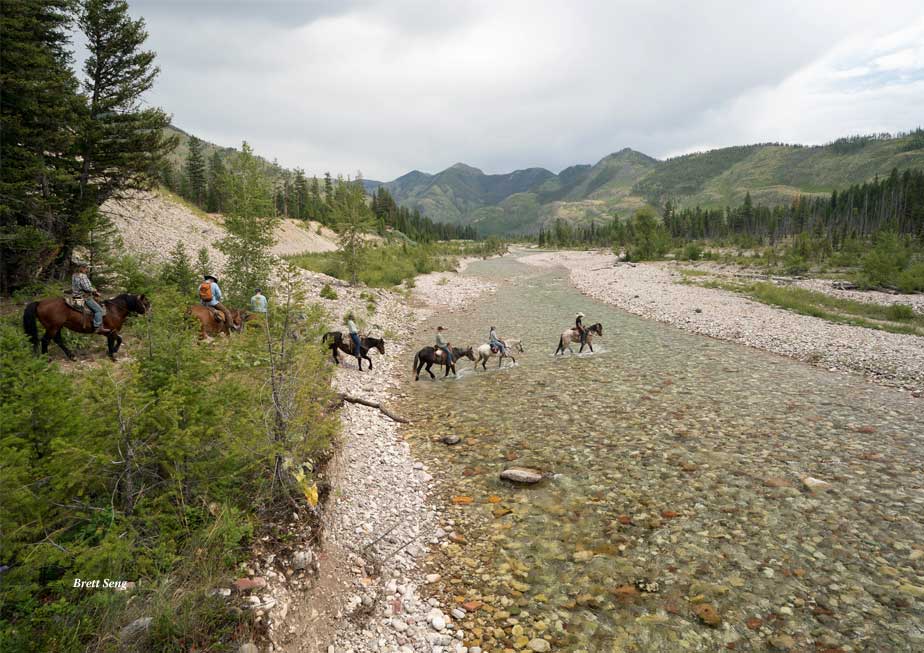 Getting to Montana Wilderness Lodge
Getting to the Lodge is easy and safe. In most cases you will fly from home to Glacier Park International Airport in Kalispell Montana (FCA). From here it is just over a 2 hour (1.5 hours on gravel) drive from the Airport to the Lodge. You can rent a car or MWL can provide a transfer to the Lodge for an additional cost.

Airport Shuttles: Shuttle can be arranged from FCA airport to the lodge
Read More
upon request. Please let us know in advance so we have plenty of time to schedule this. It is around $350 for up to 4 guests.

Private plane/Helicopter shuttle:
Private plane/Helicopter shuttle Don't feel like an hour and a half of dirt road and want a scenic sightseeing tour while getting to the lodge? Red Eagle Aviation out of Kalispell City Airport offers charter services to several backcountry airstrips. The charter for 2 people is around $600 and is about a 20 min flight. They have several planes and can accommodate up to 5 guests

For a more scenic option Red Eagle offers tours of Glacier National Park, around $750 per hour plus the additional charter fee. The tour takes you right through the heart of Glacier, into the Bob Marshall and right over the lodge to the Spotted Bear airstrip. There is no better way to kick off your trip then seeing everything from the air.

A helicopter can also be reserved to transport you to the lodge for 6 guests plus luggage for around $1,500.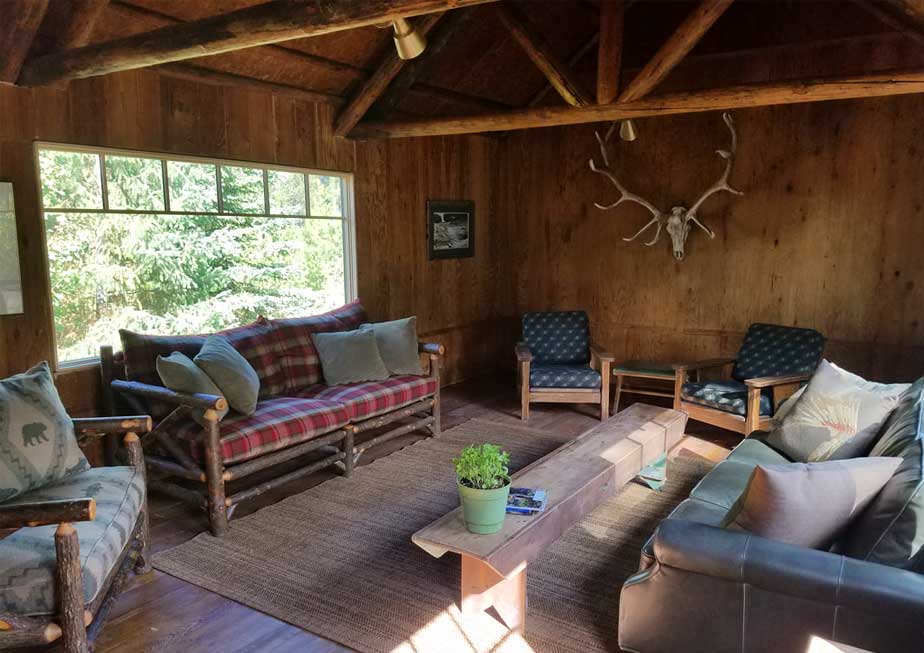 Lodging at Montana Wilderness Lodge
Wilderness Accommodations, Services & Amenities:
For being in such a remote part of the world, the accommodations, food and service is pretty plush, in a rustic sort of way. Everything has to come 30+ miles and is it all packed on the backs mules. The pack string is long and they take everything but the kitchen sink with them. All anglers will be staying in spacious 4 person tents with 2 anglers to each tent that are furnished with comfortable cots and thick mats. It is recommended you bring your own sleeping bag, but they can provide one if requested.
Read More
Guests will eat breakfast and dinner each day in the open air with a tent fly to keep the weather out and lunches are served streamside with your guides. I don't know if there is a better place to do this, Lunch with a view…. Meals are often cooked in cast iron over an open fire and many delicious dinners are prepared in foil and cooked in the coals of these fires. Steaks and spaghetti are some of the favorites, and don't plan on going hungry.

The Lodge was built in 1950 and in 2017 Rich and Marcey purchased and renovated it while still maintaining the old time feel and integrity. While staying at the Lodge guests will be put up in one of six cabins with different bed configuration. Some have queen beds and others have twin beds all comfortable, unique and warm and all a short walk to the lodge.

The cabins are basic with a rustic charm and provide a comfortable stay while miles from civilization. Each cabin has a bathroom with hot showers, propane lighting and heat.

Lodge meals range from freshly made charcuterie boards when you get off the river to homemade Lasagna and baked chicken parmesan to name a couple. Plan on wonderful meat based dinners often cooked on a pellet grill for hearty portioned family style dishes.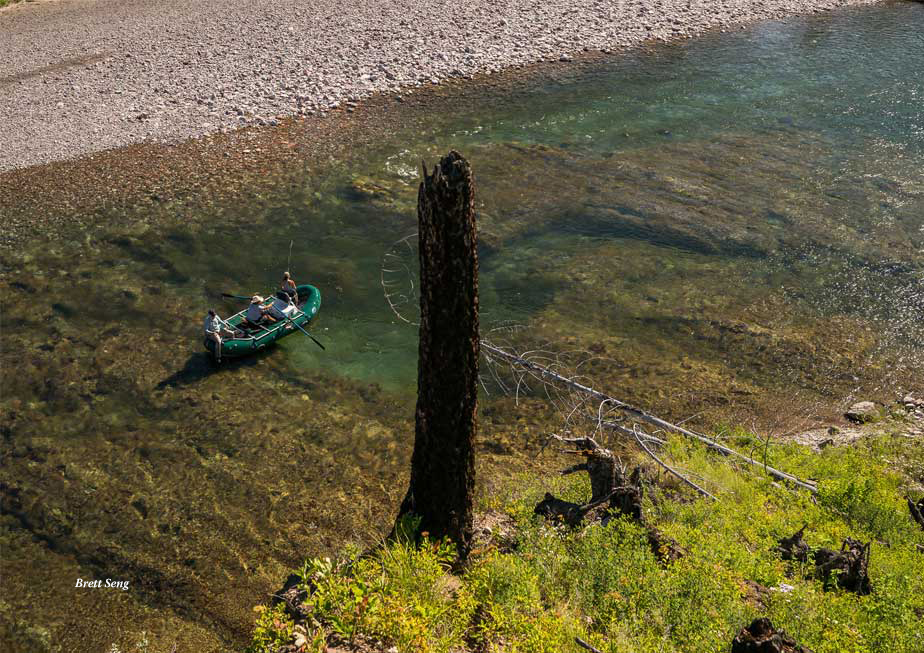 Fishing at Montana Wilderness Lodge
Wilderness Fishing Pack Trips:

Venturing into the Bob Marshall Wilderness:
Located in the 1.5 million acre Bob Marshall Wilderness, America's first ever designated wilderness area, the South Fork is formed from the junction of Danaher Creek and Young's Creek and runs for 45 miles due north, fed by dozens of small tributaries, where it exits the wilderness near Spotted Bear Ranger Station.
Read More
Enter by Horseback and exit by raft. The only way to begin this float is by trail and since this is a wilderness area, just getting there is part of the adventure. This trip is set up for groups of 4 - 8 adventures.

You will spend the first two days of your trip traveling on horseback to get to the upper reaches of the river. From the Trailhead where they load everything up, to the confluence and the start of your float is 33+ miles. It is a long, but beautiful ride in. A little over half way in you will set up a spike camp and spend the night and continue on the second day and final part of the pack in. You will once again set up camp and fish this 2nd evening unguided. Day three is all walk and wade fishing around this camp which varies depending on the season and water levels. This is typically a favorite for most of the guests as it is a beautiful area and the river is spectacular to fish. You will settle in again at this upper camp and spend another night and prepare for the float down the river on the following day. The remaining 4 days of your trip will be enjoyed traveling down river on rafts, enjoying world class float/wade fishing, meals, and comfortable backcountry accommodations. You can fish completely based on your preference. If you want to fish entirely out of the boat, they can accommodate you here. Most anglers mix it up and do both float fishing and stop and get out of the raft to wade fish on some fishy looking runs. There are a lot of these types of runs on the float.

Fly-fishing on the South Fork is known to be some of the best in the world. Due to the South Fork's wilderness isolation, the river and its tributaries remain lightly fished, and the result is that the quality of the fishery is as good now as it was many decades ago. Skilled anglers can catch over 100 fish per rod on good days, but it is common for each boat to land 40 + native cuts a day. These Cutthroat trout range in size, but there are many in the 12 - 18" range, and they love to rise to big puffy dry flies! The South Fork is also one of the few places where an angler can target native Bull Trout in the lower 48. The South Fork Drainage is the largest stronghold of these native Char in the country. These big fish act like an anadromous species, migrating upstream every July from Hungry Horse Reservoir. Lucky anglers have brought Bull trout in excess of 30 inches to hand. Legal fishing season for Bull Trout usually closes on July 31.

Lodge Fishing:
Montana Wilderness Lodge has 17 miles of the South Fork that they float fish from the lodge. They typically break this section of river into 2 separate floats which offer two full days of fishing. The quality of fly fishing along this section of river is top shelf. If you enjoy fishing this float section and want to explore it again, you can do multiple days on these two stretches. However, it would not be the same if you didn't check out a few of the many small streams and tributaries in the area. MWL has over 60 + miles of small rivers and stream fishing accessible within a short drive from the lodge. Spotted Bear River, Bunker Creek, Upper and Lower Twin creek are a few of the smaller tributaries the guides will take you to. Many of these small creeks rarely get fished and you can expect to catch lots of aggressive cutthroats on big attractor patterns while wading in pristine clear mountain water in a stunning mountainous setting. You can also walk and wade the "Gorge", which is untouched by floaters leaving cutthroats even more naïve than normal.
What Makes This Destination Special and Unique?
• REAL WILDERNESS
The South Fork of the Flathead is located in the Bob Marshall wilderness complex, a 1.5 million acre protected track of land. Due to its remote wilderness location and no roads accessing the upper entry point of the float, this fishery has remained unchanged for centuries. Fishing is like it was in the good ole days and you'll experience unbelievable days of catching wild native cutthroat trout on dry flies. Sure, it takes some extra effort and some adventure to get access this fishery, but we feel it is worth every trail mile. At the end of your trip, you'll be a changed person, for the better…

• BULL RIDING
Bull Trout are protected in much of the lower 48 with only a few places where you can legally target these big native char. The South fork of the Flat head is one of these locations and fish up to 15 pounds are landed every season. Stories of anglers landing cutthroats in the shallows only to have one of these big bulls attack their catch are not uncommon. Take the dries off and put on your biggest streamers for a chance at one of these big voracious predators, you won't be disappointed in these prehistoric sportfish.

• EXPERIENCE
When you get into any wilderness situation, typically you are a long way from the nearest road or any kind of support. There is no exception to this in the "Bob". Keeping safe is a priority of the outfitter and you as an angler. When you are "in Deep" you want to be in the hands of a seasoned outfitter and great guides as well as experienced outdoorsmen. The Montana Wilderness Lodge Team has spent a good portion of their adult lives in the wilderness. They are some hardy, tough folks that know the ins and the outs of wilderness travel and safety. The MWL staff will take care of all the details of your trip, so you can kick back, take it all in and recharge.

• SOLITUDE
Because the South Fork of the Flathead lies within the Bob Marshall Wilderness, special regulations and permits apply. There are only a few commercial outfitting permits on the river and MWL is proud to be one of them. Isolation and difficulty accessing this remote wilderness and limited permits to commercial outfitters, assures you solitude and quality dry fly fishing on this unique wilderness river. You won't have to worry about another angler dropping in below you on the river; you'll have it all to yourself. Now that's peace of mind…

• A NUMBERS GAME
With access to such prolific wilderness fisheries, Montana Wilderness Lodge is the ideal destination for anglers new to fly fishing and especially young anglers just learning how to fly fish. The fishing at times is ridiculous and if you blow a cast, miss a take or loose a fish; no big deal, another one is willing and able to eat your dry fly on the next cast...over and over again. We can't think of better spot to light the passion of a young angler, then on a wilderness river loaded with native cutthroat.