The Estancia Pilolil program is the brainchild of Jorge Trucco, a legend and one of the most respected names in Argentine fly fishing. Jorge has assembled a talented, seasoned crew of professional guides, lodge staff and chefs that are committed to offering a world-class experience.
Estancia Pilolil is a private 23,230 acre working ranch that borders 10 miles of the west bank of the Aluminé River, one of the most the prolific trout rivers in Argentina, Patagonia. Additionally, the ranch features a private fishery, 19 kilometers (14.4 miles) of the Nahuel Mapi Spring Creek, a gem of a fishery. This is not just another fishing lodge; this is one of the finest fly fishing retreats in all Patagonia, featuring exceptional lodging, cuisine, service, staff, equipment, guides and of course, fishing!
From the estancia guests will have quick and easy access to a variety of different fisheries. Outside of the two on the estancia, the Aluminé River and Nahuel Mapi Spring Creek, options include the Lower Malleo, Quillen, Malalco, Pulmari, Collon Cura and the Chimehuin. As well, Estancia Pilolil can be easily combined with other regional fly fishing estancias, including San Huberto, Tipiliuke, Tres Rios, Arroyo Verde and Quemquemtreu.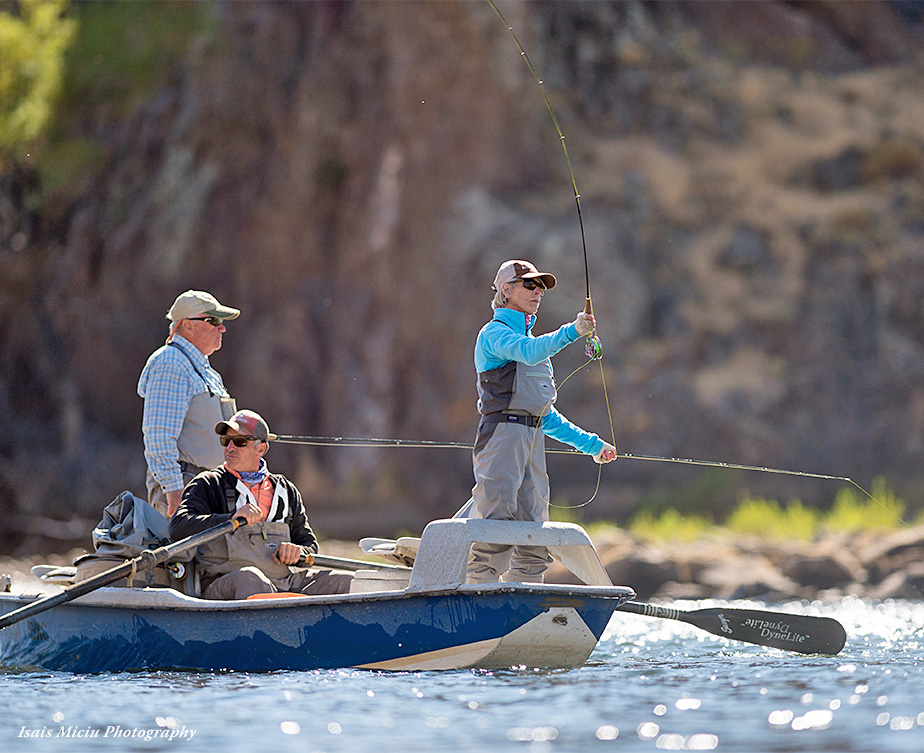 Reservations & Rates
• Angler: $1,080 per night, based on double occupancy (share room, boat and guide) – all inclusive
• Single rates (private room, boat and guide) are available on request
• Single (private) guide, add $180 per night, per angler
• Round trip driving transfers between the lodge and Bariloche: $300 per person. single $600
• Non-Angler: $880 (lodging and Non-fishing activities) $1,080 (all inclusive) fishing, horseback riding, hiking, wildlife viewing, tour and shopping in San Martin de los Andes - with vehicle and guide.
Inclusions
Accommodations, all meals, all drinks, local fishing transportation, ground transfers from San Martin de los Andes, professional guide, fishing license, quality loaner equipment, rods, reels, waders and wading boots if desired, taxes, and Wi-Fi connection throughout the lodges as well as in the outdoor seating areas.
Non-Inclusions
International & Domestic airfares, gratuities, laundry service, purchases at the "lodge shop", phone calls, or ground transfers to and from Bariloche Airport, if applicable. If you should need a transfer to and from Bariloche to Estancia Pilolil, the rate will be quoted to you, and payable on your invoice.
Travel Insurance
The Fly Shop® is not in the insurance business, but we recommend Travel Guard coverage as a service with a desire to see your best interests protected. It is impossible to know when an unfortunate situation (loss of luggage, fly rods, illness in the family, or an accident) may occur. However, such things can and do happen, and this insurance can provide a means of recourse against non-refundable financial losses.

• Travel Insurance Information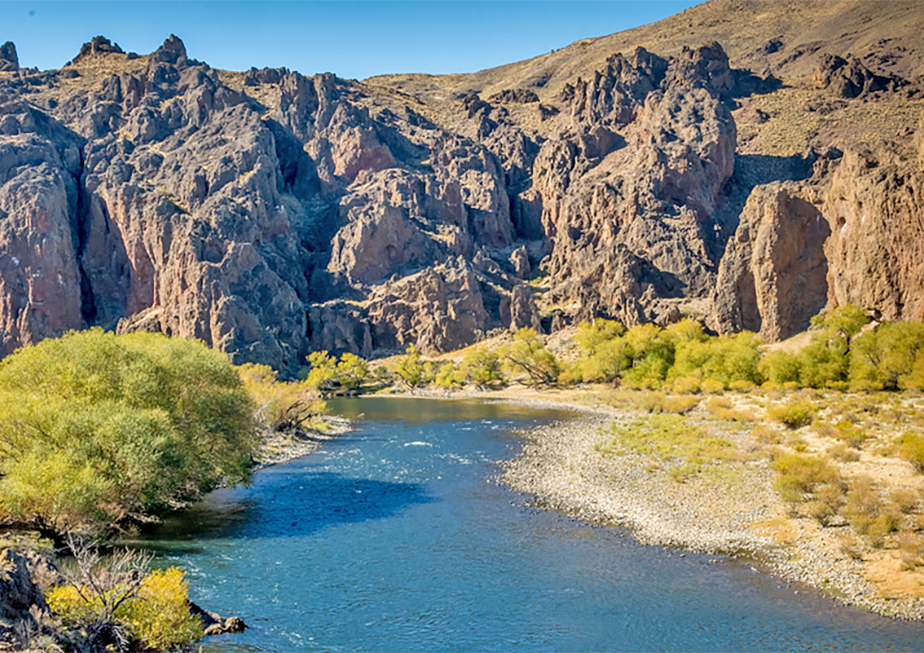 Seasons at Estancia Pilolil
Spring: November and December
The fishing season officially opens in Argentine Patagonia on November 1st, although most Patagonia outfitters don't open their doors until the first of December. Spring is a special time to visit Patagonia as the Andes Mountains still hold a large amount of snow and valleys are covered with spring flowers. Precipitation decreases throughout the month of December and average temperatures rise along with the length of day until the summer solstice on December 21st.
Read More
Since the water is higher this time of the year, the largest fish tend to be more aggressive and accessible. Fishing is generally spectacular but flexibility is a must as streamers, dry flies, and nymphs are all used depending on the river levels and daily weather conditions.

Large flies tied with rubber legs, long hackles, bunny fur, and foam (Chernobyl's, Bichos, Mutant's, Fat Alberts, etc.), are very effective this time of the year due to the aggressive nature of the fish and lack of pressure. You can leave your 5X at home but be sure to bring some 0X and even a sink tip to go down and dirty. Your guide will be as anxious as you are as they have been waiting for the season to begin.

Normal tourism season begins after Christmas and the New Year, so this area is much more relaxed and the fish are very willing. Imagine a Christmas where it is light until 10:30 pm and you can sit on the deck enjoying a glass of Malbec instead of watching snowflakes. If you're looking for a great place to spend the holidays, imagine long days, great fishing, energetic guides, and a very relaxed atmosphere with few people.

Summer: January through March
Summer is the most popular month for fishing and tourism in Patagonia. The kids are on vacation and tourists abound. The weather is the best this time of the year with decreasing precipitation and the warmest temperatures. Some snow remains on the highest Andes peaks but almost all the spring flowers are already gone. The grass is getting long, and with warmer temperatures - you guessed it - hoppers and terrestrial insects are prolific and you will enjoy dry fly fishing almost exclusively. There are uncountable species of beetles, ants, hoppers, crickets, wasps, and other unidentified flying objects this time of the year and the trout are looking up for them. And particularly in the month of January, some of the trees that overhang the river are loaded with small green "gusano" inchworms, devouring the foliage…and on a windy day hundreds might blow off into the water. You can imagine the trouts' reaction! A South American phenomenon: the hottest, brightest, and clearest days are the best dry fly and fishing days! Yes, it's true, a bluebird-fisherman's dream! You might have to drop down to 3X, 4X, and occasionally even 5X and use a dropper to attract fish in the crystal clear water. You will have lots of sight-fishing opportunities daily, and wet wading is possible a majority of the time.

Water levels continue to drop and water temperatures rise this time of the year. Every fishery is open and in perfect shape giving you the most options. This is prime time and finding an open spot can be difficult.

Fall: April
Fall is the favorite of many anglers, and is a great time to visit Patagonia. Summer tourist traffic drops off completely and the outfitters have most of the fisheries to themselves. Temperatures decrease and precipitation rises this time of the year, which normally brings on the fall feeding frenzy of trout with cooling and rising rivers. Browns and brook trout are getting ready to spawn and many of the larger fish which swam back into the lake during the middle of summer, are migrating back to the river to feed or spawn. Fall colors in Patagonia are spectacular and if you are lucky enough to be able to come and enjoy the fall, you will probably become addicted to the beauty, the tranquility and the fishing. Although the days are not as long as the spring and the summer, you still get plenty of time on the water; in fact, you might actually get more fishing as the guides are extra excited to fish this time of the year! You will enjoy the coziness of the lodge, the fall foods, and the fireside conversations with some of the most passionate fishermen in the world. You'll be thrilled to wake up to foggy mornings, fall colors, and snow-capped peaks while getting ready for the ultimate fly fishing adventure.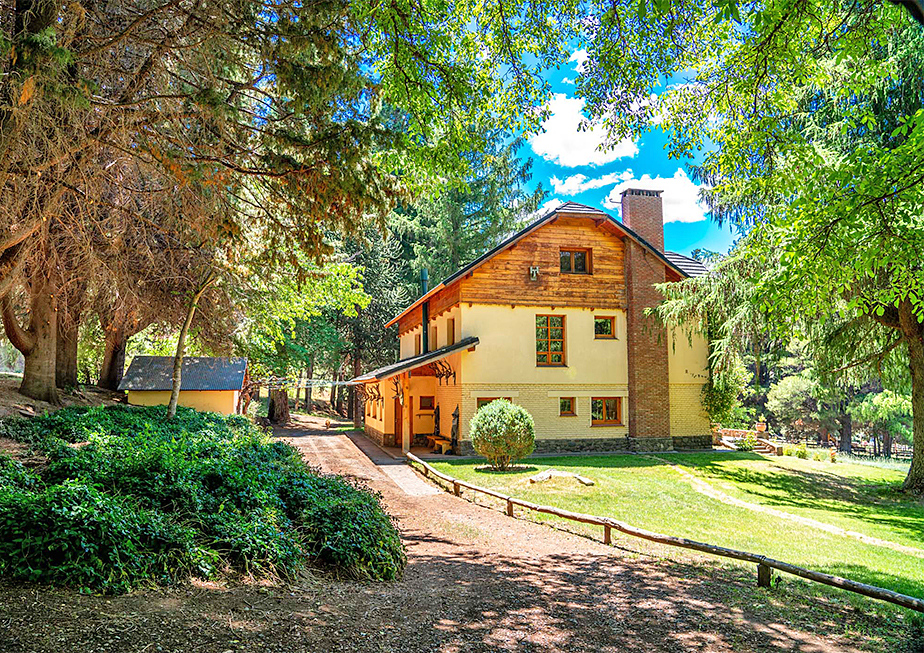 Getting to Estancia Pilolil
Estancia Pilolil is located 35 miles north of Junín de los Andes and 65 miles north from the mountain ski village of San Martín de los Andes in the southwest corner of Neuquén Province. The lodge is a 45-minute drive from the San Martin de los Andes Airport (Chapelco) or a three (3) hour drive from the Bariloche International Airport.
Read More
Traveling to Argentina is relatively simple and painless. There is a wide choice of convenient, daily flights from Los Angeles, Atlanta, Dallas, Houston, Miami, and New York. Most flights are direct, departing the States in the afternoon or early evening and arriving the next morning.

Almost all the international flights into Argentina arrive at the Ministro Pistarini Ezeiza (EZE) International Airport of Buenos Aires, 35 km from the Federal Capital. First you will clear Immigrations (Passport Control) then you will retrieve your luggage, and clear Customs.

Arrival Buenos Aires:
Getting to Patagonia is not difficult. It is actually very simple: take an overnight flight to Buenos Aires from one of several major cities in the U.S, get a good night's rest and awake in Argentina. If you have so pre-arranged, you will be met by our professional agents (LOL Argentina) at the airport and transferred to your hotel or to the domestic airport for immediate departure to Patagonia.

Buenos Aires has two airports, an international and a domestic. You will arrive from your country of origin at Ezezia (EZE) and depart to Bariloche from the domestic airport, Aeroparque (AEP). It is necessary to transfer by ground from the international airport to the domestic airport for your flight to Patagonia. Our agents (LOL Argentina) can set up your transfers. Depending on the time your international flight lands, you might be able to travel directly to Patagonia on the same day. Or you can opt to spend a night or two in Buenos Aires, the Paris of South America, and relax and enjoy the city.

Arrival Day:
Flying to San Martin de los Andes (CPC), (or Bariloche, BRC, as a secondary choice) and transferring to Estancia Pilolil.

When you arrive at either the San Martin de los Andes or Bariloche Airports a representative of Patagonia Outfitters will meet your flight, assist you with luggage and provide auto transfer to the lodge where you'll begin your trip. The drive from San Martin de los Andes to the lodge takes about 45-minutes, and from Bariloche, approximately 3 hours.

When you arrive to the lodge, your luggage will be taken to your room and you will have a chance to get un-packed, settle in and organize your fishing gear. Cocktails and hors d'oeuvres will be served at approximately 7:00 p.m., and dinner at around 9:00 p.m.

During cocktail hour the lodge manager and/or head guide will provide a comprehensive orientation on the days ahead and answer any questions you might have.

Departure Day:
Anglers will be transported to their departure airport – either Chapelco Airport outside of San Martin de los Andes (CPC), or the airport at Bariloche (BRC) - to connect back to Buenos Aires to begin their journey homeward. Flights bound for the United States usually depart Buenos Aires late in the evening for an easy and comfortable connection home, arriving the following morning.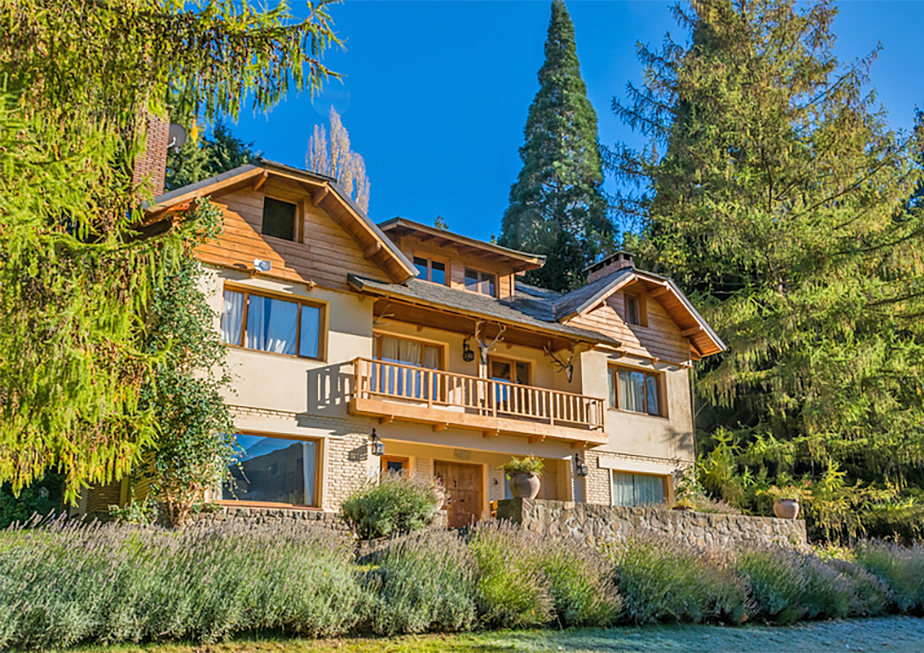 Lodging at Estancia Pilolil
The lodging at Pilolil is classic Argentina Ranch architecture consisting of two buildings, the main ranch house and adjacent guest house. The estancia can accommodate a maximum of ten guests, with five private bathrooms. Each house features a beautiful dining room, breakfast room and living room to gather for after dinner cocktails and appetizers.
Read More
The guest house is surrounded by tall confer trees with spectacular views from each bedroom and the living room to the lovely manicured landscaping. An outside porch is the perfect gathering spot for morning coffee or cocktails and hors d'oeuvres in the evening before a delicious meal prepared by trained chef and accompanied by fine Argentine varietals. Breakfasts and dinners are served in the main dining room of the main house, although meals can be taken in the guest house if desired. World-class food, wines, & beverages are what to expect at Estancia Pilolil. Breakfasts are hearty and consist of eggs cooked to your style, toast, jams, meats, cheese, fruits, juice, tea and coffee.

Lunch is a culinary delight served streamside and includes a nice combination of local meats, cheeses, vegetables, wine, and dessert, making it an experience that you'll look forward to daily.

Dinner is typically served around 9:00 pm - after cocktail hour - and is normally three courses, featuring not only Patagonia's famous beef and lamb, but also pork, chicken, rabbit, fish, pasta and vegetables. Malbec wine and other Argentine varietals are typically served with dinner, followed by a wonderful dessert and aperitifs.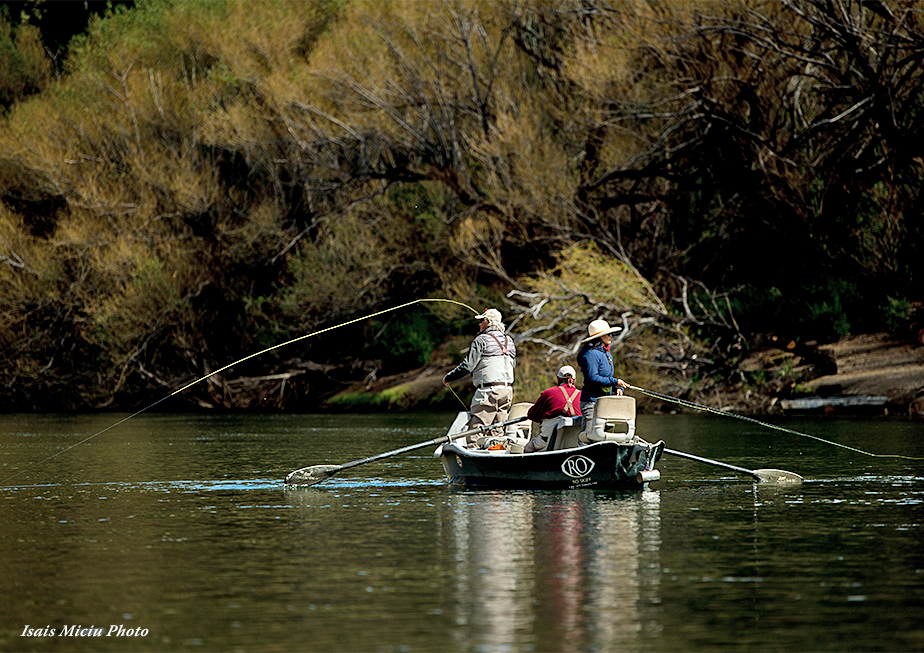 Fishing at Estancia Pilolil
Estancia Pilolil has a straightforward, high-quality approach to its fishing program. Each guide has all of the finest equipment necessary to make your fly fishing experience ideal including: trucks, hard-sided RO Skiffs or cata-rafts, flies, lines, leaders and tippet. For anyone needing them, the lodge will also provide rods and reels, and/or waders and wading boots. Two anglers fish together with a professional guide to give every angler the finest experience possible and individual.
Read More
A typical day of fishing at Pilolil
Fishing programs start on your schedule, which is normally an 8:00 to 8:30 am departure after a hearty breakfast and a meeting with your guide. The lodge is centrally located and the various different floats we fish are normally within a 15 - 45-minute drive. Most days end around 6:00 to 7:00 pm, at which time you are driven (or floated) back to the lodge for a hot shower, cocktails, and a magnificent dinner complimented by a great bottle of Argentine wine served by the lodge hostess.

A very diverse fishing program
The Aluminé River starts in Lake Aluminé and flows through canyons and valleys that will remind you of the lower section of the Snake River below Wilson, Wyoming. Surrounded by prolific willow-lined banks and cedar trees, the Aluminé looks and fishes like a giant Malleo River. As it makes its way south, the Aluminé collects waters from two rivers, the Quillén and the Malleo. The Aluminé is known for its exciting dry-fly fishing under the thousands of overhanging willow trees. These willow-lined banks provide shelter and food for healthy populations of brown and rainbow trout. It's a beautiful and scenic river where each bend provides a panoramic view of ancient canyon walls, distant mountains and the next fish-filled run.

During January and February, the willow trees are infested with green inchworms - locally called 'gusano worms' - that fall from the trees into the river. The trout key on the worms and the fishing during this time is both challenging, exciting, and often silly!

From the estancia guests will have quick and easy access to a variety of different fisheries, outside of the two on the estancia, the Aluminé River and Nahuel Mapi Spring Creek. Options include the Lower Malleo, the Quillen, the Malalco, the Pulmari, the Nahuel Mapi, Collon Cura and the Chimehuin. and daily drives to the days' fishing are short and scenic. The toughest decision you have to make each day is where to go…

There is also an option of adding one day of fishing on the upper Quillén and the Malalco spring-creek, (tributary to the upper Quillén). This is a private water property and there is an additional charge of $150 / day / person, and is a decision that can be made on site. The lodge also has access to fishing private sections of the Chimehuin River as well.

The lodge can launch RO Skiffs 3 kilometers below the lodge (at Condor Rock) and float all the way down to an Indian Reservation called Mamá Margarita in one day (without having to camp out), where they take out. This is the most sought-after stretch of river, and they can do it in a one-day float; no other lodge or outfitter in the area can do this.

The lodge can also float downstream to the Condor Rock (this is a short float) or they can drive up near the Pilolil Bridge and float down to the Condor Rock (which makes for a longer float), or to the estancai which is 3 kilometers above the Condor Rock. These floats are from the village of Pilolil downstream, and are very productive floats.

The rest of the 4 – 5 beats the lodge floats are upstream from the lodge, from the Pilolil Bridge, and downstream from the confluence of the Aluminé and the Quillén.

Distances to other regional fisheries:
The Aluminé and the Nahuel Mapi Spring Creek: (on the estancia, behind locked gates)
Pulmarí River: (1 ½ hours)
Quillén River: (1 hour 15 minutes)
Malalco Spring Creek: (Tributary to the Quillén – 1 ½ hours)
Malleo River: (20 or 30 minutes – depending on which beat)
Chimehuin River: (30 to 45 minutes (depending on which beat)
Collon Cura River: (45 minutes)
Boca of the Chimehuin River: (1 hour)

What Makes This Destination Special and Unique?
• Estancia Pilolil guides use RO Skiffs with comfortable padded seats, which are very stable and comfortable to fish out of all day long. No sitting on the edge of an inflatable pontoon for hours on end. Even if you fish from a cata-raft, it will be from a comfortable, padded seat. If your best wading days are behind you, fish from a drift boat; you'll cover more water, catch more trout – all in the comfort of a proper, hard-sided drift boat rowed by professional guides.

• In this section of the river public boat access points are very few, and very far apart. The unique location of Aluminé River Lodge and its many miles of private land ownership – and the corresponding additional private boat access points - allow guests to easily float shorter stretches in a single day; anyone else is forced to do a multi-day camping trip in order to fish this water. So, you have many miles of river nearly to yourself daily, and can easily return to the comforts of a world-class lodge every evening, instead of a sleeping bag.

• The Aluminé is a fish factory, filled with quality rainbow and brown trout. The reason is simple – it is also a fish food factory! In addition to the heavy populations of the normal suspects – mayflies, caddis, stoneflies, midges, hoppers and beetles – it also has the unique green inchworm hatch in early summer that provides a huge food source for trout. And importantly, the river bottom is loaded with pancora crabs – Patagonia's version of our crayfish – which can put pounds and inches on a trout quickly. This all adds up to a lot of healthy fish on the end of your line each day!

• In addition to perfect float fishing conditions, this stretch of the Aluminé also has many places where a wading angler can comfortably and effectively cover the water. For those who like to mix it up, guides will fish guests through water best fished from a boat, then have them jump out – with waders, or on warm days, wet-wading – and cover the many easily reached riffles, runs, inside corners, current seams and braided sections. Anglers get the best of both worlds – covering long stretches from a boat, quickly and effectively showing their flies to the maximum number of fish…and then getting out and stalking individual trout while wading. Wading guests can even forego the boat entirely, and drive-access endless great wading waters only a short hop from the lodge.

• If you like to fish dry flies, you'll love the Aluminé. Between the various hatches, the inchworm phenomenon, terrestrials, and simply covering water with large foam attractors, you'll come to realize that fish in this river like to look up for their food. Most days you will find fish rising actively, and even when summer heat takes a midday toll on emerging insects, a well-fished #10 Fat Albert dry will always pull fish off the bottom. And if numbers is your game, dropping a heavy nymph off the big dry can result in even more takes. The diversity of dry fly scenarios here will keep you challenged and satisfied, and always looking for the next rising fish!

• In addition to Estancia Pilolil bordering 10 private miles of the Rio Aluminé, this private ranch has 14.4 miles of the Nahuel Mapi Spring Creek within its confines, all behind locked gates. This is a classic spring creek and a real treat, with large trout feeding in miniature riffles and pools. You will see no other anglers while on the private spring creek and they are managed for minimal impact. If you like the challenge and rewards of fishing small spring creek water, this is private water is a dream.