The Fly Shop's 2021/2022 Best Travel Picks
2021 is here – and with multiple vaccines on the horizon! For many people, this long-awaited new year will bring back the hope of fly fishing travel. We expect the early days of post-Covid travel will be marked by people's continued desire to experience destinations that keep them away from the crowds. What better way to social distance than on a remote trout/salmon stream in Alaska, or a lovely bonefish flat in Belize or the Bahamas? The Fly Shop's acclaimed style of travel specializes in just that – small groups and private adventures, exploring and fishing off-the-beaten-path destinations in the company of world-class outfitters and guides.
Here are our top eight picks for destinations that will fit this unique moment. The time to start planning is now.
All of these fly fishing journeys can be booked as a private departure for your group of family and friends, where space is available.
New Zealand –
This tiny country, brimming with seemingly endless trout fishing opportunities, has a lot more to offer than world-class angling. The New Zealand trout season begins in November and extends through April. That's summer under the Southern Cross. The brown and rainbow trout that live in the rivers of the South and North Islands are challenging foes, and so rewarding when fooled. Not only is New Zealand a success story for its early containment of COVID-19, but its people have also embraced the outdoor lifestyle and truly perfected farm-to-table cuisine.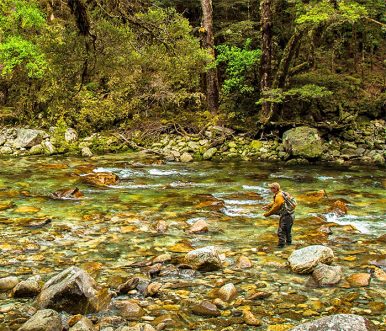 Owen River Lodge is a quietly spectacular operation built on the lush banks of a stream that has trophy brown trout. Within an hour's drive, guests have access to dozens of different streams and rivers, each with miles of fishable water. Whether you prefer stalking five-pound trout on a small spring creek or catching huge browns on beautiful freestone streams, the superb guides at Owen River can give you the experience you're looking for. This is sight fishing for trophy brown trout at its finest. The country is gorgeous, the cuisine amazing, and the lodging (small occupancy) is among the best in the country.
New Zealand is the perfect destination to combine multiple fisheries and lodges along with non-angling adventures, such as wine tasting in Marlborough at the north-east tip of the South Island, exploring New Zealand's magnificent national parks, touring Queenstown, Taupo, and Rotoroa, or discovering the World Heritage Site of Milford Sound —all choreographed to form a perfect extended holiday in the land of the Kiwi.
Alaska –
Alaska is larger than Texas, Montana, and California combined. Alaska is a fly fisher's dream come true and a virtual fish factory, and we can't think of a more prolific freshwater fishery anywhere in the world. In the course of a four-month season, anglers have the choice of targeting five different species of Pacific salmon, rainbow trout, Dolly Varden, Arctic char, Arctic grayling, and northern pike. The menu of fly fishing adventures in Alaska includes luxurious fly-out lodges, where each day you hop in a bush plane and fly to some lonely stream or river; wilderness tent camps hidden on a remote river; river jet-boats camps; saltwater lodges; and classic float trips, where adventurers have a chance to slow to the pace of the river.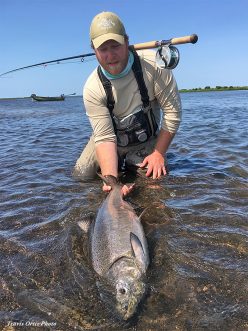 Lava Creek Lodge is a small outpost lodge on the Aleutian Peninsula, approximately 110 miles south/southwest of King Salmon, Alaska. The lodge program is custom- tailored for the serious King Salmon (Chinook), Chum Salmon, and Silver Salmon (Coho) angler who values remote and nearly untouched water, swing fishing for dime-bright kings and chums, and streamer and popper action for big, hyper-aggressive silver salmon. This is a classic jet boat wilderness operation, and the angling package includes both guided fishing on the home waters as well as guided fly-out fishing (weather permitting) on regional rivers that are a short flight from the lodge. We are thrilled with Lava Creek Lodge. It's exactly what we like in Alaska fishing – remote, small, owner-operated, with a strong fishing program, comfortable accommodations, and lots of private water to fish.
Alaska is easy to get to, no passport is required, there is no language barrier, and it is an American fly fishing destination that continues to pump out world-class fishing without ever having to leave the country. What's not to like?
Chile –
For over 30 years, The Fly Shop® has been fly fishing and sending anglers to Chile, Patagonia, in search of wild trout that live in some of the prettiest and most remote rivers, streams, spring creeks, and lagunas on the planet. It's the land of the gaucho, where horses remain the normal means of transportation, rainbow and brown trout eat big foam dry flies, and all is backdropped by the grandiose panoramas of the Andes with endless tracks of untouched wilderness. Touring and fishing Chile, Patagonia, is like going back in time, where life seems to slow down and travelers can catch their breath. Chileans are friendly and pro-American, and travel to, from, and within the country is simple and safe. Much of the trout fishing in Chile concentrates on fishing large floating terrestrial flies that the browns and rainbows love to garbage.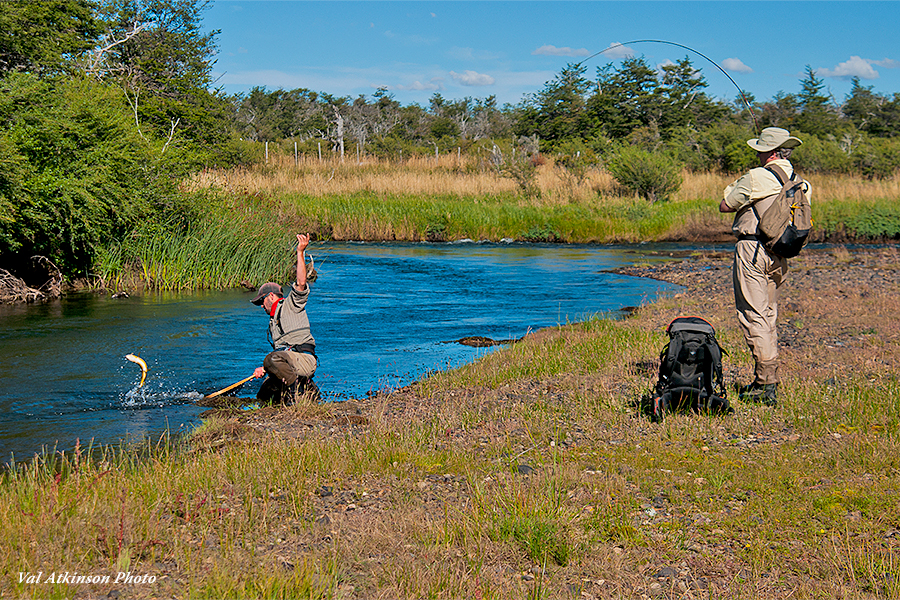 El Saltamontes is Spanish for grasshopper, and this classic Patagonia fly fishing lodge rates as one of the world's finest dry fly fishing destinations. Imagine a private 5,000-acre ranch with more than eight miles of the first catch-and-release stream in all Chile (the Nireguao River), limited to only 10 guests. And now imagine that freestone river loaded with 9,000 brown and rainbow trout per mile that feast solely on millions of grasshoppers infesting the grassy banks – a trout fisher's paradise. In addition to the homewater, the lodge's strategic location gives almost immediate access to a plethora of other seldom-fished Patagonia rivers, streams, and mountain lakes. Throw in extremely comfortable streamside cabin lodging, gourmet food, the best asado in Patagonia, and a seasoned outfitter and crew, and there you have it – El Saltamontes. Get yourself on the 2022 calendar, and discover how El Saltamontes has been making fly fishing dreams come true for 20-plus years. Contact us soon, as availability books quickly for each 12-week season.
Chile is our favorite Southern Hemisphere winter trout fishery. It seldom disappoints, and continues, after three decades, to show us something new about ourselves and why we love fly fishing. It's a trip that should be on every fly fisher's bucket list.
Belize –
Belize is a small, English-speaking country in Central America, bordered by the Caribbean Sea to the east and dense jungle and mountainous terrain to the west, and is just over a two-hour flight from Houston or Miami. The coastline of this friendly and progressive Caribbean nation stretches a total of 170 miles, from north to south. It is home to the world's second largest barrier reef (185 miles in length), which is a short boat ride from the mainland and provides protection for the nearly 1,000 square miles of pristine flats and approximately 450 cayes (pronounced "keys"). Belize is one of the most prolific saltwater fly fishing destinations in the world, with strong populations of bonefish, permit, tarpon, and snook, along with jacks and barracuda. Belize is what we call an "opportunistic fishery" – multiple fish species can be encountered at any time out on the water – which makes it one of The Fly Shop's favorite flats fishing destinations. Anglers looking for a safe, easy-to-reach, target-rich saltwater fly fishing spot that remains affordable should look no further than Belize – the happy little Caribbean country.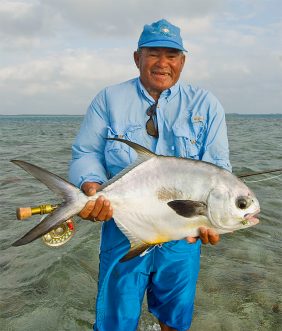 Blue Horizon Lodge was the brainchild of Lincoln Westby, with the support of Will Bauer and The Fly Shop® back in fall of November 1996. "I built it where it was because I wanted to be in the center of the best permit fishing in the world," said Lincoln. "And that was it right there… it was heaven." That location was Northeast Caye, and its dead-center location remains one of the finest spots to target Belizean permit on the fly today In 2015 Lincoln sold his operation, and five years later the new owner did a complete renovation.
Blue Horizon Lodge reopened in 2020, featuring many of the original buildings yet with a fresh redesign that incorporated modern comforts that traveling anglers have come to enjoy and expect. The goal of the redesign was to create an atmosphere that honors the heritage of Lincoln Westby's original lodge, while rejuvenating it with contemporary luxury elements. During reconstruction, much of the old lodge and guest cabins were salvaged and incorporated into new furniture and the decor of the lodge and guest rooms. The main lodge features an open air design, allowing anglers to fully appreciate the beauty of the surrounding marine environment. The five guest cabanas, which has a maximum capacity of 10 anglers, have been completely refurbished and deliver a surprising level of sophistication and comfort for such a remote location. Each room is furnished with two full size beds and a private bathroom, complete with on-demand hot water showers. Air conditioning is standard in all of the rooms, providing guests the choice of enjoying the ocean breeze or a controlled climate. Rod racks, shelving, and hangers will help you organize your gear. The island has wireless internet access covering the majority of the property. And best of all, Lincoln is still guiding, and his stable of Westby-trained guides are some of the best in the business of putting anglers on permit. We can't be more excited about the NEW Blue Horizon Lodge and hope you feel the same.

Bahamas –
We can't think of an easier saltwater fly fishing destination to get to than the Bahamas, especially for those who live on the eastern seaboard. You can literally depart New York City or Boston in the morning and by that afternoon be sneaking up on a tailing bonefish as it meanders across a beautiful and lonely white sand flat. The Bahamas is all about bonefish. Sure, there are some tarpon and permit around, and occasionally snook or other species of fish do show up, but bonefish are king in the Bahamas. The country's dime even has two bonefish engraved on it! Bonefish are vital in the Bahamas, not for eating, for the $169 million they bring into the country annually. They are part of Bahamian culture, and a substantial source of employment for hundreds of native guides (some of whom are fifth generation!) and support staff for the lodges that dot this island nation. The Bahamas is fully vested in its bonefish economy, making it easy for us in the U.S. to quickly hop over and experience world-class fishing.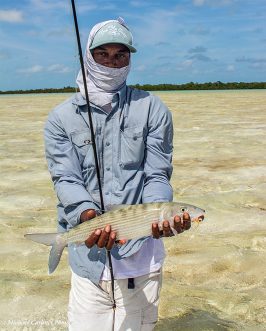 Robby's Place, on the northern tip of Andros Island, strategically located within minutes of the famed white sand wading flats of the Joulters, is the perfect retreat for anglers looking for a private bonefishing trip with only their own group of family and friends. Targeting bonefish on foot is what makes Robby's Place special. But there are other species available for those anglers in search of a bit more variety, including permit, tarpon, large barracuda that frequently patrol the outside edges of flats, and some huge mutton snapper. There is also the option of fishing offshore in the blue water just a few miles east of Andros, in the Tongue of the Ocean.
Robby's Place is a great spot for couples, private parties, or families looking to spend quality time together at their own exclusive retreat. The beautifully-appointed lodge accommodates six guests maximum in three double rooms with private baths, air-conditioning and 24-hour power. Its location on a private, white-sand beach is minutes from the seemingly endless wading flats of the Joulters. Non-anglers can relax in the sand or enjoy complimentary use of the lodge's sea kayaks, stand-up paddleboards, or snorkel equipment. Robby's Place is high on our list of Bahamian bonefish lodges, and everyone who has spent time there has enjoyed the laid-back atmosphere, hospitality, flexible schedule, and, of course, terrific bonefishing opportunities. What more do you need?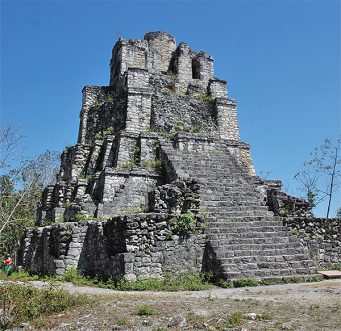 Yucatan Peninsula of Mexico –
The Yucatan Peninsula of Mexico is the land of Mayans, just south of the Tropic of Cancer at approximately 19° degrees latitude north. It's bordered on the west and north by the Gulf of Mexico and on the east by the Caribbean Sea, where the world's second largest barrier reef protects its inland waters and mangrove estuaries. It is also one of the most prolific saltwater fly fishing destinations in the world, home to the Boca Paila Lagoon, Ascension Bay, and (its little sister to the south) Espiritu Santo Bay, all of which support strong populations of bonefish, permit, tarpon, and snook. It's all within the massive and protected 1.3 million-acre UNESCO World Heritage site — the Sian Ka'an Biosphere Reserve, established in 1986. In the language of the Mayan people, Sian Ka'an means 'Origin of the Sky,' and if you have ever been in the middle of Ascension Bay on a calm day, it is hard to separate the sky from the water.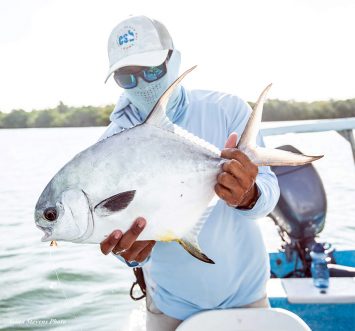 Ascension and Espiritu Santo bays are arguably the two finest permit fishing destinations in the world. So much so that in four short seasons Espiritu Santo Bay Lodge anglers have landed over 1,000 fly-caught permit! Tarpon, both resident and migratory, are plentiful in Espiritu Santo Bay, as well as millions of bonefish that will eat just about any fly in your box. And don't forget snook – here, the hidden creeks, lagoons, and mangrove-studded shorelines of the bay support one of the last, best strongholds of this fish in the world.
For the angler looking for a diverse saltwater fishery that is easy to travel to and boasts a year-long season, you should look no further than the Yucatan Peninsula of Mexico.
Brazil –
The largest rainforest on Earth is located in the Amazon Basin, and shared by nine countries: Brazil, Bolivia, Peru, Ecuador, Colombia, Venezuela, Guyana, Suriname, and French Guiana. Roughly the size of the lower 48 contiguous United States and covering 40% of the South American Continent, nearly 25% of the world's fresh water starts in the Amazon basin. Bolstered by the largest river by discharge in the world, the Amazon River supports over 1,100 different tributaries that are full of some of the most exotic sportfish to pursue with a fly rod in the sportfishing realm.

The fly fishing opportunities in Brazil are seemingly endless, but a few stand out as our favorites. Xingu (sing – goo) is the newest inspiration of "The Jungle Experts" at Untamed Angling, and promises to rewrite what world-class payara fishing is all about. Accessible in cooperation with the Kayapo Indians (the same warriors Untamed partners with at Kendjam), Xingu is a clearwater multispecies fishery, though what really sets the program apart from elsewhere in the Amazon is the impressive numbers of large Payara. These "vampire fish" are famous for their impressive orthodonture, and while they make for striking photos, they are also one of the hardest-hitting, strongest fighting fish in the Amazon basin.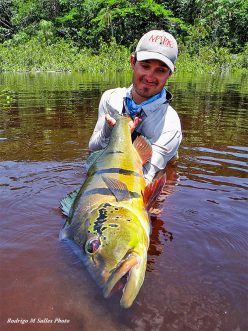 Rio Marie's Brazilian biologists have confirmed that "more double-digit peacock bass, and a higher percentage of trophy peacock bass live in the Rio Marie," than any other river in the Amazon. This private water jungle fishery encompasses more than 600 miles of federally protected water and is more than 350 miles by amphibious aircraft from Manaus. The fishing program on the Rio Marie' revolves around a deluxe mobile yacht that moves during your fishing week, which keeps you on rested water, with rested fish, happy fish – fish that eat big streamers and poppers recklessly. And just because you're in the most remote corner of the Amazon Jungle doesn't mean you have to be uncomfortable. Anglers are accommodated aboard the "Untamed Amazon," a state-of-the-art fishing yacht that boasts nearly every imaginable amenity you would expect in a top notch fishing lodge. Spacious suites with full bathrooms, air-conditioning, Jacuzzis, along with fine cuisine prepared by a trained chef are what to expect. Those fly fishers looking for daily opportunities to hook and land a peacock bass in excess of 20 pounds should look no further than the "Rio de Gigantes" – The Marie'.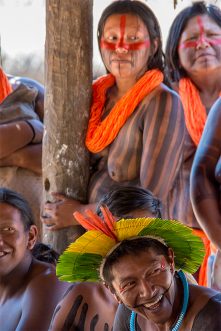 Kendjam is a hidden fly fishing treasure, protected for centuries by the last guardians of the Amazon jungle, the Kayapó warriors. Located within a massive indigenous territory – close to 20,000 square miles of virgin rainforest – Kendjam sits on the banks of the 810-mile long Iriri River and offers wade fishing in clear water and sight-fishing for 10 different species of tackle-busting jungle predators including peacock bass, wolf fish, payara, and bicuda, the jungle barracuda. This trip is as much about interacting with Kayapó Nation and their culture as it is about fishing.
Pirarucú is the jungle name for arapaima, the largest scaled freshwater fish in the world, reaching lengths of up to 9 feet long and weighing up to 440 pounds. They are an air-breathing fish, resembling tarpon in both size and shape, though with more coloration and distinctly prehistoric fins. Pirarucú is located in the Mamirauá Reserve, the largest arapaima reserve in the world, 600 kilometers west of Manaus. Uacari Lodge is a floating operation, constructed of local woods, and is simple and very comfortable. In addition to offering exclusive angling access to the largest arapaima in Brazil, it is an ecotourism lodge primarily built for wildlife viewing, as well as being one of the top five bird-watching areas in the Amazon. This is an ideal destination for fly fishers looking to test their mettle against giant prehistoric fish, as well as enjoying wildlife and bird viewing. But make no mistake, this trip is all about targeting arapaima along with other jungle fish species.
Bolivia –
Fishing for dorado at Tsimane in Bolivia is arguably the most unique fly fishing adventure on the planet. Imagine wading trout-like freestone streams, sight-casting with floating lines among the most majestic, pristine scenery imaginable, for aggressive and savage fish that weigh between 8 and 30 lbs! Well, that is Tsimane, (pronounced Chimané) and we couldn't be more bullish on this one-of-a-kind dorado fishery for the upcoming year.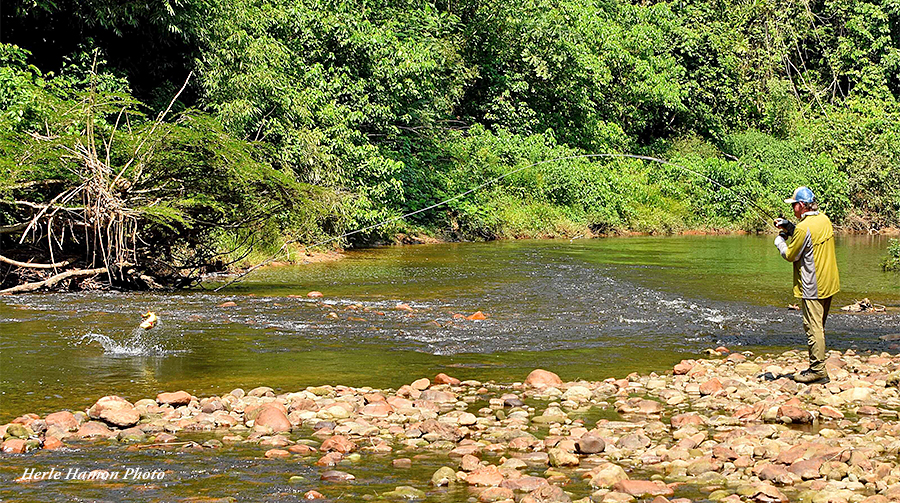 Our partners in Bolivia operate three different lodges that focus solely on hunting and catching dorado in clear water mountain streams far off the beaten path.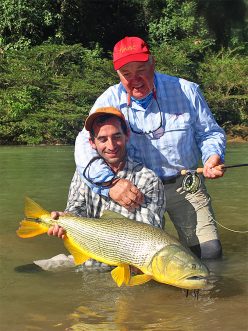 The elegant Pluma Lodge is carved out of the Amazon forest with a panoramic vista of the river where packs of ravenous dorado strike schools of sabalo at all hours of the day. Pluma Lodge features four double occupancy rooms, each with private baths, full size beds, hot water, 24-hour electricity, free Wi-Fi, and laundry service. An open bar and continental cuisine served with fine South American wines makes this one of the most deluxe dorado trips in the world. Eight anglers have access to hundreds of miles of fishing that begins at the doorstep on three distinctly different rivers: the Pluma River, its major tributary the Itirizama River, and the Sécure River (which all these streams eventually flow into). Adventurous anglers can choose to hike into the Upper Pluma or amazingly beautiful Itirizama and overnight at an outcamp for one night, then return, fish-weary, to the comforts of Pluma Lodge.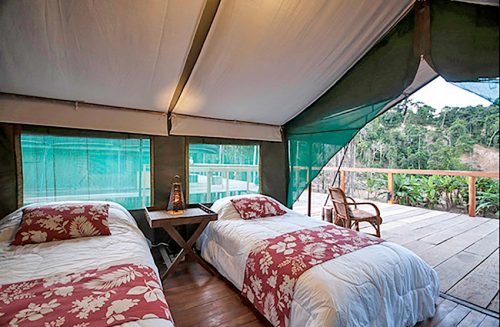 Agua Negra Lodge was purposely built to accommodate only four anglers at one time, making it the perfect venue for small groups and families of adventurous anglers looking to get off grid and back into nature. Agua Negra is all about sight-fishing large migratory and resident dorado in small, clear, shallow waters. In addition, anglers have the option of fishing the heavily structure-dominated Sécure River, intercepting dorado as they ambush millions of sabalo (baitfish) that run upriver to spawn. There is also the option of hiking up the Agua Negra River to the headwaters (and the Chimoro Stream tributary) for an overnight stay before fishing your way back to the lodge. Anglers are accommodated in double occupancy safari-style tent cabins, with full baths, beds with linens, 24-hour electricity, free Wi-Fi, and laundry service. Food is a blend of gourmet international cuisine accompanied by fine Argentine, Chilean, and Bolivian varietals. Agua Negra is the little lodge with a lot of heart, tons of fishing action, and one of our favorites of the Tsimane lineup.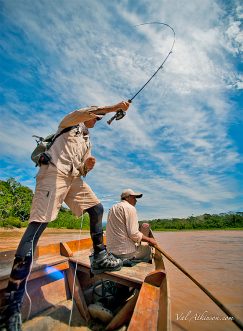 Finally there is Sécure Lodge, located on the headwaters of the Sécure River and offering six anglers a multitude of angling options, including three different beats of the Sécure River and its two major tributaries. The fishing is a combination of stalking dorado on foot and fishing from specially-built dugout canoes, with an abundance of sight-fishing opportunities. In addition to dorado, large pacus, yatoranas, and the rare striped surubis can be targeted at Sécure Lodge. Much like Agua Negra, anglers are housed in safari-style tent cabins, with full bathrooms, 24-hour electricity, Wi-Fi, laundry, an open bar, fine wines, and delicious cuisine created by trained chefs. Sécure is a perfect Tsimane lodge for those who have seen the best of their hiking and wading days, as the terrain is less steep and extreme. But make no mistake, the fishing at Sécure is every bit as spectacular as the other two Tsimane operations, just a bit more accessible.