For the last 45 years, the Scott Fly Rod Company has been a leader in rod design and innovation. Each fly rod is handcrafted in Montrose, Colorado by rod builders that care. These are fly rods built with a purpose, utilizing only the finest components, and these rods perform under the most severe conditions. These are purposely built fly fishing tools built for anglers that simply need the best and won't compromise for anything less. The Fly Shop® has been working with Scott for 44 years, only because they opened their doors one year before us. We have found their commitment to producing the best fly rods available unfaltering, and we couldn't be more excited to introduce Scott's newest model, the "Wave."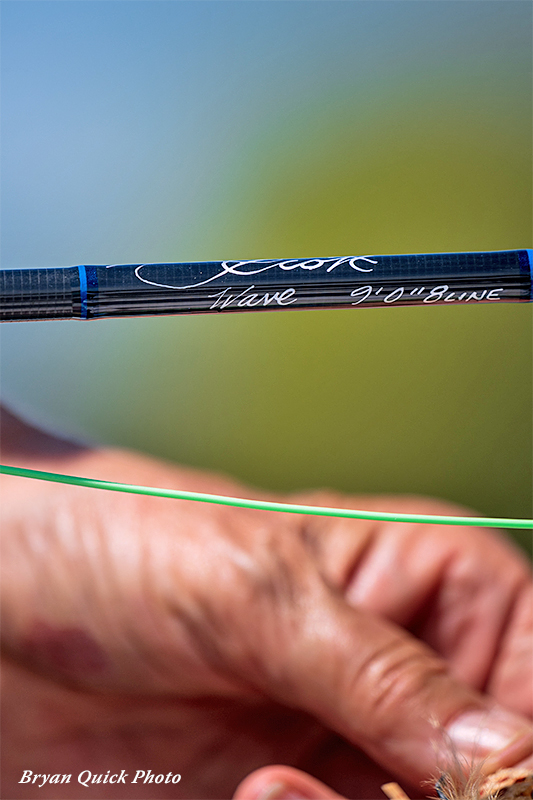 When we first got our hands on a Wave, we were immediately impressed by how light in hand the rod felt. The 8-weight felt like a 6 weight. Casting the Wave was enjoyable and straightforward as it easily generated high line speeds in controlled tight loops, an essential attribute needed to cut through wind and deliver flies on target. The butt section seemed to have plenty of pulling power, a great feature when trying to tame powerful fish in fresh and saltwater.
As with all Scott fly rods, the new Wave features top-of-the-line components like SiC stripping guides, custom machined aluminum and graphite reel seats, and super grade cork. Great detail and craftsmanship have gone into the finish on the Wave and adds to the appeal of this high performance fly rod.
The Wave will be equally at home fishing the flats, casting fast sinking lines for stripers or sea-run browns, or chasing carp and bass at your local pond or lake. Wave rods deliver high performance across a wide variety of fishing situations. The versatility of this new rod could not be overstated.
We are very excited about the introduction of Scott's new Wave. We look forward to fishing it in Mexico, the Bahamas, Patagonia, Alaska, Canada, and elsewhere.

Be among the first to purchase the new Scott Wave:  https://catalog.theflyshop.com/scott-wave-fly-rods/
"My first impression after casting the Wave was that this rod is a light in hand, fast action fly rod that generates excellent, but controlled line speed with minimum casting effort. I can't wait to put this rod to test on the water and really see what it can do!" – Pat Pendergast – Director of International Travel at The Fly Shop®

"After casting the new Wave, I was super impressed by the performance of this $675 rod! It has more feel than the typical super fast saltwater rods, which make the rod more forgiving, but it generates fast line speeds. I feel confident that the Wave can handle saltwater and freshwater fish species, and for a mid-priced rod the castability will handle multiple techniques. Even though the Wave is designed for saltwater, I would also use this tool for stripers and steelhead. This rod will handle a floating line and also fast sinking lines.
Scott hit it out of the park with the Wave. They designed a high end rod at a mid price! Check the new Wave out and you won't be disappointed." – Eric Fields – Retail Specialist at The Fly Shop®