As a new year starts, we are always excited to see what new fly fishing products our trusted manufacturers have been developing . High-quality fly fishing gear is not designed and made overnight. It takes years of research and design, along with field testing and modifications, to bring a quality product to fruition that fills a unique niche in your kit. The Fly Shop® goes through much of the same processes with our Signature Series of products.
Without further ado, here are some new products from Fishpond that we are excited to review and share with you.
Fishpond Canyon Creek Chest Pack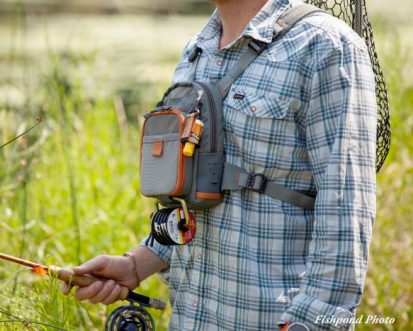 This little chest pack from Fishpond is the perfect tool for the minimalist angler who doesn't need much to enjoy a day on the water. Maybe you are just heading out to hit the evening dry fly hatch or heading out for an afternoon of Euro nymphing. If that is the case, then this is the ideal pack for you. The design on this chest pack takes all the weight off your neck and distributes it evenly throughout your core. Thinking that sometimes you may need more storage, Fishpond made this product completely modular; the main pack can be separated from its back support and added to any of the other great Fishpond backpacks.
Features:
This pack has everything you could ever want in a chest pack. The drop-down fly bench puts your flies at your fingertips, and the Tacky silicone pad is removable to help get you set up for your next angling day. You can purchase extra silicone pads to pre-organize your bugs for different angling adventures as well. The large main compartment is perfect for storing several fly boxes (up to four Tacky boxes). Tool attachment points are placed in easy-to-reach places, and the brilliantly designed Headgate Tippet Holder hangs neatly below and out of the way, but is easily accessed for quick leader rebuilds. The back support has a built-in net storage pocket, center-located, which keeps your net handy and protected from snagging on branches.
Fishpond Summit Sling 2.0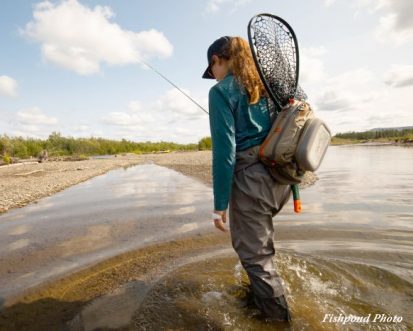 This sling pack from Fishpond just gets better every time they redesign it. The newest version is the result of years of field design and suggestions from many anglers. This non-waterproof version (coated YKK water-resistant zippers) offers just about everything for the swing angler on the go. The single sling design allows you to easily swing the pack to the front for easy access while also allowing for maximum off-arm mobility. This sling pack is large enough to bring whatever you need for your day or multiple days on the water.
Features:
Fishpond spared no feature on this sling pack. They gave us plenty of attachment points for your at-hand items such as tippet or floatant. It also comes equipped with lash points to carry an extra rod. Need more pockets? Not to worry because this sling comes with seven interior and exterior pockets, which provide plenty of room for just about anything. The front pocket is a patented and signature molded drop down fly/cargo bench with outside velcro for fly patch attachment. This allows for easy changing of flies and the ability to dry your already used flies by attaching the removable silicone fly pad to the exterior of the pack. Hydration isn't an issue with this pack either, as it comes with a water bottle holder built in that includes a locking cord to make sure your bottle stays where it's supposed to. Don't forget about the integrated net holder on the back panel, as it will keep your net handy at all times and protected from snagging on brush.
Fishpond Switchback Wading Belt 2.0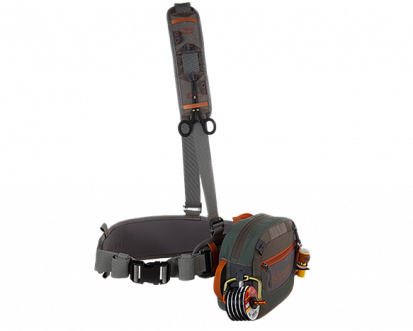 I think we can all agree that the original version of this was a great idea but left a lot to be desired. The original was supposed to be ambidextrous but ended up really only working for the right-handed angler. This new version makes some huge advancements in design, with the biggest being that it can be modified to work for both left and right handed anglers. We think they've nailed it with this one!
Features:
This is not just some ordinary pack – it is also a wading belt and nifty net holder. With the MOLLE slots you are able to add all the accessories you would ever need and more. These slots allow you to add a water bottle holder or Quickshot Rod Holder, or both. The comfortable, removable shoulder strap adds additional comfort while also giving you more tool attachment points and a velcro pad for attaching fly patches or drying out flies. The main pack, though not large, has a main zippered compartment with a removable divider and two interior pockets for organization, as well as an exterior velcro patch for use with the Tacky Fly Dock. If you are looking for a simplistic modular pack and wading belt combination that will give you the ability to adjust to any fly fishing application, then this is a great tool and the right item for you.
Fishpond Firehole Backpack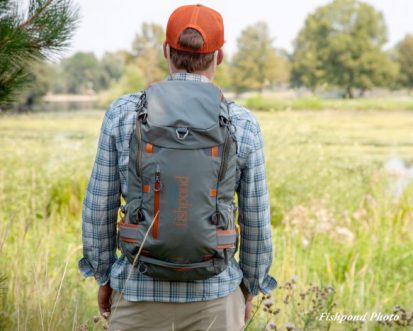 We all have our favorite backpack that we reach for the majority of our adventures. I mean, really, who really needs another backpack in their closet?  Well this new fishpack might just change your mind. It has more features than any other backpack we've seen or used. This is the perfect tool for those long hikes or when you want to bring everything because you aren't sure what you'll need or when you'll be back at the truck.
Features:
This 26-liter (1,600-cubic-inch) backpack comes equipped with everything you need for a weekend or long day on the water. Not only is the top opening large, making it easy to reach the bottom, but the zippers are water resistant to keep the elements out and your gear inside dry. Worried about weight,? Well don't be because this thing weighs in at only 2.7 pounds. We think one of its best features is that it can be joined with several other Fishpond packs to make the ultimate fishing pack. Hook your Thunderhead Chest Pack, Canyon Creek Chest Pack, Cross-Current Chest Pack, and even the Sagebrush Pro Vest to the front of your backpack, and you've created an amazing fishing tool. This backpack also comes equipped with three net holders, one on each side, and the final as part of the exterior boot and wader pouch. The last feature that we find is a must in our part of the world is an interior pocket for a hydration bladder. This pack really can do it all, and we are excited for its debut this April.