Special "Fly Fishing for Leadership" Week
Using fly fishing as a metaphor, John Childress, a former CEO, veteran fly fisherman, and author, is going to be hosting a 5 night, 4 day Executive Growth & Leadership Retreat in mid-May of next year (2022) at Kingfisher Lodge.
This special program has been designed for those currently in management roles (whether it's in the business, educational, or civic arena) who are interested in improving and developing leadership skills.
It will be a unique opportunity to enjoy a wonderful fly fishing experience with a small group of like-minded anglers who share the same passion for self-improvement and appreciation of the outdoors.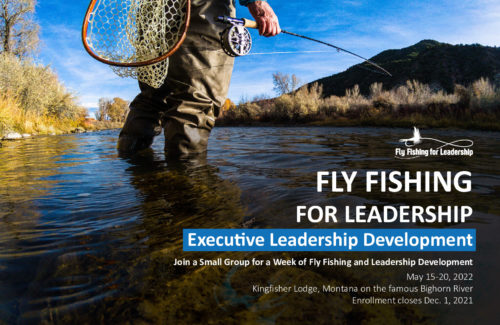 The format promises to be an excellent opportunity to refine your leadership abilities, sharpen your fly fishing skill set, enjoy yourself, and perhaps make a few new friends.Host John R. Childress is the author of the new book, Fly Fishing for Leadership. Free copy is included.
Dates at Kingfisher Lodge are Sunday to Friday, May 15 – 20, 2022
Cost of the 5 night, 4 day package is $4,250
Included are private accommodations, all meals, hors d'oeuvres, and soft drinks, craft beer, and wine. There will be 4 full days of guided fly fishing on the Bighorn River with instruction-oriented Kingfisher guides. All the fly fishing tackle necessary, and a complete selection of flies will be provided.
Not included are gratuities, and, hard alcoholic beverages