Lake Thingvallavatn is the largest lake in Iceland, just over 32 square miles and located only 40 minutes from Reykjavík. The lake drains into the Atlantic Ocean in southwest Iceland via the Sog and after the bigger Ölfusá river. On its northern shore stands Thingvellir, the historical meeting place of the Althingi (parliament) from 930 until 1798. The lake lies along the North Atlantic Ridge, sitting where the North American and Eurasian tectonic plates separate from each other. It is also the home of the ice age brown trout that grows to enormous proportions.
The giant brown trout of Thingvallavatn have evolved in isolation since the last ice age. These Legendary fish are on the bucket list of most anglers and this is the place you go to set your own personal record for Brown trout. These trout average right around 8 pounds and these extraordinary fish can grow to a weight of over 30 lbs., and specimens in excess of 20 lbs. are frequently caught in peak fishing times. In Thingvallavatn, you never know what the next cast will bring, but chances are it will be big.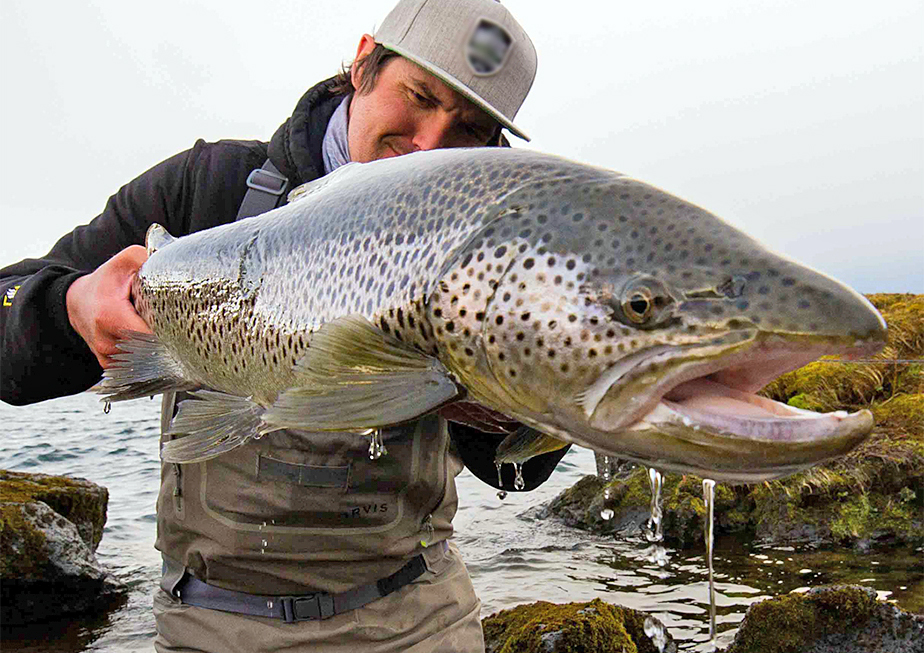 Reservations & Rates
Lake Thingvallavatn – Full Service - April 15 - September 15
5 days fishing in and around Lake Thingvallavatn.
From $5,600 per person based on double occupancy and shared guide*
From $9,950 Single angler. Single room and private guide*
*Price based on a Standard room at Hotel Grímsborgir. Rooms can be upgraded at an extra cost.
Can also combine with The Highlands Lodge as a package combo.
Inclusions
Included in your angling package at Lake Thingvallavatn Lodge are Transportation to and from Reykjavik, Transportation to and from fishing beats, Five days of fully guided fishing, including fishing licenses, Five nights at lodging of choice, All meals and light refreshments during the day
Non-Inclusions
Not included in your angling package at Lake Thingvallavatn Lodge are Airfare to and from Reykjavik, Accommodations and transportation in Reykjavik, Equipment (rods, waders and flies), Wine and alcoholic beverages, Gratuities
Travel Insurance
The Fly Shop® is not in the insurance business, but we recommend Travel Guard (AIG) and Global Rescue (IMG) coverage as a service with a desire to see your best interests protected. It is impossible to know when an unfortunate situation (loss of luggage, fly rods, illness in the family, or an accident) may occur. However, such things can and do happen, and this insurance can provide a means of recourse against non-refundable financial losses.

• Travel Insurance Information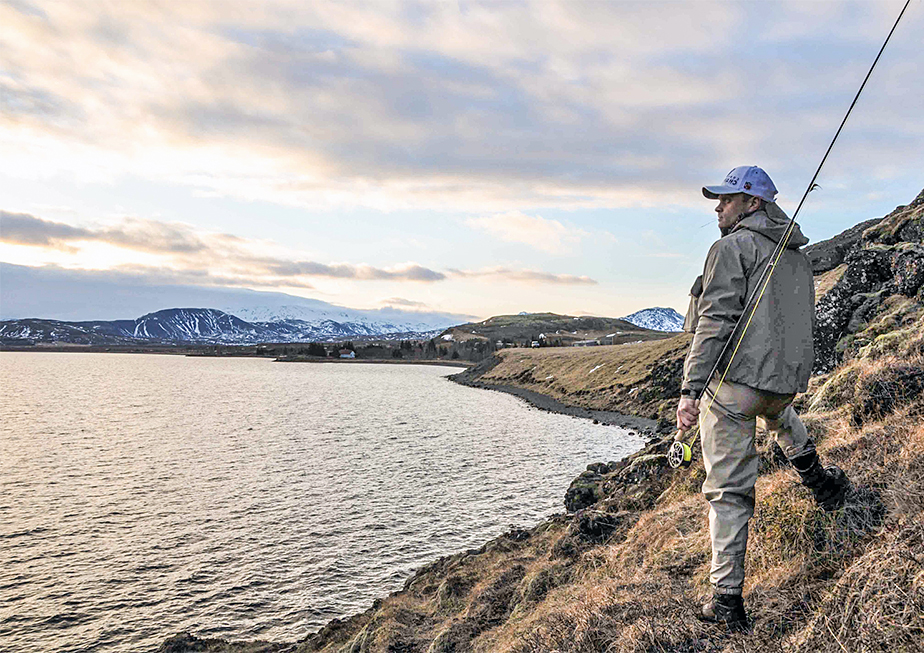 Seasons at Lake Thingvallavatn Lodge
The Fly fishing season for Lake Thingvallavatn runs from April 15 through September 15. April through mid-June is prime time. Although the best time for fishing, this is a time of unstable weather, with the chance for storms rolling in and high wind always possible. Fishing at this time is mostly done using streamers. Late May and June you usually start seeing the opportunity to fish some nymphs and dries as well. In July, though there is still opportunity to catch big browns, many of these fish head out to deeper water. The Char fishing with nymphs can be really good at this
Read More
time.

From mid-August through September those big browns move back into the shallow water and the streamer fishing picks up again at this time.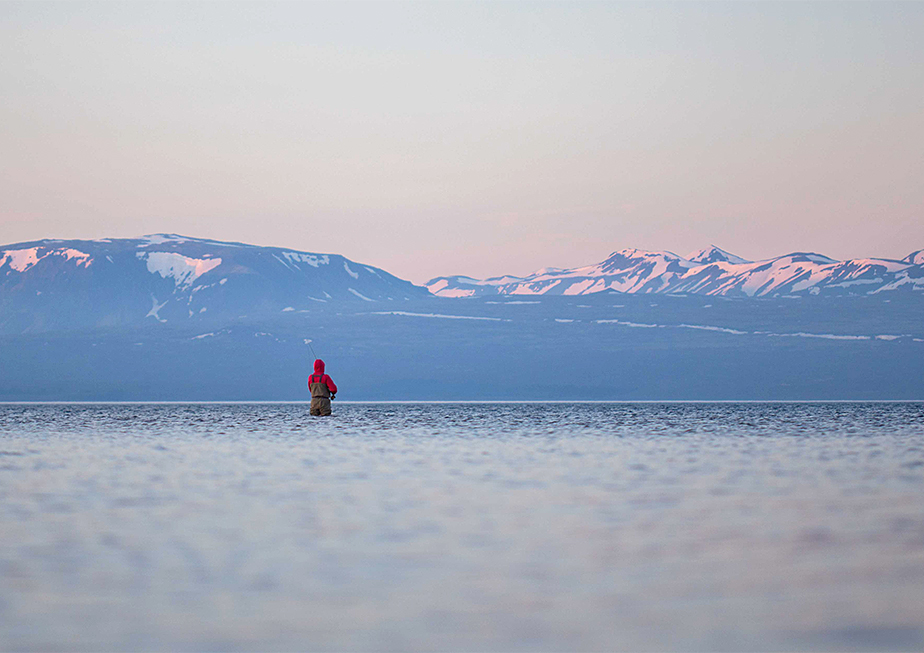 Getting to Lake Thingvallavatn Lodge
Everyone will make their own arrangements to arrive in Reykjavik, Iceland, the only Intl airport on the island. Stopovers anywhere else in Europe can be easily arranged. You will need to arrange with your hotel in Reykjavik the first night a shuttle pick you up at the airport. You may also be able to take a taxi or Uber, but it is a good 45 minutes from the airport to downtown. You will overnight that first night in Reykjavik and Fish Partners will pick you up early the next morning to get you to your lodging, 25 miles, 40 minutes away for a full days fishing.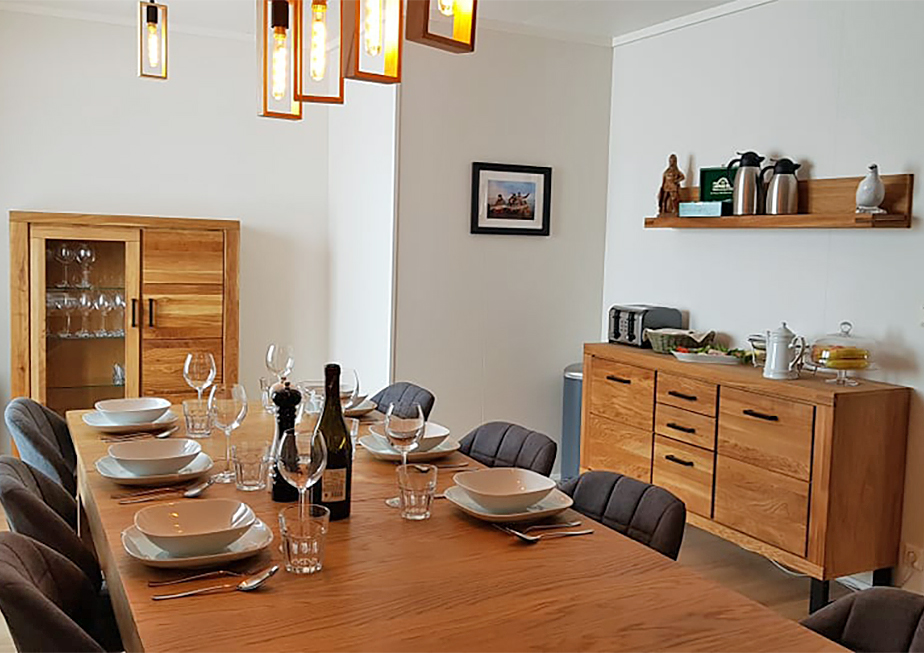 Lodging at Lake Thingvallavatn Lodge
Lake Thingvallavatn - Hotel Grímsborgir and Hotel Borealis

For the upcoming season, Fish Partner will be using two luxury hotels close to the Lake for their lodging/food options to service their many beats in Lake Thingvallavatn and the surrounding area.

Hotel Grímsborgir- The five star hotel consists of 15 buildings with a 24-hour reception, restaurant, event and meeting facilities. All rooms come with balcony or terrace and access to some of the 39 geothermal hot tubs on site, both private and shared. Hotel Grimsborgir has a restaurant with a broad a la carte menu with both Icelandic and international dishes. In the summer you can enjoy outside seats in the beautiful terrace. Every evening, we are delighted to present our program of live music during dinner.
Read More
Hotel Borealis-Surrounded by Nature, the Hotel Borealis is a little less crowded and has a more natural feel and is another great option close to the Lake. Barnwood exterior allows the hotel to fit into the surrounding with a perfect blend of nature and comfort. The hotel has a restaurant/Bar/lounge, with a varied menu to relax and share stories over a delicious meal after a day on the water.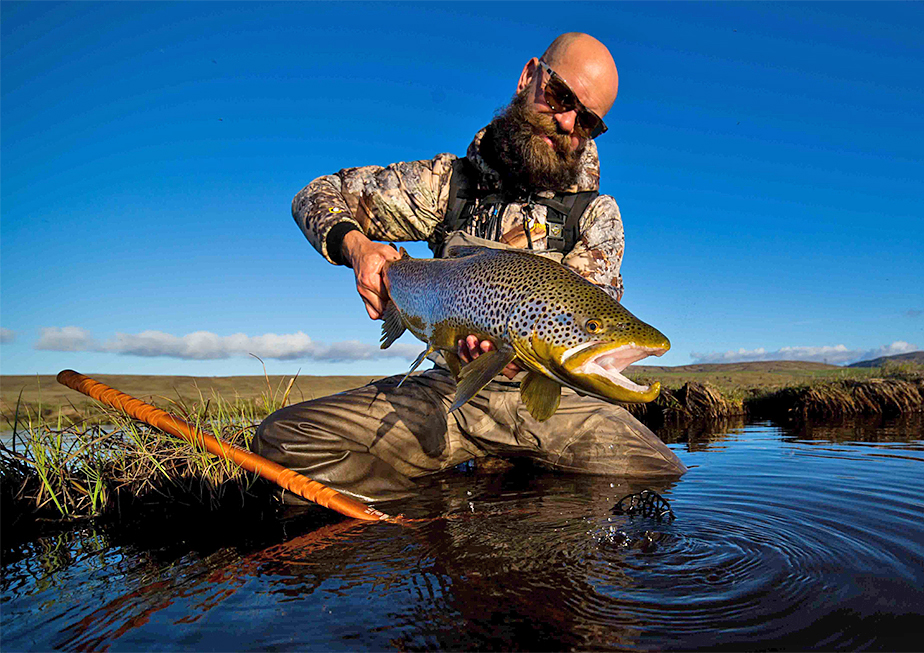 Fishing at Lake Thingvallavatn Lodge
At Lake Thingvallavatn, what makes these fish grow to such gigantic proportions is the lake's biomass. There are four different sub-species of arctic char and an immense number of sticklebacks that roam the lake's shoreline. This means protein is abundant and easy to come by. This is what make streamer fishing the go to method on the lake.

When fishing for the giant Ice Age Brown Trout in Lake Thingvallavatn we
Read More
recommend fast action 6-8 weight rods and at least 12 lb. leaders. Floating lines are the most common, but intermediate and sink-tips can also be good to have handy in your kit and work well. Streamer fishing is probably the most effective, but in the right conditions, you can also try dry flies and nymphs.

You will have access to four exclusive beats on Lake Thingvallvatn as well as two other beats on nearby lakes. These four beats are different in character but all have one thing in common, giant brown trout.

Beat 1 - Kárastaðir Private Beat
The Kárastaðir beat is in the north end of the lake where the Ōxará River - the browns main spawning stream - runs into the lake. The giant trout occasionally travel in groups and they are often found circling around the waters of this beat.

Beat 2 – Black Cliffs Private Beat
The Black Cliffs beat is a shoreline in the northwestern part of Lake Thingvallavatn. Off the Black Cliffs fisherman can wade far into the lake to a lava drop-off where those giant browns are hiding out.

Beat 3 - Villingavatn Private Beat
Villingavatnsárós (means the mouth of river Villingavatnsá) is one of the greatest brown trout beats in the world. The beat offers the opportunity to catch giant ice age browns on small nymphs and dry flies. This beat is only fished with two rods.

Beat 3-D – Villingavatn (The Lake)
Despite being small, Lake Villingavatn is the home to some very large brown trout.

Beat 4 – Kaldárhöfði Private Beat
The Kaldárhöfði beat is in the southernmost part of Lake Thingvallavatn where the Sog River runs from the lake. The beat stretches south into Lake Úlfjótsvatn. This beat also has excellent Arctic char fishing, especially in June through August.

Beat 5 - Efri Brú
The Efri-Brú beat is situated in Lake Úlfjótsvatn and is a top-class Arctic char fishery with a better than average size char as well as a good amount of brown trout caught each year.
What Makes This Destination Special and Unique?
• PRIVATE:
Lake Thingvallavatn is 100% private, there is no public access. Fish Partner has 6 exclusive beats that are only accessible to them on Lake Thingvallavatn and other nearby lakes. This ensures that you will have solo access and be the first, and only one on your particular beat you are fishing, every day of your trip. This guarantee's that you are always on fresh fish and not behind other anglers or have someone come in and "Low hole" you as you're getting to the best stretch of water first.

• EXPERIENCE:
Fish Partner has more than 70 years of combined fishing experience and over 30 years of experience in servicing foreign and domestic fishermen as guides and tour operators in Iceland. For them, fishing is a passion, one that they could not be without. Therefore, they know the importance of a well-organized fishing trip. From the attributes of the fishing program, the beauty of the landscape to the quality of the food and the smoothness of the transport, they know that every detail is essential to the overall experience. All that experience translates into you not having to worry about a thing; your only job is to enjoy your trip, start to finish – you are in very capable hands.

• UNIQUE:
The land of Fire and Ice. The island itself is a mesmerizingly beautiful landscape of Volcanoes, rock, rivers and waterfalls; the scenery is magnificent. It's stark and extreme landscapes are impossible to duplicate in the rest of the world. Fish for native brown trout and char where they evolved with the surrounding landscape. We all want to catch fish on our trips, but the total experience of each and every outing is what makes for lasting memories. There are not many places in the world where you can experience such a unique pristine environment, while catching trout and char, like the Highlands of Iceland.

• ICE AGE BROWN TROUT:
Lake Thingvallavatn in Iceland give anglers access to the largest resident brown trout in the world. These browns have evolved in isolation since the last ice age, they can grow to a weight of over 30 pounds, and fish in excess of 20 pounds are frequently caught during the peak season. The abundant biomass in the lake provides lots of protein to grow these giant prehistoric fish. Sticklebacks and Artic char are their main diet. Bring your big streamers as this is the place to set you own record and make your fly fishing dreams come true!

• EASY TRAVEL & AFFORDABLE:
Priced less than most western U.S. trout trips, Iceland offers a unique trout fishing experience incomparable to anything here in the States. With the same flight time as JFK to LAX, it is a quick nonstop flight from JFK to Reykjavik. If you are looking for international destination that is exotic but still very affordable and easy to get to, fishing the land of Fire and Ice is just right for you.