The Ridge is located 210 miles southwest of Anchorage on privately held land in the heart of Alaska's phenomenal Bristol Bay and Lake Iliamna "Trophy Alaska Rainbow Trout" watershed, and conveniently adjacent to the Katmai Wilderness. This fly fishing lodge offers magnificent views of the Alaska wilderness and the beautiful Copper River, arguably one of the prettiest trout rivers in Alaska.
Nestled in lush forest on the side of a steep hill 200 feet above the beautiful Copper River, the views from this lodge are spectacular and the tiny occupancy of only four guests a week make for a unique and intimate experience. To have an entire lodge for just your group of family or friends, and four staff members for four guests is pretty remarkable. The program is based on four days of fly-out fishing and two days fishing the Copper River with jet boats, allowing anglers the chance to experience the best of both worlds. The fishing for big rainbows is the biggest draw here, but the lodge also affords guests easy access to fabled local waters to target salmon, Dolly Varden, Arctic grayling, and northern pike.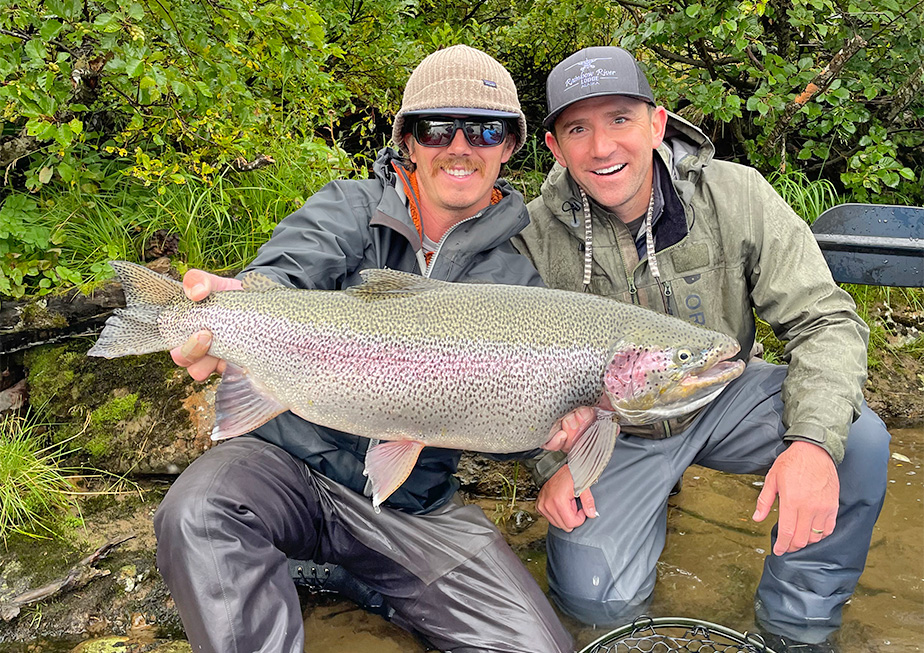 Reservations & Rates
$10,400 per person, double occupancy, a six night/six day stay - four days of fly-out fishing and two days of fishing the Copper River with jet boats
Inclusions
All 5-star meals, guiding, use of all boats and motors, use of aircraft, daily fly-outs (weather dependent), all equipment including rods, reels, flies and leaders, satellite internet connection and flights between the fishing lodge and Iliamna.
Non-Inclusions
Tips, liquor, 7-day Alaska non-resident fishing license, and air travel between Anchorage and Iliamna. The Ridge will schedule your flight from Anchorage to Iliamna for you, but you will need to pay for it on arrival to the air charter on your day of arrival to the lodge.
Travel Insurance
The Fly Shop® is not in the insurance business, but we recommend RedPoint and Global Rescue (IMG) coverage as a service with a desire to see your best interests protected. It is impossible to know when an unfortunate situation (loss of luggage, fly rods, illness in the family, or an accident) may occur. However, such things can and do happen, and this insurance can provide a means of recourse against non-refundable financial losses.

• Travel Insurance Information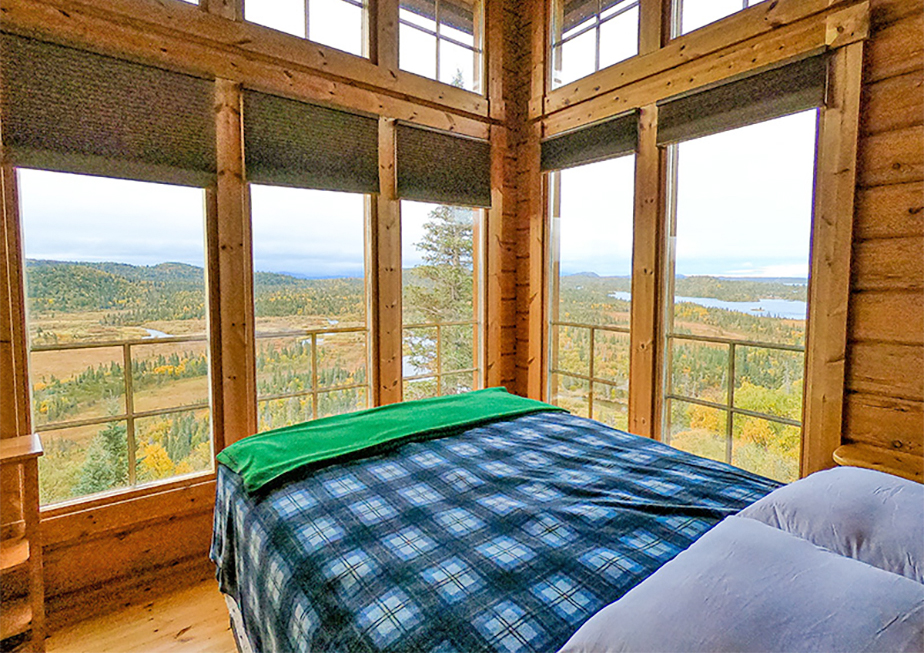 Seasons at The Ridge
The fishing season at The Ridge runs from early June through the end of September. While predicting the weather in Alaska is a highly inexact science, there are some general trends that normally occur. Typically, June is a warm month that is getting warmer, with some short rain storms blowing through. July continues the trend – it is often the warmest month of the short season – and as with June, the days are extremely long, often with little to no actual darkness during the night hours. In August the days begin to shorten a bit, normally still with warm days but cooler evenings. Septembers are usually cool during the day and cold at night. If it seems there were an awful lot of "typically's", "normally's", "often's", and "usually's" in the last few sentences…well…welcome to weather reports in the Alaskan bush!
Read More
June and early July is a great time for those who love to swing streamers for big trout, as well as offering some dry fly fishing for resident fish. There are no salmon around yet, and often not many Dolly Varden or Arctic char, either; what you have is some rivers with resident trout, as well as small concentrations of big rainbows that have ganged up in the inlet and outlet areas of various lakes, gorging on the small sockeye salmon fry as they enter and exit the lake. Every trout in the region is fine-tuned to this baitfish "smolt" migration, and they are waiting and ready, feeding voraciously. We love to fish weighted streamers on both floating and sinking tip lines this time of year, as the trout are often busting the bait on or near the surface - watch for the Arctic terns diving on the bait balls. And because they are surface-conscience, skated mouse patterns can also be productive. As well, there are a few streams that have resident trout and some limited insect hatches, offering the relatively rare option to fish dry flies to big Alaskan rainbows. Typically, around the first week of July, massive runs of sockeyes begin entering all of the rivers. These mint-bright salmon – averaging 6 - 9 pounds – are tremendous gamefish on a 7 or even 8 weight outfit, and there are literally so many salmon, they disrupt the trout fishing! The trout don't go away, however, and for those who like warm weather, non-stop action for sockeyes and some pretty good fishing for Dolly Varden and rainbows, this is a great part of the season. As with June, the trout are best fished with 6 or 7 weight outfits, as these make throwing weighted streamers relatively effortless.

By the very end of July and the first of August, millions of sockeye salmon begin to actively spawn; overnight, these fish that had spent the past few weeks disrupting the trout fishing suddenly become the darlings of the angler's world. Big lake rainbows immediately flood the streams, joining their native river brethren hovering behind egg-laying salmon, gobbling the endless conveyor belt of free-floating salmon eggs. For the next 6 - 8 weeks this gluttony continues unabated; trout that weighed in at three pounds in June, might tip the scales at five, come September. Trophy fish that started the game at six pounds could reach the magic 10-pound mark. Inches don't always mean a lot, this time of year, as trout are often obscenely and disproportionately obese; fish sizes are simply guessed in pounds. While streamers are still fairly effective, dead-drifting single egg patterns dominate the fishing, in all the rivers. As the warmer August days begin to give way to the cool autumn temperatures of September, not a lot changes (except the trout, Dolly Varden and Arctic char continue to pack on the protein pounds). In fact, the egg fishing remains productive nearly through the end of the season, but there is one last variable that occurs as the salmon all die, and sink to the bottom in massive aquatic graves.

As in all of nature, nothing goes to waste…here, the rainbows, feeling the urgency of a long winter spent in lethargy beneath the ice with little or no feeding, turn finally from the dwindling egg supply to a seemingly never-ending source of food, drifting salmon flesh. Needless to say, this is prime time to swing or dead-drift small to giant salmon flesh streamers, and as it happens, these late season trout can be fairly aggressive to almost any large streamer – black, olive and ginger are favorite colors. As well, we begin skating mouse patterns again – you might be surprised how many egg-bloated rainbows can be willing to come to the surface to savage an imitation rodent. Remember, it's all about protein intake… In the Copper River, there are two distinctly different types of rainbows: resident (those that live full time in the river), and lake-run (trout that live most of their lives in Iliamna Lake, moving into the river to feed behind spawning sockeye salmon).

Seasons on the Copper River, your home water
IN THE EARLY SEASON – June through the first half of July – lake-run trout will often migrate into the bottom of the river (where it enters Iliamna Lake), joining resident rainbows to feast on the downstream migration of the previous year's salmon smolt. During this time, white-colored streamers resembling little smolt are deadly, as are more traditional black Egg-Sucking Leeches (many streams see spawning migrations of lamprey eels, which some believe contributes to the effectiveness of large black leech patterns). As well, resident fish are hungry after a long, cold winter, and will sometimes react aggressively to a surface-skated mouse pattern. Finally, the Copper River has some of the best dry fly fishing in Alaska this time of year; clients often target rising fish, or fish dry and droppers to promising water. In early-mid August hundreds of thousands of sockeye salmon move into the river, providing great action to those wanting to target them.

IN AUGUST the Copper floods with a massive infusion of sockeye salmon. While at first these fish are more of a hindrance than a help to the trout fishing, by the time August rolls around they become a trout bonanza, providing an egg and flesh smorgasbord seemingly without limit. This is definitely the "time of plenty" with every available trout crowded in behind spawning salmon, often visible in the shallows as they gorge. Beads are the most productive, though smallish flesh patterns can also be very effective.

AS AUGUST TURNS TO SEPTEMBER, the sockeyes begin to fade, spawning out and dying, and the days get cool and short. This is the time for the serious trophy trout hunter. While the resident trout are at their fattest – many in the 2-5 pound category - there is a final upward push of lake fish into the Copper. While there normally won't be as many hookups as in August, an angler's chance at hooking those elusive 6-10 pound fish becomes significantly better in September. The Ridge's experienced guides have a high rate of success during this time of year. Normally this time of year the angler will begin to fish less beads, and more large flesh streamers. As well, articulated leech and sculpin patterns can be deadly - it is the "big fly, big fish" time of year!

Iliamna Basin Weather
With the Bering Sea to the west and the Pacific Ocean to the south, the one weather factor that is constant, is change. While moisture laden coastal air envelops Bristol Bay, crisp inland air drifts through the interior valleys. June has the longest days of the year, and you'll often change your base layers between dawn and dusk. In July you can be fishing in a light long sleeve shirt, relying on sunscreen to protect your face. Late August may have the first fall weather, with the tundra turning crimson and gold, ripe blueberries feeding the migrating Sandhill cranes, and frost on the deck in the morning. By September, the mountain peaks receive a dusting of fresh snow, and dressing in warm layers keeps you warm. Bring several high tech layers, a top quality outer shell, a good pair of waders, and a pair of wading boots that fit well.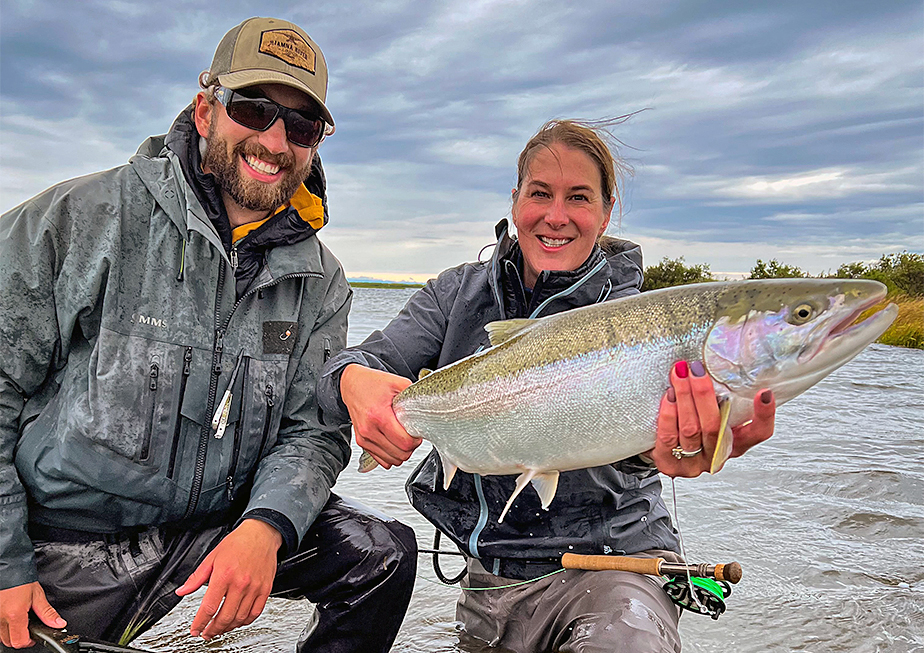 Getting to The Ridge
Saturday:
Arrive in Anchorage any time on Saturday and overnight at one of the many fine hotels in the city.

Sunday:
The Ridge will schedule your charter flight from Anchorage to Iliamna for you. In Anchorage on Sunday, you will need to take a cab or hotel shuttle to Lake & Peninsula Airlines (LPA) at Merrill Field no later than 3:00 PM for your check-in, with a 4:00 PM departure flight to the village of Iliamna, Alaska, arriving at 5:00 PM. The Ridge personnel will meet your flight in the village of Iliamna and then fly you a short 20-minutes to the lodge with arrival at 6:00 PM. Cost of the round-trip charter is $570 per person,
Read More
with 50 pounds of luggage, payable to Lake & Peninsula Air at check in. LPA accepts credit cards, cash and business checks.

Monday - Saturday
Your day starts with your favorite morning beverage, followed by a hearty breakfast to prepare you for the fishing ahead. After a delicious and filling meal, it's off to the day's adventure via boat or float plane.

Lunch is taken on the fly and your guide will take a midday break for hot soup, riverside lunch, and maybe some fresh-caught salmon prepared over an open fire.

You'll return to the lodge at the end of the day with sore arms, plenty of fish stories, and ready for a steaming hot shower before appetizers are served in the main lodge, followed by a delicious and professionally prepared dinner. You can watch the chef prepare your meal and enjoy a beverage while you re-live the day with your friends

Saturday
It's departure day, but you will have the opportunity to fish for 6 or 7 hours before you depart back to the village of Iliamna for your return flight to Anchorage. You'll return from fishing by 3:30 PM to get organized, pack, enjoy a light meal, and say goodbye to your newfound friends before departure from the lodge at 4:30 PM and arrival in Iliamna at 5:00 PM. Your flight from Iliamna via Lake & Peninsula Airlines departs at 6:00 PM, arriving at Merrill Field in Anchorage at approximately 7:00 PM. We suggest you schedule your commercial flight out of Anchorage no earlier than 11:00 PM. Or you have the option of spending Saturday night in Anchorage and departing the following morning.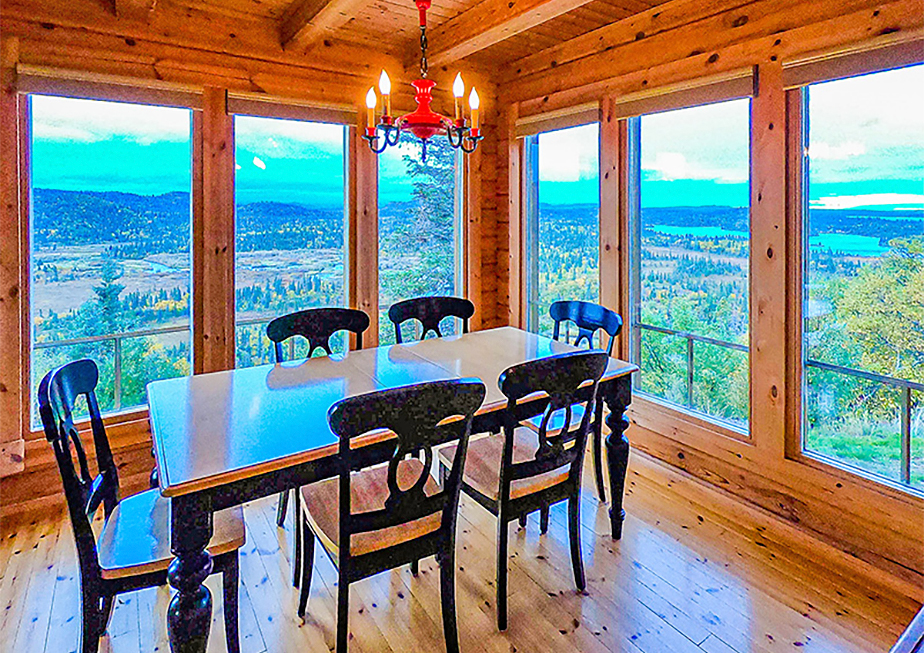 Lodging at The Ridge
The two story cabin boasts intricate Finnish architecture and has a stunning 180-degree view of the Copper River Valley. With two master bedrooms and a bedroom nook, this layout is perfect for four anglers, two couples or a family. No expense has been spared in creating a great atmosphere and comfort level that each of our guests deserve.

Your private room has a full bathroom, and is thermostatically-controlled to ensure your total comfort. Nothing has been spared in providing you with top quality sleeping accommodations. They want you to get a good night's rest for the exciting day ahead. And the views are amazing!
Read More
After a day out on the water there's nothing like sitting down to a gourmet meal. Dinners like one would find in finer restaurants are served in the main lodge and include such dishes as steaks, roast beef, fresh seafood, halibut, and salmon from the bounty of the Pacific, paired with fresh garden-green salads, fresh-baked bread, and punctuated with homemade desserts - all painstakingly prepared by a professional chef. The bell for breakfast rings early for anglers anxious to get out and fly fish this treasured Iliamna Lake region of Alaska (though because you will normally be an integral group of four, if you would like sleep in a bit more, just let the manager know and they will massage the schedule to accommodate your wishes). Lunch is taken in the field unless you are fishing the home-waters – in that case you have the option of returning to the lodge for a hot bowl of homemade soup and a delicious sandwich, homemade pizza or quiche. Whether you're dining or relaxing, the lodge provides the perfect setting for many pleasant moments, conversations, and memories.

The lodge's chef receives the highest praise from guests. Guests will need to provide their own beer, wine, and liquor, as Iliamna, Alaska, is a "dry" village. Ask us how we can assist you in purchasing and shipping your alcohol for you, if you prefer not to bring your own.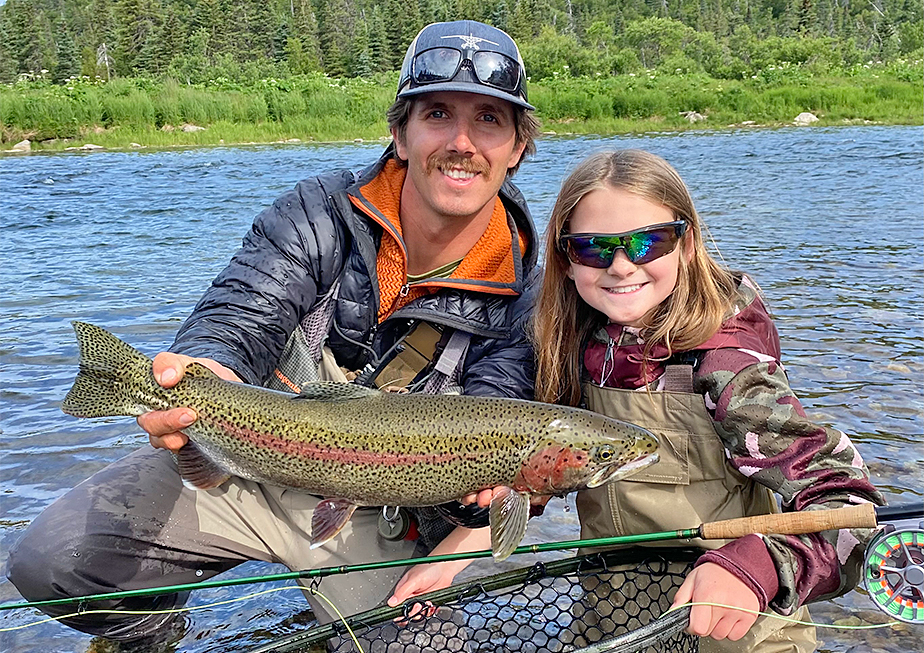 Fishing at The Ridge
The Ridge takes full advantage of its central location and the use of floatplanes to access dozens of rivers, streams and lakes within a short flight of its base. Of course, having one of Alaska's top-rated trout streams - the Copper River - just out the back door makes for an even stronger and more diverse fishing program, a real bonus for guests.
Read More
RAINBOW TROUT FLY FISHING
Rainbow trout in the Iliamna region naturally grow to 18 pounds or larger, although most trout will average between 2 - 5 pounds. Rainbows are caught June through September. However, due to the return of millions of sockeyes in the month of July, the most productive rainbow fishing is in the months of June, August and September. Each fishing day is custom-tailored to your wants and needs, either flying out to distant trout streams or enjoying a day on the Copper River - the home-water.

ARCTIC GRAYLING FLY FISHING
Fly fishing for grayling is fun, especially on a 4 weight, fishing dry flies. They are thick in many of the nearby streams and will attack a fly all season long, even in the worst of weather. Most grayling average 10 to 14 inches, although it is not uncommon to catch fish up and over the eighteen-inch mark.

ARCTIC CHAR/DOLLY VARDEN FLY FISHING
Arctic char and Dolly Varden are both members of the Char family, and although closely related are two distinct species. In general, Arctic char inhabit lakes, while Dolly Varden are sea run. They average 2 to 4 pounds with the largest of the fish tipping the scales at over 10 pounds. Available all season long, char are numerous, hard fighters for their size, and one of the most beautiful fish in the state of Alaska.

SOCKEYE (RED) SALMON FLY FISHING
Sockeye salmon enter the Iliamna drainage from Bristol Bay by the millions in late June and early July. For the first few weeks that they are in fresh water they are considered to be one of the hardest fighting salmon, pound for pound. Sockeye salmon average 6 to 10 pounds with a 15-pound maximum. Sockeye are outstanding table fare and best enjoyed fresh over an open fire during a shore lunch, expertly prepared by your guide.

CHUM (DOG) SALMON FLY FISHING
Chums average 8 to 12 pounds and love to eat streamers. Chums are the bulldogs of the Pacific salmon and offer great sport on a 7 or 8 weight fly rod. Chum salmon top the scales at 20 pounds and arrive in local rivers in July and early August.

SILVER (COHO) SALMON FLY FISHING
Fishing for silvers peaks in August and September and they are best targeted on coastal streams when they are mint-bright and aggressive. Most silver salmon weigh between 8 and 15 pounds with larger specimens approaching the 20-pound mark. Cohos are very aggressive feeders and love to attack flies, both wet and skated dry flies.

NORTHERN PIKE FLY FISHING
Northerns are native to Alaska and are aggressive predators, found mostly in lakes, ponds, back sloughs and stillwaters. Pike can get big, in the 25 to 40-inch class, and will hit anything that moves, both subsurface and on top! Their strike is lightning fast and vicious. They are available all season.
What Makes This Destination Special and Unique?
• One of the most beautiful home trout streams in all Alaska, (the first catch & release designated river in Alaska) the Copper River is also one of the few that has good insect hatches. This means there are good numbers of resident trout in the stream in June and July (eating dry flies and nymphs). At a time when many local streams have marginal fishing with not a lot of resident trout, The Ridge guests have plenty of rainbows to target.

• The Ridge is located on the proverbial "X" when it comes to accessing a diverse array of fly fisheries either by aircraft or boat. Within easy striking distance of Katmai National Preserve and Park, Lake Clark National Park and the Cook Inlet and Pacific, no matter what species you are interested in pursuing, the lodge can get you on great fishing in a matter of minutes. And if the weather dumps on you, you have one of the best rainbow trout fisheries in Alaska a short boat ride away – the Copper. Easy and efficient travel means less time traveling and more time fishing.

• The diversity of the fishing program at The Ridge is tremendous. With a de Havilland Beaver at your disposal, any fishery within a hundred miles is game. No matter what species of fish you want to pursue, in rivers, streams, or even lakes, the lodge can accommodate your preferences. Having such a diverse fishing program makes for a stimulating and enjoyable trip for all guests.

• The Ridge is very well-appointed, built overlooking the Copper River with spectacular views. Deluxe double occupancy and specious guest rooms feature every amenity needed, each with a full bathroom. The lodge is built for guest comfort and efficiency that ensures your time off the river is relaxed and memorable. Between the hard-working staff and the beautiful facilities, your stay at The Ridge will leave you refreshed and headed home in better shape than when you arrived.

• The Ridge is famous for superb guides and first-class bush pilots and you can count on both to put you on fish no matter what your skill levels, in a safe and enjoyable manner. And when back at the lodge, a skilled chef and a seasoned and hardworking staff will cater to your every want and need. The entire Ridge staff is fully committed to making your trip special, enjoyable and memorable. Kick back, relax and let the crew pamper you for a week – you've earned it.