Bear Trail Lodge, a fly fishing lodge in Alaska, is located at the epicenter of some of the best trout, salmon and char fisheries in Alaska. For those who are looking for a superb fly-out experience targeting a mixed bag experience, Bear Trail should be at or near the top of the list! Guests are met in Anchorage and flown to the lodge as a part of the package, and returned to Anchorage at trip's end. Accommodations are more than comfortable, the cuisine is delectable, and the staff and guides love to give their guests a world-class vacation!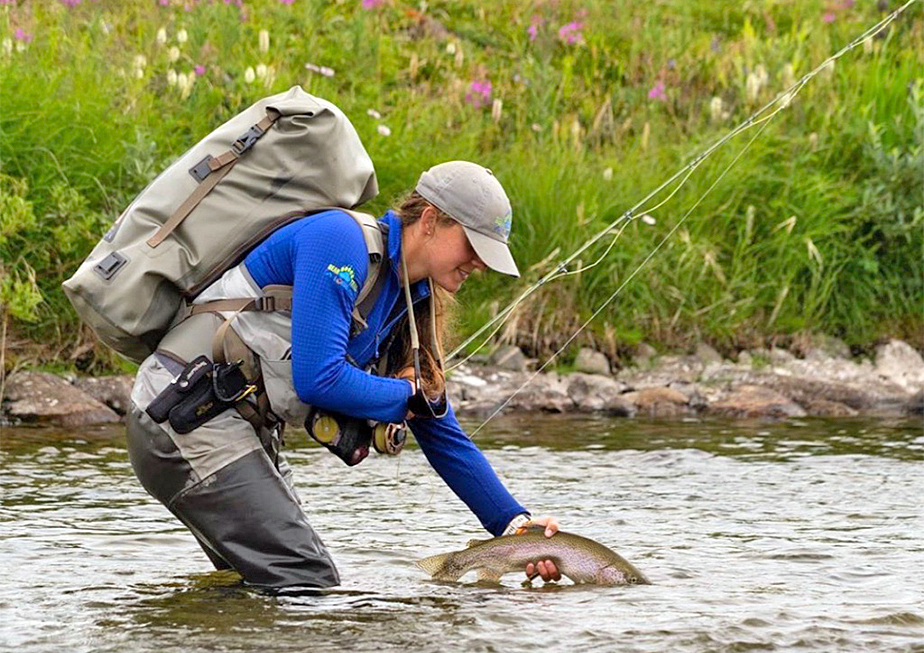 2023 Reservations & Rates
Bear Trail Lodge is one of the few quality lodges in the region that offers shorter than full week stays, a great option for those wanting to combine a few days of serious fishing with other business or tourist activities.

2 full days fishing / 2 nights lodging - $5,150
3 full days fishing / 3 nights lodging - $6,620
4 full days fishing / 4 nights lodging - $8,635
5 full days fishing / 5 nights lodging - $10,525
6 full days fishing / 6 nights lodging - $11,900
7 full days fishing / 7 nights lodging - $12,925

Inclusions
Turnaround days are variable, and other length stays can often be arranged, upon request. This rate includes all lodging, meals, beer and wine, and fly out fishing with two clients to each guide, as well as fishing gear and waders, if desired. Also included are the flights between Anchorage and King Salmon/the lodge.
Non-Inclusions
Not included are gratuities, fishing license, and a $15/night/person local bed tax.
Travel Insurance
The Fly Shop® is not in the insurance business, but we recommend Travel Guard coverage as a service with a desire to see your best interests protected. It is impossible to know when an unfortunate situation (loss of luggage, fly rods, illness in the family, or an accident) may occur. However, such things can and do happen, and this insurance can provide a means of recourse against non-refundable financial losses.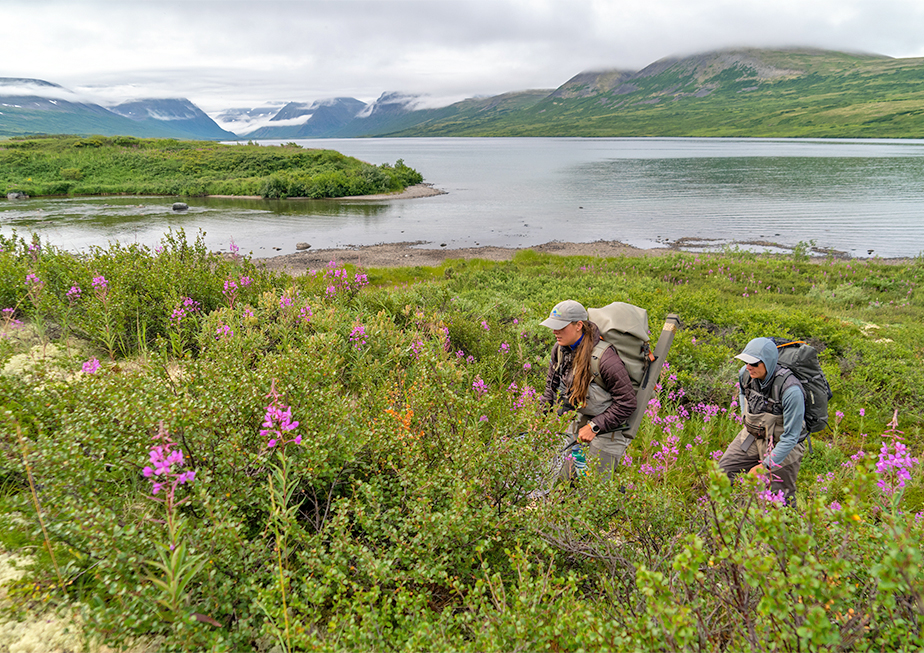 Seasons at Bear Trail Lodge
Resident species include rainbow trout, Dolly Varden, Arctic char and grayling. They are available throughout the season, and change their locations and feeding behaviors based on available food sources.

King (Chinook) salmon fishing begins the second week of June, and continues through the middle of July.
Read More
Chum salmon are available at the same time, with Sockeye salmon entering the rivers in mid July and into August. The ever popular silver (Coho) salmon are a target from late July through the end of August and in some coastal waters into mid September.

Later in the season, Bear Trail Lodge guides target world-class trophy rainbow trout - some of the largest trout in the state of Alaska - on their home water, the Naknek River. Bear Trail Lodge's fishing season runs from the third week of June through the beginning of October.
Getting to Bear Trail Lodge
Prior to Departure: To complete the arrangements for your trip you will need to:
• Arrange flights to/from Anchorage, AK
• Arrange overnight accommodations in Anchorage (if applicable)

Fly to Anchorage, AK, and overnight. However, if you can make connections, you can forgo the overnight in Anchorage and take the lodge-arranged flight to King Salmon, your end destination, on your scheduled day of arrival into camp.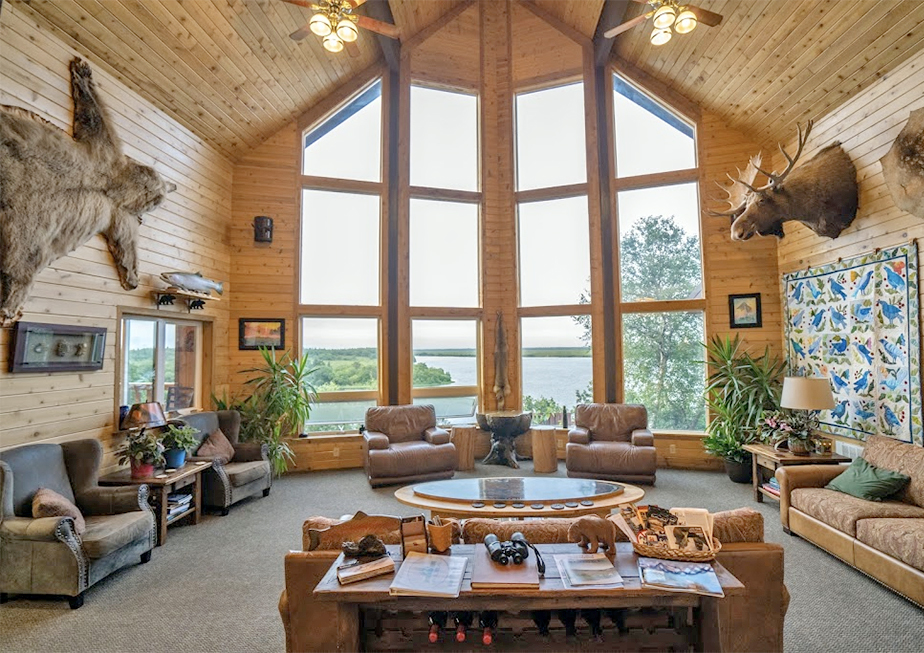 Lodging at Bear Trail Lodge
Enjoy an all-inclusive stay at one of the top fishing lodges in Alaska. Bear Trail Lodge consists of a very comfortable and inviting cedar main lodge. This is where all guests are invited at the beginning and end of each day as well as any time in between. The main lodge is open 24-hours to our guests during their stay and includes many amenities. They have a commercial kitchen with gourmet chefs, and a guest kitchen for late-night snacks and convenience. There is a family-style dining room overlooking the river, cigar deck for after dinner relaxation, a spectacular sun room with panoramic views, and wrapping decks for outdoor enjoyment. Guests enjoy complimentary Wi-Fi, and landline telephone services should you need them, as well as a computer and printer. Guests can take advantage
Read More
of a billiards and poker room, a hot tub suspended over the river, and a quaint guest library. There is a wet bar for unlimited wine, beer and soft drinks. Finally, there are some guest accommodations in the main lodge but most guest rooms are a short walk from the main lodge.

*No hard alcohol is provided by the lodge.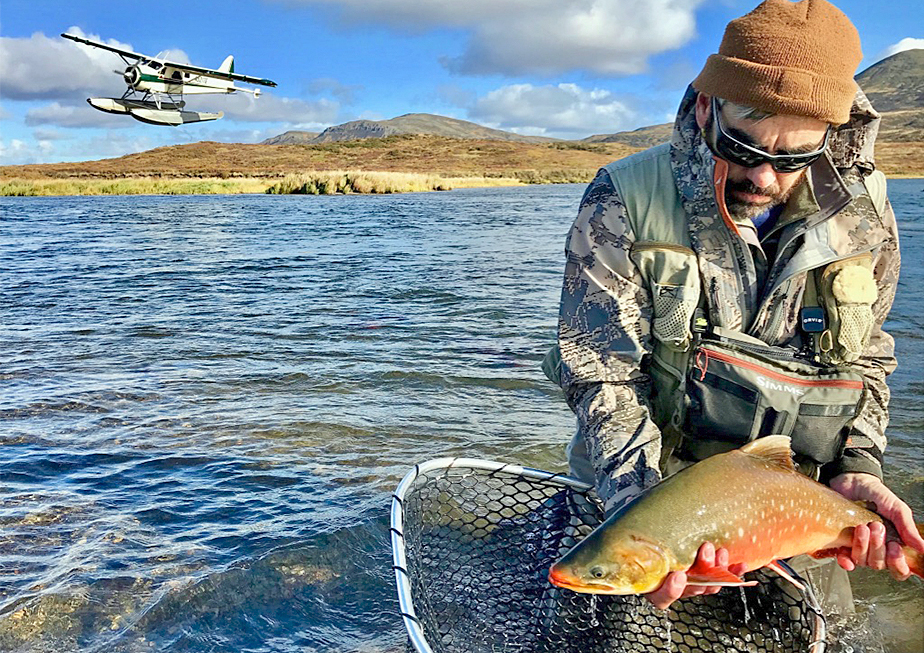 Fishing at Bear Trail Lodge
Located on the Naknek River, Bear Trail Lodge has some of the state's most remarkable trophy rainbow fly fishing just minutes from their dock. The local rapids section of the Naknek River is especially good early and late in the season, and holds great appeal to anglers who like to fly fish in a traditional steelhead fashion with spey rods.

With a fleet of planes at their disposal, anglers are able to access some of the finest fly-out fly fishing the state of Alaska has to offer. Bear Trail Lodge has an excellent king salmon program as well as a very good
Read More
coastal program targeting silver salmon. The lodge strives to have one guide for every two anglers. Fishing venues vary widely from days spent fishing from jet-powered aluminum boats, raft trips, and remote walk and wade venues best suited to the physically fit. At times anglers may fish from boats, but the majority of fly fishing is done while wading.

Each evening after returning from fishing, guests in the main lodge will enjoy wonderful appetizers along with complimentary beers and wine. The head guide will be on hand to discuss the day's fishing and make suggestions on what fisheries are producing the best, taking into account your wants and needs, and make a fishing plan for the next morning, all weather dependent. With different aircraft and aerial access to dozens of different fisheries within a 150 mile radius, there is sure to be a spot to please any angler.

After a great night's rest, fresh coffee is available and ready in the main lodge by 6:30AM. A full buffet breakfast is laid out in the dining room at 7:00AM and typically includes fresh fruit, baked goods, yogurt and hot or cold cereal. Our chefs are always happy to make guest 'eggs to order' and if you have any special request, we're happy to try and accommodate them.

After breakfast, you'll return to your cabin, slide into your waders, grab your tackle, and take the short commute to the float plane dock on the Naknek River where your guide, pilot, and aircraft will be waiting. You'll usually have a different guide every day, each of whom is a specialist on specific waters and understands the subtle changes in insect hatches, water temperature, etc.

You and your guide will take a scenic flight to your chosen stretch of water for the day, often sighting moose and bear from the air. You may be hiking a small stream and casting dries to rising fish, using a jet boat to access remote runs on a small river and swinging streamers, or floating downstream in an inflatable raft, wading freestone runs and sight fishing to monster rainbows in gin clear water.

Lunch is served on the stream, usually sandwiches, salads, hot soup, cookies, fruit, candy, chips, etc.

Returning to the lodge after a full day of fishing, arms weary of reeling fish, you'll be greeted by the lodge staff with cold tap beer or a glass of red or white wine. Maybe you opt for a hot shower and then back to the bar and lounge for mouth watering appetizers, more complimentary beer or wine or a delicious cocktail, all followed by a gourmet meal. We serve only the finest meats and wild game and have fresh produce delivered to the lodge weekly. With the freshest Halibut and Salmon available, our chefs continue to create delicious culinary delights. They thrive in preparing exciting, yet hearty creations with ingredients from gourmet vendors from all over the country.
What Makes This Destination Special and Unique?
• A classic fly out, fly fishing lodge, on the banks of Alaska's world-famous Naknek River, known for producing some of the largest rainbow trout in the state. Guests enjoy quick and easy access to an extraordinary amount of angling choices each day in and around Bristol Bay for some of the best trophy rainbows, Arctic char, and salmon fisheries in the region. Less time in the air getting to and from your chosen fishery, means more time on the water and more hook-ups!

• The lodge normally only accommodates 16 guests a week, meaning they have tremendous flexibility in their fishing program. Lodge owners Heath and Nanci Morris Lyon keeps boats on a few remote streams, to better access the water they have at their disposal. Anglers are accommodated in very comfortable guest cabins, and take amazing meals in the main lodge building. This is a great spot for small groups of anglers or families that are looking for an incredibly flexible and diverse fishery, excellent accommodations, and great food. Take part or the whole lodge for yourselves and leave the details to Heath and Nanci and their seasoned staff.

• Bear Trail Lodge is uniquely located on the Alaskan map. Not only are they a short flight from the trophy trout streams of the Katmai, but they are also near some of the best coastal rivers for ocean-bright silver salmon. As well, they can quickly access the best of the Becharof region for big char and grayling, and put their clients on a few small streams loaded with mouse-eating rainbows. Guests will enjoy the full diversity of an Alaskan fishing adventure, returning to a comfortable lodge each night.

• Bear Trail Lodge offers shorter than full week stays, for those who want to add a few days here to a stay at a different lodge, or a business trip to Anchorage. Not all of us have a full week to dedicate to a fishing trip and it makes this lodge a real possibility for those looking for a quick getaway, with simple and easy access.

• The Naknek River is Rapids Camp Lodge "Home Water". The Naknek is one of the largest migratory routes on the planet for Pacific Salmon and home to some of the largest rainbow trout in the world. That translates into great fishing, accessed directly from the lodge, and if the weather does not allow for a fly-out or delays your day, you have world-class fishing at your doorstep. There are NO days lost due to weather at Bear Trail Lodge, count on fishing every day of your trip.